HOME › Analyst Briefings › Analyst Briefing presentation on the "Dielectric Material Market by Technology (OLED, LED, TFT-LCD, LED-LCD, Plasma, LCOS, DLP), Application (Conventional, 3D, Transparent, Flexible), Material (Metal Oxide, a-Silicon, LTPS, PET, PEN, Photonic Crystals) & by Geography - Global Forecast to 2013 - 2020" to be held on 21 March, 2014
Analyst Briefing presentation on the "Dielectric Material Market by Technology (OLED, LED, TFT-LCD, LED-LCD, Plasma, LCOS, DLP), Application (Conventional, 3D, Transparent, Flexible), Material (Metal Oxide, a-Silicon, LTPS, PET, PEN, Photonic Crystals) & by Geography - Global Forecast to 2013 - 2020" to be held on 21 March, 2014

The E&SC practice at MarketsandMarkets is pleased to announce its Analyst Briefing presentation on the "Dielectric Material Market by Technology (OLED, LED, TFT-LCD, LED-LCD, Plasma, LCOS, DLP), Application (Conventional, 3D, Transparent, Flexible), Material (Metal Oxide, a-Silicon, LTPS, PET, PEN, Photonic Crystals) & by Geography - Global Forecast to 2013 - 2020" to be held on 21 March, 2014.
As the displays used for smartphones and tablets have evolved from simple screens to high definition screens,the demand for dielectric materials has grown exponentially. The shift from TFT-LCDs to the LED-LCD to the OLED displays, now, is a clear indicator of the role of dielectric materials in displays. The technological innovations, research, and the fabrication processes of the materials and displays, all, together, have pushed the dielectric market for further applications.The market for dielectric materials is expected to witness a significant growth over the next seven years owing to the proliferation of smartphones and tablets across the globe.
The global dielectric material market is segmented into four divisions, namelymaterials, technology, application, and geography.
Following figure explains the global dielectric materials market segmentation: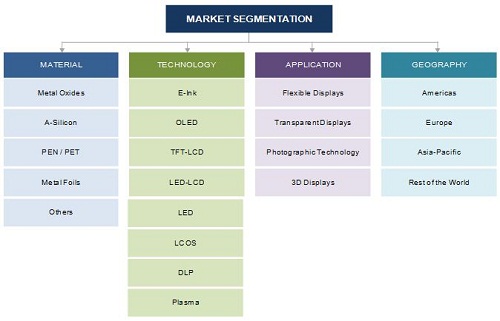 Following is the detailed explanation of each segment:
Materials:
The display material market includes metal oxides line ITO and IGZO, a-silicon, PET/PEN, metal foils, and photonic crystals.
Technology:
The technology segments provide details about the different display technologies used,such asOLED, TFT-LCD, LED, LED-LCD, Plasma, LCoS, DLP, and e paper.
Application:
The application part of the report has been broadly classified intoconventional, flexible, transparent, and 3D displays.
Geography:
The geography market is further segmented on the basis of themainregions that include North America, Europe, Asia-Pacific (APAC), and the Rest of the World (ROW).
About MarketsandMarkets
MarketsandMarkets is a global market research and consulting company based in the U.S. We publish strategically analyzed market research reports and serve as a business intelligence partner to Fortune 500 companies across the world.
MarketsandMarkets also provides multi-client reports, company profiles, databases, and custom research services. They cover thirteen industry verticals, including advanced materials, automotives and transportation, banking and financial services, biotechnology, chemicals, consumer goods, energy and power, food and beverages, industrial automation, medical devices, pharmaceuticals, semiconductor and electronics, and telecommunications and IT.
We at MarketsandMarkets are inspired to help our clients grow by providing apt business insight with our huge market intelligence repository.
Note: An email containing the Login Details and Time of the Analyst Briefing will be sent to you soon after your registration.
Analyst Briefing Form
Please fill in the Form to Register yourself for this Briefing
US : 1-888-600-6441
UK : 44-800-368-9399
Search reports