HOME › Analyst Briefings › Analyst Briefing Presentation on the "Frozen Bakery Additives Market by Types (Color & Flavor, Preservative, Oxidizing Agent, Reducing Agent, Enzyme, Emulsifier, Others), Applications (Frozen Bread, Cake, Pastry, Pizza Crust, Others) & Geography - Global Trends & Forecasts to 2018 "
Analyst Briefing Presentation on the "Frozen Bakery Additives Market by Types (Color & Flavor, Preservative, Oxidizing Agent, Reducing Agent, Enzyme, Emulsifier, Others), Applications (Frozen Bread, Cake, Pastry, Pizza Crust, Others) & Geography - Global Trends & Forecasts to 2018 "

The Food & Beverage practice at MarketsandMarkets is pleased to announce its Analyst Briefing Presentation on the "Frozen Bakery Additives Market by Types (Color & Flavor, Preservative, Oxidizing Agent, Reducing Agent, Enzyme, Emulsifier, Others), Applications (Frozen Bread, Cake, Pastry, Pizza Crust, Others) & Geography - Global Trends & Forecasts to 2018" to be held on 20 December, 2013. The briefing will cover an overview of drivers and opportunities present in the market. It will also cover the factors limiting the growth of this market.
This research report categorizes the frozen bakery additives market on the basis of types, applications, and regions. Main types of frozen bakery additives are covered in the report along with their geographical split. Environment friendly manufacturing process, improving product quality, increasing demand for processed food, and waste reduction & energy saving in food processing are expected to drive this market.
Market for frozen bakery additives around the globe is growing steadily. There is a rise in demand for different types of frozen bakery additives as the consumption of frozen bakery products is increasing around the world. Different innovations are undertaken by companies for bakery additives such as enzymes, colors, flavors, oxidizing agents, reducing agents, etc. This growth will be maintained in the future with an opportunity to produce more additives with more innovations for health-conscious consumers. Since the demand for frozen bakery products is driven by increasing awareness about these products and the consumer's busy schedules, demand for bakery additives is also increasing.
Frozen bakery additives are one of the smallest segments of the frozen food market with a high growth rate. The frozen bakery additives industry is undergoing dynamic changes. The main purpose of the study is to understand the dynamic structure of the frozen bakery additive sector. Frozen bakery additives such as emulsifiers and enzymes have been showing an upward growth trend. Various new product launches have triggered this market largely.
The report defines, segments, and analyzes the frozen bakery additives market by estimating the global revenue ($million) for colors & flavors, preservatives, oxidizing agents, reducing agents, enzymes, emulsifiers, and other additives. Geographically, the market is segmented and forecasted on the basis of significant regions, such as North America, Europe, Asia-Pacific, and Rest of the World, which is further segmented on the basis of key countries that fall under the respective regions. The European and North American markets for frozen bakery additives are growing at a healthy rate. Countries such as Germany, France, Canada, and Mexico are good for investing in the frozen bakery additives market as there is a huge demand for these products. In addition, emerging markets such as, Asia-Pacific, and countries such as Brazil have driven the frozen bakery additives market to high values.
The frozen bakery additives market has been covered in depth in this report, which includes both its current and forecast revenue. The report includes a detailed analysis of the market trends and estimation, competitive landscape, company profiles, market share analysis, etc.
Frozen Bakery Additives Market Value, 2011-2018 ($Million)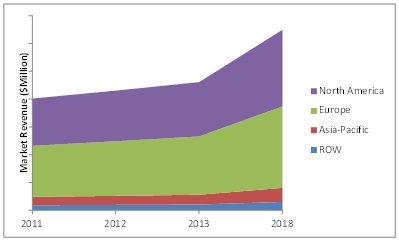 Source: Expert Interviews, Government Authorities, Related Research Publication, Government Publication, Company Press Release, Company Annual Report, Company Website, Company Publication, and MarketsandMarkets Analysis
Europe is the leading frozen bakery additives market and is estimated to grow at a CAGR of 6.6% from 2013 to 2018. Asia is the fastest growing market followed by ROW, during the concerned period.
About MarketsandMarkets
MarketsandMarkets is a global market research and consulting company based in the U.S. We publish strategically analyzed market research reports and serve as a business intelligence partner to Fortune 500 companies across the world.
MarketsandMarkets also provides multi-client reports, company profiles, databases, and custom research services. They cover thirteen industry verticals, including advanced materials, automotives and transportation, banking and financial services, biotechnology, chemicals, consumer goods, energy and power, food and beverages, industrial automation, medical devices, pharmaceuticals, semiconductor and electronics, and telecommunications and IT.
We at MarketsandMarkets are inspired to help our clients grow by providing apt business insight with our huge market intelligence repository.
Note: An email containing the Login Details and Time of the Analyst Briefing will be sent to you soon after your registration.
Analyst Briefing Form
Please fill in the Form to Register yourself for this Briefing
US : 1-888-600-6441
UK : 44-800-368-9399
Search reports