[53 Pages Report] Post COVID-19, the global EV and EV infrastructure market is projected to reach 4.18 million units by 2021 from an estimated 3.42 million units in 2020, at a CAGR of 22.1%. The projection for 2021 is estimated to be down by 34% as compared to pre-COVID estimation.
The electric vehicle market has witnessed rapid evolution with ongoing developments in the automotive sector. Favorable government policies & support in terms of subsidies & grants, tax rebates, and other non-financial benefits in the form of carpool lane access is one of the primary factors driving the growth of the market. New car registrations, specifically in China, where ICE vehicle registration are banned in some urban areas, are also expected to play a crucial role in market growth.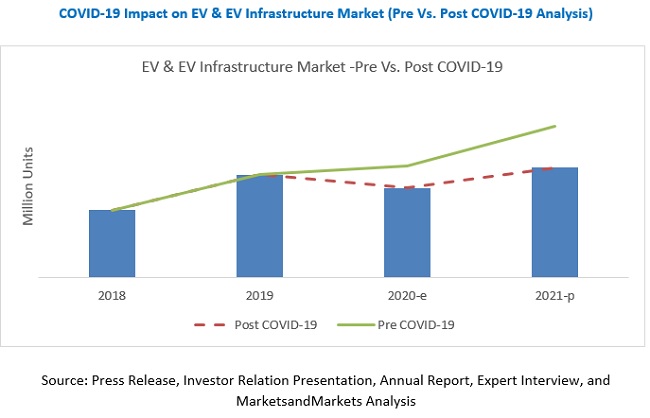 "Sales of electric passenger cars are expected to be the most impacted in the electric vehicle market, by vehicle type, during the forecast period."
The adoption rate of electric vehicles is increasing, and many countries across the globe are investing heavily in R&D. Countries such as Canada, France, India, the Netherlands, and France have introduced various campaigns to boost the adoption of electric vehicles. However, because of the COVID-19 outbreak, the global automobile industry is facing a slowdown due to the lockdown in several countries that has restricted the production of electric vehicles. The operations of some crucial companies affected by COVID-19 epidemics include Nissan Motor Co., Kia Motors Corp., BMW AG, Daimler AG, and Tesla, Inc. Most of these companies have shut down their electric vehicle production facilities and shifted their focus towards the manufacturing of personal protective equipment.
"Charging station is estimated to be the fastest-growing segment during the forecast period."
The government stimulus packages in the future could help the EV market get through an economic crisis brought by COVID-19 by investing heavily in charging infrastructure. China is one of the countries set to make such an investment to help stimulate its automotive industry. The Chinese government has emphasized "new infrastructure" as part of a stimulus strategy to boost its economy after the slowdown caused in part by trade tensions and coronavirus. Thus, most governments from affected regions have resorted to infrastructure rehabilitation as an economic stimulus method.
"Electric vehicle components are facing a high revenue drop."
As the impact of COVID-19 related lockdowns spread during the first quarter of 2020, global electric vehicle sales in major markets, including Europe and the US, are expected to fall significantly. Falling consumer demand, disruption to upstream and downstream supply chains, and government guidelines have now resulted in the suspension and curtailment of production at major automotive OEMs and battery manufacturers. European and US automakers have delayed Asian Li-ion battery shipments initially scheduled for Q2 2020 amid the growing uncertainty for automotive demand.
Key Market Players
Some of the major players in the electric vehicle and electric vehicle infrastructure market are Tesla (US), BYD (China), BMW (Germany), Volkswagen (Germany), and Nissan (Japan), LG Chem (S. Korea), Panasonic (S. Korea), and Bosch (Germany) among others.
Tesla (US) is one of the leading players in this market. The company is continuously delivering new advanced electric vehicles and charging technologies. Despite COVID-19 impact, Tesla delivered more than 88,000 electric vehicles in the first quarter of 2020, surpassing Volkswagen sales. The company has the potential to manufacture highly innovative automobiles and has proved it over a period of time. The company has kept making deliveries in the US despite shutting down production at its Fremont, California factory, and it also started delivering the Model Y — its fifth electric vehicle — this quarter as well.
Get online access to the report on the World's First Market Intelligence Cloud

Easy to Download Historical Data & Forecast Numbers
Company Analysis Dashboard for high growth potential opportunities
Research Analyst Access for customization & queries
Competitor Analysis with Interactive dashboard
Latest News, Updates & Trend analysis

Request Sample

Click on image to enlarge

Scope of the Report
| | |
| --- | --- |
| Report Metric | Details |
| Market size available for years | 2018–2021 |
| Base year considered | 2019 |
| Forecast period | 2020–2021 |
| Forecast units | Volume (Units) |
| Segments covered | Vehicle type, propulsion type, charging station type |
| Geographies covered | North America, Asia Pacific, and Europe |
| Companies covered | Tesla (US), BYD (China), BMW (Germany), Volkswagen (Germany), and Nissan (Japan). LG Chem (S. Korea), Panasonic (S. Korea) |
This research report categorizes the given EV and EV infrastructure market based on, vehicle type, propulsion type, charging station type,
Based on vehicle Type:
Passenger Car
Commercial Vehicle
Based on the charging station type:
Based on the propulsion type:
Based on the region:
Asia Pacific
North America
Europe

France
Germany
Spain
Norway
Key Questions Addressed by the Report:
What is the impact of COVID-19 on the electric vehicle market and its segments?
What are the opportunities for EV charging infrastructure providers?
How much growth is expected from the electric vehicle charging station segment in the market amide COVID-19 impact?
What are the company-specific developments amid COVID-19?
Who are the major competitors in the electric vehicle segment, and what are their growth strategies?
How will the government support from the affected regions to boost the electric vehicle industry in their respective regions?
Who are the new entrants in the electric vehicle ecosystem during the COVID-19 pandemic?
To speak to our analyst for a discussion on the above findings, click Speak to Analyst