DevOps Market
DevOps Market by Type (Solutions and Services), Cloud Deployment Model (Public and Private), Organization Size (SMEs and Large Enterprises), Verticals (Telecommunications, IT & ITES, and BFSI) and Region - Global Forecast to 2028
Report Code: TC 1288
Mar, 2023, by marketsandmarkets.com
[170 Pages Report] The DevOps market size is expected to grow from USD 10.4 billion in 2023 to USD 25.5 billion by 2028 at a Compound Annual Growth Rate (CAGR) of 19.7% during the forecast period. Agile software development and lean programming are the early foundations of many DevOps techniques for speeding up software development and deployment. Yet, DevOps originated from a number of grassroots initiatives to coordinate the work of operations team members and developers. The DevOps methodology promotes business value delivery to clients of an organization that is quicker, better, and more secure. More frequent product releases, features, or updates could represent this value. It may have to do with how quickly a product update or new function reaches customers while maintaining the necessary standards of quality and security. Perhaps it might concentrate on how soon a problem or bug is found, fixed, and then re-released.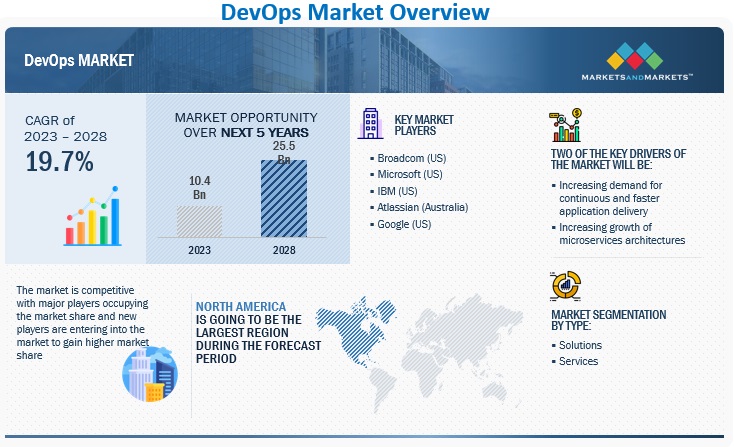 To know about the assumptions considered for the study, Request for Free Sample Report
DevOps Market Dynamics
Driver: Increasing growth of microservices architectures
In essence, microservice architecture is the division of applications (often complicated ones) into manageable, flexible, and scalable little pieces, independent services, units, or entities. It is, in a nutshell, the antithesis of monolithic architecture. Monolithic architecture makes it difficult to introduce even minor changes to the cycle as it would need to release a new version. Users must scale the entire program and its complete code base; they cannot just deploy single parts or functionalities. Also, it becomes more complex with the larger team of developers and consumers. On the other hand, a microservice can be created, tested, and deployed independently. Even though the transition to microservices is still taking place, it is not necessarily the default choice in many sectors. Many sectors, though, that were considerably more hesitant to go down, are now prepared to switch to microservices design. By enabling more flexible cycles, delivering more customization options, and offering scalability alternatives, the advantages of microservice architecture successfully outweigh the complexity it provides. One of the major factors behind the adoption of microservices is DevOps. Since both DevOps and this long-standing trend emphasize operational effectiveness, agility, and modularity, they are inextricably linked and in fact, serve as its accelerator.
Restraint: Lack of standardized DevOps tools and solutions
The enterprise-wide adoption of DevOps is still difficult for many organizations, particularly when there is a lack of consistency in the technologies used, non-repeatable procedures, ad hoc practices, and cultural hurdles. In order to achieve standardization in DevOps as part of the DevOps transformation process, the following problems in standardization and potential solutions are listed. A survey carried out among several customer teams found that due to a lack of end-to-end orchestration, human intervention, legacy practices, inconsistent environments, longer provisioning times, and several other factors, there are difficulties in standardizing tools and eliminating process gaps. Together, they make it necessary for DevOps to be standardized across the organization to make it repeatable, predictable, and consistent. Several tools to assess with one or more qualities overlap, the learning curve to assess/perform proof of concept and selecting tools with short-term objectives rather than long-term perspectives. Further, inadequate tool expertise combined with a focus on automation in their particular field leads to siloed automation and the usage of manual, ad hoc processes. The majority of the technologies used in the CD pipeline don't have out-of-the-box integration, and teams must spend time creating unique integrations.
Opportunity: Increasing demand for streamlining collaboration between IT and Operation teams
Software development teams should follow accepted best practices to be dependable counterparts and active contributors in order to keep providing value to customers. Information silos between the development and operations teams can be significantly reduced through open and effective communication among team members and senior leaders. Transparency and trust are the cornerstones of collaborative software development. Team members with diverse types of backgrounds and degrees of expertise should have the freedom to actively participate in proposals, offer suggestions for workflows, and give feedback on completed projects. Stronger solutions result from the diversity of perspectives since an organization gains from having team members from all backgrounds offer their thoughts and insights. When given the proper tools, software development teams can operate more effectively since they can concentrate on innovation rather than repetitive manual work and keeping integrations up to date. Teams from across the entire software development process and lifecycle should be brought together by DevOps tooling so that developers, QA, security experts, product managers, designers, and team leads can work together and have visibility into projects and progress. Teams can overcome obstacles, maintain version control, and boost productivity by using the appropriate IT technologies.
Challenge: Complexities in approaching the DevOps approach
DevOps is challenging, and some of its complexity necessitates a platform that runs on top of many cloud providers, is both SaaS and managed environments, and possibly also on-premises. There are other difficulties with DevOps as well. AWS, Google Cloud Platform, Microsoft Azure, and Rackspace are just a few of the numerous cloud services available, in addition to the staggering variety of physical devices. While this is going on, IT is tackling a variety of cloud strategies, including designing cloud-native applications, transferring legacy systems to the cloud, and turning hybrid. Developers have a variety of environments to choose from, including development, test, integration, and production, in addition to life cycle support and developers work with a variety of code types. For instance, when using cloud services, they may use open-source libraries. Keep in mind the requirement to ensure that all of this code can be trusted. As this is happening, the number of nodes and applications keeps growing. IT must take action regarding security, compliance, and collaboration as all of this is happening. At the same time, designers, testers, security experts, and owners of the line of business work together as well as Dev and IT. According to secondary data, 84% of respondents have faced barriers to their DevOps implementation. The biggest problems are a shortage of skills in the workforce, outdated infrastructure, and changing business culture.
DevOps Market Ecosystem
Prominent companies in this market include companies that are responsible for delivering DevOps solutions and services to end users via various deployment models. These companies have been operating in the market for several years and possess a diversified product portfolio, state-of-the-art technologies, and strong global sales and marketing networks. Prominent companies in this market include Broadcom (US), Microsoft (US), IBM (US), Atlassian (Australia), Google (US), AWS (US), Oracle (US), Cisco (US), and GitLab (US).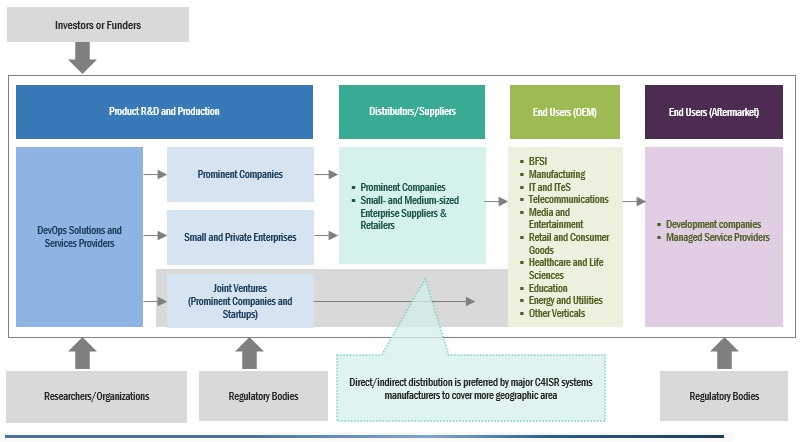 To know about the assumptions considered for the study, download the pdf brochure
Based on Solution, continuous integration and testing segment is estimated to account for the largest market share of the DevOps market
Based on the Solution, the continuous integration and testing segment is estimated to account for the largest market share of the DevOps market. This DevOps solution boosts the development's effectiveness and speed by utilizing unit and integration testing. Continuous integration and testing have a great return on investment. In a DevOps context, the test function helps developers to maintain a balance between speed and quality and using automated solutions can save testing costs and free up QA specialists' time to work more efficiently. Continuous Integration (CI) is a development methodology where developers ideally many times per day can integrate code into a shared repository. Also, regular integration helps users find faults more quickly, which is one of its main advantages.
Container services segment of the DevOps market by services is projected to witness the highest CAGR during the forecast period.
Based on services, the container services segment is estimated to account for the highest growth rate. DevOps is a mechanism to provide apps more quickly as many teams collaborate rather than operate in isolated silos. Containers are essential in facilitating this development velocity. Several containers, in the form of container clusters, are frequently utilized for larger application deployments. Operating system virtualization is a type of containerization. Anything from a small microservice or software process to a huge application could be operated inside a single container. All required executables, binary code, libraries, and configuration files are contained inside a container. Nevertheless, operating system images are not present in containers, unlike server or machine virtualization methods. As a result, they become substantially more portable and lightweight. Several containers may be deployed as one or more container clusters in bigger application deployments. An orchestrator for container deployments like Kubernetes may be used to manage these clusters. Due to various flexibility and lower infrastructure costs, containers are increasingly being used by application development teams. Microservices are most frequently used by businesses implementing DevOps approaches.
Retail and consumer goods segment of the DevOps market by vertical is projected to witness the highest CAGR during the forecast period.
Based on vertical, the retail and consumer goods segment is estimated to account for the highest growth rate. Direct-to-consumer sales are popular due to shifting consumer preferences. Traditional brick-and-mortar retailers face a serious threat from e-commerce. According to secondary data, the retail industry can also patch up serious flaws the quickest, with 53% of respondents saying they can do it in under a day. In terms of claimed "substantial" or "complete" security integration, the retail industry is in last place with 32%. Customer experience is proving to be a very important differentiating factor among the variety of online purchasing options in this industry, which is experiencing ever-increasing competition. Due to poor user experiences, online shops run the danger of losing customers. DevOps approaches have therefore been widely adopted in the retail industry due to its advantages, including greater operational efficiency, reduced cost, quicker time to market, and improved customer experience. The DevOps methodology is now being used by retailers all around the world in their initiatives for digital transformation.
The US market is projected to contribute the largest share for the DevOps market in North America.
North America is expected to lead the DevOps market in 2023. The US is estimated to account for the largest market share in North America in 2023 in the DevOps market, and the trend is expected to continue until 2028. It is the most advanced market in terms of the adoption of DevOps due to a variety of variables, including legislative requirements, advanced IT infrastructure, the existence of multiple firms, and the availability of technical expertise in the country. The US Citizenship and Immigration Services and the California Department of Health Care Services are two government organisations that have started using the DevOps approach because of its benefits. One of the main forces behind the expansion of the DevOps industry in the US is the presence of a number of small and large DevOps providers in the country, including Microsoft, Broadcom, Oracle, IBM, and Google.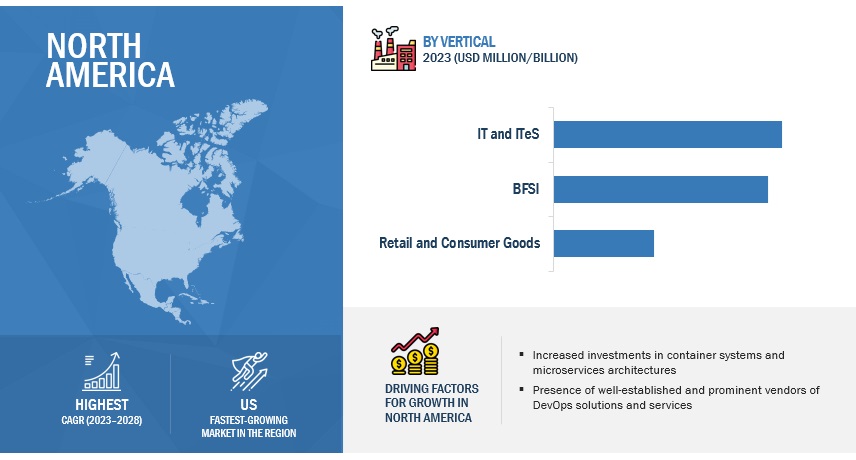 Key Market Players
The DevOps market is dominated by a few globally established players such as Broadcom Inc.(US), Microsoft Corporation (US), IBM (US), Atlassian Corporation Plc. (Australia), Google LLC (US), among others, are the key vendors that secured DevOps contracts in last few years. These vendors can bring global processes and execution expertise to the table, the local players only have local expertise. Driven by increased disposable incomes, easy access to knowledge, and fast adoption of technological products, buyers are more willing to experiment/test new things in the DevOps market.
Get online access to the report on the World's First Market Intelligence Cloud

Easy to Download Historical Data & Forecast Numbers
Company Analysis Dashboard for high growth potential opportunities
Research Analyst Access for customization & queries
Competitor Analysis with Interactive dashboard
Latest News, Updates & Trend analysis

Request Sample

Click on image to enlarge

Scope of the Report
| | |
| --- | --- |
| Report Metrics | Details |
| Market size available for years | 2017–2028 |
| Base year considered | 2022 |
| Forecast period | 2023–2028 |
| Forecast units | Million/Billion(USD) |
| Segments Covered | Type, Cloud Deployment Models, Organization Sizes, Verticals, and Regions |
| Geographies Covered | North America, Europe, Asia Pacific, Middle East and Africa, and Latin America |
| Companies Covered | Some of the major DevOps market vendors are Broadcom Inc.(US), Microsoft Corporation (US), IBM (US), Atlassian Corporation Plc. (Australia), Google LLC (US), AWS Inc. (US), Oracle Corporation (US), Cisco Systems Inc. (US), Micro Focus International Plc.(UK), and GitLab Inc. (US), |
This research report categorizes the DevOps market based on type, organization sizes, cloud deployment models, verticals, and regions.
Based on the Type:
Type

Solutions

Manage

Continuous Business Planning

Deliver

Continuous Collaborative Development
Continuous Integration and Testing

Operate

Continuous Deployment
Continuous Monitoring and Feedback

Services

Container Services
Api Services
Managed Services
Professional Services
Based on the Cloud Deployment Mode:
Public Cloud
Private Cloud
Based on the Organization Size:
Large enterprises
Small and Medium Enterprises (SMEs)
Based on the Verticals:
Telecommunications
IT and ITeS
Retail and Consumer Goods
Media and Entertainment
Government and Public Sector
Manufacturing
Healthcare and Life Sciences
Education
Energy and Utilities
BFSI
Others
Based on the Region:
North America
Europe

United Kingdom
Germany
France
Rest of Europe

Asia Pacific

China
Japan
Singapore
Australia and New Zealand
Rest of Asia Pacific

Middle East & Africa

Kingdom of Saudi Arabia
Qatar
South Africa
Rest of Middle East & Africa

Latin America

Brazil
Mexico
Rest of Latin America
Recent Developments:
In February 2023, In order to reduce friction and enhance user experience, GitLab has launched a number of small updates to its DevOps software suite. The monthly release cycle has seen versions 15.3 through 15.8, with version 15.9 anticipated at the end of February. GitLab's first machine-learning-powered feature enhances merge request approvals, while other noteworthy fixes and changes range from GitOps improvements to new features for Dynamic Application Security Testing (DAST).
In September 2022, In addition to new smart connections and unified administrative controls, Atlassian released a number of improvements for its work-management and collaboration products, including Trello, Confluence, Atlas, and Jira Work Management.
In May 2021, Amazon DevOps Guru, a fully managed operations service that uses machine learning to make it simpler for developers to improve application availability by automatically identifying operational issues and recommending specific actions for remediation, has been made generally available by Amazon Web Services. In order to assist developers in immediately comprehending the possible effect and likely causes of an issue, Amazon DevOps Guru notifies them of aberrant application behavior that may result in potential outages or service disruptions. It also provides them with detailed remedial advice.
Frequently Asked Questions (FAQ):
According to VMWare, DevOps refers to a broad variety of procedures for the creation and management of software in cloud data centers. Agile project management methods and support for microservices are at the core of DevOps. The entire software development lifecycle is approached by DevOps using automation built on version control standards. In DevOps, Git is the most widely used version control tool, followed by SVN and CVS. Managing CI/CD needs for the software lifecycle, automated code testing, container orchestration, cloud hosting, and data analytics are also included in the definition of DevOps.
According to Dynatrace, The term "DevOps" refers to a group of adaptable practises and procedures that businesses employ to develop and deliver applications and services by coordinating and aligning software development with IT operations.
Which country is early adopters of DevOps?
The US is at the initial stage of the adoption of DevOps.
Which are key verticals adopting application modernization services?
Key verticals adopting the DevOps market include: -
BFSI
Telecommunication
IT & ITeS
Media and Entertainment
Education
Government & Public Sector
Retail & Consumer Goods
Manufacturing
Energy & Utility
Healthcare & Life Sciences
Other Verticals
Which are the key vendors exploring DevOps?
Some of the major DevOps vendors are Broadcom Inc.(US), Microsoft Corporation (US), IBM (US), Atlassian Corporation Plc. (Australia), Google LLC (US), AWS Inc. (US), Oracle Corporation (US), Cisco Systems Inc. (US), Micro Focus International Plc.(UK), GitLab Inc. (US), Dell Technologies (US), To The New Private Ltd. (Singapore), Perforce Software Inc. (US), Progress Software Corporation(US), Cigniti Technologies Ltd.(India), HashiCorp Inc. (US), JFrog Ltd. (US), Appfire Technologies Inc. (US), Tricentis, LLC (US), Digital.ai Software, Inc. (US), New Relic Inc.(US), Dynatrace LLC (US), Datadog Inc. (US), CircleCI (US), Clarive Software (Spain), OpenMake Software (US), Copado Inc. (US), Gearset Ltd.(England), CloudBees Inc.(US), SmartBear Software Inc. (US), Buddy Technology Inc. (US), Flosum Inc.(US), and Prodly Inc. (US).
What is the total CAGR expected to be recorded for the DevOps market during 2023-2028?
The CAGR is expected to record a CAGR of 19.7% from 2023-2028
To speak to our analyst for a discussion on the above findings, click Speak to Analyst
TABLE OF CONTENTS
1 INTRODUCTION
1.1 OBJECTIVES OF THE STUDY
1.2 MARKET DEFINITION
1.2.1 INCLUSIONS AND EXCLUSIONS
1.3 MARKET SCOPE
1.3.1 MARKET SEGMENTATION
1.3.2 REGIONS COVERED
1.3.3 YEARS CONSIDERED FOR THE STUDY
1.4 CURRENCY CONSIDERED
1.5 STAKEHOLDERS
1.6 SUMMARY OF CHANGES
1.6.1 RECESSION IMPACT
2 RESEARCH METHODOLOGY
2.1 RESEARCH DATA
2.1.1 SECONDARY DATA
2.1.2 PRIMARY DATA
2.1.2.1 Breakup of primary profiles
2.1.2.2 Key industry insights
2.2 DATA TRIANGULATION
2.3 MARKET SIZE ESTIMATION
2.4 MARKET FORECAST
2.5 RESEARCH ASSUMPTIONS
2.6 STUDY LIMITATIONS
2.7 RECESSION IMPACT
3 EXECUTIVE SUMMARY
4 PREMIUM INSIGHTS
4.1 ATTRACTIVE GROWTH OPPORTUNITIES FOR PLAYERS IN THE DEVOPS MARKET
4.2 DEVOPS MARKET, BY TYPE, 2023 VS 2028
4.3 DEVOPS MARKET, BY CLOUD DEPLOYMENT MODEL, 2023 VS. 2028
4.4 DEVOPS MARKET, BY ORGANIZATION SIZE, 2023 VS. 2028
4.5 DEVOPS MARKET, BY VERTICAL, 2023 VS. 2028
4.6 DEVOPS MARKET MARKET, BY REGION, 2023 VS. 2028
5 MARKET OVERVIEW AND INDUSTRY TRENDS
5.1 INTRODUCTION
5.2 MARKET DYNAMICS
5.2.1 DRIVERS
5.2.2 RESTRAINTS
5.2.3 OPPORTUNITIES
5.2.4 CHALLENGES
5.3 CASE STUDY ANALYSIS
5.4 ECOSYSTEM ANALYSIS
5.5 SUPPLY CHAIN ANALYSIS
5.6 PRICING ANALYSIS
5.6.1 AVERAGE SELLING PRICING TRENDS OF KEY PLAYERS, BY TYPE
5.6.2 AVERAGE SELLING PRICE TREND
5.7 PATENT ANALYSIS
5.8 TECHNOLOGY ANALYSIS
5.9 PORTER'S FIVE FORCES ANALYSIS
5.9.1 THREAT OF NEW ENTRANTS
5.9.2 THREAT OF SUBSTITUTES
5.9.3 BARGAINING POWER OF SUPPLIERS
5.9.4 BARGAINING POWER OF BUYERS
5.9.5 INTENSITY OF COMPETITIVE RIVALRY
5.10 REGULATORY LANDSCAPE
5.10.1 REGULATORY BODIES, GOVERNMENT AGENCIES, & OTHER ORGANIZATIONS
5.10.2 REGULATIONS, BY REGION
5.11 KEY CONFERENCES AND EVENTS IN 2023 AND 2024
5.12 TRENDS/DISRUPTIONS IMPACTING BUYERS
5.13 KEY STAKEHOLDERS & BUYING CRITERIA
5.13.1 KEY STAKEHOLDERS IN BUYING PROCESS
5.13.2 BUYING CRITERIA
6 DEVOPS MARKET, BY TYPE
6.1 INTRODUCTION
6.1.1 TYPE: DEVOPS MARKET DRIVERS
6.2 SOLUTIONS
6.2.1 MANAGE
6.2.1.1 CONTINUOUS BUSINESS PLANNING
6.2.2 DELIVER
6.2.2.1 CONTINUOUS COLLABORATIVE DEVELOPMENT
6.2.2.2 CONTINUOUS INTEGRATION AND TESTING
6.2.3 OPERATE
6.2.3.1 CONTINUOUS DEPLOYMENT
6.2.3.2 CONTINUOUS MONITORING AND FEEDBACK
6.3 SERVICES
6.3.1 CONTAINER SERVICES
6.3.2 API SERVICES
6.3.3 MANAGED SERVICES
6.3.4 PROFESSIONAL SERVICES
7 DEVOPS MARKET , BY CLOUD DEPLOYMENT MODEL
7.1 INTRODUCTION
7.1.1 CLOUD DEPLOYMENT MODEL: DEVOPS MARKET DRIVERS
7.2 PUBLIC CLOUD
7.3 PRIVATE CLOUD
8 DEVOPS MARKET , BY ORGANIZATION SIZE
8.1 INTRODUCTION
8.1.1 ORGANIZATION SIZE: DEVOPS MARKET DRIVERS
8.2 SMALL AND MEDIUM-SIZED ENTERPRISES
8.3 LARGE ENTERPRISES
9 DEVOPS MARKET, BY VERTICAL
9.1 INTRODUCTION
9.1.1 VERTICAL: DEVOPS MARKET DRIVERS
9.2 BANKING, FINANCIAL SERVICES, AND INSURANCE
9.3 MANUFACTURING
9.4 IT AND ITES
9.5 TELECOMMUNICATIONS
9.6 MEDIA AND ENTERTAINMENT
9.7 RETAIL AND CONSUMER GOODS
9.8 GOVERNMENT AND PUBLIC SECTOR
9.9 HEALTHCARE AND LIFE SCIENCES
9.10 EDUCATION
9.11 ENERGY AND UTILITIES
9.12 OTHERS
10 DEVOPS MARKET, BY REGION
10.1 INTRODUCTION
10.2 NORTH AMERICA
10.2.1 NORTH AMERICA: DEVOPS MARKET DRIVERS
10.2.2 RECESSION IMPACT
10.2.3 UNITED STATES
10.2.4 CANADA
10.3 EUROPE
10.3.1 EUROPE: DEVOPS MARKET DRIVERS
10.3.2 RECESSION IMPACT
10.3.3 UNITED KINGDOM
10.3.4 GERMANY
10.3.5 FRANCE
10.3.6 REST OF EUROPE
10.4 ASIA PACIFIC
10.4.1 ASIA PACIFIC: DEVOPS MARKET DRIVERS
10.4.1 RECESSION IMPACT
10.4.2 CHINA
10.4.3 JAPAN
10.4.4 SINGAPORE
10.4.5 AUSTRALIA AND NEW ZEALAND
10.4.6 REST OF ASIA PACIFIC
10.5 MIDDLE EAST & AFRICA
10.5.1 MIDDLE EAST & AFRICA: DEVOPS MARKET DRIVERS
10.5.2 RECESSION IMPACT
10.5.3 KINGDOM OF SAUDI ARABIA
10.5.4 QATAR
10.5.5 SOUTH AFRICA
10.5.6 REST OF MIDDLE EAST & AFRICA
10.6 LATIN AMERICA
10.6.1 LATIN AMERICA: DEVOPS MARKET DRIVERS
10.6.2 RECESSION IMPACT
10.6.3 BRAZIL
10.6.4 MEXICO
10.6.5 REST OF LATIN AMERICA
11 COMPETITIVE LANDSCAPE
11.1 INTRODUCTION
11.2 KEY PLAYER STRATEGIES/RIGHT TO WIN
11.3 MARKET SHARE ANALYSIS OF TOP VENDORS
11.4 HISTORIC REVENUE ANALYSIS OF TOP FIVE VENDORS
11.5 COMPANY EVALUATION QUADRANT
11.5.1 STARS
11.5.2 EMERGING LEADERS
11.5.3 PERVASIVE PLAYERS
11.5.4 PARTICIPANTS
11.6 START-UP/SME EVALUATION QUADRANT
11.6.1 PROGRESSIVE COMPANIES
11.6.2 RESPONSIVE COMPANIES
11.6.3 DYNAMIC COMPANIES
11.6.4 STARTING BLOCKS
11.7 COMPETITVE BENCHMARKING OF KEY START-UPS/SMES
11.8 KEY MARKET DEVELOPMENTS
11.8.1 NEW LAUNCHES
11.8.2 DEALS
11.8.3 OTHERS
12 COMPANY PROFILES
12.1 INTRODUCTION
(Business Overview, Solutions, Recent Developments, MnM View)*
12.1 BROADCOM
12.2 MICROSOFT
12.3 AWS
12.4 GOOGLE
12.5 ATLASSIAN
12.6 IBM
12.7 MICROFOCUS
12.8 CISCO
12.9 ORACLE
12.10 GITLAB
12.11 DELL TECHNOLOGIES
12.12 TOTHENEW
12.13 PERFORCE
12.14 PROGRESS SOFTWARE
12.15 CIGNITI
12.16 HASHICORP
12.17 JFROG
12.18 APPFIRE
12.19 TRICENTIS
12.20 DIGITAL.AI
12.21 SMES/ START-UP PLAYERS
12.21.1 CIRCLECI
12.21.2 CLARIVE
12.21.3 OPENMAKE SOFTWARE
12.21.4 COPADO
12.21.5 GEARSET
12.21.6 CLOUDBEES
12.21.7 SMARTBEAR
12.21.8 BUDDY
12.21.9 FLOSUM
12.21.10 PRODLY
*Details on Business Overview, Products, Recent Developments, MnM View might not be captured in case of unlisted companies.
13 ADJACENT MARKET
13.1 INTRODUCTION
13.1.1 RELATED MARKETS
13.2 LIMITATIONS
14 APPENDIX
14.1 DISCUSSION GUIDE
14.2 KNOWLEDGE STORE: MARKETSANDMARKETS' SUBSCRIPTION PORTAL
14.3 AVAILABLE CUSTOMIZATIONS
14.4 RELATED REPORTS
14.5 AUTHOR DETAILS
The study involved four major activities in estimating the size of the DevOps market. Exhaustive secondary research was done to collect information on the market, peer market, and parent market. The next step was to validate these findings, assumptions, and sizing with industry experts across value chains through primary research. The bottom-up approach was employed to estimate the overall market size. After that, market breakdown and data triangulation were used to estimate the market size of segments and subsegments.
Secondary Research
The market size of companies offering DevOps solutions and services was derived on the basis of the secondary data available through paid and unpaid sources and by analyzing the product portfolios of major companies in the ecosystem and rating the companies based on their product capabilities and business strategies. In the secondary research process, various sources were referred to for identifying and collecting information for the study. Secondary sources included annual reports, press releases, and investor presentations of companies and product data sheets; white papers; journals; certified publications; and articles from recognized authors, government websites, directories, and databases.
Secondary research was majorly used to obtain the key information related to the industry's supply chain, the total pool of key players, market classification, and segmentation according to industry trends to the bottom-most level, regional markets, and key developments from both market and technology-oriented perspectives; all of which were further validated by primary sources.
Primary Research
In the primary research process, various primary sources from both the supply and demand sides were interviewed to obtain qualitative and quantitative information on the market. The primary sources from the supply side included various industry experts, including Chief Experience Officers (CXOs); Vice Presidents (VPs); directors from business development, marketing, and product development/innovation teams; related key executives from DevOps vendors, industry associations, and independent consultants; and key opinion leaders.
Primary interviews were conducted to gather insights, such as market statistics, the latest trends disrupting the market, new use cases implemented, data on revenue collected from products and services, market breakups, market size estimations, market forecasts, and data triangulation. Primary research also helped in understanding various trends related to technology, component, deployment, and region. Demand-side stakeholders, such as Chief Information Officers (CIOs), Chief Technology Officers (CTOs), Chief Security Officers (CSOs), the installation teams of governments/end users using DevOps solutions, and digital initiatives project teams, were interviewed to understand the buyer's perspective on suppliers, products, service providers, and their current use, which would affect the overall DevOps market.
Breakup of Primary Profiles: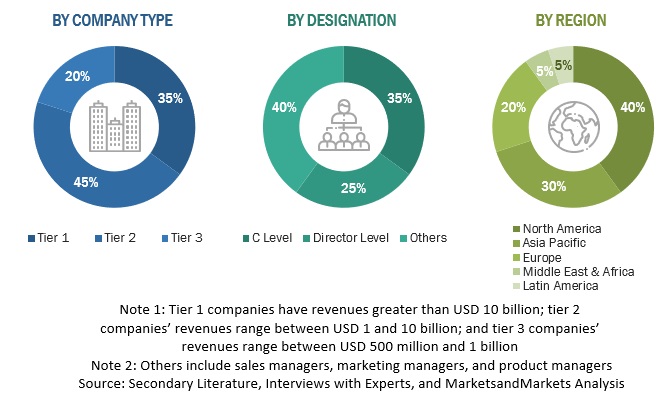 To know about the assumptions considered for the study, download the pdf brochure
Market Size Estimation
Both top-down and bottom-up approaches were used to estimate and forecast the DevOps market and other dependent submarkets. The bottom-up procedure was deployed to arrive at the overall market size using the revenues and offerings of key companies in the market. With data triangulation methods and validation through primary interviews, the exact value of the overall parent market size was determined and confirmed using this study. The overall market size was then used in the top-down procedure to estimate the size of other individual markets via percentage splits of the market segments.
Data Triangulation
After arriving at the overall market size—using the market size estimation processes as explained above—the market was split into several segments and subsegments. Data triangulation and market breakdown procedures were employed, wherever applicable, to complete the overall market engineering process and arrive at the exact statistics of each market segment and subsegment. The data was triangulated by studying various factors and trends from the demand and supply sides in Telecommunications, IT & ITeS, BFSI, healthcare and life sciences,manufacturing, retail & consumer goods, government and public sector, energy & utilities, media and entertainment, education, and other verticals.
Market Definition
DevOps is an environment that brings together developers, operators, and the network team with the intent to increase the speed of software development and delivery. This agile approach represents a fundamental change in people, processes, and technologies, used to build, integrate, test, and deliver the software applications. The constant need for improvements in the application development pipeline with a focus on customers' experience has driven the rapid adoption of DevOps as a practice.
Key Stakeholders
Training and consulting service providers
DevOps vendors
DevOps as a Service Providers
Cloud Service Providers (CSPs)
Managed Service Providers
Telecom service providers
System integrators
Government agencies
Report Objectives
To determine and forecast the global DevOps market based on type (solutions and services), cloud deployment models, organization size, verticals, and regions from 2022 to 2028, and analyze various macro and microeconomic factors affecting the market growth.
To forecast the market size of five main regions: North America, Europe, Asia Pacific, Middle East and Africa, and Latin America
To analyze subsegments concerning individual growth trends, prospects, and contributions to the total market.
To provide detailed information about the major factors (drivers, restraints, opportunities, and challenges) influencing the market's growth.
To provide recession impact on the adoption of DevOps adoption.
To analyze the opportunities in the market for stakeholders and provide details of the competitive landscape of the major players.
To comprehensively analyze the core competencies of the key players in the market.
To track and analyze the competitive developments, such as product/solution launches and enhancements, business expansions, acquisitions, partnerships, and contracts and collaborations, in the market.
Available Customizations
With the given market data, MarketsandMarkets offers customizations as per the company's specific needs. The following customization options are available for the report:
Product Analysis
Product matrix provides a detailed comparison of the product portfolio of each company
Geographic Analysis
Further breakup of the North American digital map market
Company Information
Detailed analysis and profiling of additional market players up to 5