Radome Market
Radome Market by Offering (Radome Body, Accessories), Application (RADAR, SONAR, Communication Antenna), Platform, Frequency, and Region (North America, Europe, Asia Pacific, Middle East, Rest of the world) - Global Forecast to 2028
Report Code: AS 6303
Nov, 2023, by marketsandmarkets.com
[280 Pages Report] The Radome market is projected to grow from USD 2.9 billion in 2023 to USD 5.8 billion by 2028, growing at a CAGR of 15.1 % from 2023 to 2028.
Radome Market Forecast to 2028
To know about the assumptions considered for the study, Request for Free Sample Report
Radome Market Dynamics
Driver: The Increasing Adoption of Radars in Autonomous Vehicles
The surge in autonomous vehicle technology has spotlighted the indispensable role of radar systems, making them integral for functions like collision avoidance, navigation, and adaptive cruise control. Autonomous vehicles rely heavily on uninterrupted signal clarity to make real-time decisions. Radomes, crafted from advanced materials, ensure that the radar's electromagnetic signals aren't hampered by environmental factors, be it rain, dirt, or any debris. They serve the dual role of safeguarding radar systems from physical damage and ensuring optimal signal propagation.
The integration of unmanned systems with communication antennas and other surveillance equipment assists in various critical missions. Compared to other automotive sensors, radar can bring some key sensing benefits to a vehicle. Radars operate at cm to mm wavelengths, which makes them very robust against adverse weather such as fog, rain, dust etc. Other strengths include simultaneous measurement of range and velocity, and outstanding performance in direct sunlight. Additionally, unmanned aircraft require limited personnel and thus, reduce the risk of loss of human lives. Due to these benefits, the US, India, and China have allocated substantial budgets to procure and deploy more UAVs in their defense forces. This increasing deployment for airborne surveillance and mapping missions is resulting in the need for compact radomes that can be effectively integrated within the UAV platform without hampering its overall efficiency. Thus, several major industry players in the radome market, such as Northrop Grumman, Saint Gobain, General Dynamics Mission Systems (US) , BAE Systems and Raytheon Technologies, are focusing on developing and offering lightweight radar for UAV platforms.
Restraints: Stringent regulatory norms to ensure safe aircraft operations
One of the challenges faced by aircraft radome manufacturers is the presence of rigorous regulatory norms aimed at ensuring the safety of aircraft operations. The aviation industry is subject to extensive regulations globally due to the inherent risks associated with flight operations. Manufacturers must comply with a multitude of bilateral, national, and international standards, as different countries have diverse regulatory bodies overseeing aircraft safety levels. The International Civil Aviation Organization (ICAO) sets global safety regulations for aircraft, components, and airlines. Adherence to these standards is crucial for manufacturers to ensure the safety of aircraft operations and mitigate risks related to defective components.
Furthermore, aircraft components, including radomes, undergo stringent quality checks and rigorous testing to meet safety standards and reduce the risks associated with potential defects. Prior to incorporation into an airplane, all aircraft components must undergo a one-time inspection. For example, the US Federal Aviation Administration (FAA) issues Airworthiness Directives (AD) directing the replacement of aircraft components that fail to meet safety requirements and design tolerance levels. Therefore, aircraft radome manufacturers face the challenge of consistently meeting and adhering to these strict regulatory norms to deliver high-quality products.
Opportunities: New composites developed to improve radome properties
India, China, and Russia have successfully developed advanced missiles that pose challenges for interception. India, in collaboration with Russia, is actively working on the hypersonic Brahmos missile, designed to effectively penetrate missile defense shields. These missiles exhibit performance capabilities that render traditional radome designs insufficient, necessitating the use of radomes crafted from materials with high melting temperatures and enhanced tensile strength.
In response to evolving requirements, several composite materials have been developed to enhance radome properties. Examples include Rayceram 8 by Raytheon Technologies, Nitroxyceram by Loral, Aeronutronic Reaction-Bonded Silicon Nitride (RBSN) by Boeing, and Hot-Pressed Silicon Nitride (HPSN) jointly developed by GTE, Norton, and Ceradyne. These composites offer improved characteristics, expanding their applications and presenting lucrative growth opportunities for radome developers.
Similarly, there is a growing trend in the use of glass fiber composites over traditional materials for radome development. These moldable composites provide a cost-effective solution for producing radomes and antenna substrates. Utilizing glass fiber composites leads to the creation of lightweight radome components with diverse designs at a relatively low cost, contributing to the mass production of radomes. The incorporation of glass fibers enhances the dielectric constant of composites, allowing for a reduction in antenna size when these composites are employed as substrate materials.
Challenges: Radome Damage and maintenance.
Radomes often sustain damage in the form of holes resulting from static discharges. These perforations can range from large, easily noticeable ones to tiny pinholes that might be hard to detect. However, any such hole, irrespective of its size, poses a significant threat to the radome. It allows moisture to seep into the radome's walls, leading to internal layers separating or "delaminating." The situation worsens if the trapped moisture freezes, causing more pronounced damage. A significant buildup of moisture can alter the radome's radiation pattern, severely weakening both outgoing signals and incoming responses. Additionally, the force of incoming air through these openings can further weaken the inner layer of the radome, leading to the protective layers separating from its core structure.
There's also damage from external factors, like dents and scratches. These often result from collisions with objects, such as birds or stones, or from mishandling during maintenance activities when the radome is detached for radar antenna servicing. Fortunately, this kind of external damage is typically easy to identify upon visual inspection.
Market Ecosystem : Radome Market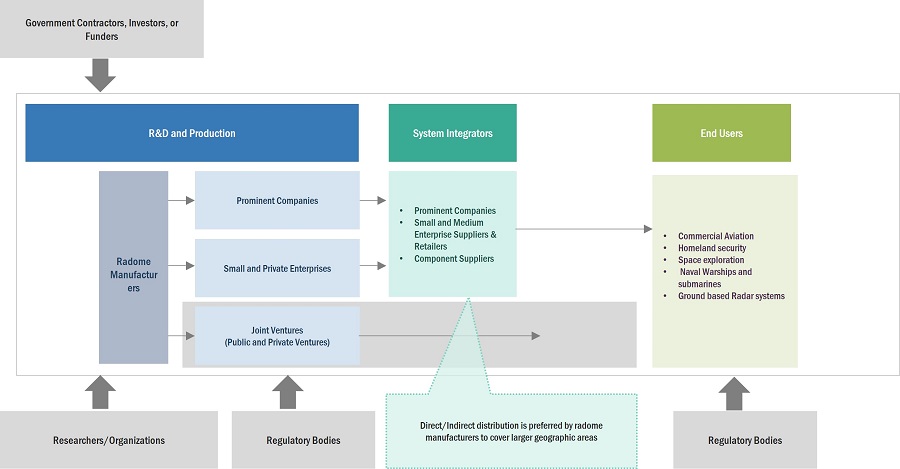 Based on the offering, the glass fibre segment from radome body materials is estimated to lead the Radome market in 2023
Based on the offering, the radome market has been segmented broadly into radome body and accessories. Radome body is further segmented into material and structure. Here glass fibre from material is leading this segment in 2023. The glass fiber radome body market is expanding due to the combination of lightweight construction, high strength-to-weight ratio, durability, design flexibility, and applications across diverse industries. Advancements in glass fiber technology further contribute to the material's attractiveness in radome construction. Glass fiber is transparent to electromagnetic waves, allowing for minimal interference with the transmission and reception of signals by the underlying radar or communication systems. This property is crucial in maintaining the functionality of the enclosed equipment.
Based on the application, communication antenna segment is estimated to be lead the radome market in 2023.
Based on application, the radome market has been segmented into RADAR, SONAR, Communication Antenna and Others. Communication Antenna is expected to lead the market in 2023 .The high demand for communication antenna radomes is driven by several key factors that highlight their crucial role in ensuring reliable and efficient communication systems. Radomes are used to cover the antenna's exposed surfaces with a weatherproof enclosure, which protects the antenna and other integrated components from excessive amounts of ice, water, or other environmental particles. Radomes are also used to prevent interception of signals by adversaries to decode or decrypt secret information traveling between satellite networks such as between satellite and nearby drones/UAVs or most commonly, satellite and ground terminals. Radomes are used to protect dish antennas which track satellites in order to communicate with the ships located several miles away. They prevent other adversaries from understanding the direction of tracking and motion of antennas. Ongoing innovations in communication technologies drive the need for advanced and reliable radomes.
Based on the platform, the ground segment dominates the market & is projected to witness the largest share in 2023.
Based on the platform, the radome market has been segmented into Air, Ground, Naval and Space Launch Vehicles. The ground sector seems to dominate the market in 2023. Radome being an RF window and support structure for an antenna system is a very critical element of terrestrial radar systems. Due to the rising application of ground based radomes in Military and commercial satcom, Intelligence gathering, Radio astronomy, Weather radar, 2D surveillance radar etc, demand for radomes if estimated to be high. By reducing the external wind/other environmental loads; radome reduces the operational cost of the system too.
Based on the frequency, X-Band seems to dominate this segment and is estimated to account for the larger share of the radome market in 2023
Based on the Frequency, the radome market has been segmented into HF/VHF/UHF Band, L Band, S Band, C Band, X Band, KU Band, KA Band, Multiband. The X-Band segment to dominate the radome market in 2023. The high demand for X-band radar and radomes is propelled by their critical roles in military, aerospace, telecommunications, and weather monitoring applications. Contemporary airborne weather radar systems predominantly utilize X-band technology, emitting power levels ranging from 18 watts to 10 kilowatts. X-band radomes for aircraft are meticulously designed and crafted. Even the slightest alteration in their physical attributes can have a detrimental impact on the performance of the weather radar system. The combination of X-band radar technology and radome protection ensures that weather radar systems can deliver high-resolution, accurate, and reliable data for weather monitoring and forecasting. The use of radomes is essential for maintaining the functionality of sensitive radar equipment and minimizing the impact of environmental conditions on radar performance.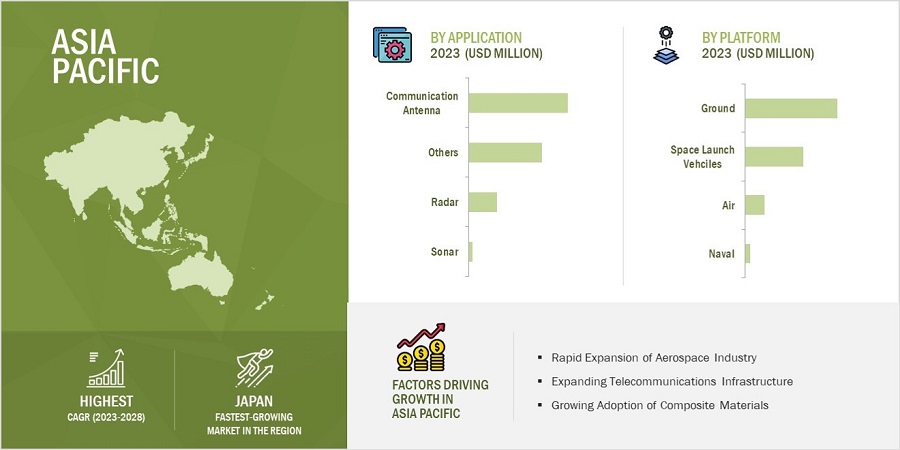 Radome Market by Region
To know about the assumptions considered for the study, download the pdf brochure
The Asia-Pacific market is projected to have the largest share in 2023 in the radome market
Based on region, the radome market has been segmented into North America, Europe, Asia Pacific, Middle East and Rest of the World (RoW). Asia-Pacific region seems to dominate the market in 2023. The Asia Pacific radome market is expected to witness significant growth in the coming years, driven by a confluence of factors that are fostering demand for these protective enclosures for radar systems. The Asia Pacific aerospace industry is experiencing a period of rapid growth, fueled by rising demand for commercial air travel and increasing investments in both commercial and military aviation programs. This expansion of the aerospace industry is driving the need for radomes to protect sensitive radar systems in aircraft. Composite materials are gaining popularity in the manufacturing of radomes due to their superior properties, including high strength-to-weight ratio, durability, and resistance to various environmental conditions. This shift towards composite materials is further boosting the demand for radomes.
Key Market Players
The Radome companies is dominated by a few globally established players such as General Dynamics Mission Corporation (US), Saint Gobain (UK), Raytheon Technologies Corporation (US), Israel Aerospace Industries (Israel), Northrop Grumman Corporation (US), among others, are the key manufacturers that secured Radome contracts in the last few years. The primary focus was given to the contracts and new product development due to the changing requirements of homeland security, and defense users across the world.
Get online access to the report on the World's First Market Intelligence Cloud

Easy to Download Historical Data & Forecast Numbers
Company Analysis Dashboard for high growth potential opportunities
Research Analyst Access for customization & queries
Competitor Analysis with Interactive dashboard
Latest News, Updates & Trend analysis

Request Sample

Click on image to enlarge

Scope of the Report
| | |
| --- | --- |
| Report Metric | Details |
| Market size available for years | 2020–2028 |
| Base year considered | 2022 |
| Forecast period | 2023-2028 |
| Forecast units | Value (USD Million/Billion) |
| Segments Covered | By offering, by platform by application, by frequency, and by region |
| Geographies covered | North America, Europe, Asia Pacific, Middle East & Rest of the world |
| Companies covered | General Dynamics Mission Corporation(US), Saint Gobin (UK), Northrop Grumman (US), Israel Aerospace Industris Ltd (Israel), Raytheon Technologies Corporation (US) are some of the major players in the radome market. (27 Companies) |
Radome Market Highlights
The study categorizes the radome market based on offering, platform, application, frequency, and region.
Segment

Subsegment

By Offering

Radome Body

Material

Glass Fiber
Quartz
Others

Structure

Sandwich
Solid Laminate
Dielectric Space Frame
Metal Space Frame

Accessories

By Application

RADAR
SONAR
Communication Antenna
Others

By Platform

Air

Commercial Aircraft

Narrow-Body Aircraft (NBA)
New Midsize Aircraft
Regional Transport Aircraft (RTA)

Military Aircraft

Fighter Aircraft
Transport Aircraft
Trainer Aircraft
Reconnaissance Aircraft
Special Mission Aircraft

Business Jets
Helicopters
Unmanned aerial vehicle (UAV)
Urban Air Mobility (UAM)
Aerostats

Ground

Telecom Towers
Air Traffic Control (ATC)
Command Centre
Ground Vehicles

Command And Control Vehicle
Self Propelled Artillary Vehicle
UGV
Commercial Vehicles

Naval

Commercial Vessel
Military Vessel
UMV

Space Launch Vehicles

By Frequency

HF/UHF/VHF-Band
L-Band
S-Band
C-Band
X-Band
KU-Band
KA-Band
Mutli-Band

By Region

North America
Europe
Asia Pacific
Middle East
Rest of the world
Recent Developments
In January 2023, The US Army Contracting Command, Aberdeen Proving Ground, MD, has awarded General Dynamics Corporation's business unit, Mission Systems, a contract worth USD 74.9 million to provide support services for Tactical Network-On the Move systems and equipment.
In April 2023, Saint Gobain was awarded with a contract of Repair of Radome, Nose in support of the HC-144 Aircraft by the Aviation Logistics Centre, US.
In March 2021, Raytheon Intelligence & Space was awarded a contract to operate and maintain US Government's Relocatable Over-the-Horizon Radar (ROTHR) and radome system under a five-year contract to counter narco-terrorism operations.
In November 2020, Parker Meggitt has secured a £4.2 million (USD 5.6 million) contract with BAE Systems for the supply of innovative nose radome technology to enable the effective operation of a pioneering Multi-Function Array radar system on the Typhoon..
Frequently Asked Questions (FAQs) Addressed by the Report:
Which are the major companies in the Radome market? What are their major strategies to strengthen their market presence?
Some of the key players in the radome market are General Dynamics Mission Corporation (US), Saint Gobain (UK), Raytheon Technologies Corporation (US), Israel Aerospace Industries (Israel), Northrop Grumman Corporation (US), among others are the key manufacturers that secured radome contracts in the last few years. Contracts were the key strategies these companies adopted to strengthen their radome market presence.
What are the drivers and opportunities for the radome market?
The radome market experiences robust growing demand with drivers such as evolution of composite material technology, increasing adoption of radars in autonomous vehicles and demand for technologically advanced carbon fiber radome systems for next-generation aircraft. Some of the key driving forces behind the anticipated growth of the radome market are Expanding Military modernization programs, increasing demand for weather surveillance radars, rapid expansion in telecommunications infrastructure etc.
Which region is expected to grow most in the next five years?
The market in North America is projected to grow at the highest CAGR from 2023 to 2028, showcasing strong demand for radome in the region. One key factor driving the NA market is the rising demand for radomes is the growth of the aerospace and defense industries with increasing demand for advanced radar systems.
Which application type of radome will significantly lead in the coming years?
The RADAR segment of the radome market is projected to witness the highest CAGR due to the increasing need for Radar systems which are becoming increasingly important for a variety of applications, including military, aerospace, and telecommunications. As these systems become more sophisticated, the demand for radomes, which protect the delicate electronic components of these systems, will also be increasing between 2023 to 2028.
Which are the key technology trends prevailing in the radome market?
Technological trends in radome manufacturing are reshaping the industry. Trends such as vacuum-assisted resin transfer method (VARTM), use of quartz fibre in aerospace radomes , multiband radomes etc. These trends drive innovation in radomes, offering businesses growth opportunities and a competitive edge in the market.
To speak to our analyst for a discussion on the above findings, click Speak to Analyst
TABLE OF CONTENTS
1 INTRODUCTION
1.1 OBJECTIVES OF THE STUDY
1.2 MARKET DEFINITION
1.3 INCLUSIONS & EXCLUSIONS
1.4 STUDY SCOPE
1.4.1 MARKETS COVERED
1.4.2 YEARS CONSIDERED FOR THE STUDY
1.5 CURRENCY
1.6 LIMITATIONS
1.7 MARKET STAKEHOLDERS
1.8 SUMMARY OF CHANGES
1.8.1 RECESSION IMPACT ANALYSIS
2 RESEARCH METHODOLOGY
2.1 RESEARCH DATA
2.1.1 SECONDARY DATA
2.1.1.1 Secondary sources
2.1.2 PRIMARY DATA
2.1.2.1 Primary sources
2.1.2.2 Key data from primary sources
2.1.2.3 Breakdown of primaries
2.2 MARKET SIZE ESTIMATION
2.2.1 BOTTOM-UP APPROACH
2.2.2 TOP-DOWN APPROACH
2.3 MARKET BREAKDOWN AND DATA TRIANGULATION
2.4 RESEARCH ASSUMPTIONS AND LIMITATIONS
2.5 GROWTH RATE ASSUMPTIONS
2.6 RECESSION IMPACT ANALYSIS
2.7 RISKS ANALYSIS
3 EXECUTIVE SUMMARY
4 PREMIUM INSIGHTS
5 MARKET OVERVIEW
5.1 INTRODUCTION
5.2 MARKET DYNAMICS
5.2.1 DRIVERS
5.2.2 RESTRAINTS
5.2.3 OPPORTUNITIES
5.2.4 CHALLENGES
5.3 VALUE CHAIN ANALYSIS
5.4 MARKET ECOSYSTEM MAP
5.4.1 PROMINENT COMPANIES
5.4.2 PRIVATE AND SMALL ENTERPRISES
5.4.3 END USERS
5.5 DISRUPTION IMPACTING RADOME CUSTOMERS' BUSINESS
5.5.1 REVENUE SHIFT & NEW REVENUE POCKETS FOR RADOME MANUFACTURERS
5.6 PORTER'S FIVE FORCES ANALYSIS
5.7 TRADE ANALYSIS
5.8 VOLUME ANALYSIS
5.9 KEY STAKEHOLDERS & BUYING CRITERIA
5.9.1 KEY STAKEHOLDERS IN BUYING PROCESS
5.9.2 BUYING CRITERIA
5.10 KEY CONFERENCES & EVENTS IN 2023-2024
5.11 TARIFF AND REGULATORY LANDSCAPE
5.11.1 REGULATORY BODIES, GOVERNMENT AGENCIES AND OTHER ORGANIZATIONS
5.12 PRICING ANALYSIS
5.12.1 AVERAGE SELLING PRICE TREND OF KEY PLAYERS, BY PLATFORM
5.12.2 INDICATIVE PRICING ANALYSIS, BY REGION
5.13 ROADMAP FOR RADOME MARKET
6 INDUSTRY TRENDS
6.1 INTRODUCTION
6.2 TECHNOLOGY TRENDS
6.3 TECHNOLOGY ANALYSIS
6.4 USE CASE ANALYSIS
6.5 IMPACT OF MEGATRENDS
6.6 INNOVATION & PATENT REGISTRATIONS
6.7 SUPPLY CHAIN ANALYSIS
7 RADOME MARKET, CROSS-DOMAIN HEATMAP
7.1 INTRODUCTION
7.2 MAPPING OF PLATFORM BY MATERIAL
7.3 MAPPING OF PLATFORM BY APPLICATION
7.4 MAPPING OF PLATFORM BY FREQUENCY
Note: This segment will be qualitative in nature
8 RADOME MARKET, BY OFFERING
8.1 INTRODUCTION
8.2 RADOME BODY
8.2.1 MATERIAL
8.2.1.1 GLASS FIBER
8.2.1.2 QUARTZ
8.2.1.3 OTHERS
8.2.2 STRUCTURE
8.2.2.1 SANDWICH
8.2.2.2 SOLID LAMINATE
8.2.2.3 DIELECTRIC SPACE FRAME
8.2.2.4 METAL SPACE FRAME
8.3 ACCESSORIES
9 RADOME MARKET, BY APPLICATION
9.1 INTRODUCTION
9.2 RADAR
9.3 SONAR
9.4 COMMUNICATION ANTENNA
9.5 OTHERS
10 RADOME MARKET, BY PLATFORM
10.1 INTRODUCTION
10.2 TOP 5 PLAYERS IN RADOME MARKET, BY PLATFORM (BEST-EFFORT BASIS)
10.3 AIR
10.3.1 COMMERCIAL AIRCRAFT
10.3.1.1 NARROW-BODY AIRCRAFT (NBA)
10.3.1.2 NEW MIDSIZE AIRCRAFT
10.3.1.3 REGIONAL TRANSPORT AIRCRAFT (RTA)
10.3.2 MILITARY AIRCRAFT
10.3.2.1 FIGHTER AIRCRAFT
10.3.2.2 TRANSPORT AIRCRAFT
10.3.2.3 SPECIAL MISSION AIRCRAFT
10.3.3 BUSINESS JETS
10.3.4 HELICOPTERS
10.3.5 UNMANNED AERIAL VEHICLE (UAV)
10.3.6 URBAN AIR MOBILITY (UAM)
10.3.7 AEROSTATS
10.4 GROUND
10.4.1 TELECOM TOWERS
10.4.2 AIR TRAFFIC CONTROL (ATC)
10.4.3 COMMAND CENTRE
10.4.4 GROUND VEHICLES
10.4.4.1 COMBAT VEHICLE
10.4.4.2 COMBAT SUPPORT VEHICLE
10.4.4.3 UGV
10.4.4.3 COMMERCIAL VEHICLES
10.5 NAVAL
10.5.1 COMMERCIAL VESSEL
10.5.2 MILITARY VESSEL
10.5.3 UMV
10.6 SPACE LAUNCH VEHICLES
11 RADOME MARKET, BY FREQUENCY
11.1 INTRODUCTION
11.2 HF/UHF/VHF-BAND
11.3 L-BAND
11.4 S-BAND
11.5 C-BAND
11.6 X-BAND
11.7 KU-BAND
11.8 KA-BAND
11.9 MUTLI-BAND
12 REGIONAL ANALYSIS
12.1 INTRODUCTION
12.2 RECESSION IMPACT ANALYSIS
12.3 NORTH AMERICA
12.3.1 PESTLE ANALYSIS
12.3.2 NORTH AMERICA RECESSION IMPACT ANALYSIS
12.3.3 US
12.3.4 CANADA
12.4 EUROPE
12.4.1 PESTLE ANALYSIS
12.4.2 EUROPE RECESSION IMPACT ANALYSIS
12.4.3 UK
12.4.4 GERMANY
12.4.5 ITALY
12.4.6 FRANCE
12.4.7 REST OF EUROPE
12.5 ASIA PACIFIC
12.5.1 PESTLE ANALYSIS
12.5.2 ASIA PACIFIC RECESSION IMPACT ANALYSIS
12.5.3 CHINA
12.5.4 JAPAN
12.5.5 INDIA
12.5.6 SOUTH KOREA
12.5.7 REST OF ASIA PACIFIC
12.6 MIDDLE EAST
12.6.1 PESTLE ANALYSIS
12.6.2 MIDDLE EAST RECESSION IMPACT ANALYSIS
12.6.3 SAUDI ARABIA
12.6.4 ISRAEL
12.6.5 UAE
12.6.6 REST OF MIDDLE EAST
12.7 REST OF THE WORLD
12.7.1 PESTLE ANALYSIS
12.7.2 REST OF THE WORLD RECESSION IMPACT ANALYSIS
12.7.3 LATIN AMERICA
12.7.4 AFRICA
13 COMPETITIVE LANDSCAPE
13.1 INTRODUCTION
13.1.1 MARKET EVALUATION FRAMEWORK
13.2 MARKET RANKING ANALYSIS
13.3 MARKET SHARE ANALYSIS
13.4 REVENUE ANALYSIS OF TOP FIVE MARKET PLAYERS
13.5 COMPANY EVALUATION MATRIX
13.5.1 STARS
13.5.2 EMERGING LEADERS
13.5.3 PERVASIVE PLAYERS
13.5.4 PARTICIPANTS
13.5.5 COMPANY FOOTPRINT
13.6 START-UP/SME EVALUATION MATRIX
13.6.1 PROGRESSIVE COMPANIES
13.6.2 RESPONSIVE COMPANIES
13.6.3 DYNAMIC COMPANIES
13.6.4 STARTING BLOCKS
13.6.5 COMPETITIVE BENCHMARKING
13.7 COMPETITIVE SCENARIO
13.8 KEY MARKET DEVELOPMENTS
13.8.1 CONTRACTS
13.8.2 NEW PRODUCT LAUNCHES
13.8.3 AGREEMENTS, PARTNERSHIPS, AND JOINT VENTURES
13.9 KEY PLAYER STRATEGIES/ RIGHT TO WIN
14 WHO-TO-WHOM ANALYSIS FOR MATERIAL, TOP 5 RADOME PLAYERS
14.1 INTRODUCTION
14.2 ANALYSIS TOP 5 RADOME PLAYERS
14.3 CATEGORIZING BY RESPECTIVE TOP MATERIAL SUPPLIER
15 COMPANY PROFILE
((Business Overview, Products Offered, Financials (Last three years revenues) Recent Developments, SWOT Analysis, MnM View)*
15.1 INTRODUCTION
15.2 KEY PLAYERS
15.2.1 ISRAEL AEROSPACE INDUSTRIES (IAI)
15.2.2 BAE SYSTEMS PLC
15.2.3 COBHAM LIMITED
15.2.4 RAYTHEON TECHNOLOGIES
15.2.5 LOCKHEED MARTIN CORPORATION
15.2.6 GENERAL DYNAMICS CORPORATION
15.2.7 JENOPTIK
15.2.8 SAINT GOBIN
15.2.9 NORDAM
15.2.10 CPI INTERNATIONAL INC.
*Details on Business Overview, Valuation, Investments, shareholding details, no. of employees, revenue, Products Offered, Recent Developments, MnM View will be captured on best effort basis companies.
** Only few key players are mentioned above, however top 15 key players and 10 Other Players will be profiled during the course of research study.
*** The above tentative TOC is based on preliminary secondary data and could improve based on primary data in the course of research study
**** All segments above will be further assessed & considered to be a part of market breakdown. The breakdown of segments will be finalized during the course of research.
***** Request for addition of company profiles or countries in the scope can be considered and included post feasibility
16 APPENDIX
16.1 DISCUSSION GUIDE
16.2 KNOWLEDGE STORE: MARKETSANDMARKETS' SUBSCRIPTION PORTAL
16.3 INTRODUCING RT: REAL-TIME MARKET INTELLIGENCE
16.4 AVAILABLE CUSTOMIZATIONS
16.5 RELATED REPORTS
16.6 AUTHOR DETAILS
The study involved four major activities in estimating the current size of the Radome Market. Exhaustive secondary research was done to collect information on the radome market, its adjacent markets, and its parent market. The next step was to validate these findings, assumptions, and sizing with industry experts across the value chain through primary research. Demand-side analyses were carried out to estimate the overall size of the market. After that, market breakdown and data triangulation procedures were used to estimate the sizes of different segments and subsegments of the radome market.
Secondary Research
The market ranking of radome companies was determined using secondary data made available through paid and unpaid sources and by analyzing the product portfolios of major companies. These companies the performance on the basis of the performance and quality of their products. These data points were further validated by primary sources.
Secondary sources referred to for this research study included financial statements of companies offering radomes and information from various trade, business, and professional associations. The secondary data was collected and analyzed to arrive at the overall size of the radome market, which was validated by primary respondents.
Primary Research
Extensive primary research was conducted after acquiring information regarding the radome market scenario through secondary research. Several primary interviews were conducted with market experts from both the demand and supply sides across major countries of North America, Europe, Asia Pacific, Middle East and ROW which includes the Africa, and Latin America. Primary data was collected through questionnaires, emails, and telephonic interviews.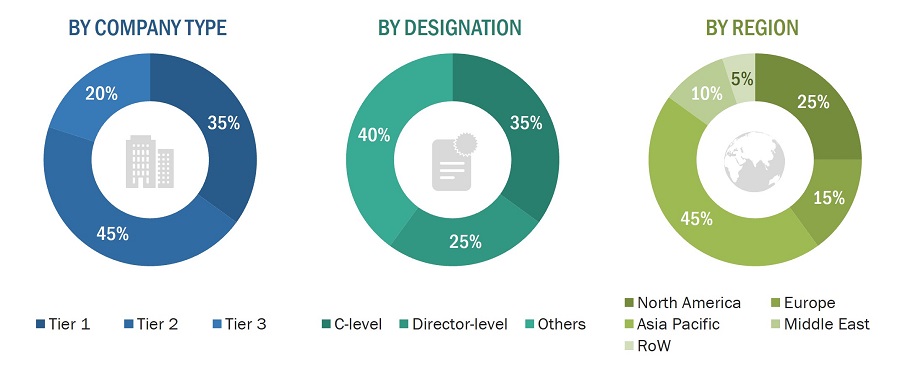 To know about the assumptions considered for the study, download the pdf brochure
Market Size Estimation
The market sizing of the market was undertaken from the demand side. The market was upsized at a regional level based on procurements and launches planned by country. Such procurements provide information on each application demand aspects of radome. For each application, all possible end users in radome market were identified.
Note: An analysis of technological, military funding, year-on-year launches, and operational cost were carried out to arrive at the CAGR and understand the market dynamics of all countries in the report. The market share for all size, operational orbit, component, application, and end user was based on the recent and upcoming launches of radome in every country from 2023 to 2028.
Radome Market Size: Bottom-up Approach

Radome Market Size: Top-Down Approach

Data Triangulation
After arriving at the overall size of the market, the total market was split into several segments and subsegments. The data triangulation and market breakdown procedures explained below were implemented wherever applicable, to complete the overall market engineering process and arrive at the exact statistics for various market segments and subsegments. The data was triangulated by studying various factors and trends from both, the demand and supply sides. Along with this, the market size was validated using both, the top-down and bottom-up approaches.
Country-wise deliveries of vehicles in different platform from 2023 to 2028 were considered for base data. Data was taken from the OEM manufacturers and various governing bodies of each country.
The following figure indicates the market breakdown structure and the data triangulation procedure implemented in the market engineering process used to develop this report.
Market Definition
A radome is a geodesic, prefabricated structure designed to shield radar and antenna systems from harsh weather conditions, including wind, blowing sand, snow, ice, rain, ultraviolet sunlight, temperature fluctuations, fungus, and corrosion. Constructed from fiber-reinforced composites, radomes shield crucial antenna systems from environmental factors, withstand significant aerodynamic pressures, and provide optimal permeability for the necessary radio frequencies. Marine Radome are employed in ships and submarines to detect unidentified objects. Radome coated with anti-corrosive paints to guard against rust and ensure extended durability.
Radomes are governed by both government and commercial standards pertaining to their design, testing, and application. Various agencies and organizations are responsible for establishing and maintaining these benchmarks. For instance, the US military adheres to MIL-Spec and MIL-STD standards. On the federal level, entities such as the FAA uphold standards, and the FED-STD provides guidelines. Meanwhile, on the commercial front, standards are set and maintained by organizations like ASTM, ASME, ASCE, and ISO. Radome market expands globally and regions covered are North America, Europe, Asia Pacific, Middle east and the Rest of the World, which comprise countries with high expenditure.
Market Stakeholders
Radome Manufacturers
Parts & Sub-Component Manufacturers
Maintenance, Repair, and Overhaul (MRO) Companies
Research Organizations, Forums, Alliances, and Associations
Providers of SATCOM Systems
Ministries of Defense
OEMs
Regulatory Bodies
R&D Companies
Report Objectives
To define, describe, and forecast the size of the radome market based on end user, domain, communication, components, and region from 2023 to 2028.
To forecast the size of various segments of the market with respect to major regions, namely, North America, Europe, Asia Pacific, Middle East and the Rest of the World (RoW), which comprises the Latin America
To identify and analyze key drivers, restraints, opportunities, and challenges influencing the growth of the radome market across the globe.
To strategically analyze micromarkets1 with respect to individual growth trends, prospects, and their contribution to the radome market.
To analyze opportunities for stakeholders in the market by identifying key market trends
To analyze competitive developments such as contracts, acquisitions and expansions, agreements, joint ventures and partnerships, new product launches, and Research & Development (R&D) activities in the radome market.
To provide a detailed competitive landscape of the -market, in addition to an analysis of business and corporate strategies adopted by leading market players.
To strategically profile key market players and comprehensively analyze their core competencies2.
Available Customizations
MarketsandMarkets offers the following customizations for this market report:
Additional country-level analysis of the Radome Market
Profiling of other market players (up to 5)
Product Analysis
Product matrix, which provides a detailed