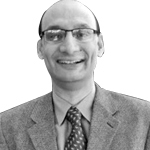 Sandeep Maheshwari
Vice President – Best Practices
Sandeep is the Vice President for Best Practices of MarketsandMarkets. He is a Growth and Innovation Leader with 15+ years of experience in market intelligence, consulting and corporate strategy, leading complex projects, identifying growth opportunities, and developing strategic recommendations for Fortune 500 companies.
His core competency lies in research and strategic analysis of market dynamics, disruptions, products, technologies, competition, customers, business models, and roadmaps. He has strong experience in development of value-add programs; and structuring, implementing, and scaling enterprise wide initiatives.
Sandeep did his under graduate in Mechanical Engineering from Birla Institute of Technology and Science, Pilani (India) and MBA from University of Iowa (USA).
How can we help you?
To discuss how our team can help you and your business achieve true results,
Get in touch with us