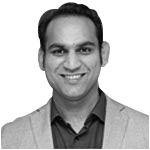 Aman Gupta
Chief Strategy Officer
As a Chief Strategy Officer of MarketsandMarkets, Aman Gupta has successfully executed multiple businesses across sectors such as Retail, Healthcare, Real estate, Market Research, IT & ITES, Technology and mobility.
He has always believes in START- UPS and each of his assignments has been from ideation to profit churning organization. He founded a full service market research company and consulting firm called Markets and Markets, which tracks more than 10 industries. He has played an instrumental role in organizing a health care service business providing outsourced services to Healthcare in USA by the name 'Med Data Care Pro'.
In a strategic capacity, he has also worked towards integrating Real Estate and IT in his greenfield venture called Discounted Flats. His passion for technology made him enter the tablet, smart phone and other mobility device production with Swipe telecom. Aman is adept at multitasking, managing businesses across multiple sectors, and yet driving profitability manifold. This catalyst (Aman) believes in young people, technology and revolutions, so he experiences a natural inclination to groom and mentor young minds. With multiple ventures been promoted and nurtured by him, he also has invested in a few start-ups. He has individually and institutionally done successful investments and is looking to engage the right minds in the right industry.
How can we help you?
To discuss how our team can help you and your business achieve true results,
Get in touch with us