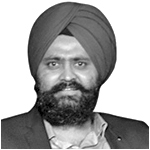 Harwinder Singh
Chief Innovation Officer
Harwinder leads Global Research & Consulting division of MarketsandMarkets. He is closely involved in developing overall corporate strategy, product development, planning organizational structure and M&A activities for MarketsandMarkets. Harwinder leads MarketsandMarkets vision to be leader in B2B Information Services and to create a legacy of being one of the most respected brands in Business Research.
Over the course of last 6 years, Harwinder was instrumental in growing "research and consulting" team, which constitutes biggest chunk of 1000+ employees of MarketsandMarkets. With more than 8 industry verticals where MarketsandMarkets provides information services, Harwinder is closely involved in developing disruptive offerings and solutions for its clients which constitute Fortune 5000 companies of B2B world.
Prior to joining MarketsandMarkets, from 2000 till 2010, Harwinder worked in different organizations within the sphere of Healthcare Industry. Harwinder also had entrepreneurial stint in his family owned business "SKF & Associates" for few years. He worked in Mckinsey & Co as healthcare research professional and in marketing and sales functions for Venus Remedies and Eli Lilly.
He was a research associate in 2005 in W.H.O sponsored project titled "Impact of TRIPS on generic drug prices in India" under Dr Parikshit Bansal (Head - Intellectual Property and Technology Cell - NIPER). This report was submitted to Government of India and was used as reference document for framing policy and guidelines on drug prices in India.
Harwinder holds bachelor's degree in pharmaceuticals and master's in business administration.
How can we help you?
To discuss how our team can help you and your business achieve true results,
Get in touch with us
COVID 19
MarketsandMarkets Strategic Insights
BEATING THE PANDEMIC'S EFFECT ON YOUR REVENUES
Know More