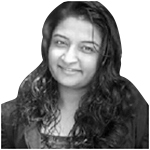 Kavitha Sheen
Vice President – Strategy
Kavitha is heading the Human Resource department of MarketsandMarkets. She has more than 10+ years of experience. Kavitha has joined MnM team in 2012, since then she has strategically worked towards the achievement of organizational goals.
She has involved in the organizational development, compensation design, talent acquisition and management, training and development, and employee engagement. Kavitha has successfully managed organizational change both in terms of the number of resources and the quality of resources.
How can we help you?
To discuss how our team can help you and your business achieve true results,
Get in touch with us
COVID 19
MarketsandMarkets Strategic Insights
BEATING THE PANDEMIC'S EFFECT ON YOUR REVENUES
Know More