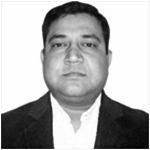 Pankaj Sharma
Vice President - Webmarketing
Pankaj is heading the Web-marketing department of MarketsandMarkets. He has working with the MnM for the last 7 years with his 10+ years of experience into Web Marketing.
Pankaj is also Managing Partner for ReportsAndReports. He is currently working with one of the finest teams to achieve expected sales revenue year on year through inbound channel.
How can we help you?
To discuss how our team can help you and your business achieve true results,
Get in touch with us