HOME › Analyst Briefings › Analyst Briefing presentation on the "Functional Printing Market by Materials (Substrate, Inks), Technology (Inkjet, Screen, Flexo, Gravure), Application (Sensors, Displays, Batteries, RFID, Lighting, PV, Medical), and Geography (North America, Europe, APAC, ROW) - Forecasts & Analysis (2013 – 2020)"
Analyst Briefing presentation on the "Functional Printing Market by Materials (Substrate, Inks), Technology (Inkjet, Screen, Flexo, Gravure), Application (Sensors, Displays, Batteries, RFID, Lighting, PV, Medical), and Geography (North America, Europe, APAC, ROW) - Forecasts & Analysis (2013 – 2020)"

The E&SC practice at MarketsandMarkets is pleased to announce its Analyst Briefing presentation on the "Functional Printing Market by Materials (Substrate, Inks), Technology (Inkjet, Screen, Flexo, Gravure), Application (Sensors, Displays, Batteries, RFID, Lighting, PV, Medical), and Geography (North America, Europe, APAC, ROW) - Forecasts & Analysis (2013 – 2020)" to be held on 4 December 2013.
Functional printing delivers the scale of printing the functions of electrical or electronics within the unique form factors that are thin and flexible. Functional printing can be achieved using techniques that are familiar to the graphics printing industry; and the methods mainly used for functional printing are roll-to-roll and sheet-fed methods. Technological advances, availability of wide range of substrates, and large area printing options which are increasing day by day —promise a mass of thin, lightweight, and flexible products. The rise in the demand for items like smart labels, mobile phone antennas, and disposable sensors —is one of the sprime factors for the current boom in the market for printed electronics that could facilitate the growth of the functional printing market, furthermore.
The mass production of electronics by functional printing is done by various printing technologies like screen printing, inkjet printing, gravure printing, flexography, and other printing technologies. The functional printing market is, again, segmented into materials wherein the ink is transferred from the printing form on to the substrates like glass, plastic, and paper. Coating is applied onto the surface of the substrate, which helps to improve and protect the surface properties, necessary for a functional performance. Some of the main application areas of functional printing are printed OLED displays, sensors, printed batteries, RFID, and so on. In-depth analysis of the global functional printing market in geographical regions like North America, Europe, Asia pacific and Rest of the world has also been prepared in the report.
The global functional printing market is divided into five basic parameters: materials, coating, technology, application, and geography.
Following figure explains the functional printing segmentation:-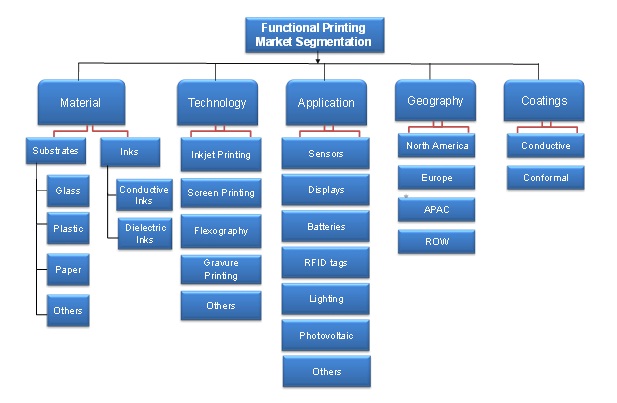 Following is the detailed explanation of each segment:
Materials:
The functional printing material market includes substrates and inks. The ink section includes conductive silver ink, conductive copper ink, dielectric ink, grapheme ink, and others.
Coatings:
The functional printing coating market is segmented into two types, which includes: conductive coating and conformal coating.
Technology:
The technology segments provide details about the different printing technologies used to print electronics; like inkjet printing, screen printing, flexography, gravure printing, and others.
Applications:
The application part of the report has been broadly classified into sensors, display, batteries, RFID tags, Lighting, photovoltaic and others.
Geographies:
The geography market is further segmented into major regions that include North America, Europe, Asia Pacific (APAC), and Rest of the World (ROW).
The major companies into the functional printing market are GSI technologies (U.S.), Mark Andy Inc (U.S.), Toppan Printing Co.Ltd (Japan), BASF SE (Germany), DuPont (U.S.), Eastman Kodak Company (U.S.), Kovio Inc (U.S.), Toya Ink International Corp (U.S.), Vorbeck Materials (U.S.), Haiku Tech (U.S.), Xaar (U.K.), Avery Dennison (U.S.), Blue spark Technologies Inc (U.S.), Universal Display Corporation (U.S.), and so on.
About MarketsandMarkets
MarketsandMarkets is a global market research and consulting company based in the U.S. We publish strategically analyzed market research reports and serve as a business intelligence partner to Fortune 500 companies across the world.
MarketsandMarkets also provides multi-client reports, company profiles, databases, and custom research services. They cover thirteen industry verticals, including advanced materials, automotives and transportation, banking and financial services, biotechnology, chemicals, consumer goods, energy and power, food and beverages, industrial automation, medical devices, pharmaceuticals, semiconductor and electronics, and telecommunications and IT.
We at MarketsandMarkets are inspired to help our clients grow by providing apt business insight with our huge market intelligence repository.
Note: An email containing the Login Details and Time of the Analyst Briefing will be sent to you soon after your registration.
Analyst Briefing Form
Please fill in the Form to Register yourself for this Briefing
US : 1-888-600-6441
UK : 44-800-368-9399
Search reports