HOME
›
Top Market Reports
›
HNWI in Singapore Wealth Management Industry – Trends, Analysis and Forecast (2010-2015)
HNWI in Singapore Wealth Management Industry – Trends, Analysis and Forecast (2010-2015)
As the individual or institution grows wealthy, the need to manage his/her/their wealth to not only protect it but also growing it manifold arises. Wealth management involves fiduciary responsibility, which means maintaining an ethical relationship of trust and confidence to provide professional investment advice and management service to a client.
The wealth management industry is broadly segmented into three parts on the basis of wealth: mass affluent, high net worth individual (HNWI), and ultra HNWI (UHNWI). In any country, the mass affluent segment is the largest in terms of population, but is not so significant in terms of wealth contribution. The high net worth population is relatively smaller in number but has huge wealth. For this reason, HNWIs have always been the focus area of banks and financial institutions.
The global population of HNWIs has increased from 8.6 million in 2008 to 10 million in 2009, growing at a rate of 17%. Asia-Pacific HNWIs have increased from 2.38 million in 2008 to 3 million in 2009, growing at a rate of 26%.The population of HNWIs in Singapore grew by 34.4%, from 61,000 in 2008 to 82,000 in 2009 and their wealth jumped by 35.6%, from $272 billion in 2008 to $369 billion in 2009.
Wealth management investment products include equity and equity related products, fixed deposits and bonds, provident fund, money market funds, real-estate investment, and commodities.
The report analyses the changing needs and behavior of HNWIs in Singapore and helps market players in understanding the expectations of HNWIs from their wealth managers. The report also analyses the factors driving wealth creation in Singapore along with the issues and challenges hampering wealth creation in Singapore.
Scope of the report
Market overview
This section discusses the market size and segmentation of the wealth management industry as a whole, and segmentation of the wealth of HNWIs in Singapore based on the way they have accumulated it, and the different asset classes and geographies they invest it.
Market dynamics
This section discusses the trends related to changes in the needs and demands of HNWIs in Singapore as well as the factors that are driving wealth creation in the country. It also discusses the investments made by HNWIs in different asset classes and the challenges faced by the wealth management firms.
Trends of HNWIs in Singapore
This section discusses the varying demands of HNWIs based on their age group and the criteria they follow to choose their wealth managers. This section also discusses what asset classes are favored by HNWIs in Singapore.
Business case study
The case study discusses the measures taken by Oversea-Chinese Banking Corporation (OCBC) Bank based in Singapore, to improve customer service by streamlining its operations and save time on managing client information.
Company profiles
This section describes companies offering wealth management services in Singapore, and includes an overview, primary business, wealth management operations in Singapore, strategies followed by them and recent developments related to wealth management operations in India
Stakeholders
The targeted audience for this report includes:
Banks
Wealth management companies
Brokerage firms
Asset management companies
Mutual funds companies
1 INTRODUCTION
1.1 Report purpose
1.2 Report catalyst
1.3 Report structure
1.4 Research objectives
1.5 Stakeholders
1.6 Research methodology

2 MARKET OVERVIEW
2.1 HNWI in Singapore
2.2 Wealth management products and services
2.2.1 Wealth management products
2.2.2 Wealth management services
2.3 Winning imperatives
2.3.1 Expertise in third party & in-house products
2.3.2 Effective CRM solutions
2.3.3 Clients serving model

3 MARKET DYNAMICS
3.1 HNWI investments allocation in different asset class
3.2 HNWI - needs and demands
3.2.1 Demands based on source of wealth
3.2.2 HNWI demand frequent interaction with financial advisors
3.2.3 APAC favorite investment destination for Singapore HNWI
3.2.4 Demand for less risky products high among HNWI
3.3 Analysis and forecast
3.3.1 Macro economic drivers
3.3.1.1 Real GDP growth rate
3.3.1.2 Household savings rate
3.3.1.3 Deposit interest rates
3.3.1.4 Domestic market capitalization
3.3.2 HNWIs wealth forecast in Singapore (2010 – 2015)
3.3.3 Restarints and challenges for wealth management firms
3.3.3.1 Regulatory changes and rising compliance cost
3.3.3.2 Regaining client trust and confidence
3.3.3.3 Customer retention a big challenge
3.3.3.4 Stock market volatility

4 TRENDS OF HNWI IN SINGAPORE
4.1 Varying demands for different age group
4.2 Equities still favorite investment asset for HNWI
4.3 HNWI more dependent on financial advisor for making investment decisions
4.4 Criteria followed by HNWI to choose wealth manager
4.5 Reasons for HNWI changing their wealth manager

5 CASE STUDY
5.1 OCBC bank adopts oracle's Siebel CRM solution to improve customer service and save time on managing client information
5.1.1 Objective
5.1.2 About Oversea-Chinese banking corporation limited
5.1.3 Reason for adopting the CRM solution
5.1.4 How oracle's Siebel solution was selected
5.1.5 Solution implementation process
5.1.6 Benefits for the bank
5.1.7 Conclusion

6 COMPANY PROFILES
6.1 CREDIT SUISSE AG SINGAPORE
6.1.1 Overview
6.1.2 Primary business
6.1.3 Strategy
6.1.4 Developments
6.2 CIMB-GK SECURITIES PTE LTD
6.2.1 Overview
6.2.2 Primary business
6.2.3 Strategy
6.2.4 Developments
6.3 DEUTSCHE BANK
6.3.1 Overview
6.3.2 Primary business
6.3.3 Strategy
6.3.4 Developments
6.4 UBS AG SINGAPORE
6.4.1 Overview
6.4.2 Primary business
6.4.3 Strategy
6.4.4 Developments
6.5 OVERSEA-CHINESE BANKING CORPORATION LIMITED
6.5.1 Overview
6.5.2 Primary business
6.5.3 Strategy
6.5.4 Developments
6.6 BNP PARIBAS WEALTH MANAGEMENT.SINGAPORE
6.6.1 Overview
6.6.2 Primary business
6.6.3 Strategy
6.6.4 Developments

LIST OF FIGURES

1 Market segmentation of households on the basis of wealth
2 Growth rate of HNWI population-world, Asia Pacific and Singapore
3 HNWI investment breakup on the basis of key asset class in 2009
4 HNWI investment allocation in 2009
5 Source of wealth accumulation by HNWI in Singapore
6 Change in HNWI demands after recession
7 Breakup of investment of Singapore HNWI in different geographies, (2009)
8 GDP growth rate, (2005 – 2015)
9 Household savings rate, (2005 – 2010)
10 Deposit interest rates, (2005 – 2010)
11 Domestic market capitalization, (2005 – 2010)
12 Forecast Of HNWI wealth, (2010 – 2015)
13 HNWI population based on age groups
14 HNWI investments in different asset classes (2007 – 2010)
15 Most Preferred parameters in making investment decision
HNWI in Singapore Wealth Management Industry – Trends, Analysis and Forecast (2010-2015)
The number of HNWIs and their wealth in Singapore is increasing at a greater rate than the global and Asia-Pacific average. The wealth of HNWIs in Singapore is growing at 35.6%, whereas wealth of HNWIs is growing at 17.1% globally and 25.8% in APAC. The population of HNWIs is growing at 35.6% in Singapore whereas it is growing at 18.9% globally and 30% in APAC. The growing wealth and population of HNWIs in Singapore provides a huge opportunity for wealth management companies. It is imperative for wealth management companies to know the changing needs and behavior of HNWIs in order to increase their profitability and customer base.
Wealth management investment products include equity and equity related products, fixed deposits and bonds, provident fund, money market funds, real-estate investment, and commodities. The investments are broadly divided among three categories in following proportions:
HNWI INVESTMENT BREAKUP ON THE BASIS OF KEY ASSET CLASS IN 2009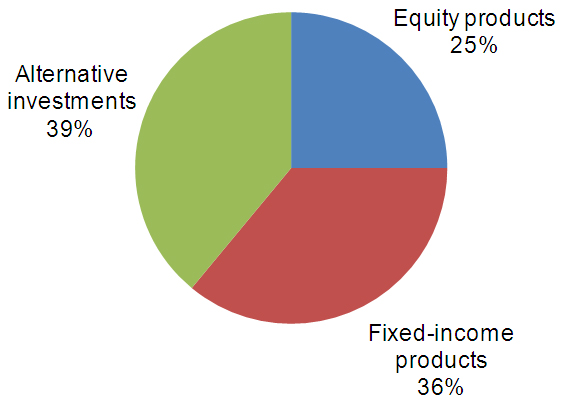 Source: MarketsandMarkets
The various asset classes including equities, fixed income, and alternative investments comprise various products. HNWI investment in real estate was the highest in 2009; followed by Equity and Government bonds. HNWIs kept close to 16% as cash, as they were still not confident about the performance of the economy. Others include investments in hedge funds, foreign currency, commodities, fine art, gems & jewels, and private equity.
stock trading and gambling, constitutes 23% and 5% respectively.
Custom Market Research Services
We will customize the research for you, in case the report listed above does not meet with your exact requirements. Our custom research will comprehensively cover the business information you require to help you arrive at strategic and profitable business decisions.

Please visit https://www.marketsandmarkets.com/knowledge-process-outsourcing-services.asp to specify your custom Research Requirement
US : 1-888-600-6441
UK : 44-800-368-9399
Search reports
-

Request for FREE Sample of this report
Send Request