Acute Myeloid Leukemia Therapeutics Market in G8 Countries (2010 - 2020)
Acute myeloid leukemia is the second frequent type (after acute lymphocytic leukemia) of leukemia diagnosed in infants. About 15% of children from birth to 19 years of age diagnosed with leukemia have acute myeloid leukemia. The risk of acute myeloid leukemia is closely associated with age. About 90% of acute myeloid leukemia is diagnosed in middle age. Incidence rate of acute myeloid leukemia is high in men and women over 50 years. The acute myeloid leukemia market is segmented into two types; namely childhood acute myeloid leukemia and adulthood acute myeloid leukemia. The market was dominated by AVD regimen in 2010. However, in 2020, the market is expected to be dominated by AVD regimen, Cyatarabine, and Quizartinib drug.
This report studies the market from 2010 to 2020 covering seven major regimens and single drugs (off-patent and pipeline) for acute myeloid leukemia treatment. At present, there are four regimens in the market; namely DC regimen used for induction purpose, DC regimen for elderly patients, VCD, and AVD regimen. Plus, there is a drugs named Cytarabine in the market. Growing population of acute myeloid leukemia is an impetus for the growth of the market. This market is expected to grow at a CAGR of 28.4% from 2015 to 2020. North America was the major contributor to this market; accounting for 68.62% of the total sales of acute myeloid leukemia drugs in 2010; whereas AVD regimen was the major regimen accounting for 54.08% of the total sales of acute myeloid leukemia drugs in 2010. Cytarabine drug is also highly effective in the treatment of acute myeloid leukemia that captured the highly market share of AML market in 2010. Acute myeloid leukemia is still an area with high unmet need for early diagnosis and limited treatment options in this area.
The report studies four existing regimens and single drugs for acute myeloid leukemia market. Currently, there are four major drugs in pipeline for acute myeloid leukemia; which are expecting a market launch by 2012-2014. Quizartinib is currently in phase II pivotal clinical trial for the relapsed/refractory AML patient; which will be launched in the market in 2012 by Ambit Biosciences Inc. Quizartinib has received Orphan Drug designation grant from U.S. FDA and European Union. Besides, the drug has obtained fast track designation in the United States in 2010 for the treatment of FLT3-ITD positive patients with relapsed/refractory AML. The drug is expected to be priced at $25,448 for patients who take them annually.
Players are implementing various growth strategies in the market to gain a competitive edge. New product launches, product pipelines, agreements and collaborations, clinical trials, and acquisitions were some of the major strategies adopted by the players from January 2008 to September 2011.
Clinical trials form a major growth strategy in the acute myeloid leukemia therapeutics market; accounting for 39% share between January 2008 and September 2011, followed by collaborations and agreements strategy with a 25% share, and approvals with a 18% share.
Cephalon Inc, Celgene Corporation, Eisai Co. Ltd, and Sunesis Pharmaceuticals rule the present market for acute myeloid leukemia drugs; whereas Ambit Bioscience is expected to capture major share of the market by 2020.
Get online access to the report on the World's First Market Intelligence Cloud
Easy to Download Historical Data & Forecast Numbers
Company Analysis Dashboard for high growth potential opportunities
Research Analyst Access for customization & queries
Competitor Analysis with Interactive dashboard
Latest News, Updates & Trend analysis
Request Sample
Click on image to enlarge
Scope of the Report
This myeloid leukemia therapeutics market research report evaluates the therapeutics market of acute myeloid leukemia in G8 countries with respect to the current and pipeline drugs and regimens. It analyzes geography; forecasting revenue, and trends in each of the following submarkets:
Chemotherapy regimens

DC regimen
AVD Regimen
VCD regimen

Chemotherapy drugs
Pipeline drugs

Vidaza
Dacogen
Midostaurin
Quizartinib
Vosaroxin
The geographies covered under the report are
North America
Europe

UK
Germany
Italy
France
Spain

Japan
Each section provides market data, market drivers, trends and opportunities, key players, and competitive outlook. This report also provides market tables for covering the sub-segments and micro-markets. Additionally, it makes ways for company profiles that cover all the sub-segments. The report has been made by keeping past trends, current happenings, and future forecasts in consideration.
Acute myeloid leukemia is also known as acute myelogenous leukemia. Acute myeloid leukemia is a cancer of the myeloid line of blood cells and also termed as acute myeloblastic leukemia, acute granulocytic leukemia, or acute non-lymphocytic leukemia. In acute myeloid leukemia, there is a rapid production of abnormal white blood cells that get collected in the bone marrow and disturb the production of normal blood cells. Acute myeloid leukemia is the most common acute leukemia affecting adults, and its incidence increases with age. In addition, acute myeloid leukemia accounts for approximately 1.2% of cancer deaths in the United States. There are two types of acute myeloid leukemia; namely childhood acute myeloid leukemia and adult acute myeloid leukemia.
The symptoms of AML are caused by replacement of normal bone marrow with leukemia cells, which causes a drop in red blood cells, platelets, and normal white blood cells. These symptoms include fatigue, shortness of breath, easy bruising and bleeding, and increased risk of infection. Several risk factors and chromosomal abnormalities have been identified, but the specific cause is not clear. As an acute leukemia, AML progresses rapidly and is typically fatal within weeks or months if left untreated.
Acute myeloid leukemia is the second frequent type (After acute lymphocytic leukemia) of leukemia diagnosed in infants. About one-sixth of children from birth to 19 years of age diagnosed with leukemia have acute myeloid leukemia. Children under 2 years of age have a lower chance of remission and cure than the older children. Prevalence of acute myeloid leukemia is very high in men and women between the ages of 75 and 84. Doctor can decide the kind of treatment is suitable and help to diagnose the patient. The patients who are in the earlier stage can have better long-term survival.
Acute myeloid Leukemia diagnosed population, 2008 - 2020, (Thousands)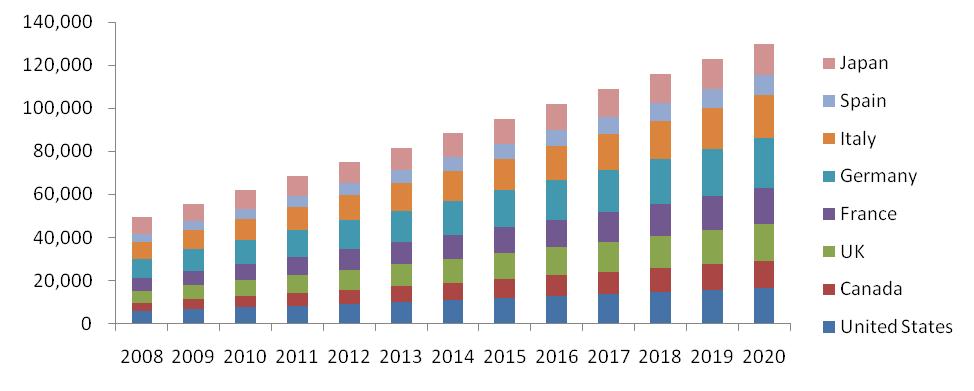 Source: MarketsandMarkets analysis
According to WHO, acute myeloid leukemia is expected to be more prominent in the developed world due to genetic and environmental factor, and radiation exposure is the primary cause of all the types of acute myeloid leukemia. Global incidence of acute myeloid leukemia was 49,539 in 2008 with the developing countries. Total 62,226 new cases were recorded in 2010 with 95,211 and 129,837 as the predicted new cases for 2015 and 2020.