Advance Directives Market
Advance Directives Market by Component (Software, Services), Demographics (Elderly Population (65 yrs & above), Middle Aged (40-64 yrs), Young Adults (18-39 yrs)), End User (B2B (Providers, Payers), B2C), & Region - Global Forecast to 2028
Report Code: HIT 8782
Sep, 2023, by marketsandmarkets.com
The global advance directives market in terms of revenue was estimated to be worth $122.9 billion in 2023 and is poised to reach $291.1 billion by 2028, growing at a CAGR of 18.8% from 2023 to 2028. The new research study consists of an industry trend analysis of the market. The new research study consists of industry trends, pricing analysis, patent analysis, conference and webinar materials, key stakeholders, and buying behaviour in the market. The rising investments in advance directives, government initiatives and rising chronic diseases are some of the critical factors offering opportunities to the market.
However, lack of communication and awareness and lack of interdisciplinary collaboration and communication are key factors challenging the growth of the advance directives market market.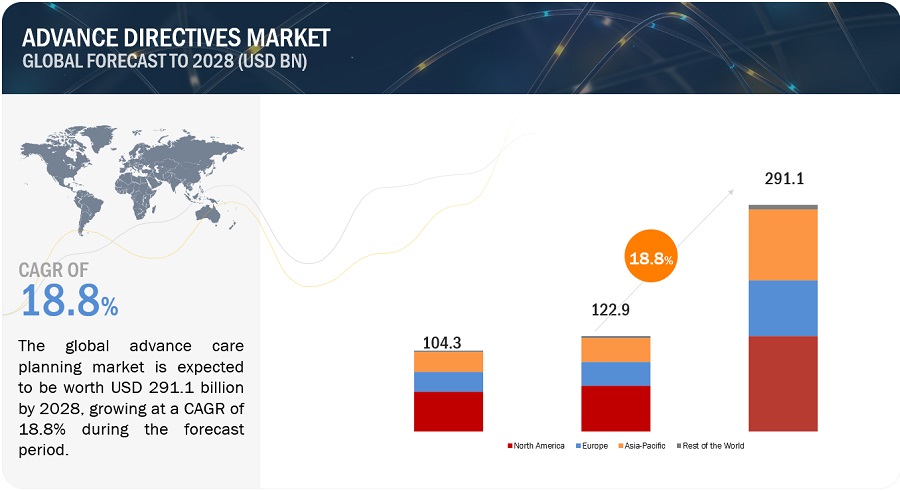 To know about the assumptions considered for the study, Request for Free Sample Report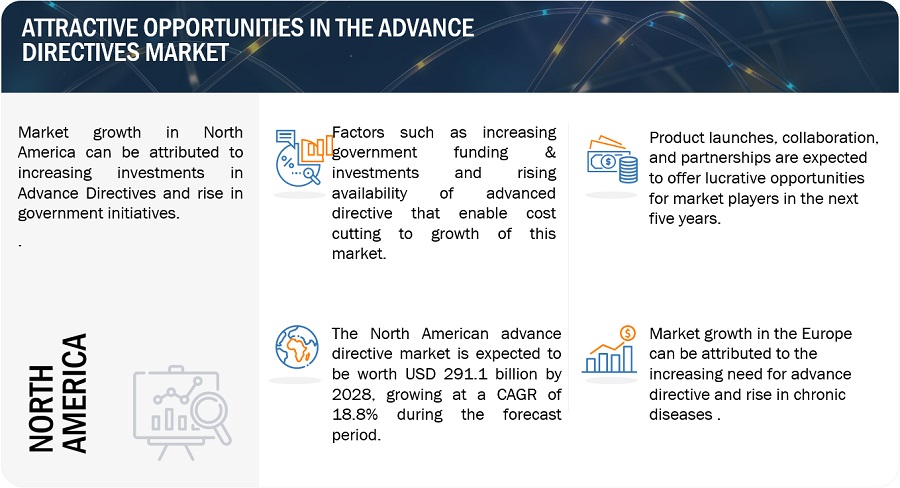 Advance Directives Market Dynamics
Driver: Rising Investments in Advance Care Planning
Advance directives has attracted significant investor attention within the healthcare sector due to its potential to generate substantial cost savings. With the aim of reducing expensive, high-acuity care, stakeholders are increasingly recognizing the value of AD in mitigating hospitalizations, readmissions, and emergency department visits. Studies have demonstrated that AD services contribute to higher rates of hospice enrollment and a decrease in intensive therapies, even during hospital stays. Amidst these complexities, the financial sector is taking note of companies striving to provide answers. For instance, Houston-based advanced care planning platform developer Koda Health recently secured $3.5 million in growth capital, with Ecliptic Capital leading the investment. This infusion of funds will facilitate Koda Health's expansion into all 50 states. Meanwhile, Palo Alto-based Vynca raised $30 million in new growth capital, with Questa Capital spearheading the investment. Vynca reported record growth in 2020, with a remarkable 64% increase in end-of-life planning documents generated compared to the previous year.
The surge in investments within the AD arena underscores the growing recognition of its potential to generate cost savings, improve patient-centered care, and align healthcare delivery with individual preferences and values. As investors continue to support innovative AD companies, the field is poised for further growth, driving advancements in proactive and personalized end-of-life care.
Government initiatives and regulations to enhance patient care and autonomy
Government initiatives and regulations to enhance patient care and autonomy in advance directives encompass a range of campaigns, programs, and regulations. For example, at the national level, the U.S. government has implemented the "National Healthcare Decisions Day" campaign, which takes place annually on April 16th. This initiative aims to raise awareness about the importance of advance directives and encourages individuals to discuss and document their health care preferences. Through this campaign, educational materials, resources, and tools are made available to the public, promoting informed decision-making. Additionally, government programs such as Medicare and Medicaid have incorporated advance directives provisions. Medicare, for instance, covers the cost of discussions with healthcare professionals about advance care planning, allowing beneficiaries to have important conversations and make informed choices about their future care.
In terms of regulations, the Patient Self-Determination Act (PSDA) is a federal law that requires hospitals, nursing homes, and other healthcare providers receiving Medicare and Medicaid funding to inform patients about their rights to make healthcare decisions, including the right to formulate advance directives. The PSDA ensures that patients are given the opportunity to express their wishes and preferences regarding their medical treatment and end-of-life care. State governments have also played a significant role in promoting advance care planning. Many states have enacted laws that support the use and recognition of advance directives, including living wills and healthcare power of attorney documents. These regulations provide legal frameworks for individuals to express their healthcare preferences and designate surrogate decision-makers. State-level initiatives often include public awareness campaigns, community outreach programs, and educational resources to facilitate advance directives discussions and encourage individuals to complete advance directive documents. The government's focus has shifted from simply adopting legally worded directives to a more nuanced approach that considers treatment goals, outcomes, and the diverse cultural and personal preferences of patients. By ensuring access to information, promoting education, and creating supportive policies, the government aims to empower patients, surrogates, and health care professionals to make informed decisions aligned with patients' values and wishes.
Restraint: Lack of Awareness and Education
Insufficient education and awareness about advance directives have contributed to a significant portion of the population being unaware of its benefits. Studies indicate that a considerable proportion of individuals lack knowledge about AD and its significance in making end-of-life care decisions. For instance, a survey conducted in the United States found that only 26% of respondents had heard of the term "advance directive." This lack of awareness leads to a low utilization of Advance directives services and a failure to complete health care directives. The absence of comprehensive education and awareness campaigns on Advance directives prevents individuals from understanding the importance of expressing their end-of-life care wishes in advance. Without proper knowledge, individuals may miss the opportunity to have their preferences known and respected by their healthcare providers and loved ones. To address this issue, it is crucial to implement widespread educational initiatives, community outreach programs, and provider training to raise awareness about Advance directives , emphasize its benefits, and encourage active participation in the process. By increasing awareness and knowledge, we can empower individuals to make informed decisions about their healthcare and improve the utilization of Advance directives services.
Opportunity: Technological Advancements and Digital Solutions
Technological advancements have revolutionized advance directives , making it more accessible and efficient. One notable development is the use of secure electronic repositories that store, retrieve, and send advance directives anytime and from anywhere. These repositories not only provide basic data warehousing capabilities but also offer individuals the opportunity to electronically complete and save advance directives, including designating a spokesperson. Moreover, technology has facilitated the dissemination of educational material about Advance directives through websites and online resources. Hospital and organizational websites, as well as commercial platforms, offer information about advance directive ranging from explanations of advance directives to guidance on how and where to complete them. Some websites even provide state-specific living will documents, ensuring compliance with legal requirements.
Additionally, technological solutions enable individuals to express their wishes regarding life-sustaining medical treatments and designate authorized decision-makers. The use of technology in advance directive enhances knowledge, increases completion rates of advance directives, and ensures the availability of these documents when needed. However, it is essential that technological solutions not only provide information and convenience but also support good decision-making and effective communication, ensuring that individuals' goals and values are accurately reflected and understood by others. By combining technology with thoughtful decision-making, advance directive can be facilitated in a more comprehensive and meaningful manner.
Challenge: Fragmented Healthcare Systems and Integration
The fragmented nature of healthcare systems also poses challenges in terms of information sharing and continuity of care. A research article published in BMC Palliative Care identified gaps in communication between different healthcare providers involved in a patient's care, leading to inconsistencies in Advance directives documentation and decision-making. This lack of integration and coordination can result in confusion, conflicts, and delays in implementing a patient's documented preferences during critical moments. Studies have highlighted the lack of standardized advance directive practices across different healthcare settings. A study published in the Journal of Pain and Symptom Management found that only 38% of healthcare providers reported having a system in place to consistently identify patients with advance directives. Another study in the Journal of General Internal Medicine revealed that less than half of primary care physicians were confident in their ability to initiate Advance directives discussions effectively.
Moreover, the absence of standardized Advance directives practices and integration into routine care exacerbates disparities in access to Advance directives resources, particularly for vulnerable populations. Research published in JAMA Internal Medicine found that racial and ethnic minority groups were less likely to have completed advance directives compared to their White counterparts. This disparity can be attributed, in part, to limited availability and accessibility of advance directive information and resources in diverse languages and culturally appropriate formats. Standardizing advance directive practices, improving communication channels, and addressing disparities in access to advance directive resources are essential steps toward overcoming these challenges and ensuring the widespread adoption and effectiveness of advance directive in healthcare systems.
Advance Directives Market Ecosystem
The ecosystem market map of the overall advance directives market comprises the elements present in this market and defines these elements with a demonstration of the bodies involved. It includes products and services. The manufacturers of various products include the organizations involved in the entire process of research, product development, optimization, and launch. Services are offered to end users by vendors either directly or in collaboration with a third party.
Research and product development includes in-house research facilities, contract research organizations, and contract development and manufacturing organizations, which play a key role in outsourcing services for product development, however the research and development is restricted to softwares only.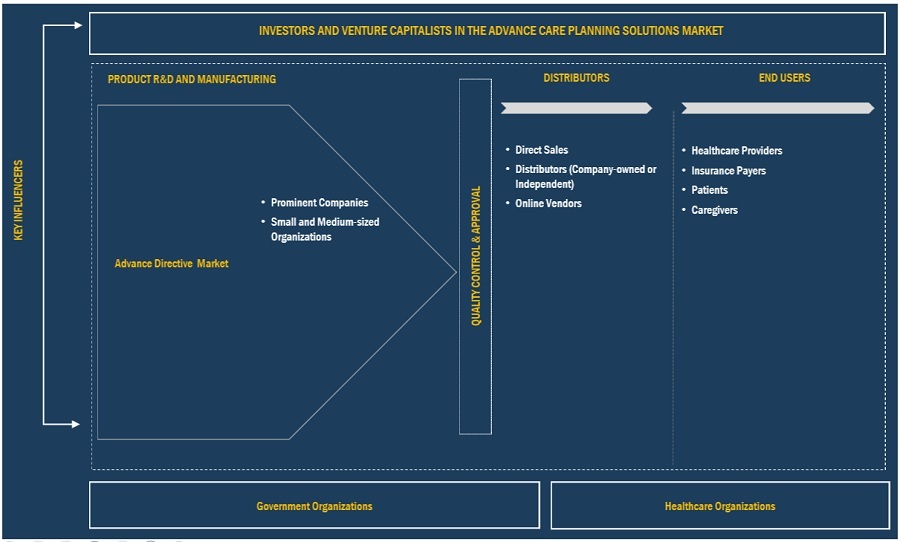 Source: Secondary Literature, Interviews with Experts, and MarketsandMarkets Analysis
Note: Research and Development is restricted to softwares only.
Advance directives services segment of the advance directives industry is expected to register the significant share by the component during the forecast period
The advance directives services segment has garnered a notable share within the advance directives market by component, and it is poised for further substantial growth. This is attributed to the intrinsic value these services offer in guiding individuals through the complexities of end-of-life planning. As awareness about the importance of advance directives continues to expand, the demand for expert guidance and comprehensive support is expected to surge. This projected growth underscores the pivotal role that advance directive services play in shaping the landscape of advance directives solutions.
Elderly population segment of advance directives industry is expected to register the significant share by the demographics during the forecast period
Based on demographics(Age) the elderly population segment of the advance directives industry is anticipated to secure a significant share by age group in the forecast period. This projection highlights the growing recognition of the importance of advance directives within the aging demographic. As the elderly population increases, so does the emphasis on preparing for end-of-life decisions. The demand for advance directive services, discussions, and documentation is expected to rise considerably within this segment, reflecting a societal shift toward proactive healthcare planning. This trend emphasizes the need for tailored advance directive strategies to address the unique preferences and concerns of the elderly population, thus contributing to the segment's projected substantial share.
Healthcare Providers segment accounted for a considerable share in the advance directives industry, by the end user in 2022
In 2022, the healthcare providers segment hold a significant share in the advance directives market due to its integral role in guiding patients through crucial end-of-life decisions. With a growing focus on patient autonomy, healthcare providers are key in initiating advance directive conversations, addressing concerns, and assisting in creating legally binding advance directives. By prioritizing patient-centered care and advocating for open dialogue about preferences, the healthcare providers segment has established itself as a prominent contributor to the substantial share it occupies within the advance directive market.
North America dominated the advance directives industry in 2022
In 2022, North America emerged as the dominant force in the advance directives industry, primarily due to its robust healthcare infrastructure, evolving regulatory environment, and increasing awareness of the significance of end-of-life planning. The region's well-established healthcare providers and systems have played a pivotal role in integrating advance directives discussions into patient care routines. Moreover, regulatory frameworks that facilitate advance directives and legal recognition of patient preferences have contributed to a favorable environment for advance directive adoption. The growing emphasis on patient autonomy, coupled with a shift towards person-centered healthcare, has spurred a higher demand for comprehensive advance directive solutions.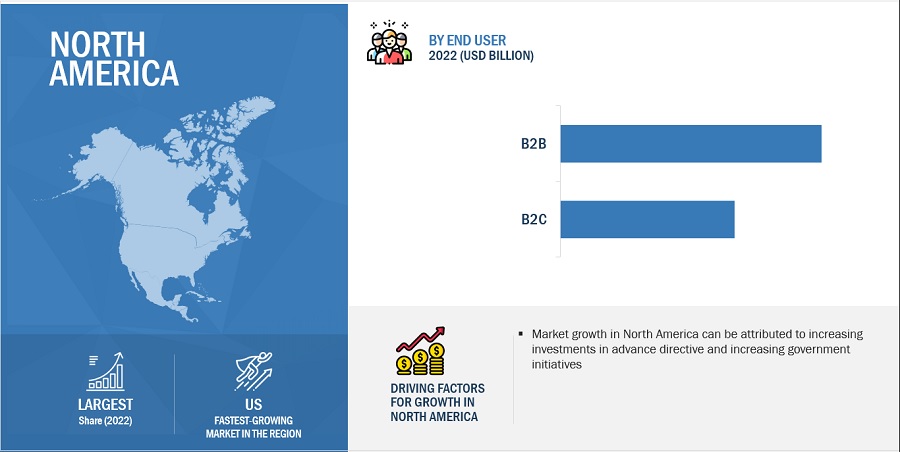 To know about the assumptions considered for the study, download the pdf brochure
Prominent players in the advance directives market include ADvault, Inc.(US), VyncaCare (US), WiserCare Inc.(US), Sharp HealthCare(US), ACP Decisions (a DBA of Nous Foundation, Inc.) (US), Iris Healthcare(Aledade, Inc.) (US), Bronson Health Care Group, Inc. (US), Koda Health(US), ThroughCare, Inc.(US), Vital Decisions LLC (US), Affirm Health Inc. (US), MIDEO(US), New Century Health (US), Thanacare(US), Island Health(Canada), Honor My Decisions LLC (US). These companies adopted strategies such as product launches, expansions, agreements, partnerships, collaborations, and acquisitions to strengthen their market presence in advance directives market.
Scope of the Advance Directives Industry:
| | |
| --- | --- |
| Report Metric | Details |
| Market Revenue in 2023 | $122.9 billion |
| Estimated Value by 2028 | $291.1 billion |
| Revenue Rate | Poised to grow at a CAGR of 18.8% |
| Market Driver | Rising Investments in Advance Care Planning |
| Market Opportunity | Technological Advancements and Digital Solutions |
The study categorizes the advance directive market to forecast revenue and analyze trends in each of the following submarkets:
By Component
By Demographics
By Elderly Population (> 65 years)
By Middle Aged (40-64 yrs)
By Young Adults (18-39 yrs)
By End User
B2B
Payers
Providers
B2C
Patients
Caregivers
By Region
North America
Europe
Asia Pacific
Rest of the World
Recent Developments of Advance Directives Industry
In January 2023, West Health and Sharp healthcare have joined forces to create an integrated geriatric care model that spans the entire healthcare continuum, catering to the unique needs of elderly patients.
In April 2023, ADvault, Inc., introduced the Make MyDirectives Your Directives initiative as a contribution to the discourse surrounding National Healthcare Decisions Day (NHDD), in the same month, ADvault has formed a partnership with the National Hospice and Palliative Care Organization to offer top-notch digital tools for advance care planning. This aimed to provide individuals with outstanding resources and services, elevating the quality and effectiveness of advance directives in the field
In March 2022, ADvault. Inc has collaborated with OneAccord Health in order to improve communication and accessibility of advance directive for consumers and healthcare providers across the country
In January 2022, Aledade, Inc. acquired advance directives company iris healthcare as part of new health services arm
Frequently Asked Questions (FAQ):
What is the projected market revenue value of the global advance directives market?
The global advance directives market boasts a total revenue value of $291.1 billion by 2028.
What is the estimated growth rate (CAGR) of the global advance directives market?
The global advance directives market has an estimated compound annual growth rate (CAGR) of 18.8% and a revenue size in the region of $122.9 billion in 2023.
To speak to our analyst for a discussion on the above findings, click Speak to Analyst
TABLE OF CONTENTS
1 INTRODUCTION
1.1 STUDY OBJECTIVES
1.2 MARKET DEFINITION
1.2.1 INCLUSIONS & EXCLUSIONS
1.3 MARKET SCOPE
1.3.1 MARKETS COVERED
1.3.2 YEARS CONSIDERED
1.4 CURRENCY
1.5 STAKEHOLDERS
1.6 SUMMARY OF CHANGES
2 RESEARCH METHODOLOGY
2.1 RESEARCH DATA
2.2 RESEARCH METHODOLOGY STEPS
2.2.1 SECONDARY DATA
2.2.1.1 SECONDARY SOURCES
2.2.2 PRIMARY DATA
2.2.2.1 PRIMARY SOURCES
2.2.2.2 KEY INSIGHTS FROM PRIMARY SOURCES
2.3 MARKET SIZE ESTIMATION
2.4 MARKET BREAKDOWN & DATA TRIANGULATION
2.5 ASSUMPTIONS FOR THE STUDY
2.6 LIMITATIONS
2.7 RISK ASSESSMENT
2.8 RECESSION IMPACT ON THE ADVANCE DIRECTIVESMARKET
3 EXECUTIVE SUMMARY
4 PREMIUM INSIGHTS
5 MARKET OVERVIEW
5.1 INTRODUCTION
5.2 MARKET DYNAMICS
5.2.1 DRIVERS
5.2.2 RESTRAINTS
5.2.3 OPPORTUNITIES
5.2.4 CHALLENGES
6 INDUSTRY INSIGHTS
6.1 INTRODUCTION
6.2 INDUSTRY TRENDS
6.3 TECHNOLOGY ANALYSIS
6.4 PORTER'S FIVE FORCES ANALYSIS
6.5 REGULATORY ANALYSIS
6.5.1 NORTH AMERICA
6.5.2 EUROPE
6.5.3 ASIA PACIFIC
6.6 VALUE CHAIN ANALYSIS
6.7 ECOSYSTEM ANALYSIS
6.8 PRICING ANALYSIS
6.9 PATENT ANALYSIS
6.10 ADJACENT MARKET ANALYSIS
6.11 CASE STUDY ANALYSIS
6.12 KEY STAKEHOLDERS AND BUYING CRITERIA
6.13 KEY CONFERENCES AND EVENTS, 2023–2024
6.14 TRENDS/DISRUPTIONS IMPACTING BUYERS
7 ADVANCE DIRECTIVES MARKET, BY TYPE
7.1 INTRODUCTION
7.2 SOFTWARE
7.3 SERVICES
8 ADVANCE DIRECTIVES MARKET, BY DEMOGRAPHICS/AGE
8.1 INTRODUCTION
8.2 ELDERLY POPULATION (65 YEARS AND ABOVE)
8.3 MIDDLE-AGED ADULTS (40-64 YEARS)
8.4 YOUNG ADULTS (18-39 YEARS)
9 ADVANCE DIRECTIVES MARKET, BY END USER
9.1 INTRODUCTION
9.2 B2B CONSUMER
9.2.1 HEALTHCARE PROVIDERS
9.2.2 PAYERS
9.3 B2C CONSUMERS
6.5.1 PATIENTS
6.5.1 CAREGIVERS
9.4 OTHER END USERS
10 ADVANCE DIRECTIVES MARKET, BY REGION
10.1 INTRODUCTION
10.2 NORTH AMERICA
10.2.1 US
10.2.2 CANADA
10.3 EUROPE
10.3.2 GERMANY
10.3.3 UK
10.3.7 REST OF EUROPE
10.4 ASIA PACIFIC
10.4.2 CHINA
10.4.3 JAPAN
10.4.5 REST OF ASIA PACIFIC
10.5 REST OF THE WORLD
11 COMPETITIVE LANDSCAPES
11.1 OVERVIEW
11.2 STRATEGIES ADOPTED BY KEY PLAYERS
11.4 MARKET RANKING/SHARE ANALYSIS
11.5 COMPANY EVALUATION QUADRANT FOR KEY PLAYERS
11.5.1
11.5.2
11.5.3
11.5.4
11.7 COMPANY FOOTPRINT OF PLAYERS IN ADVANCE DIRECTIVES MARKET
11.7.1
11.7.2
11.7.2
11.8 COMPETITIVE SCENARIO
11.8.1
11.8.2
11.8.3
12 COMPANY PROFILES
(Business Overview, Products Offered, Recent Developments, MnM View)*
12.1 COMPANY PROFILES
12.1.1 ADVAULT, INC.
12.1.2 VYNCA INC.
12.1.3 WISERCARE
12.1.4 SHARP HEALTHCARE
12.1.5 ACP DECISION (A DBA OF NOUS FOUNDATION, INC.)
12.1.6 IRIS (ALEDADE)
12.1.7 BRONSON HEALTHCARE
12.1.8 KODA HEALTH
12.1.9 THOROUGHCARE-
12.1.10 VITAL DECISIONS LLC
12.1.11 AFFIRM HEALTH
12.1.12 MIDEO
12.1.13 NEW CENTURY HEALTH
12.1.14 VITAS HEALTHCARE
12.1.15 THANACARE
12.1.16 ISLAND HEALTH
12.1.17 HONOR MY DECISIONS
13 APPENDIX
13.1 DISCUSSION GUIDE
13.2 KNOWLEDGESTORE: MARKETSANDMARKETS' SUBSCRIPTION PORTAL
13.3 AVAILABLE CUSTOMIZATIONS
13.4 RELATED REPORTS
13.5 AUTHOR DETAILS
This research study involved the extensive use of both primary and secondary sources. It involved the study of various factors affecting the industry to identify the segmentation types, industry trends, key players, the competitive landscape of market players, and key market dynamics such as drivers, opportunities, challenges, restraints, and key player strategies.
Secondary Research
This research study involved the wide use of secondary sources, directories, databases such as Dun & Bradstreet, Bloomberg Businessweek, and Factiva, white papers, and companies' house documents. Secondary research was undertaken to identify and collect information for this extensive, technical, market-oriented, and commercial study of the advance directives market. It was also used to obtain important information about the top players, market classification, and segmentation according to industry trends to the bottom-most level, geographic markets, and key developments related to the market. A database of the key industry leaders was also prepared using secondary research.
Primary Research
In the primary research process, various supply side and demand side sources were interviewed to obtain qualitative and quantitative information for this report. Primary sources from the supply side included industry experts such as CEOs, vice presidents, marketing and sales directors, technology & innovation directors, engineers, and related key executives from various companies and organizations operating in the advance directives market. Primary sources from the demand side included personnel from hospitals (small, medium-sized, and large hospitals), primary care clinics, and stakeholders in corporate & government bodies.
A breakdown of the primary respondents is provided below: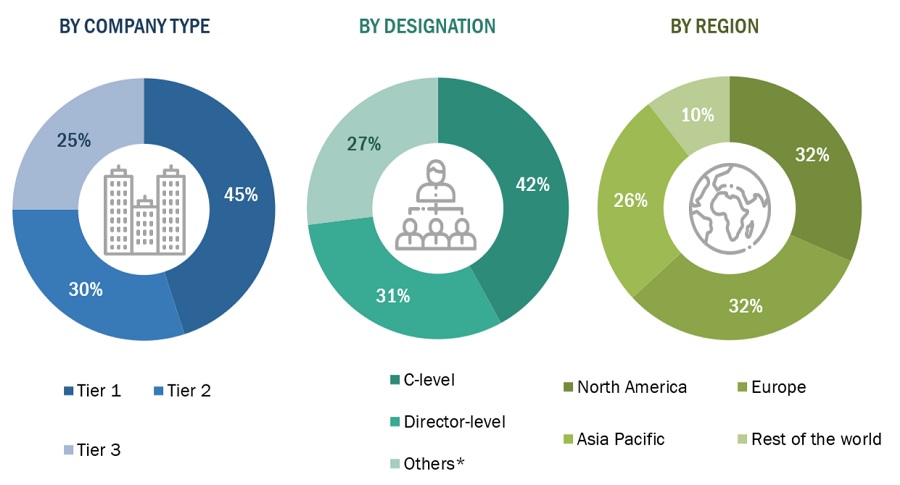 *Others include sales managers, marketing managers, and product managers.
Note: Tiers are defined based on a company's total revenue, as of 2020: Tier 1 = >USD 1 billion, Tier 2 = USD 500 million to USD 1 billion, and Tier 3 = <USD 500 million.
To know about the assumptions considered for the study, download the pdf brochure
Market Size Estimation
The total size of the advance directivemarket was arrived at after data triangulation through the two approaches mentioned below. After the completion of each approach, the weighted average of these approaches was taken based on the level of assumptions used in each approach.
Data Triangulation
The size of the advance directivemarket was estimated through segmental extrapolation using the bottom-up approach. The methodology used is as given below:
Shares of leading players in the advance directivemarket were gathered from secondary sources to the extent available. In some instances, shares of advance directivehave been ascertained after a detailed analysis of various parameters, including product portfolios, market positioning, selling price, and geographic reach & strength.
Individual shares or revenue estimates were validated through interviews with experts.
The total revenue in the advance directivemarket was determined by extrapolating the Market share data of major companies.
Market Definition
Advance directives is a process that involves discussions and decision-making about an individual's future healthcare preferences, particularly during times when they may not be able to communicate or make decisions for themselves. Several drivers contribute to the growing importance and uptake of advanced care planning. This article explores these drivers, providing a detailed explanation, substantiation, case studies, and relevant regional factors.
Key Stakeholders
Physicians and Medical practitioners
Nurses and Nurse practitioners
Caregivers and Care Agencies
Healthcare Providers
Healthcare Payers
ACP Vendors
Government Agencies
Legal Professionals
Rehabilitation centers
Technology and Data Security Experts
Academic medical institutes
Global advance directive market Size: Top-Down Approach

To know about the assumptions considered for the study, Request for Free Sample Report
Objectives of the Study
To define, describe, and forecast the advance directives market on the basis of component, demographics, end user, and region
To provide detailed information regarding the major factors influencing the market growth (such as drivers, restraints, opportunities, and challenges)
To strategically analyze micromarkets with respect to individual growth trends, prospects, and contributions to the overall market
To analyze the opportunities in the market for stakeholders and provide details of the competitive landscape for market leaders
To forecast the size of the market segments with respect to four main regions—North America, Europe, Asia Pacific, and the Rest of the World (RoW)
To profile the key players and comprehensively analyze their market shares and core competencies
To track and analyze competitive developments such as acquisitions, product launches, expansions, agreements, collaborations, and approvals in the global advance directives market
Available Customizations
With the given market data, MarketsandMarkets offers customizations as per your company's specific needs. The following customization options are available for the report:
Company Information
Detailed analysis and profiling of additional market players (up to 5)
Geographic Analysis
Further breakdown of the Rest of Europe Advance directive market into Denmark, Norway, and others
Further breakdown of the Rest of Asia Pacific Advance directive market into Vietnam, New Zealand, Australia, South Korea, and others