The particular study involved 4 major activities to estimate the current market size of hardware, software, and helpdesk support services. An extensive secondary research was done to collect information on the market, the peer markets, and the parent market. The next step was to validate the findings, assumptions, and sizing with industry experts across the value chain through primary research. Both top-down and bottom-up approaches were employed to estimate the complete market size. Thereafter, the market breakdown and data triangulation procedures were used to estimate the market size of the segments and sub-segments.
Secondary Research
In the secondary research process, various secondary sources such as D&B Hoovers, Bloomberg BusinessWeek, and Factiva have been referred to for identifying and collecting information for the study. The secondary sources included annual reports, press releases, and investor presentations of companies; whitepapers, certified publications, and articles by recognized authors; gold standard and silver standard websites; Research and Development (R&D) organizations; regulatory bodies; and databases.
Primary Research
Various primary sources from both supply and demand sides of the hardware, software and, helpdesk support services were interviewed to obtain qualitative and quantitative information for the study. Primary sources from the supply-side included industry experts, such as Chief Executive Officers (CEOs), Vice Presidents (VPs), marketing directors, technology and innovation directors, and, related key executives from various vendors that provide hardware, software and, helpdesk support services in the targeted regions. All possible parameters that affect the market covered in the research study have been accounted for, viewed in extensive detail, verified through primary research, and analyzed to get the final quantitative and qualitative data.
Given below is the profile breakup of primary respondents: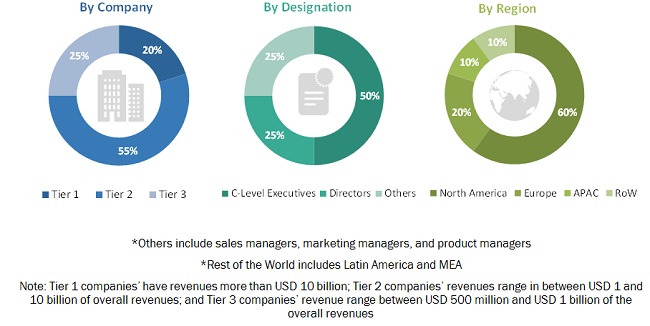 To know about the assumptions considered for the study, download the pdf brochure
Market size estimation
For making market estimation and to forecast the hardware, software and, helpdesk support services market and the other dependent submarkets, top-down and bottom-up approaches were used. The bottom-up procedure was used to arrive at the overall investments in the market. The research methodology used to estimate the market size includes the following:
Key players in the market were identified through extensive secondary research.
The market size, in terms of value, was determined with the help of primary and secondary research processes.
All percentage shares, splits, and breakups were determined using secondary sources and verified through primary sources.
Data Triangulation
With data triangulation and validation of data through primary interviews, the exact value of the overall parent market size was determined and confirmed using the study. The overall market size was then used in the top-down procedure to estimate the size of other individual markets via percentage splits of the market segmentation.
Report Objectives
To define, describe, and forecast the development of hardware software and helpdesk support services across globe
To provide detailed information regarding the major factors, such as drivers, restraints, opportunities, and challenges, influencing the growth of the market
To analyze the market's sub segments with respect to individual growth trends, prospects, and contributions to the total market
To analyze the opportunities in the market for stakeholders and provide the competitive landscape of the market
To profile key players and comprehensively analyze their recent developments and positioning in the market
To analyze competitive developments, such as acquisitions; new product launches and upgrades; partnerships, agreements, and collaborations; and business expansions, in the market
Available customizations
With the given market data, MarketsandMarkets offers customizations as per the company's specific needs. The following customization options are available for the report: