According to MarketsandMarkets, the global Corn gluten meal market is estimated to be valued at USD 8.4 billion in 2022. It is projected to reach USD 10.4 billion by 2027, with a CAGR of 4.3%, in terms of value between 2022 and 2027. Corn gluten meal is increasingly used as animal feed to improve their nutrition, especially focusing on proteins.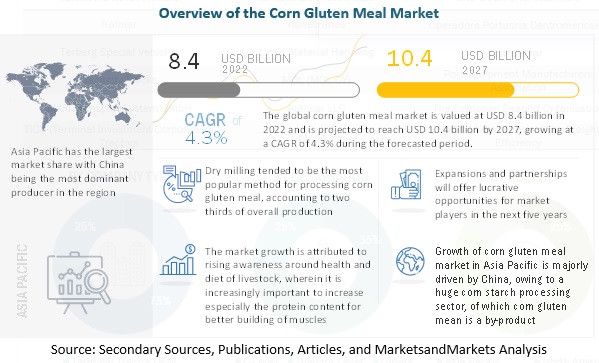 Corn Gluten Meal Market Dynamics
Drivers: Rising concern for health and muscle content of livestock pushing for demand of corn gluten meal
Since corn gluten meal is a naturally occurring product with a high protein content, it is being used as a healthy feed additive for animals. Further, corn gluten meal also provides animal feed with required dietary fiber, thereby further increasing its demand in the animal feed market.
Restraints: Soy used in animal feed turns out to be a major restraint for growth of corn gluten market
Soy is the mass manufactured crop to feed animals for higher protein availability and hence better muscular build. However, this presents a hurdle in the uptick of demand for corn gluten meal, which is also used as a source of protein in animal feed. The dominance of soy in market therefore raises restraints for corn gluten meal market.
Opportunities: Rising demand to replace chemically processed and pricier regular feeds
Corn gluten meal is being increasingly preferred over regular bovine and aquaculture feed. This is since the meal offers as a superior non-toxic feed product, when compared to other chemically processed feeds. It is gaining the fastest traction as a replacement for aquaculture meal owing to it being cheaper than the latter.
Challenges: Greatest challenge in the market revolves around testing of corn-gluten quality
Corn gluten meal market in general does not yet have provisions to check the quality of corn gluten used in it. The only characteristics tested are protein content and feed-safety evaluation, and therefore corn gluten meal market faces hurdles in adoption as animal feed as quality of its ingredient, which is corn gluten, is not determined in the product.
Corn gluten meal is being increasingly recognized as a natural herbicide.
The market for corn gluten meal is supported by its rising image as a naturally occurring herbicide, which prevents grass and weed seeds from sprouting while causing no harm to existing plants. Therefore, it has witnessed a rise in usage in organic weed control products as well.
By livestock, use of corn gluten meal is expected to showcase the fastest growth in aquaculture.
Aquaculture industry is expected to propel the demand for corn gluten meal over the forecasted period. This is since corn gluten meal is being increasingly considered as a fish meal as against the regular feed available in market, which tends to be pricier than corn gluten meal.
Asia Pacific has the largest market share in 2022 with China being the most dominant producer of corn gluten meal in the region. Both, higher yields and consumption of China are driven by the fact that the country also manages a large corn starch processing sector, of which corn gluten meal is a by-product.
Key Market Players:
Key players in this market include Ingredion Incorporated (US), Grain Processing Corporation (US), Cargill Incorporated (US), Tate & Lyle Plc. (England), Archer Daniels Midland Company (US), among others.
FAQs:
Which are the major Corn gluten meal segments considered in this study and which of them are projected to have promising growth rates in the future?
I am interested in the Asia Pacific market for unprocessed and granulated corn gluten meal segment. Is the customization available for the same? What all information would be included in the same?
What are some of the drivers fuelling the growth of the Corn gluten meal market?
I am interested in understanding the research methodology on how you arrived at the market size and segmental splits before making a purchase decision. Can you provide me with an explanation on the same?
What kind of information is provided in the competitive landscape section?