Critical Infrastructure Drone Market
Critical Infrastructure Drone Market by Type ( Fixed Wing, Rotary Wing, Hybrid), By Mode of operation (Semi Autonomous, Fully Autonomous), By Application (Bridges, Railways, Oil & Gas, Tower Inspection, Power Lines, Wind Turbine, Solar Farms) and Region - Global Forecast to 2028
Report Code: UC 6233
Jan, 2024, by marketsandmarkets.com
Exhaustive secondary research was done to collect information on the critical Infrastructure drone market, its adjacent markets, and its parent market. The next step was to validate these findings, assumptions, and sizing with industry experts across the value chain through primary research. Demand-side analyses were carried out to estimate the overall size of the market. Both, top-down and bottom-up approaches were employed to estimate the complete market size. Thereafter, market breakdown and data triangulation were used to estimate the size of segments and subsegments.
Secondary Research
In the secondary research process, various secondary sources, such as D&B Hoovers, Bloomberg, BusinessWeek, and different magazines were referred to identify and collect information for this study. Secondary sources also included annual reports, press releases & investor presentations of companies, certified publications, articles by recognized authors, and UAV parts and component research papers.
Primary Research
Extensive primary research was conducted after acquiring information regarding the Critical Infrastructure drone market scenario through secondary research. The market for Critical Infrastructure drones is being driven by a range of stakeholders, including drone manufacturers, Critical Infrastructure drone developers, UAV Software/Hardware/Service and Solution Providers, Regulatory Bodies, UAV Consultants, and governments of Various Countries. The demand-side of this market is characterized by various end users, such as component manufacturers as well as facility providers and service providers. The supply-side is characterized by technology advancements in Thermal Imaging and Infrared Sensors, Light Detection and Ranging (LiDAR) technology Data Analytics and Reporting. Various primary sources from both, the supply and demand sides of the market were interviewed to obtain qualitative and quantitative information. Following is the breakdown of primary respondents.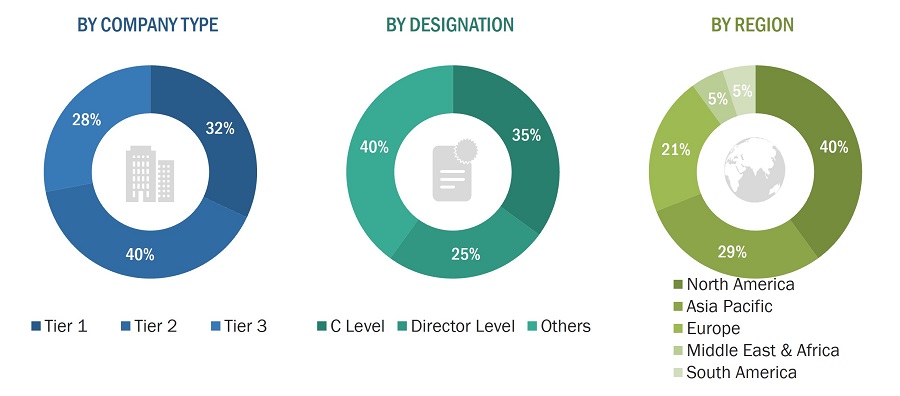 To know about the assumptions considered for the study, download the pdf brochure
Market Size Estimation
Both, the top-down and bottom-up approaches were used to estimate and validate the total size of the Critical Infrastructure drone market. These methods were also used extensively to estimate the size of various subsegments in the market. The research methodology used to estimate the market size includes the following:
The key players in the industry and markets were identified through extensive secondary research.
The industry's supply chain and market size, in terms of value, were determined through primary and secondary research processes.
All percentage shares, splits, and breakdowns were determined using secondary sources and verified through primary sources.
Data Triangulation
After arriving at the overall market size from the market size estimation process, the total market has been split into several segments and subsegments. To complete the overall market engineering process and arrive at the exact statistics for market segments and subsegments, the data triangulation procedure has been implemented, wherever applicable. The data has been triangulated by studying various factors and trends from both the demand and supply sides. Along with this, the market size has been validated using both top-down and bottom-up approaches.
Report Objectives
To define, describe, segment, and forecast the size of the Critical Infrastructure drone market based on type, application, mode of operation, and region
To forecast the size of different segments of the market with respect to five key regions, namely, North America, Europe, Asia Pacific, Middle East and RoW, along with their key countries
To identify and analyze the key drivers, restraints, opportunities, and challenges influencing the growth of the market
To identify technology trends currently prevailing in the Critical Infrastructure drone market
To analyze micromarkets with respect to individual growth trends, prospects, and their contribution to the overall market
To analyze opportunities in the market for stakeholders by identifying the key market trends
To profile the leading market players and comprehensively analyze their market share and core competencies
To analyze the degree of competition in the market by identifying the key growth strategies, such as acquisitions, new product launches, contracts, and partnerships, adopted by the leading market players
To identify detailed financial positions, key products, and unique selling points of the leading companies in the market
To provide a detailed competitive landscape of the market, along with a ranking analysis, market share analysis, and revenue analysis of the key players
Get online access to the report on the World's First Market Intelligence Cloud

Easy to Download Historical Data & Forecast Numbers
Company Analysis Dashboard for high growth potential opportunities
Research Analyst Access for customization & queries
Competitor Analysis with Interactive dashboard
Latest News, Updates & Trend analysis

Request Sample

Click on image to enlarge

Scope of the Report
Report Metric

Details

Market size available for years

2020–2028

Base year considered

2022

Forecast period

2023-2028

Forecast units

Value (USD Million)

Segments covered

By type, by application, by mode of operation

Geographies covered

North America, Europe, Asia Pacific, Middle East, ROW

Companies covered

DJI (China), Parrot (France), Yuneec (China),
AeroVironment Inc.(US), Kespry (US)
CyPhy Works (US), Flyability (Switzerland), Airobotics (Israel), Skydio (US) are some of the major players of Critical Infrastructure drone market. (25 Companies)
Critical Infrastructure Drone Market Highlights
The study categorizes the Critical Infrastructure drone market based on type, mode of operation, application, drone size and region.
Available Customizations
MarketsandMarkets offers the following customizations for this market report:
Company Information
Product Analysis
By Type

Fixed Wing
Rotary Wing
Hybrid

By Mode Of Operation

Semi Autonomous
Fully Autonomous

By Application

Bridges
Railways
Oil & Gas
Tower Inspection
Power Lines
Wind Turbine
Solar Farms

By Region

North America
Europe
Asia Pacific
Middle East
ROW

Profiling of additional market players (up to 5)

Product matrix, which provides a detailed comparison of the product portfolio of each company in the Critical Infrastructure drone Market
Request for detailed table of content.
Request for detailed methodology, assumptions & how numbers were triangulated.