Crusher and Shredder Machine Market
Crusher and Shredder Machine Market by Product (Crusher (Cone, Jaw, High Pressure Grinding) and Shredder (Mechanical, Shock Wave)), Material (Coal, Slag, Plastic, Wood, Paper, and Metal), Application and Region − Global Forecast to 2028
Report Code: UC 1789
Oct, 2023, by marketsandmarkets.com
A shredder is a two-axis cutting tool that is used to cut, roll, tear, and extrude materials. At the same time, a crusher is defined as a crushing machine used for crushing different hardness materials for extrusion and bending. The shredder can tear up and recycle waste resources, such as waste rubber, plastics, and tires. Hence, it is considered as an environmentally friendly machine. Further, a crusher is an equipment used to crush stones in mining sites. The shredder and crusher machines are mainly used in the industries such as mining, construction, industrial, and many other industries.
The global crusher and shredder machine market size is expected to grow from USD XX million in 2022 to USD XX million by 2027, at a CAGR of XX%. The key factors boosting market growth are increasing crusher and shredder machines in the demolition, construction, and mining industries.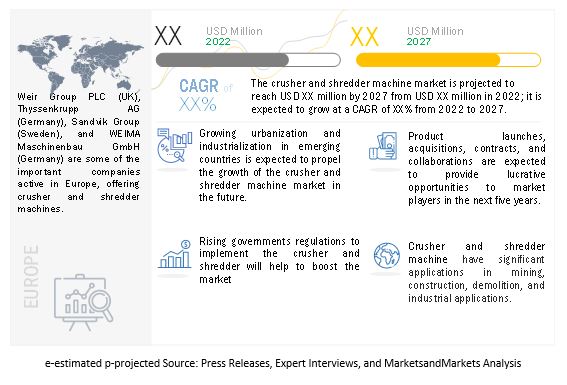 To know about the assumptions considered for the study, Request for Free Sample Report
Drivers: Rising urbanization and industrialization in emerging countries
Growing urbanization and industrialization in countries such as China, India, and Japan are factors responsible for the demand for crusher and shredder machines. Moreover, the developing nations of South America, Asia Pacific, and Africa will help to provide the market for crusher and shredder machines. In addition, the crusher and shredder also help recover the metals and other minerals from slag residue, leading to the demand for these machines.
Government regulation to boost the crusher and shredder machine market
Governments in several nations are working towards implementing new regulations which will help boost the crusher and shredder machine market. For instance, shredding facilities usually do not produce waste which is the added advantage of this machine. In addition, governments are taking initiatives to recycle the waste produced from construction and demolition activities for economic and environmental concerns. These machines help reduce waste, driving the demand for crusher and shredder equipment.
Challenges: High maintenance leads to hours of shutdown
One of the most critical challenges with shredder machine is that it requires high maintenance and repair cost as it is the necessary equipment in several industries. Even the best-built shredders also needed high maintenance and hours of downtime for repair or maintenance. The downtime duration helps determine the feasibility of using that particular shredder and how frequently it will require further repair or maintenance.
Key players in the market
Weir Group PLC (UK), BCA Industries (US), Thyssenkrupp AG (Germany), Sandvik Group (Sweden), WEIMA Maschinenbau GmbH (Germany), Metso Outotec Corporation (Finland), Brentwood RM Pty Ltd (US), UNTHA Shredding Technology (Austria) and FLSmidth (Denmark) are key players in the global crusher and shredder machine market.
Recent Developments
In September 2022, FLSmidth acquired TK Mining to become a leading global mining technology and service provider. TK Mining is one of the leading full-line solutions suppliers for material handling, mining systems, mineral processing, and services.
In June 2021, BCA Industries offered a customizable ES2000 shredder named The Beast, designed for applications such as ferrous and nonferrous metals, truck tires, and electronic scrap.
In November 2020, FLSmidth launched a digitally-enabled TSUV Gyratory Crusher, delivering the lowest total cost per metric tonne, even in
TABLE OF CONTENTS
1 Introduction
1.1. Study Objective
1.2. Market Definition
1.2.1. Inclusions and Exclusions
1.3. Market Scope
1.3.1. Markets Covered
1.3.2. Geographic Scope
1.3.3. Years considered for the study
1.4. Currency
1.5. Limitations
1.6. Market Stakeholders
2 Research Methodology
2.1. Research Data
2.1.1. Secondary and Primary Research
2.1.2. Secondar Data
2.1.3. Primary Data
2.2. Market Size Estimation
2.2.1. Bottom-up Approach
2.2.2. Top-down Approach
2.3. Data Triangulation
2.4. Research Assumptions
2.5. Risk Assessment
3 Executive Summary
4 Premium Insights
5 Market Overview
5.1. Introduction
5.2. Market Dynamics
5.2.1. Drivers
5.2.2. Restraints
5.2.3. Opportunities
5.2.4. Challenges
5.3. Value Chain Analysis
5.4. Ecosystem
5.5. Pricing Analysis
5.5.1. Average Selling Prices (ASP) of Key Players
5.5.2. Average Selling Prices (ASP) Trend
5.6. Trends/Disruptions Impacting Customers
5.7. Technology Analysis
5.8. Porterís Five Forces Analysis
5.9. Key Stakeholders & Buying Criteria
5.9.1. Key Stakeholders in Buying Process
5.9.2. Buying Criteria
5.10. Case Study
5.11. Trade Analysis
5.12. Patents Analysis
5.13. Key Conferences & Events
5.14. Tariff and Regulatory Landscape
5.14.1. Regulatory Bodies, Government Agencies, and Other Organizations
5.14.2. Regulations and Standards
6 Crusher and Shredder Machine Market, By Product
6.1. Introduction
6.2. Crusher Machine
6.2.1. Cone Crusher
6.2.2. Jaw Crusher
6.2.3. High Pressure Grinding Rolls
6.2.4. Impact Crusher
6.2.5. Others
6.3. Shredder Machine
6.3.1. Mechanical Shredder
6.3.2. Shock Wave Shredder
6.3.3. Others
7 Crusher and Shredder Machine Market, By Material
7.1. Introduction
7.2. Minerals
7.3. Coal
7.4. Slag
7.5. Pebble
7.6. Plastic
7.7. Wood
7.8. Paper
7.9. Metal
7.10. Others
8 Crusher and Shredder Machine Market, By Application
8.1. Introduction
8.2. Mining
8.3. Demolition
8.4. Industrial
8.5. Construction
8.6. Environmental
8.7. Others
9 Crusher and Shredder Machine Market, By Region
9.1. Introduction
9.2. North America
9.3. Europe
9.4. APAC
9.5. RoW
10 Competitive Landscape
10.1. Introduction
10.2. Key Player Strategies/ Right to Win
10.3. Top 5 Company Revenue Analysis
10.4. Market Share Analysis
10.5. Company Evaluation Quadrant
10.5.1. Star
10.5.2. Emerging Leader
10.5.3. Pervasive
10.5.4. Participant
10.6. Startup/SME Evaluation Matrix
10.6.1. Progressive Companies
10.6.2. Responsive Companies
10.6.3. Dynamic Companies
10.6.4. Starting Blocks
10.7. Crusher and Shredder Machine Market: Company Footprint
10.8. Competitive Benchmarking
10.9. Competitive Situation and Trends
11 Company Profiles
11.1. Introduction
11.2. Key Players
11.2.1. Weir
11.2.2. BCA Industries
11.2.3. Thyssen Krupp AG
11.2.4. Sandvik
11.2.5. Weima
11.2.6. Metso
11.2.7. Brentwood
11.2.8. Untha Shredding Technology
11.2.9. FLSmidth
11.2.10. Vecoplan
11.2.11. Terex Corporation
11.2.12. HARTL Crusher
11.2.13. IROCK Crushers
11.2.14. McLanahan
11.2.15. Lippmann-Milwaukee, Inc.
11.3. Other Key Players
11.3.1. Westpro Machinery
11.3.2. Komatsu Mining Corporation
11.3.3. WIRTGEN Group
11.3.4. Astec Industries, Inc.
11.3.5. Eagle Crusher Company, Inc.
11.3.6. McCloskey Equipment
11.3.7. Constmach
11.3.8. Meka
11.3.9. CITIC Ltd.
11.3.10. Chengdu Dahongli Machinery Co., Ltd.
12 Adjacent & Related Market
13 Appendix

Note: The above-mentioned table of content is tentative, and we may change the content once we start working on the study.

Request for detailed methodology, assumptions & how numbers were triangulated.