The study involved 4 major activities in estimating the current market size for the environmental hazard monitoring software market. Exhaustive secondary research was done to collect information on the market. The next step was to validate these findings, assumptions, and sizing with industry experts across the value chain using primary research. Both top-down and bottom-up approaches were employed to estimate the complete market size. Thereafter, the market breakup and data triangulation procedures were used to estimate the market size of the segments and subsegments of the market.
Secondary Research
In the secondary research process, various secondary sources, such as D&B Hoovers, Bloomberg BusinessWeek, and Factiva, have been referred to, to identify and collect information for this study. These secondary sources included annual reports, press releases and investor presentations of companies, whitepapers, certified publications and articles by recognized authors, gold standard and silver standard websites, regulatory bodies, trade directories, and databases.
Primary Research
The environmental hazard monitoring software market comprises several stakeholders, such as environmental hazard monitoring software vendors, system integrators, consulting service providers, managed service providers, resellers and startup companies. The demand side of the market consists of enterprises from different industry verticals, such as private, government and public sector. The supply side includes environmental hazard monitoring software providers, offering environmental hazard monitoring software and services. Various primary sources from both the supply and demand sides of the market were interviewed to obtain qualitative and quantitative information. Following is the breakup of the primary respondents: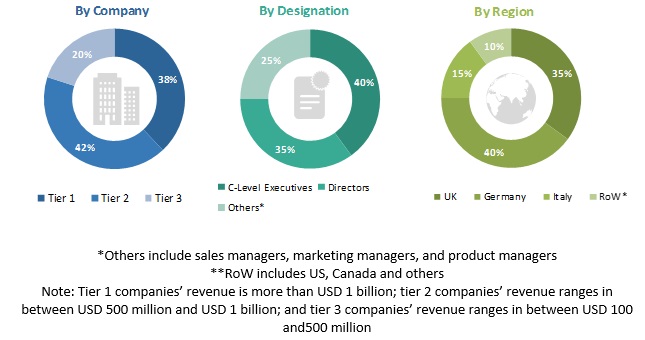 To know about the assumptions considered for the study, download the pdf brochure
Environmental Hazard Monitoring Software Market Size Estimation
Both top-down and bottom-up approaches were used to estimate and validate the total size of the environmental hazard monitoring software market. These methods were also used extensively to estimate the size of various subsegments in the market. The research methodology used to estimate the market size includes the following:
The key players in the industry and markets have been identified through extensive secondary research.
The industry's supply chain and market size, in terms of value, have been determined through primary and secondary research processes.
All percentage shares, splits, and breakups have been determined using secondary sources and verified through primary sources.
Data Triangulation
After arriving at the overall market size using the market size estimation processes as explained above, the market was split into several segments and subsegments. To complete the overall market engineering process and arrive at the exact statistics of each market segment and subsegments, the data triangulation and market breakup procedures were employed, wherever applicable. The data was triangulated by studying various factors and trends from both demand and supply sides.
Report Objectives
To define, describe, and forecast the environmental hazard monitoring software market by UK, Germany, Italy and vertical
To provide detailed information about the major factors (drivers, restraints, opportunities, and industry-specific challenges) influencing the growth of the market
To analyze the market with respect to individual growth trends, prospects, and contributions to the market
To forecast the market size into 3 countries namely, UK, Germany and Italy
To analyze the competitive developments, such as agreements, partnerships, acquisitions, and product/solution launches in the market
Available Customizations
With the given market data, MarketsandMarkets offers customizations as per the company's specific needs. The following customization options are available for the report:
Product Analysis
Product matrix gives a detailed comparison of the product portfolio of each company
Company Information
Detailed analysis and profiling of additional market players