Expanded Beam Connector Market
Expanded Beam Connector Market - Global Forecast to 2027
Report Code: UC 5936
Nov, 2023, by marketsandmarkets.com
In contrast to physical contact connectors that are used to join optical fibers, expanded beam connectors are contactless. Expanded beam connectors utilize use lenses to expand and collimate light signals, expanding the signal from smaller fiber core size into a much larger diameter and sends the light signals in parallel to each other. This expanded beam can be as much as 150 times larger compared to the beam in the fiber core.
The second lens then refocuses the expanded light into the connecting fiber core by contracting the light signal back down to the size of the smaller core diameter. Expanded beam connectors can be segmented into multimode and single-mode types, and are available in multiple fiber counts, ranging anywhere from 2 to 16 fibers.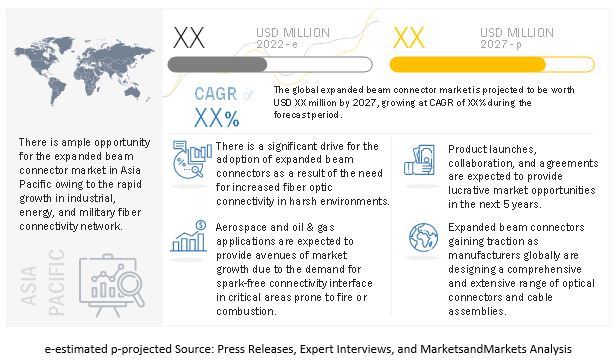 To know about the assumptions considered for the study, Request for Free Sample Report
Drivers: Deployment of optical fiber connectivity in harsh environments
The rising deployment of optical fiber connectivity in harsh environments such as mining, outside broadcasting, offshore, and in some factory automation settings (5G and edge computing) is driving the need for expanded beam connectors as is offers the benefit of tolerating dust, debris and other contaminates on the fiber endface.
Need for extended beam connectors in clinical applications
The need for fiber optic connectors that can withstand microorganisms, fluids and other contaminants in medical environments is also driving the market for expanded beam connectors. Extended beam connectors are becoming critical as they can withstand thousands of mating cycles in clinical applications.
Challenges: Large size of extended beam connectors and limited wavelength support
Due to beam expansion, the connector size of expanded beam connectors is larger than physical contact connectors, which can be a challenge in space constrained applications. In addition, the use of lenses in expanded beam connectors can limit the wavelengths supported and hence, are not recommended for wavelength division multiplexing (WDM) applications.
Key players in the market
Amphenol Fiber Systems International (US), TechOptics (UK), Bulgin (UK), 3M (US), NEUTRIK (Liechtenstein), Radiall (France), TE Connectivity (Switzerland), Foss (Norway), Rosenberger (Germany), Bel Fuse (US), JOWO Systemtechnik (Germany), and Strain Technologies (US) are a few key players in the expanded beam connector market globally.
Recent Developments
In March 2022, NEUTRIK (Liechtenstein) announced its new NEUTRIK FIBERFOX Expanded Beam Fiber Optic Connectors have been designed to meet the requirements of MIL-DTL-83526 specifications for deployment in harsh environments and use nonphysical contact fiber optic termini that are IP68 sealed behind an anti-reflective coated ball lens.
In November 2021, Amphenol FSI (US) announced that it one of the first to adapt to the new specifications for M28876 optical fiber connectors. The company announced that its M28876 connector finish has transitioned from cadmium/CR+6 to Black Hard Anodized PTFE or SnZn.
In May 2021, TechOptics (UK) announce a formal distribution agreement with EXFO, a leading manufacturer of fibre optic test and measurement solutions. The agreement covers EXFO's huge range of fibre inspection tools, OTDRs, sources, power meters and network test equipment addressing a wide range of applications across enterprise networks, optical physical layer, transport, and datacom.
TABLE OF CONTENTS
1 Introduction
1.1. Study Objectives
1.2. Market definition
1.2.1. Inclusions and exclusions
1.3. Study scope
1.3.1. Markets Covered
1.3.2. Geographic Scope
1.3.3. Years considered
1.4. Currency
1.5. Stakeholders
1.6. Summary of Changes
2 Research Methodology
2.1. Research Data
2.1.1. Secondary Data
2.1.1.1. Key data from primary sources
2.1.2. Primary Data
2.1.2.1. Key industry insights
2.1.2.2. Breakdown of primaries
2.1.2.3. Key data from primary sources
2.2. Market size estimation
2.2.1. Bottom-Up Approach
2.2.2. Top-Down Approach
2.3. Market Breakdown and Data Triangulation
2.4. Research Assumptions
2.5. Limitations
2.6. Risk Assessment
3 Executive Summary
4 Premium Insights
5 Market Overview
5.1. Introduction
5.2. Market Dynamics
5.2.1. Drivers
5.2.2. Restraints
5.2.3. Opportunities
5.2.4. Challenges
5.3. Supply/Value Chain Analysis
5.4. Ecosystem/Market Map
5.5. Pricing Analysis
5.5.1. Average Selling Price of Key Players, By Applications
5.5.2. Average Selling Price Trends
5.6. Trends/Disruption Impacting Customer Businesses
5.7. Technology Analysis
5.7.1. Insertion Loss Requirements
5.7.2. Reflected Power Requirements
5.8. Porters 5 Forces Analysis
5.9. Key Stakeholder & Buying Criteria
5.10. Case Study Analysis
5.11. Trade Analysis
5.12. Patent Analysis
5.13. Key Conferences & Events
5.14. Tariff & Regulatory Landscape
5.14.1. Regulatory Bodies, Government Agencies and Other Organizations
6 Expanded Beam Connector Market, By Cable Type
6.1. Introduction
6.2. Single Mode
6.3. Multi-Mode
7 Expanded Beam Connector Market, By Beam Diameter
7.1. Introduction
7.2. <1.0mm
7.3. 1.0-2.0 mm
7.4. 2.0-3.0 mm
8 Expanded Beam Connector Market, By Form Factor
8.1. Introduction
8.2. Rack & Panel
8.3. Panel Mount Connectors
8.4. In-Line Circular
8.5. Quick-Disconnect
9 Expanded Beam Connector Market, By Connector Type
9.1. Introduction
9.2. Single Channel
9.3. Multi-Channel
10 Expanded Beam Connector Market, By Application
10.1. Introduction
10.2. Military & Defense
10.3. Oil & Gas
10.4. Medical
10.5. Industrial
10.6. Aerospace
10.7. Others (Robotics, Railway, Marine)
11 Expanded Beam Connector Market, By Region
11.1. Introduction
11.2. North America
11.2.1. US
11.2.2. Canada
11.2.3. Mexico
11.3. Europe
11.3.1. Germany
11.3.2. UK
11.3.3. France
11.3.4. Rest of Europe
11.4. APAC
11.4.1. China
11.4.2. Japan
11.4.3. India
11.4.4. Rest of APAC
11.5. RoW
11.5.1. South America
11.5.2. Middle East and Africa
12 Competitive Landscape
12.1. Key Player Strategies/Right to Win
12.2. Revenue Analysis of Leading Players (2017-2021)
12.3. Market Share Analysis
12.4. Company Product Footprint Analysis
12.5. Company Evaluation Quadrant
12.5.1. Star
12.5.2. Emerging Leader
12.5.3. Pervasive
12.5.4. Participant
12.6. Startup/SME Evaluation Quadrant
12.6.1. Progressive Company
12.6.2. Responsive Company
12.6.3. Dynamic Company
12.6.4. Starting Block
12.7. Competitive Situations and Trends
12.7.1. Product Launches
12.7.2. Deals
12.7.3. Others
13 Company Profiles
13.1. Major Players
13.1.1. TE Connectivity
13.1.2. 3M
13.1.3. Broadcom
13.1.4. Molex
13.1.5. Amphenol
13.1.6. Glenair
13.1.7. ODU
13.1.8. COTSWorks
13.1.9. Corning Incorporated
13.1.10. Amphenol
13.1.11. Sumitomo
13.1.12. Bel Fuse
13.1.13. Nissin Kasei USA
13.1.14. Radiall
13.2. Other Players
14 Appendix
14.1. Discussion Guide
14.2. Knowledge Store: Marketsandmarkets' Subscription Portal
14.3. Author Details
Note: Average selling price and technical product comparison can be provided for top 5 companies only.

Request for detailed methodology, assumptions & how numbers were triangulated.