In contrast to physical contact connectors that are used to join optical fibers, expanded beam connectors are contactless. Expanded beam connectors utilize use lenses to expand and collimate light signals, expanding the signal from smaller fiber core size into a much larger diameter and sends the light signals in parallel to each other. This expanded beam can be as much as 150 times larger compared to the beam in the fiber core.
The second lens then refocuses the expanded light into the connecting fiber core by contracting the light signal back down to the size of the smaller core diameter. Expanded beam connectors can be segmented into multimode and single-mode types, and are available in multiple fiber counts, ranging anywhere from 2 to 16 fibers.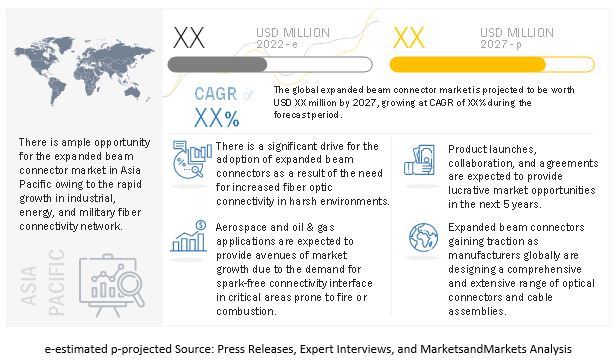 To know about the assumptions considered for the study, Request for Free Sample Report
Drivers: Deployment of optical fiber connectivity in harsh environments
The rising deployment of optical fiber connectivity in harsh environments such as mining, outside broadcasting, offshore, and in some factory automation settings (5G and edge computing) is driving the need for expanded beam connectors as is offers the benefit of tolerating dust, debris and other contaminates on the fiber endface.
Need for extended beam connectors in clinical applications
The need for fiber optic connectors that can withstand microorganisms, fluids and other contaminants in medical environments is also driving the market for expanded beam connectors. Extended beam connectors are becoming critical as they can withstand thousands of mating cycles in clinical applications.
Challenges: Large size of extended beam connectors and limited wavelength support
Due to beam expansion, the connector size of expanded beam connectors is larger than physical contact connectors, which can be a challenge in space constrained applications. In addition, the use of lenses in expanded beam connectors can limit the wavelengths supported and hence, are not recommended for wavelength division multiplexing (WDM) applications.
Key players in the market
Amphenol Fiber Systems International (US), TechOptics (UK), Bulgin (UK), 3M (US), NEUTRIK (Liechtenstein), Radiall (France), TE Connectivity (Switzerland), Foss (Norway), Rosenberger (Germany), Bel Fuse (US), JOWO Systemtechnik (Germany), and Strain Technologies (US) are a few key players in the expanded beam connector market globally.
Recent Developments
In March 2022, NEUTRIK (Liechtenstein) announced its new NEUTRIK FIBERFOX Expanded Beam Fiber Optic Connectors have been designed to meet the requirements of MIL-DTL-83526 specifications for deployment in harsh environments and use nonphysical contact fiber optic termini that are IP68 sealed behind an anti-reflective coated ball lens.
In November 2021, Amphenol FSI (US) announced that it one of the first to adapt to the new specifications for M28876 optical fiber connectors. The company announced that its M28876 connector finish has transitioned from cadmium/CR+6 to Black Hard Anodized PTFE or SnZn.
In May 2021, TechOptics (UK) announce a formal distribution agreement with EXFO, a leading manufacturer of fibre optic test and measurement solutions. The agreement covers EXFO's huge range of fibre inspection tools, OTDRs, sources, power meters and network test equipment addressing a wide range of applications across enterprise networks, optical physical layer, transport, and datacom.