Industrial Liquid Coatings Market
Industrial Liquid Coatings Market by Resin (Polyester, Epoxy, Polyurethane, Acrylic), Technology (Solventborne, Waterborne), Application (Automotive, Marine, General Industrial, Packaging), and Region - Global Forecast to 2027
Report Code: UC 5881
May, 2023, by marketsandmarkets.com
The market size for Industrial liquid coatings is projected to grow from USD 81.9 billion in 2022 to USD 99.7 billion in 2027, at a CAGR of 4.0%. The key factor driving the growth of the market includes the increasing demand from industries such as automotive, general industrial and others.
Increasing demand for environmentally-friendly coatings, need for efficient process and durable coatings with better aesthetics, and growing demand from the Asia Pacific region are driving the global industrial liquid coatings market. However, the difficulty in obtaining thin films, requirement of more drying time for water-based coatings are obstructing the overall growth of the market. Attractive prospects for coatings in shipbuilding and pipeline industries, and increasing use of nano-coatings are expected to provide opportunities in the industrial liquid coatings market; conversely, stringent regulatory policies are expected to pose a challenge to its growth.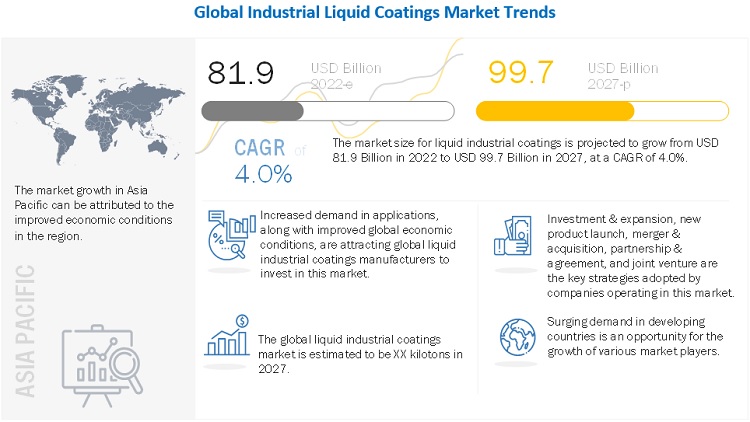 To know about the assumptions considered for the study, Request for Free Sample Report
Asia Pacific is the fastest-growing Industrial liquid coatings market.
Asia Pacific is the largest and fastest-growing market for industrial liquid coatings. In the last five years, end-use industries such as, general industrial, automotive, aerospace, and packaging in Asia Pacific have witnessed significant developments due to which the demand for industrial liquid coatings has also increased substantially. China continues to drive global demand due to the increasing population and rapidly growing infrastructure facilities. However, a slowdown in the market is observed due to the recent economic downturn in the country.
Key Market Players
Akzo Nobel N.V. (Netherlands), PPG Industries (US), Sherwin-Williams (US), Axalta coating systems, LLC (US), and Nippon Paint (Japan) are the major players in the Industrial liquid coatings market.
Akzo Nobel N.V. is a diversified chemical company. It is active in the fields of decorative paints, performance coatings, and specialty chemicals. Akzo Nobel N.V. has a strong customer base and operates in many countries of Europe, North America, Asia Pacific, South America, and the Middle East & Africa. The company has business activities in more than 80 countries around the world. It has a wide product portfolio which includes brands such as Dulux, Sikkens, Butanox, Elotex, International, and Interpon. The company has 548 offices and manufacturing sites across the globe in countries including China, India, the US, Germany, Brazil, and the UAE among various others.
Get online access to the report on the World's First Market Intelligence Cloud

Easy to Download Historical Data & Forecast Numbers
Company Analysis Dashboard for high growth potential opportunities
Research Analyst Access for customization & queries
Competitor Analysis with Interactive dashboard
Latest News, Updates & Trend analysis

Request Sample

Click on image to enlarge

Scope of the Report
Report Metric

Details

Years Considered for the study

2020-2027

Base year

2021

Forecast period

2022–2027

Units considered

Value (USD) and Volume (kiloton)

Segments

By Resin Type
By Technology
By Application
By Region

Regions covered

Asia Pacific, Europe, North America, Middle East & Africa, South America

Companies profiled

Akzo Nobel N.V. (Netherlands), PPG Industries (US), Sherwin-Williams (US), Axalta coating systems, LLC (US), and Nippon Paint (Japan). A total of 25 players have been covered.
This research report categorizes the industrial liquid coatings market based on Technology, Resin, End-use Industry, and Region.
By Resin Type:
Polyester
Epoxy
Polyurethane
Acrylic
Others
By Technology:
By Application:
General Industrial
Automotive
Aerospace
Packaging
Others
By Region:
Asia Pacific
Europe
North America
Middle East & Africa
South America
Recent Developments
In July 2021, Akzo Nobel N.V. and Mercedes-Benz extended their partnership agreement for another four years. This means the company will continue to provide vehicle refinish products including the automotive and specialty coatings, and services in China and a preferred partner in Indonesia.
In March 2021, Akzo Nobel N.V. has invested in Qlayers coating technology which offers a fully automated solution to safer, more consistent, and faster than manual the manual coating processes used now in the industry. By eliminating overspray, it's sustainable solution that saves cost. This technology is helping the customers in applying the anti-corrosive coating systems and others.
Frequently Asked Questions (FAQ):
What are the factors influencing the growth of Industrial liquid coatings?
2. What are the major applications for Industrial liquid coatings?
What are the major applications for Industrial liquid coatings?
The major appliaction of Industrial liquid coatings are general industrial and automotive
Who are the major manufacturers?
Akzo Nobel N.V. (Netherlands), PPG Industries (US), Sherwin-Williams (US), Axalta coating systems, LLC (US), and Nippon Paint (Japan) are some of the leading players operating in the global I Industrial liquid coatings market.
Why Industrial liquid coatings are gaining market share?
The growth of this market is attributed to the growing demand in Asia Pacific and the increasing usage of Industrial liquid coatings in the different end-use purposes including general industrial and automotive. .
To speak to our analyst for a discussion on the above findings, click Speak to Analyst
TABLE OF CONTENTS
1 INTRODUCTION
1.1 OBJECTIVES OF STUDY
1.2 MARKET DEFINITION
1.2.1 MARKET INCLUSION
1.2.2 MARKET EXCLUSION
1.3 MARKET SCOPE
1.3.1 MARKET SEGMENTATION
1.3.2 YEARS CONSIDERED FOR STUDY
1.4 CURRENCY
1.5 UNIT CONSIDERED
1.6 STAKEHOLDERS
2 RESEARCH METHODOLOGY
2.1 RESEARCH DATA
2.1.1 SECONDARY DATA
2.1.2 PRIMARY DATA
2.2 MARKET SIZE ESTIMATION
2.3 DATA TRIANGULATION
2.3.1 ASSUMPTIONS
2.3.2 LIMITATIONS
3 EXECUTIVE SUMMARY
4 PREMIUM INSIGHTS
5 MARKET OVERVIEW
5.1 INTRODUCTION
5.2 MARKET DYNAMICS
5.2.1 DRIVERS
5.2.2 RESTRAINTS
5.2.3 OPPORTUNITIES
5.2.4 CHALLENGES
5.3 PORTER'S FIVE FORCES ANALYSIS
5.3.1 THREAT OF SUBSTITUTES
5.3.2 BARGAINING POWER OF BUYERS
5.3.3 THREAT OF NEW ENTRANTS
5.3.4 BARGAINING POWER OF SUPPLIERS
5.3.5 INTENSITY OF COMPETITIVE RIVALRY
5.4 MACRO ECONOMIC INDICATOR ANALYSIS
5.4.1 INTRODUCTION
5.4.2 TRENDS AND FORECAST OF GDP
5.5 VALUE CHAIN ANALYSIS
5.6 TRADE ANALYSIS
5.7 PATENT ANALYSIS
5.8 REGULATIONS
6 INDUSTRIAL LIQUID COATINGS MARKET, BY RESIN TYPE
6.1 POLYESTER
6.2 EPOXY
6.3 POLYURETHANE
6.4 ACRYLIC
6.5 OTHERS
7 INDUSTRIAL LIQUID COATINGS MARKET, BY TECHNOLOGY
7.1 SOLVENTBORNE
7.2 WATERBORNE
8 INDUSTRIAL LIQUID COATINGS MARKET, BY APPLICATION
8.1 MARINE
8.2 GENERAL INDUSTRIAL
8.3 AUTOMOTIVE
8.4 AEROSPACE
8.5 PACKAGING
8.6 OTHERS
9 INDUSTRIAL LIQUID COATINGS MARKET, BY REGION
9.1 INTRODUCTION
9.2 ASIA PACIFIC
9.2.1 CHINA
9.2.2 JAPAN
9.2.3 INDIA
9.2.4 SOUTH KOREA
9.2.5 INDONESIA
9.2.6 REST OF ASIA PACIFIC
9.3 EUROPE
9.3.1 GERMANY
9.3.2 RUSSIA
9.3.3 ITALY
9.3.4 TURKEY
9.3.5 FRANCE
9.3.6 UK
9.3.7 SPAIN
9.3.8 REST OF EUROPE
9.4 NORTH AMERICA
9.4.1 US
9.4.2 MEXICO
9.4.3 CANADA
9.5 MIDDLE EAST & AFRICA
9.5.1 SAUDI ARABIA
9.5.2 SOUTH AFRICA
9.5.3 EGYPT
9.5.4 REST OF THE MIDDLE EAST & AFRICA
9.6 SOUTH AMERICA
9.6.1 BRAZIL
9.6.2 ARGENTINA
9.6.3 REST OF SOUTH AMERICA
10 COMPETITIVE LANDSCAPE
10.1 OVERVIEW
10.2 COMPANY EVALUATION QUADRANT MATRIX: DEFINITIONS AND METHODOLOGY, 2021
10.2.1 STAR
10.2.2 EMERGING LEADERS
10.2.3 PERVASIVE PLAYERS
10.2.4 PARTICIPANTS
10.3 STRENGTH OF PRODUCT PORTFOLIO
10.4 BUSINESS STRATEGY EXCELLENCE
10.5 REVENUE ANALYSIS
10.6 COMPETITIVE BENCHMARKING
10.6.1 MARKET EVALUATION MATRIX
10.7 MARKET RANKING ANALYSIS
10.8 STRATEGIC DEVELOPMENTS
10.8.1 NEW PRODUCT LAUNCHES
10.8.2 DEALS
10.8.3 OTHER DEVELOPMENTS
11 COMPANY PROFILES* (TENTATIVE LIST)
11.1 KEY PLAYERS
11.1.1 NIPPON PAINT HOLDINGS CO., LTD.
11.1.2 HEMPEL A/S
11.1.3 AXALTA COATING SYSTEMS, LLC
11.1.4 THE SHERWIN-WILLIAMS COMPANY
11.1.5 KANSAI PAINT CO., LTD.
11.1.6 AKZO NOBEL N.V.
11.1.7 RPM INTERNATIONAL INC.
11.1.8 PPG INDUSTRIES INC.
11.1.9 BARIL COATINGS
11.1.10 CARDINAL
11.2 OTHER KEY PLAYERS
(This is a tentative list. 20+ key players will be provided, and public companies will be profiled in detail)
*Financial details might not be captured in case of unlisted companies.
Note: Contents in the TOC may get updated or modified during research study or as per the accessibility of available information or as per client's requirements.

The study involves four major activities in estimating the current market size of industrial liquid coatings. Exhaustive secondary research was done to collect information on the market, the peer market, and the parent market. The next step was to validate these findings, assumptions, and sizing with industry experts across the value chain through primary research. Both the top-down and bottom-up approaches were employed to estimate the complete market size. After that, the market breakdown and data triangulation methods were used to estimate the size of the segments and sub-segments of the overall market.
Secondary Research
In the secondary research process, various secondary sources, such as Hoovers, Bloomberg BusinessWeek, and Dun & Bradstreet, have been referred to for identifying and collecting information for this study. These secondary sources also included annual reports, press releases & investor presentations of companies; white papers; certified publications; articles by recognized authors; gold standard & silver standard websites; regulatory bodies; trade directories; and databases.
Primary Research
The industrial liquid coatings market comprises several stakeholders, such as raw material suppliers, end-product manufacturers, and regulatory organizations. The demand side of this market is characterized by the development in different applications. The supply side is characterized by advancements in technology. Various primary sources from both the supply and demand sides of the market were interviewed to obtain qualitative and quantitative information.
Following is the breakdown of primary respondents:
To know about the assumptions considered for the study, download the pdf brochure
Market Size Estimation
Both the top-down and bottom-up approaches were used to estimate and validate the total size of the industrial liquid coatings market. These methods were also used extensively to estimate the sizes of various sub-segments in the market. The research methodology used to estimate the market size includes the following:
The key players in the market have been identified through extensive secondary research.
The industry's supply chain and market size, in terms of value, have been determined through primary and secondary research processes.
All percentage shares, splits, and breakdowns have been determined using secondary sources and verified through primary sources.
Data Triangulation
After arriving at the overall market size—using the market size estimation processes as explained above—the market was split into several segments and sub-segments. To complete the overall market engineering process and arrive at the exact statistics of each market segment and sub-segment, the data triangulation, and market breakdown procedures were employed, wherever applicable. The data was triangulated by studying various factors and trends from both the demand and supply sides.
Report Objectives
To define, describe, and forecast the global industrial liquid coatings market, in terms of value and volume
To provide detailed information regarding the key factors, such as drivers, restraints, opportunities, and challenges, influencing the growth of the market
To define, describe, and forecast the market based on resin type, technology, application, and region
To forecast the market size with respect to five main regions, namely North America, Europe, Asia Pacific, South America, and the Middle East & Africa
To strategically analyze the micromarkets1 with respect to individual growth trends, prospects, and contribution to the overall market
To analyze the opportunities in the market for stakeholders and draw a competitive landscape for the market leaders
To analyze competitive developments in the market, such as mergers, acquisitions, new product launches, investments, and expansions
To strategically profile the key players and comprehensively analyze their core competencies2
Available Customizations
MarketsandMarkets offers customizations according to the specific needs of the companies with the given market data.
The following customization options are available for the report:
Product Analysis
Product matrix, which gives a detailed comparison of the product portfolio of each company
Regional Analysis
Further breakdown of the industrial liquid coatingsmarket, by country
Company Information
Detailed analysis and profiling of additional market players (up to five)