[119 Pages Report] Saudi Arabia in order to boost religious tourism has translated higher budget allocations toward the hospitality, retail, and infrastructure sectors in 2014. This is expected to result in an increase in construction activities across these sectors in the near future. Economic recovery as well as planned or underway infrastructure project as part of the country's strategic vision 2021 will drive the UAE's construction sector. Due to healthy population growth and mega events, Qatar's residential, hospitality, and infrastructure construction industry appear optimistic and are expected to attract foreign investors.
Oman's construction industry is expected to remain robust due to increase in infrastructure projects planned by the government along with the construction of private and commercial buildings. Kuwait construction industry is set to thrive, due to new projects from the private sector and an increase in demand for residential and commercial units. Bahraini government is focusing on developing its infrastructure and residential construction to reduce housing shortage.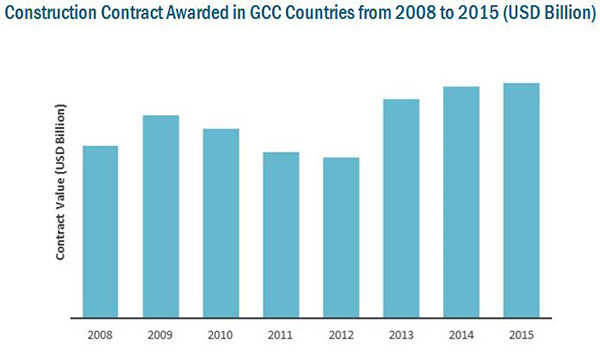 To know about the assumptions considered for the study, download the pdf brochure
This report provides information about the Saudi Arabia, UAE, Qatar, Oman, Kuwait, and Bahrain construction industry. In this report, we have covered trends, market overview, investment analysis, building cost, construction projects, and import export trade data of raw material.
Target audience
GCC construction companies
International construction companies
Raw material suppliers
Government and research organizations
Associations and industry bodies
GCC chemical, oil & gas industrial, transport, water, and power companies
International chemical, oil & gas industrial, transport, water, and power companies
Get online access to the report on the World's First Market Intelligence Cloud
Easy to Download Historical Data & Forecast Numbers
Company Analysis Dashboard for high growth potential opportunities
Research Analyst Access for customization & queries
Competitor Analysis with Interactive dashboard
Latest News, Updates & Trend analysis
Request Sample
Click on image to enlarge
Scope of the Report
This research report categorizes the GCC construction industry based on country.
Based on country, the industry has been segmented as follows:
Saudi Arabia
UAE
Qatar
Oman
Kuwait
Bahrain
Available Customizations
With the given market data, MarketsandMarkets offers customizations as per the client-specific needs. The following customization options are available for the report:
Geographic Analysis
Further breakdown of the Saudi Arabia construction industry
Further breakdown of the UAE construction industry
Further breakdown of the Qatar construction industry
Further breakdown of the Oman construction industry
Further breakdown of the Kuwait construction industry
Further breakdown of the Bahrain construction industry
As per IMF, the GCC population is projected to grow at a CAGR of 2.80% from 2015 to 2020 to reach 53.41 million. An expanding population is expected to urge higher demand in residential, commercial, retail, hospitality, healthcare, and infrastructure sectors across the GCC region.
GCC countries are focusing on economic diversification as oil prices are more versatile from the last two years.
GCC countries are witnessing an evolution phase, driven by an increase in government investments in the construction sector. The construction industry is projected to growth at a healthy rate due to numerous factors such as favorable macroeconomics, higher government allocation, positive demographics, and rising tourism activities across the region. This report also provides recent trends in the construction industry of the GCC countries, along with market drivers and challenges. GCC has emerged as a tourist hub for pilgrims, international shoppers, and leisure travelers. In order to satisfy and sustain a large number of tourists, GCC countries are investing heavily in the development of airports, transportation systems, hotels, and retail & leisure sectors. For example, Saudi Arabia is putting in a lot of effort to boost religious tourism, which led to higher budget allocations toward the hospitality, retail, and infrastructure sectors. GCC countries are aiming to attract investors of the construction sector by hosting global events. Dubai has become one of the world's fastest-growing destinations with a projection of 20 million visitors per year from 2015 to 2020.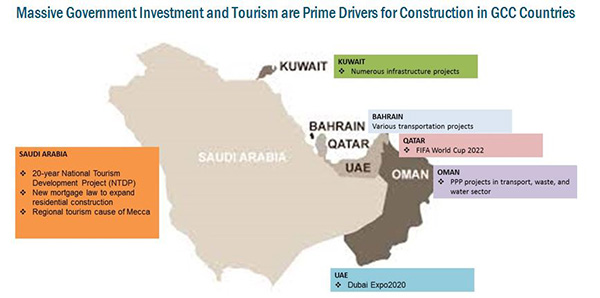 Falling oil prices is forcing government to reduce dependence on the oil & gas industry. GCC has emerged as an international tourist hub for international shoppers, vacation travelers, and pilgrims. The region's tourism industry is expected to boom in future, and the rising demand is expected in retail, hospitality, and infrastructure construction. Mega events such as Dubai Expo 2020 and FIFA World Cup, Qatar, will create opportunities across these sectors which will boost construction activities. Other factors driving the growth of the construction industry are new mortgage laws in Saudi Arabia and high bank liquidity. The GCC construction industry faces various challenges such as lack of skilled labor and shortage of raw materials. International companies are entering the GCC construction sector by partnership or joint venture to generate high revenue.
To speak to our analyst for a discussion on the above findings, click Speak to Analyst