[58 Pages Report] Micro packaging spans across a significant number of scientific disciplines and impacts various aspects of the end-user industries such as food industry, medical or pharmaceuticals, cosmetics etc. Companies are focusing on adoption of multi-disciplinary approaches to bring innovations by developing nanomaterials that ensure product safety and prolonged shelf life. Though the inventions in the field of micro packaging are at the preliminary stage, it has immense potential to revolutionize the packaging technology with its ability to manipulate materials on the nanoscale to create a host of different properties. The characteristics of micro packaging such as heat resistance, greater strength, improved electrical conductivity can be exploited by various end-user industries, thereby making it a lucrative mode of packaging. Further, the nanoscale innovations in the forms of pathogen detection, active packaging, and barrier formation are poised to uplift packaging to new heights.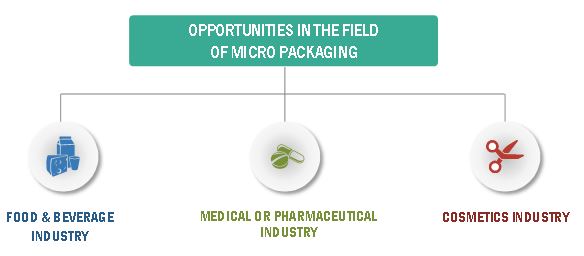 This report provides information about the applications of Nano technology based. In this report, we have covered key applications, new product development, total addressable market, regulatory framework, product market fit, SWOT analysis, and investment challenges
The major players in this industry include Amcor Limited, Bemis Company, Inc., Avery Dennison Corporation, Bayer AG, and Tetra Pak International S.A.
Target audience
Global packaging manufacturers, traders, and distributors
Raw material suppliers
Global packaging importers and exporters
Global packaging suppliers
Government and research organizations
Associations and industry bodies
End users such as manufacturers of food & beverages, consumer durables, and transportation & logistics
Available Customizations
With the given market data, MarketsandMarkets offers customizations as per the company¡¦s specific needs. The following customization options are available for the report:
Nano technology, the technology on which micro packaging is based upon, has witnessed significant innovative breakthroughs since the early 2000s. Active packaging, intelligent packaging, nano bar codes are some of the inventions which gave rise to the development of micro packaging concept. However, the invention of nano technology can be traced back to the 1980s when the development of specialized tools took place such as atomic force microscopy (AFM) and scanning probe microscopy (SPM) through which researchers and scientists have got an understanding of how to manipulate materials to accomplish the desired effects. The ability to manipulate materials on the nano scale is being exploited by almost every industry so as to create a host of different properties such as heat resistance, greater strength, improved electrical conductivity etc.
Micro packaging is expected to grow at a rapid pace in the pharmaceutical packaging industry owing to the fact that nano-enabled pharmaceutical packaging has occupied the highest market share of 45% in 2014 and is projected to grow at a CAGR of 15.9% during the forecast period. Micro packaging, developed on the base of nano technology, is poised to have a strong impact in the pharmaceutical packaging owing to its ability to enhance stability and shelf life to the drug and the delivery system. The advent of new drug delivery systems and the development of new biochemical compounds, have generated the need for improved protection against factors such as moisture, light, oxygen and mechanical forces. Micro packaging includes addition of certain nanoparticles into shaped objects and films so as to render them light, fire-resistivity and strength in terms of mechanical and thermal performance, as well as less permeable to gases. Micro packaging, with incorporation of nano-engineered materials such as nano coatings and nanocomposite-based packaging films, controls microbial growth, delays oxidation, improves tamper visibility and anti-counterfeiting, thereby ensures the drug safety for longer durations.