Get in-depth analysis of the COVID-19 impact on the Natural Rubber Market
Benchmarking the rapid strategy shifts of the Top 100 companies in the Natural Rubber Market
Request For Special Pricing
Rubber plays a vital role in the global economy, with major applications in the automotive, consumer goods, manufacturing, and medical industries. Natural rubber is collected from rubber trees, is transformed through remilling plants that wash it (removing leaves, insects, dirt, etc.), blend it (to ensure consistency), dry it and package it before selling it on in the form of either smoked rubber sheets or bales of rubber.
The automotive industry (tire & tube) is the major segment which consumes largest share of natural rubber. Rubber markets have historically been centered in the Asia Pacific region and industry players produce and export to the other nations either as raw material or manufactured goods. Due to substitutability factor, natural rubber competes with synthetic rubber for the market demand.
As per IRSG, global natural rubber production amounted to 12.1 million tons in 2012 and consumption at 11.3 Million ton with supply-demand surplus maintaining at 736 thousand tons. Southeast Asia is the main producer – Thailand, Indonesia, Vietnam, and Malaysia accounted for nearly 70-75% of the world's production. Asia-Pacific consumes nearly 65-70% of the global natural rubber production followed by North America and Europe. Japan, Germany, Canada, and U.S. are the top four countries has the high per capita consumption of natural and synthetic rubber compared to other nations.
From period 2011 to 2014, has seen considerable fall in natural rubber prices across the production as well as in consumption markets due to various factors such as economy slowdown in various countries, higher production, declined demand for automobiles etc. As per FAO, gross production vale of natural rubber at farm level valued at $22.9 billion in 2012 and it nearly doubles till it reaches to the point end users. to prosper in the evolving and dynamic market, industry players such as plantation owners, automobile manufacturers, and gloves manufacturers are to focus and strategize on the changing patterns of the raw material i.e., natural rubber market.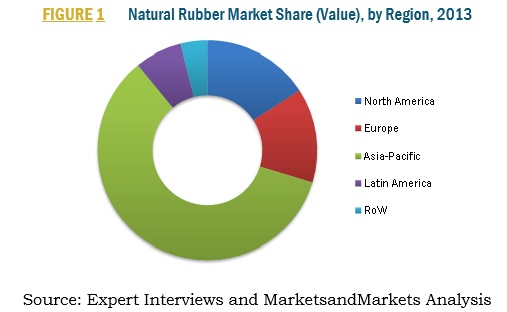 This report has estimated the size of the natural rubber (Raw material) market in terms of value ($million). In this report, the market has broadly been segmented on the basis of types, applications, and regions. Market drivers, restraints, opportunities, and challenges; and raw material and product price trends have been discussed in detail. Share of participants in the overall market have been discussed in detail. The market has grown significantly in the last few years and this growth is projected to continue.

Scope of the Report
Based on type, the market has been segmented as follows:
• RSS Grade
• Latex Concentrate
• Solid Block Rubber
• Others (such as reclaimed rubber & Crepe Rubber)
Based on application, the market has been segmented as follows:
• Auto-Tire Sector
• Gloves
• Foot Wear
• Latex Products
• Others (Such as Industrial & General Rubber Goods)

Based on region, the market has been segmented as follows:
• North America
• Europe
• Asia-Pacific
• Latin America
• ROW (The Middle East and Africa)