[144 Pages Report] Opportunity Assessment of Waste Management in US Cities are expected to grow from USD 1.0 billion in 2018 to USD 1.7 billion by 2023, at a Compound Annual Growth Rate (CAGR) of 10.4% during the forecast period. Demand for waste management assessment opportunities in US cities is expected to grow over the next 5 years, owing to several factors including an increasing focus on the collection of waste materials and transportation to recycling facilities, sorting material type and selling them to manufacturers to make new products, state governments' focus on waste recycling and energy generation, and increasing adoption of smart waste management systems.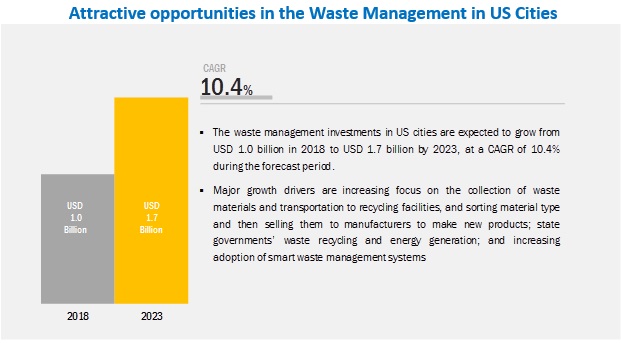 Los Angeles to provide growth opportunities for smart management vendors
Philadelphia, Los Angeles, Boston, and San Diego have adopted Smart Waste Management (SWM) solutions. LA is looking forward to expand the SWM program to other vendors apart from Bigbelly. LA Sanitation (LASAN) handles waste management activities for single-family and multi-family (less than 4 units) establishments. Franchises (haulers) handle waste management activities for multi-family (with 4 or more units) and commercial establishments. Athens Services, Republic Services, Waste Management Inc., Universal Waste Systems, NASA Services, Ware Disposal Company, and CalMet Services are responsible for waste collection, transfer, recycling, processing, and disposal for multi-family and commercial establishments till 2024. City of Los Angeles aims to achieve 97% waste diversion rate by 2030. Since 2015, Los Angeles has rented and installed 66 BigBelly stations in Council District 1. It achieved 94% waste collection efficiency by 2016. Post successful implementation of the pilot program, LASAN plans to release RFPs to get similar services from other vendors. However, changes in the Chinese import policy have led to increased waste processing costs and higher volumes of waste being disposed in landfills. Other waste management challenges include hygiene-related issues due to illegal dumping, increasing complaints about waste pickup services, and unrest around higher service fees charged by haulers.
Sweden to lead waste management and recycling initiatives and achieve zero waste status
Sweden has imported rubbish from other countries to keep its recycling plants going. Recycling waste in Sweden is highly efficient that less than 1% of Swedish household waste has been sent to landfill since 2011. The country has implemented a unified national recycling policy that takes the waste energy into a national heating network to heat homes through the freezing Swedish winter. The country has consistently worked on technological advancements to lower greenhouse gas emissions, improve energy efficiency, and increase public awareness.
Philadelphia records the highest waste management rate by recycling
Philadelphia is the sixth most populous city in the US. The population of Philadelphia witnessed a decline during 1950–2006. However, the population has been increasing from the year of 2006 to 2017 due to organic increase in the population (i.e. number of births has been higher than number of deaths in the area), and increasing influx of immigrants. In 2017, Philadelphia generated 0.41 tons per capita residential waste and 1.46 tons per capita gross waste. Streets Department of Philadelphia provides waste cleaning and collection services to residential and commercial segments. Commercial and multi-family units need to pay USD 300 annually for waste management services. Waste transfer and disposal activities are outsourced to Waste Management Inc. and Covanta. 530,000 residential units are included in the City of Philadelphia. It is estimated that there are approximately 1.06 million residential waste bins, while commercial waste bins are estimated to be 45,000–50,000 (32G capacity).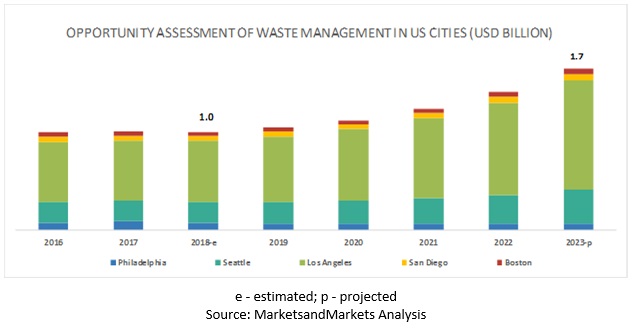 Key Market Players
Major vendors offering Opportunity Assessment of Waste Management in US Cities include Bigbelly, Inc. (US), Compology (US), OnePlus Systems (US), Ecube Labs (South Korea), Waste Management Inc. (US), Republic Services Inc. (US), Covanta Holding Corporation (US), Recology (US), Athens Services (US), and Bin-e (Poland). The study includes an in-depth competitive analysis of the key players in the waste management market, along with their projects and investments, recent developments, and key market strategies. Market players have embraced various strategies to bring innovative solutions to the expand their global presence and increase their market shares. The vendors have focused on IoT-based sensors to deploy innovative waste recycling and energy generation systems.
Smart Waste Management Developments:
In 2018, Bigbelly was a part of multiple municipalities' success in achieving public space recycling diversion goals including Dubai Municipality (UAE), City of Sana Clarita and Santa Clarita Transit, CA (US), City of Burlington, VT (US), Slough Borough Council (UK), London Borough of Islington (UK), and City of San Diego, CA (US).
In April 2018, Environmental Solutions Group (ESG) partnered with Compology to provide customers with image-based sensors and simplified software solutions for effective waste management.
Other smart waste technologies from Ecube Labs include an integrated fleet management tracker and CleanCityNetworks, a cloud platform that combines waste container monitoring, route optimization, data analytics, and fill-level forecasting.
Key Questions addressed by the report:
What are the opportunities in the waste management opportunities assessment market in the US?
What is the competitive landscape in the waste management opportunities assessment market in the US?
What are the key trends in the waste management opportunities assessment market in the US?
How are mergers and acquisitions influencing the market?
What are the dynamics of the waste management opportunities assessment market in the US?
To speak to our analyst for a discussion on the above findings, click Speak to Analyst