According to MarketsandMarkets, the global Plant-based butter market is estimated to be valued at USD 2.0 billion in 2022. It is projected to reach USD 2.5 billion by 2027, with a CAGR of 4.9%, in terms of value between 2022 and 2027. Major drivers of the market include rising awareness regarding social and environmental values, which plant-based butter offers, thereby creating opportunities for labels, such as clean label and organic plant-based.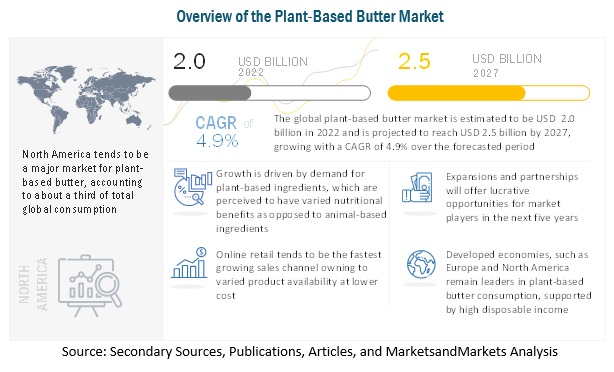 Plant-based Butter Market Dynamics
Drivers: Trend of using plant-based butter is supported by social media influencers
Drivers for plant-based market include social media influencers who tend to coax consumers to using plant-based ingredients in their home cooked foods. This is followed by them educating consumers about the nutritional content in plant-based butter, besides speaking about the negative effect of animal-based products on animals and the environment in general.
Restraints: Protection and nurturing the bees turns out to be the biggest constraint
Plant-based butter market is restrained by its higher prices when compared to animal-based ones. The market does not have the benefit of economies of scale, which the animal-based butter market has, thereby inflating plant-based butter prices. High product prices also owe themselves to low maturity of the market and the constant efforts on improving supply chain and product innovation.
Opportunities: Leveraging the labels such as organic and plant-based
Plant-based products are increasingly labelled 'organic', 'plant-based', 'non-GMO', amongst other trending labels. This therefore is expected to be an opportunity for plant-based butter as well, wherein labelling the products with such certifications increases their market value and presence.
Challenges: Taste remains a key challenge, wherein plant-based butters are yet to mimic animal-based ones
Adoption of plant-based butter is hindered by its flavour, which is yet to match that of animal-based butter, and thereby which is creating a hurdle to its market acceptance. However, there is an increase in investments in research around flavour. One such development was made by DTU National Food Institute in Denmark, where the researchers were able to develop natural butter flavour from plant-based butter sources.
By source, oats-based plant-based butter is projected to witness the fastest growth rate during the forecast period.
Oats-based plant-based butter is expected to gain fastest traction in B2C sales channel. This is owing to rising popularity of its linked product, oat milk. Further, brands, such as Miyoko have been labelling their plant-based butter products as 'gluten free', 'non-GMO', 'soy free', etc., which further increases the demand of oats-based butters, albeit through such brands.
By flavor, flavor segment is expected to showcase the fastest growth.
Usage of vegan butter has increased in the bakery industry, with an increasing number of health-conscious consumers demanding bakery items prepared using vegan butter. Furthermore, flavored vegan butter has been gaining traction as well, with manufacturers launching their own lines of flavored vegan butter sticks.
North America tends to be a major market for plant-based butter products, accounting to about a third of total global consumption. The region is especially led by the US, wherein the country has consistently showcased double digit growth in the historical period.
Key Market Players:
Key players in this market include Forager Project (US), Goodmylk (US), JEM Organics (US), Milkadamia (US), Nuts For Cheese (Canada), among others.
FAQs:
Which are the major Plant-based butter segments considered in this study and which of them are projected to have promising growth rates in the future?
I am interested in the Asia Pacific market for oats and coconut butter segment. Is the customization available for the same? What all information would be included in the same?
What are some of the drivers fuelling the growth of the Plant-based butter market?
I am interested in understanding the research methodology on how you arrived at the market size and segmental splits before making a purchase decision. Can you provide me with an explanation on the same?
What kind of information is provided in the competitive landscape section?