[145 Pages Report] The global sorbitol market is projected to reach USD 1,418.6 million by 2021 at a CAGR of 5.3% from 2016 to 2021 in terms of value. The base year considered for the study is 2015 while the forecast period is from 2016 to 2021. Sorbitol is mainly derived from corn, seaweed, fruits, and berries. It is manufactured by the catalytic hydrogenation of sucrose. Sorbitol is primarily used as a sweetener, humectant, flavoring agent, and diuretic dehydrating agent for various applications such as food & beverage, pharmaceuticals, and cosmetics & personal care. Sorbitol is a sugar substitute with low-calorie, which is used in many products such as candy, gum, ice cream, baked goods, cosmetics, toothpaste, personal care, and pharmaceuticals.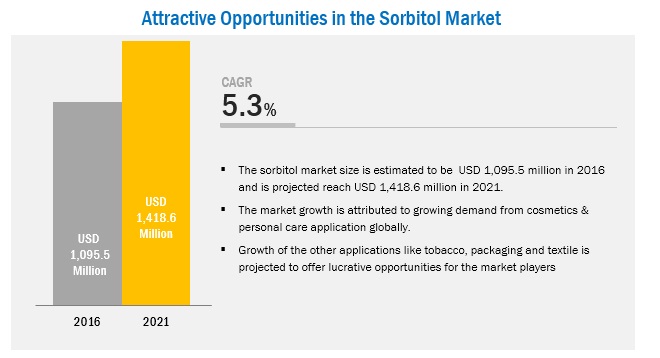 Market Dynamics
Drivers
Rising consumer preference for low-calorie food
Increasing health problems due to consumption of sugar-based products
Growing organic personal care market is expected to fuel the demand of sorbitol in cosmetics & personal care products
Restraints
Adherence to international quality standards and regulations
Opportunities
Growing demand from food & beverage industry in emerging markets
Fluctuations in price and supply of sugar is creating opportunities for sorbitol
Challenges
Ambiguity related to the side effects of sorbitol
Rising consumer preference for low-calorie food
Consumers in developed countries are habituated to sedentary lifestyles and are aware of the problems associated with it. Hence, in the recent past, the demand for low-caloric food and sweeteners has been on the rise. As people need to reduce their calorie intake, they prefer low-calorie foods, which play a major role in helping them maintain a healthy diet that supports their lifestyles. Most health-conscious consumers prefer sorbitol as a sugar substitute because it contains fewer calories than regular sugar. Consumption of sorbitol is an easy way to reduce the calorie intake and stay healthy; fueling the demand for sorbitol in various applications, globally.
Objectives of the Study:
To define, describe, and forecast the sorbitol market on the basis of function, product type, application and region
To provide detailed information about the key factors influencing the growth of the market (drivers, restraints, opportunities, and challenges)
To strategically analyze micromarkets1 with respect to individual growth trends, future prospects, and contribution to the total market
To analyze the opportunities in the market for stakeholders and provide a competitive landscape for market leaders
To strategically profile key players and comprehensively analyze their market shares and core competencies2
Note1: Micromarkets are the subsegments of the membrane separation technology market included in the report
Note2: Core competencies of companies are determined in terms of their key developments, SWOT analysis, and key strategies adopted by them to sustain in the market
The top-down and bottom-up both approaches have been used to estimate and validate the size of the global membrane separation technology market and to estimate the size of various other dependent submarkets. The research study involved the use of extensive secondary sources, directories, and databases such as Hoovers, Bloomberg, Chemical Weekly, Factiva, Commonwealth Scientific and Industrial Research Organization (CSIRO), Securities And Exchange Commission (SEC), American National Standards Institute (ANSI), Organization for Economic Co-operation and Development (OECD), and other government and private websites, to identify and collect information useful for the technical, market-oriented, and commercial study of the membrane separation technology market.
To know about the assumptions considered for the study, download the pdf brochure
The sorbitol value chain majorly includes raw material suppliers such as farmers, and harvesters who grow corn, wheat, and cassava. Sorbitol manufacturers such Roquette Freres (France), Cargill Inc. (U.S.), Tereos Starch & Sweeteners (France), Archer Daniel Midland (U.S.), and Ingredion Inc. (U.S.), and sorbitol based applications, namely, food & beverages, pharmaceuticals, cosmetics & personal care, chemical and bio fuel among others.
Major Market Developments
In December 2016, Archer Daniels Midland (US) announced its capacity expansion of starches and sweeteners at its corn mill facilities in Razgrad (Bulgaria) and Adana (Turkey). This expansion is in response to seeking an opportunity in the Middle East and European markets by expanding the range of products to meet increasing demand.
In December 2016, Cargill Inc. (US) expanded its presence in Shanghai (China) by introducing an innovation center in China named Cargill ONE for the production of animal protein, sweeteners, cocoa, edible oils, and starches. This expansion is focused on offering new flavors and innovative food products in China.
In November 2016, Ingredion Incorporated (US) acquired Shandong Huanong Specialty Corn Development Co., Ltd. (China). This acquisition aims at increasing production of specialty ingredients that includes starch and sweeteners products. This acquisition adds to the company's second manufacturing facility operations in China.
In June 2016, Archer Daniels Midland (US) acquired Casablanca (Morocco), a corn wet mill that produces native starch and glucose for applications in various industries. This acquisition aims at strengthening the company's global position in the starch and sweetener market and meeting the global sorbitol demand in the near future.
Key Target audience:
Sorbitol manufacturers
Sorbitol traders, distributors, and suppliers
Raw material suppliers
Government and research organizations
FDA and other regulatory bodies
Industry associations
Applications
"This study answers several questions for the stakeholders, primarily which market segments they should focus upon during the next two to five years to prioritize their efforts and investments".
Get online access to the report on the World's First Market Intelligence Cloud

Easy to Download Historical Data & Forecast Numbers
Company Analysis Dashboard for high growth potential opportunities
Research Analyst Access for customization & queries
Competitor Analysis with Interactive dashboard
Latest News, Updates & Trend analysis

Request Sample

Click on image to enlarge

Scope of the Report:
This research report categorizes the global market of sorbitol on the basis of product type, application, and region. It provides a forecast of the market size, in terms of value and volume, and an analysis of trends in each of the submarkets.
Based on product type:
Liquid/Syrup Sorbitol
Crystal/Powder Sorbitol
Based on application:
Cosmetics & Personal Care

Oral Care
Skin Care
Hair Care
Cosmetics
Shaving Cream
Soaps & Detergent

Food & Beverage
Food

Confectionery Products
Bakery products
Frozen deserts
Diabetic & Dietetic food

Beverages

Diet Soda
Fruit juices and Syrups

Pharmaceuticals
Creams and emulsions
Medicated confectionery
Chemical
Ascorbic Acid
Polyether
Other Industries

Tobacco
Paper Production
Bio Fuel
Surimi and Fish Products
Plastic
Packaging
Dairy products
Based on region:
North America
Europe
Asia-Pacific
Middle East & Africa
South America
The market is further analyzed for the key countries in each of these regions.
Critical questions which the report answers
What are the upcoming trends for membrane separation technologies in developing nations?
Which are the key players in the market and how intense is the competition?
Available Customizations:
With the given market data, MarketsandMarkets offers customizations according to the company's specific needs. The following customization options are available for the report:
Company information
Detailed analysis and profiles of additional market players.
Regional information
Market analysis for additional countries.
The global sorbitol market is estimated to reach USD 1,418.6 million by 2021 at a CAGR of 5.3% from 2016 to 2021. The sorbitol market has witnessed significant growth in the recent years. Sorbitol, due to their functionalities, functionalities such as sweetening agent, non-cariogenic, cooling effect, free flowing powder, good blend homogeneity, coating agent, sugar free, low-calorie, filler/diluent, good compressibility, and granulating agent are used in a wide range of applications, including as cosmetic & personal care, pharmaceuticals, and others.
The main types of sorbitol are liquid/syrup sorbitol and crystal/powder sorbitol. Liquid/syrup sorbitol type is estimated to lead the sorbitol market in 2016, due to the suitability of liquid/syrup in several applications. Not only highest, but also it is estimated to witness the fastest growth during the forecast period, due to its increasing adoption in various day-to-day consumer applications as a low calorie sugar substitute. The demand for liquid sorbitol is very high in all regions due to its ease of use and low manufacturing cost. On the other hand, powder sorbitol has limited applications in the food and pharmaceuticals industries. However, factors such as adherence to international quality standards and regulations may hinder the growth of the market.
Sorbitol is used in applications, including cosmetics & personal care, food & beverage, pharmaceuticals, chemicals, and others. These are the main applications considered in the report. t. The cosmetics & personal care segment led the global sorbitol market, accounting for a share of 39.5%, in terms of volume, in 2015. This dominance is owing to the increasing demand for sorbitol in oral care products such as toothpaste, mouthwash, mouth freshener, and chewing gum.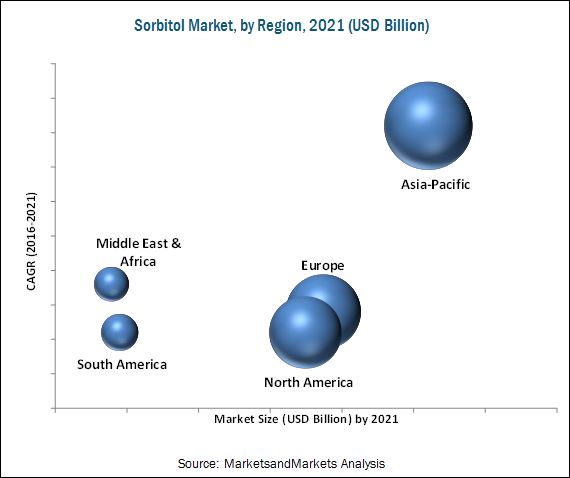 North America, Europe, Asia-Pacific, Middle East & Africa, and South America are considered the key market for sorbitol in the report. Asia-Pacific is estimated to dominate the sorbitol market, owing to the rising demand for sorbitol, driven by its increased use in the cosmetic & personal care and food & beverages industries. Europe is the second-largest consumer of sorbitol, globally. Also, the increase in purchasing power parity of consumers also propels the demand for sorbitol-based products, such as confections, bakery, dairy, and other food products such as cereals and desserts
Sorbitol is suitable for use in various applications such as cosmetics & personal care, food & beverage, pharmaceuticals, and chemical industries.
Cosmetics & Personal care
In cosmetics, sorbitol is used as skin conditioning agent and humectant in mild soaps, aftershave lotions, and baby shampoos. In personal care products, it is widely used as a sweetening agent and provides cooling effect in toothpaste, chewing gums, and mouth fresheners.
Food & Beverage
Sorbitol is an essential ingredient in the food & beverage industry. It is used as a humectant and sweetener in the food & beverage industry to increase sweetness, shelf life, and freshness of food and beverage products. Sorbitol contains 2.6 calories per gram, due to which it is used as a low-calorie sweetener. It is consumed majorly in diabetic food. Also, owing to sorbitol's moisture-stabilizing property, it preserves commercial food products from getting hardened or dry and sustains their freshness throughout storage. Its dosage in food & beverage applications is controlled as per the FDA and other regulatory bodies.
Pharmaceutical
Sorbitol is used as a key bodying agent in many pharmaceuticals applications such as syrups, tablets, and elixirs. It is used in syrups for reducing bottle caps stickiness to bottle due to the presence of sugar. It acts as good plasticizer and humectant which makes it applicable in non-fat soluble ointments, emulsion ointments, and gelatin capsules. The excellent spreading capacity makes it applicable in creams, ointments, and pastes.
Critical questions the report answers:
What are the upcoming hot bets for membrane separation technology market?
How market dynamics is changing for different types of technology in different applications?
To speak to our analyst for a discussion on the above findings, click Speak to Analyst
Roquette Frères (France), Cargill Inc. (US), Ingredion Incorporated (US), Tereos Starch & Sweeteners (France), and Archer Daniels Midland (US) are the key companies operational in the sorbitol market. Entering into related industries and targeting new markets will enable the sorbitol manufacturers to overcome the effects of volatile economy, leading to diversified business portfolio and increase in revenue. Other major manufacturers of sorbitol are SPI Pharma Inc. (US), Ecogreen Oleochemicals Pte. Ltd. (Singapore), Merck Group. (Germany), Sukhjit Starch & Chemicals Ltd. (India), and Gulshan Polyols Ltd. (India).