Space 3D Printing Market
Space 3D Printing Market by Offering (Materials, Softwares, and Services), Technology, Application (Satellite, Spacecraft & Launch Vehicles, Rovers, Space Stations) , End Product and Region - Global Forecast to 2027
Report Code: UC 5954
Jan, 2024, by marketsandmarkets.com
The Space 3D Printing market is projected to grow from USD XX million in 2022 to USD XX million by 2027, at a CAGR of XX.X% from 2022 to 2027. Space 3D Printing, also known as additive manufacturing, is a process of creating three-dimensional objects from a digital file using various materials, such as steel alloys, aluminum, titanium, plastics, nickel, and ceramics. Initially, 3D printing technology was employed by the space industry to manufacture prototype component parts of aircrafts, but it is presently being adopted in various applications for manufacturing space components.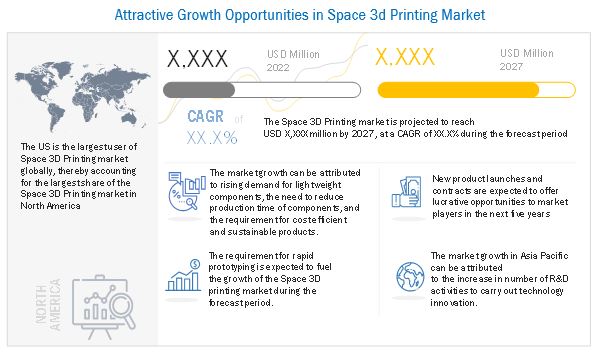 To know about the assumptions considered for the study, Request for Free Sample Report
Space 3D Printing Market Dynamics:
The demand for space 3D printing is expected to be driven by the low volume production of spacecraft components in the space industry, rising demand for lightweight components, the need to reduce production time of components, and the requirement for cost efficient and sustainable products. The requirement for rapid prototyping is also expected to fuel the growth of the space 3D printing market during the forecast period. Over the coming years, the space 3D printing market is expected to witness various developments, in terms of printers, materials, and technologies used for 3D printing. New processes with low production time are being developed for the space industry to produce space components in less time. Printers with advanced 3D printing technology are being developed in order to enhance the adoption rate of this technology in the space industry.
Space 3d Printing Market Ecosystem
Prominent companies and startups that provide Space 3D Printing, distributors/suppliers/retailers, and end customers are the key stakeholders in the Space 3D Printing market ecosystem. Investors, funders, academic researchers, distributors, service providers, and industries serve as the major influencers in the market.
Key Market Players
The key manufacturers in the Space 3D printing market include Stratasys Ltd. (U.S.), 3D Systems Corporation (U.S.), The ExOne Company (U.S.), Arcam AB (Sweden), EOS GmbH (Germany), Norsk Titanium AS (Norway), Ultimaker B.V. (Netherlands), and EnvisionTec GmbH (Germany), among others. These players have adopted various growth strategies such as contracts, joint ventures, partnerships & agreements, acquisitions, and new product launches to further expand their presence in the Space 3D Printing Market.
Recent Developments
In September 2022, Agnikul Cosmos (India) was granted a patent for the design and manufacturing of its single-piece, 3D printed rocket engine. Comprising the main five components of a rocket engine and produced as a single part in one run, the higher stage semi-cryogenic liquid propulsion engine can be built in less than 96 hours and was designed to support the company's satellite launch vehicle called Agnibaan but could also serve satellites and other space exploration vehicles.
In July 2022, Impulse Space (US) and Relativity Space (US) announced a joint mission to Mars to deliver world's first commercial payload to the red planet's surface. As part of the partnership, Relativity is set to launch Impulse's Mars Cruise Vehicle and Mars Lander aboard its reusable, 3D printed Terran R rocket. The rocket will deliver both the Cruise Vehicle and the Mars Lander into a trans-Mars injection (TMI) orbit, at which point the aeroshell-equipped Lander will make its way through the atmosphere and onto the surface.
Report Objectives
Identify and analyze major drivers, constraints, challenges, and opportunities driving the Space 3D Printing market's growth.
Analyze the market effect of macro and micro indicators
To forecast market segment sizes for four regions, including North America, Europe, Asia Pacific, and Rest of the World, as well as significant nations within each of these areas.
To conduct a strategic analysis of micro markets regarding particular technical trends, prospects, and their contribution to the total market.
To profile key market participants strategically and thoroughly study their market ranking and essential skills.
To give a complete market competitive landscape, as well as an examination of the company and corporate strategies such as contracts, collaborations, partnerships, expansions, and new product developments.
Identifying comprehensive financial positions, key products, unique selling points, and key developments of industry leaders.
Get online access to the report on the World's First Market Intelligence Cloud

Easy to Download Historical Data & Forecast Numbers
Company Analysis Dashboard for high growth potential opportunities
Research Analyst Access for customization & queries
Competitor Analysis with Interactive dashboard
Latest News, Updates & Trend analysis

Request Sample

Click on image to enlarge

Scope of the Report
| | |
| --- | --- |
| Report Metric | Details |
| Market size available for years | 2019-2027 |
| Base year considered | 2021 |
| Forecast period | 2022-2027 |
| Forecast units | Value (USD Million/ Billion) |
| Segments Covered | By Application, Offering, Technology, End Product, and Region |
| Geographies Covered | North America, Asia Pacific, Europe, and Rest of the World. |
| Companies Covered | Stratasys Ltd. (U.S.), 3D Systems Corporation (U.S.), The ExOne Company (U.S.), Arcam AB (Sweden), EOS GmbH (Germany), Norsk Titanium AS (Norway) and others |
This research report categorizes the Space 3D Printing Market based on Application, Offering, Technology, End Product, and Region
Space 3D Printing Market, By Application
Satellite
Spacecraft & Launch Vehicles
Rovers
Space Stations
Space 3D Printing Market, By Offering
Materials
Software
Services
Space 3D Printing Market, By Technology
Stereolithography (SLA)
Continuous Liquid Interface Production (CLIP)
Fusion Deposition Modeling (FDM)
Direct Metal Laser Sintering (DMLS)
Selective Laser Sintering (Sls)
Others
Space 3D Printing Market, By User
Engine Components
Structural Components
Others
Space 3D Printing Market, By Region
North America
Europe
Asia Pacific
Rest of the World
To speak to our analyst for a discussion on the above findings, click Speak to Analyst
TABLE OF CONTENTS
1 INTRODUCTION
1.1 OBJECTIVES OF THE STUDY
1.2 MARKET DEFINITION
1.3 STUDY SCOPE
1.3.1 MARKETS COVERED
1.3.2 REGIONAL SCOPE
1.3.3 YEARS CONSIDERED FOR THE STUDY
1.4 CURRENCY & PRICING
1.5 LIMITATIONS
1.6 INCLUSIONS & EXCLUSIONS
1.7 MARKET STAKEHOLDERS
1.8 SUMMARY OF CHANGES
2 RESEARCH METHODOLOGY
2.1 RESEARCH DATA
2.1.1 SECONDARY DATA
2.1.1.1 Major secondary sources
2.1.1.2 Key data from secondary sources
2.1.2 PRIMARY DATA
2.1.2.1 Key industry insights
2.1.3 SECONDARY AND PRIMARY RESEARCH APPROACH
2.2 MARKET SIZE ESTIMATION
2.2.1 SPACE 3D PRINTING MARKET
2.2.1.1 Bottom-up Approach
2.2.1.2 Top-down Approach
2.2.3 MARKET PROJECTIONS
2.3 MARKET BREAKDOWN AND DATA TRIANGULATION
2.4 RESEARCH ASSUMPTIONS
2.4.1 ASSUMPTIONS
2.5 RISK ANALYSIS
3 EXECUTIVE SUMMARY
4 PREMIUM INSIGHTS
5 MARKET OVERVIEW
5.1 INTRODUCTION
5.2 MARKET DYNAMICS
5.2.1 DRIVERS
5.2.2 RESTRAINTS
5.2.3 OPPORTUNITIES
5.2.4 CHALLENGES
5.3 AVERAGE SELLING PRICE OF KEY PLAYERS, BY PRODUCT
5.4 VALUE CHAIN ANALYSIS
5.5 MARKET ECOSYSTEM MAP
5.5.1 PROMINENT COMPANIES
5.5.2 PRIVATE AND SMALL ENTERPRISES
5.5.3 END USERS
5.6 DISRUPTION IMPACTING VERY SMALL APERTURE TERMINAL CUSTOMERS' BUSINESS
5.6.1 REVENUE SHIFT & NEW REVENUE POCKETS FOR SPACE 3D PRINTING MANUFACTURERS
5.7 PORTER'S FIVE FORCES ANALYSIS
5.8 KEY STAKEHOLDERS & BUYING CRITERIA
5.8.1 KEY STAKEHOLDERS IN BUYING PROCESS
5.8.2 BUYING CRITERIA
5.9 TRADE ANALYSIS
5.10 TARIFF AND REGULATORY LANDSCAPE
5.10.1 REGULATORY BODIES, GOVERNMENT AGENCIES AND OTHE ORGANIZATIONS
5.11 VOLUME ANALYSIS
5.12 COVID IMPACT ANALYSIS
5.13 RANGE/SCENARIOS
5.14 KEY CONFERENCES AND EVENTS IN 2022-2023
6 INDUSTRY TRENDS
6.1 INTRODUCTION
6.2 TECHNOLOGICAL ANALYSIS
6.3 USE CASE ANALYSIS
6.4 IMPACT OF MEGATRENDS
6.5 INNOVATIONS & PATENT REGISTRATIONS
7 SPACE 3D PRINTING MARKET, BY APPLICATION
7.1 INTRODUCTION
7.2 SATELLITE
7.3 SPACECRAFT & LAUNCH VEHICLES
7.4 ROVERS
7.5 SPACE STATIONS
8 AEROSPACE 3D PRINTING MARKET, BY OFFERING
8.1 INTRODUCTION
8.2 MATERIALS
8.2.1 TITANIUM
8.2.2 STEEL
8.2.3 ALUMINUM
8.2.4 NICKEL
8.2.5 PLASTICS
8.2.6 CERAMICS
8.2.8 OTHERS
8.3 SOFTWARE
8.3.1 DESIGN
8.3.2 INSPECTION
8.3.3 PRINTING
8.3.4 SCANNING
8.4 SERVICES
8.4.1 CUSTOM DESIGN & MANUFACTURING
8.4.2 AFTER SALES
9 SPACE 3D PRINTING, BY TECHNOLOGY
9.1 INTRODUCTION
9.2 STEREOLITHOGRAPHY (SLA)
9.3 CONTINUOUS LIQUID INTERFACE PRODUCTION (CLIP)
9.4 FUSION DEPOSITION MODELING (FDM)
9.5 DIRECT METAL LASER SINTERING (DMLS)
9.6 SELECTIVE LASER SINTERING (SLS)
9.7 OTHERS (LAMINATED OBJECT MANUFACTURING (LOM), DIRECT LIGHT PROJECTION (DLP), LASER METAL DEPOSITION (LMD), ELECTRON BEAM MELTING (EBM), INKJET PRINTING, AND POLYJET PRINTING)
10 AEROSPACE 3D PRINTING MARKET, BY END PRODUCT
10.1 INTRODUCTION
10.2 ENGINE COMPONENTS
10.3 STRUCTURAL COMPONENTS
10.4 OTHERS (CONTROLS, PAYLOADS AND SPACE COMPONENTS)
11 SPACE 3D PRINTING MARKET, BY REGION
11.1 INTRODUCTION
11.2 NORTH AMERICA
11.2.1 US
11.2.2 CANADA
11.3 EUROPE
11.3.1 UK
11.3.2 GERMANY
11.3.3 ITALY
11.3.4 FRANCE
11.3.5 SPAIN
11.3.6 REST OF EUROPE
11.4 ASIA PACIFIC
11.4.1 CHINA
11.4.2 JAPAN
11.4.3 INDIA
11.4.4 REST OF ASIA PACIFIC
11.5 REST OF THE WORLD
11.5.1 MIDDLE EAST & AFRICA
11.5.2 LATIN AMERICA
12 COMPETITIVE LANDSCAPE
12.1 INTRODUCTION
12.1.1 MARKET EVALUATION FRAMEWORK
12.2 MARKET RANKING ANALYSIS
12.3 MARKET SHARE ANALYSIS
12.4 COMPANY PRODUCT FOOTPRINT ANALYSIS
12.5 COMPANY EVALUATION QUADRANT
12.6 SMES/STARTUPS MATRIX
12.6.1 COMPETITIVE BENCHMARKING
12.7 REVENUE ANALYSIS OF TOP FIVE MARKET PLAYERS
12.8 COMPETITIVE SCENARIO
12.9 COMPETITIVE LEADERSHIP MAPPING
12.1 KEY MARKET DEVELOPMENTS
12.10.1 CONTRACTS
12.10.2 NEW PRODUCT LAUNCHES
12.10.3 AGREEMENTS, PARTNERSHIPS, AND JOINT VENTURES
13 COMPANY PROFILE
13.1 MTU AERO ENGINES AG
13.2 STRATASYS LTD.
13.3 ULTIMAKER B.V.
13.4 3D SYSTEMS CORPORATION
13.5 ARCAM AB
13.6 THE EXONE COMPANY
13.7 HÖGANÄS AB
13.8 EOS GMBH
13.9 MATERIALISE NV
13.1 ENVISIONTEC GMBH
13.11 NORSK TITANIUM AS
13.12 AEROJET ROCKETDYNE
*Details on Business Overview, Products Offered, Recent Developments, SWOT Analysis, MnM View might not be captured in case of unlisted companies.
** Only few key players are mentioned above, however top 25 key players will be profiled during the course of research study
*** The above tentative TOC is based on preliminary secondary data and could improve based on primary data in the course of research study
**** All segments above will be further assessed & considered to be a part of market breakdown. The breakdown of segments will be finalized during the course of research.
***** Request for addition of company profiles or countries in the scope can be considered and included post feasibility
14 APPENDIX
14.1 KNOWLEDGE STORE: MARKETSANDMARKETS' SUBSCRIPTION PORTAL
14.2 AVAILABLE CUSTOMIZATION
14.3 RELATED REPORTS
14.4 AUTHOR DETAILS

Request for detailed methodology, assumptions & how numbers were triangulated.