Supply Chain IoT Market
Supply Chain IoT Market by Component (Hardware, Software), Deployment Mode (On-Premises, Cloud), Organization Size, Vertical and Region - Global Forecast to 2027
Report Code: UC 6157
Oct, 2023, by marketsandmarkets.com
The global supply chain IoT market size to grow from USD 18.95 billion in 2022 to USD 34.81 billion by 2027, at a Compound Annual Growth Rate (CAGR) of 12.7% during the forecast period. Growing demand for ecommerce industry across the world, along with the increase in demand for an efficient supply chain management will drive the supply chain IoT market.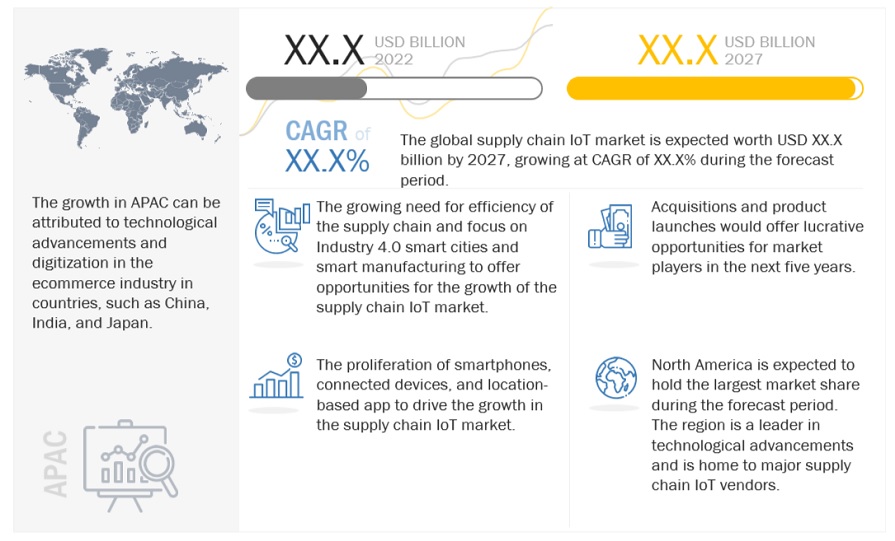 Market Dynamics
Driver: Proliferation of smartphones, connected devices, and location-based applications among customers
With the rising smartphone penetration and the changing consumer mobile buyer behavior, startups and established organizations are quickly looking for ways to improve their supply chain management through means of IoT devices. The deployment of IoT in supply chain has enabled eCommerce vendors to enhance their user experiences and provide proper navigation for objects or any locations. Supply chain IoT solutions provide an opportunity for organizations to engage customers in their supply chain with their brands, their products, their partners, or anything that helps them further increase customer relationships and sales.
Driver: Exponential rise of the eCommerce industry
The eCommerce industry is growing exponentially across the globe, and it holds a very large share in the retail market. eCommerce sales are expected to reach around 16% of the total retail sales, globally, by 2021. The main reason for such drastic increase in the demand for eCommerce services is the result of expectations and customer buying behavior. The customers now have various expectations such as fast and free shipping, competitive product pricing. This sudden change in the consumer behavior has prompted various companies to implement IoT services in their supply chain activities. Therefore, with the rise of eCommerce industry, the supply chain IoT market is also expected to grow.
Challenge: Lack of skills and technical expertise
The lack of knowledge with regard to IoT in supply chain and its benefits is becoming among the biggest challenges to this market, as it hinders customer adoption and acceptance. Implementing IoT in supply chain solutions and services offers various benefits, such as locating, tracking, and customer analytics, which most business owners are not aware of. Owing to this, business owners tend to avoid investing in deploying supply chain IoT solutions, as it becomes very difficult to predict which solution customers could accept in the future. Hence, the IoT technology needs a robust marketing plan for increasing the awareness and skills related to its usage.
Key Market Players
The supply chain IoT market vendors have implemented various types of organic and inorganic growth strategies, such as new product launches, product upgradations, partnerships and agreements, business expansions, and mergers and acquisitions to strengthen their offerings in the market. The major vendors in the global market are Cisco (US), Robert Bosch GmbH (Germany), IBM (US), Microsoft (US), Qualcomm Inc (US), Intel (US), and Honeywell (US). The study includes an in-depth competitive analysis of these key players in the supply chain IoT market with their company profiles, recent developments, and key market strategies.
Recent Developments:
In June 2021, SAP disclosed the first step in creating the world's largest business network with SAP Business Network, this will bring together Ariba Network, SAP Logistics Business Network and SAP Asset Intelligence Network. SAP made new innovations which will companies in modernization and digitalization of their business processes.
TABLE OF CONTENTS
1 INTRODUCTION
1.1 STUDY OBJECTIVES
1.2 MARKET DEFINITION
1.2.1 INCLUSIONS AND EXCLUSIONS
1.3 MARKET SCOPE
1.3.1 MARKET SEGMENTATION
1.3.2 YEARS CONSIDERED
1.4 CURRENCY CONSIDERED
1.5 STAKEHOLDERS
1.6 SUMMARY OF CHANGES
2 RESEARCH METHODOLOGY
2.1 RESEARCH DATA
2.1.1 SECONDARY DATA
2.1.2 PRIMARY DATA
2.1.2.1 Breakup of primary profiles
2.1.2.2 Key industry insights
2.2 MARKET BREAKUP AND DATA TRIANGULATION
2.3 MARKET SIZE ESTIMATION
2.3.1 BOTTOM-UP APPROACH
2.3.2 TOP-DOWN APPROACH
2.4 MARKET FORECAST
2.5 ASSUMPTIONS
2.6 LIMITATIONS
3 EXECUTIVE SUMMARY
4 PREMIUM INSIGHTS
4.1 ATTRACTIVE OPPORTUNITIES IN SUPPLY CHAIN IOT MARKET
4.2 MARKET, BY ORGANIZATION SIZE
4.3 NORTH AMERICAN MARKET, BY DEPLOYMENT MODE AND COUNTRY (2022)
4.4 ASIA PACIFIC MARKET, BY DEPLOYMENT MODE AND COUNTRY (2022)
4.5 SUPPLY CHAIN IOT MARKET, BY COUNTRY
5 MARKET OVERVIEW AND INDUSTRY TRENDS
5.1 INTRODUCTION
5.2 MARKET DYNAMICS
5.2.1 DRIVERS
5.2.2 RESTRAINTS
5.2.3 OPPORTUNITIES
5.2.4 CHALLENGES
5.3 INDUSTRY TRENDS
5.3.1 VALUE CHAIN
5.3.2 ECOSYSTEM
5.3.3 PORTER'S FIVE FORCE MODEL
5.3.3.1 THREAT OF NEW ENTRANTS
5.3.3.2 THREAT OF SUBSTITUTES
5.3.3.3 BARGAINING POWER OF BUYERS
5.3.3.4 BARGAINING POWER OF SUPPLIER
5.3.3.5 COMPETITIVE RIVALRY
5.3.4 KEY STAKEHOLDERS AND BUYING CRITERIA
5.3.4.1 KEY STAKEHOLDERS IN BUYING PROCESS
5.3.4.2 BUYING CRITERIA
5.3.5 TECHNOLOGY ANALYSIS
5.3.6 TRENDS AND DISRUPTIONS IMPACTING BUYERS
5.3.7 PATENT ANALYSIS
5.3.8 PRICING ANALYSIS
5.3.8.1 AVERAGE SELLING PRICE TREND OF KEY PLAYERS, BY COMPONENT
5.3.9 USE CASES
5.3.10 KEY CONFERENCES & EVENTS IN 2022
5.3.11 TARIFF AND REGULATORY IMPACT
5.3.11.1 REGULATORY BODIES, GOVERNMENT AGENCIES & OTHER ORGANIZATIONS
6 SUPPLY CHAIN IOT MARKET, BY COMPONENT
6.1 INTRODUCTION
6.1.1 MARKET, BY COMPONENT: DRIVERS
6.2 HARDWARE
6.2.1 BARCODES AND BARCODE SCANNERS
6.2.2 RFID TAGS AND READERS
6.2.3 GPS TRACKING DEVICES
6.3 SOFTWARE
6.3.1 RESOURCE MONITORING
6.3.2 TRAFFIC AND FLEET MANAGEMENT
6.3.3 SAFETY AND SECURITY
6.3.4 OTHERS
7 SUPPLY CHAIN IOT MARKET, BY DEPLOYMENT MODE
7.1 INTRODUCTION
7.1.1 MARKET, BY DEPLOYMENT MODE: DRIVERS
7.2 ON-PREMISES
7.3 CLOUD
8 MARKET, BY ORGANIZATION SIZE
8.1 INTRODUCTION
8.1.1 MARKET, BY ORGANIZATION TYPE: DRIVERS
8.2 LARGE ENTERPRISES
8.3 SMALL AND MEDIUM-SIZED ENTERPRISES
9 SUPPLY CHAIN IOT MARKET, BY VERTICAL
9.1 INTRODUCTION
9.1.1 MARKET, BY VERTICAL: DRIVERS
9.2 FAST-MOVING CONSUMER GOODS
9.3 RETAIL AND ECOMMERCE
9.4 HEALTHCARE
9.5 MANUFACTURING
9.6 AUTOMOTIVE
9.7 TRANSPORTATION AND LOGISTICS
9.8 OTHER VERTICALS
10 SUPPLY CHAIN IOT MARKET, BY REGION
10.1 INTRODUCTION
10.2 NORTH AMERICA
10.2.1 NORTH AMERICA: PESTLE ANALYSIS
10.2.2 UNITED STATES
10.2.3 CANADA
10.3 EUROPE
10.3.1 EUROPE: PESTLE ANALYSIS
10.3.2 UNITED KINGDOM
10.3.3 GERMANY
10.3.4 FRANCE
10.3.5 ITALY
10.3.6 SPAIN
10.3.7 NORDICS
10.3.8 REST OF EUROPE
10.4 ASIA PACIFIC
10.4.1 ASIA PACIFIC: PESTLE ANALYSIS
10.4.2 CHINA
10.4.3 JAPAN
10.4.4 INDIA
10.4.5 AUSTRALIA AND NEW ZEALAND
10.4.6 SOUTH EAST ASIA
10.4.7 REST OF ASIA PACIFIC
10.5 MIDDLE EAST AND AFRICA
10.5.1 MIDDLE EAST AND AFRICA: PESTLE ANALYSIS
10.5.2 MIDDLE EAST
10.5.2.1 UNITED ARAB EMIRATES
10.5.2.2 KINGDOM OF SAUDI ARABIA
10.5.2.3 REST OF MIDDLE EAST
10.5.3 AFRICA
10.5.3.1 SOUTH AFRICA
10.5.3.2 EGYPT
10.5.3.3 NIGERIA
10.5.3.4 REST OF AFRICA
10.6 LATIN AMERICA
10.5.1 LATIN AMERICA: PESTLE ANALYSIS
10.5.2 BRAZIL
10.5.3 MEXICO
10.5.4 REST OF LATIN AMERICA
11 COMPETITIVE LANDSCAPE
11.1 OVERVIEW
11.2 MARKET EVALUATION FRAMEWORK
11.3 COMPETITIVE SCENARIO AND TRENDS
11.3.1 PRODUCT LAUNCHES
11.3.2 DEALS
11.3.3 OTHERS
11.4 MARKET SHARE ANALYSIS OF TOP PLAYERS
11.5 HISTORICAL REVENUE ANALYSIS
11.6 COMPANY EVALUATION MATRIX OVERVIEW
11.7 COMPANY EVALUATION QUADRANT
11.7.1 STARS
11.7.2 EMERGING LEADERS
11.7.3 PERVASIVE PLAYERS
11.7.4 PARTICIPANTS
11.8 PRODUCT FOOTPRINT ANALYSIS OF COMPANIES
11.9 MARKET RANKING ANALYSIS OF COMPANIES
11.10 STARTUP/SME EVALUATION QUADRANT
11.10.1 PROGRESSIVE COMPANIES
11.10.2 RESPONSIVE COMPANIES
11.10.3 DYNAMIC COMPANIES
11.10.4 STARTING BLOCKS
11.11 COMPETITIVE BENCHMARKING FOR SMES/STARTUPS
12 COMPANY PROFILES
12.1 KEY PLAYERS
12.1.1 CISCO
12.1.2 ROBERT BOSCH
12.1.3 IBM
12.1.4 MICROSOFT
12.1.5 QUALCOMM INC
12.1.6 INTEL
12.1.7 HONEYWELL
12.1.8 SAP
13 APPENDIX AND ADJACENT MARKETS
13.1 ADJACENT/RELATED MARKETS
13.1.1 INTRODUCTION
13.1.2 LIMITATIONS
13.2 SUPPLY CHAIN MARKET
13.3 CLOUD SUPPLY CHAIN MANAGEMENT MARKET
13.4 DISCUSSION GUIDE
13.5 KNOWLEDGE STORE: MARKETSANDMARKETS SUBSCRIPTION PORTAL
13.6 AVAILABLE CUSTOMIZATIONS
13.7 RELATED REPORTS
13.8 AUTHOR DETAILS
Request for detailed methodology, assumptions & how numbers were triangulated.