[79 Pages Report] Vehicle emission regulations are a set of guidelines/protocols for automotive component/vehicle design, manufacturing equipment, and exhaust aftertreatment system manufacture. The primary objective of these regulations is to minimize vehicle exhaust emissions. The automotive exhaust aftertreatment systems market, by volume, is projected to grow at a CAGR of 7.87% from 2015 to 2020. This growth can be attributed to the impact of current and pending emission regulations across the globe.
Exhaust aftertreatment systems play a key role in regulating exhaust emissions. Aftertreatment systems are mainly incorporated in vehicles with diesel engines. Diesel-propelled vehicles generate more harmful exhaust gases than those using gasoline, as gasoline has less impurities than diesel. The different diesel aftertreatment systems that have been considered in the study are the diesel particulate filter (DPF), which traps particulate matter present in the exhaust gas and collects the resultant soot; diesel oxidation catalyst (DOC), which breaks down carbon monoxide and hydrocarbons into carbon dioxide and water; lean NOx trap (LNT), which reduces the NO and NOx emissions generated during the lean burning of fuel; selective catalytic reduction (SCR), which breaks down harmful exhaust gases with the help of ceramic brick and precious metals such as platinum, palladium, and rhodium, which act as catalysts; variable valve timing (VVT), which alters the valve timing and lift event of valves; dual clutch transmission (DCT), which houses two separate clutches—one for odd and one for even gear sets—and eliminates the need for the torque converter; and variable geometry turbocharger (VGT), which helps reduce emissions and increases efficiency by allowing the effective aspect ratio (A:R) of the turbo to be altered as conditions change.
The research methodology used in the report involves various secondary sources, including paid databases and directories. Experts from related industries and suppliers have been interviewed to understand the future trends of the automotive exhaust aftertreatment systems market.
The research design comprises current automotive emission regulations enforced in different regions and countries, along with planned automotive emission regulations and their potential impact on the overall automotive industry and its stakeholders.
Regions covered include Asia-Pacific, Europe, North America, and the Rest of the World. Information regarding the current and planned regulations has been gathered from various secondary and primary sources, and their impact on the automotive value chain has been identified through extensive primary and secondary research. Primary research interviews have been conducted with key opinion leaders in the automotive industry such as CEOs, directors, industry experts, and other executives, regulatory bodies, and agencies to validate findings from the study.
The figure provided below illustrates the break-up of the profile of industry experts who participated in primary discussions.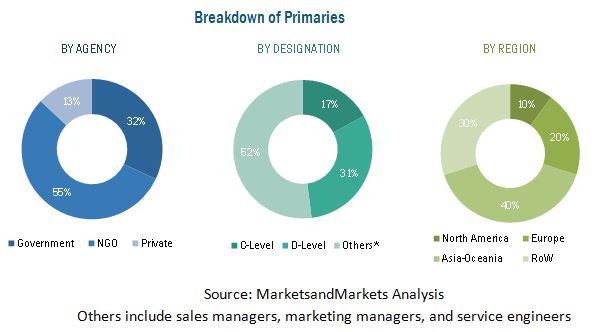 The ecosystem of the automotive exhaust aftertreatment systems industry consists of research institutes such as the Automotive Research Association of India (ARAI), European Automotive Research Partners Association (EARPA), and the United States Council for Automotive Research (USCAR), and regional automobile associations such as China Association of Automobile Manufacturers (CAAM), Japan Automobile Manufacturers Association (JAMA), and the European Automobile Manufacturers Association (ACEA).
Target Audience
Manufacturers of automotive exhaust aftertreatment systems
Dealers and distributors of automotive exhaust aftertreatment systems
Industry associations
Investment firms
Equity research firms
Private equity firms
Governments and regulatory authorities
Get online access to the report on the World's First Market Intelligence Cloud
Easy to Download Historical Data & Forecast Numbers
Company Analysis Dashboard for high growth potential opportunities
Research Analyst Access for customization & queries
Competitor Analysis with Interactive dashboard
Latest News, Updates & Trend analysis
Request Sample
Click on image to enlarge
Scope of the Report
By Emission Regulation (Light-Duty and Heavy-Duty)
By Fuel Type (Gasoline and Diesel)
Impact Analysis
By Region (North America, Asia-Pacific, Europe, and RoW)
Available Customizations
With the given market data, MarketsandMarkets can provide market data for the below categories:
Further analysis of countries from the rest of Europe and rest of Asia-Oceania
The automotive exhaust aftertreatment systems market is estimated to be 141,366.05 Thousand units in 2015, and is projected to reach 206,430 Thousand units by 2020, growing at a CAGR of 7.87% during the forecast period. The automotive exhaust aftertreatment systems market has witnessed considerable growth in countries such as the U.S., China, India, and Mexico, owing to progressively stringent safety norms and increasing vehicle production. Stakeholders that would be affected by stringent emission regulations include vehicle manufacturers, component manufacturers, consumers, downstream stakeholders, and government regulatory bodies. The parameters that determine the exhaust emissions from vehicles are vehicular technology, quality of fuel, inspection and maintenance of the vehicle, and traffic management. Upcoming stringent automotive regulations are expected to create a strong link between the automotive industry and its stakeholders.
Asia-Oceania is projected to be the largest market for automotive exhaust aftertreatment systems during the forecast period. Regulatory bodies in India, Japan, and South Korea have increased the stringency of their emission norms/regulations to match those of Europe and the U.S. India skipping directly to BS VI emissions norms in 2020 would increase the demand for exhaust aftertreatment systems.
The North American automotive exhaust aftertreatment systems market is projected to grow at the highest CAGR from 2015 to 2020, as a result of stringent emission norms and high demand for low-emission vehicles, especially from the U.S. and Canada. Several OEMs are investing in the region, prompted by factors such as rigid emission regulations in the state of California and the high demand for ultra-low and super ultra-low emission vehicles. OEMs such as Toyota (Japan), Hyundai Motor Company (South Korea), and Honda Motor Company (Japan) are present in the region.
The market for automotive exhaust aftertreatment systems is mainly driven by emission regulations that mandate the installation of exhaust aftertreatment systems in vehicles. The automotive exhaust aftertreatment systems market has witnessed consistent growth, owing to stringent emission regulations across the globe. Exhaust aftertreatment system manufacturers are developing new and advanced exhaust aftertreatment technologies to comply with the emission regulations set by government regulatory bodies. Additionally, vehicle manufacturers are working on developing new design platforms to reduce the amount of pollutants emitted by vehicles.