[104 Pages Report] Drilling activity plays a crucial role in oil & gas exploration and production (E&P). It is essential to have a suitable waste management solution that safeguards the environment for drilling processes. The increase in E&P activities is creating promising opportunities for the drilling waste management market.
The oil & gas drilling process generates two basic types of drilling waste: drilling cuttings and used drilling fluids. Drilling cuttings are rock fragments that are returned to the surface with the drilling fluid. The drilling fluid can be categorized primarily into aqueous and non-aqueous fluids. Non-aqueous fluids comprise primary fluid such as synthetic oil or refined oil. Various countries have different regulatory measures to tackle environmental challenges arising from the disposal of waste, thereby ensuring the growth of the drilling waste management market. Oil & gas operators across the globe follow a three-tiered waste management hierarchy to control and manage drilling wastes in the most eco-friendly manner possible. These three stages (from most preferred to least preferred) are waste minimization, recycling/reuse, and treatment & disposal.
Countries considered for the study:
The U.S.
Canada
Brazil
Venezuela
Argentina
Russia
Norway
The U.K.
China
Thailand
Australia
Egypt
Nigeria
Angola
Oman
Saudi Arabia
Kuwait
Research Methodology:
Major countries in the drilling waste management services market have been identified in each region
Secondary research has been conducted to determine the various regulatory bodies responsible for formulating the legislation and laws for human and environmental safety in each country
Various regulations imposed by regulatory bodies have been studied according to the discharge limits for various chemicals, grease, oil, and discharge boundaries
Top equipment and service providers for each country have been identified and their product portfolio has been studied to discover the common technologies used in the region
Data for the various available technologies has also been studied and included in the report
This study answers several questions for stakeholders, including OEMs, engineering, procurement, and construction (EPC) companies, oil & gas service providers, distributers & suppliers, consulting firms, private equity groups, investment houses, and equity research firms. It provides information regarding the stringency of the regulations and the ease of market penetration, along with the market potential for drilling waste management services.
To know about the assumptions considered for the study, download the pdf brochure
Get online access to the report on the World's First Market Intelligence Cloud
Easy to Download Historical Data & Forecast Numbers
Company Analysis Dashboard for high growth potential opportunities
Research Analyst Access for customization & queries
Competitor Analysis with Interactive dashboard
Latest News, Updates & Trend analysis
Request Sample
Click on image to enlarge
Scope of the Report
:
This study details the disposal regulations for drilling waste management laid down by various associations and ministries in different regions
It offers detailed insights into qualitative and quantitative legislation
It provides a comprehensive review of major technologies used for the treatment of drilling waste currently available in the market, and the average cost of the technologies
The study maps the major equipment and service providers in each region
It provides detailed profiling of the associations, ministries, and agencies responsible for the formulation of these regulations
The report has been segmented as follows:
By drilling mud type:

Water-based
Oil-based
Synthetic-based

By Region:

North America
South America
Europe
Asia-Pacific
The Middle East
Africa
Available Customizations
With the regulatory data provided above, MarketsandMarkets offers customizations as per the company's specific needs. The following customization options are available for this report:
Detailed disposal regulations of additional countries (Up to 3)
The growing global energy demand has resulted in a rise in oil & gas production in regions such as North America and the Middle East, leading to an increase in exploration & production (E&P) activities in these regions. Drilling activity plays a crucial role in oil & gas E&P. The rise in drilling activities has resulted in an increasing amount of waste produced while drilling. This waste primarily comprises drilling mud and cuttings. It is essential to have a suitable waste management solution that safeguards the environment for drilling processes.
In the report, waste regulations for drilling muds and cuttings have been segmented on the basis of muds used for drilling purposes into non-aqueous muds and aqueous muds. Non-aqueous muds are further divided according to primary base fluids into oil-based and synthetic-based. The report outlines the drilling waste management hierarchy, whereby fluids produced are treated using various processes such as waste minimization, recycling/reuse, and treatment & disposal. Numerous technologies, including thermal incineration, thermal desorption, bioremediation, vermiculture solvent extraction using supercritical CO2, onsite burial, land spray, and land filling, have also been analyzed, along with their advantages and disadvantages. Treatment & disposal services, which include services such as onsite burial (pits, landfills), land farming, land spreading, bioremediation, thermal treatment, and slurry injection, account for nearly two-fifth of the drilling waste management market. North America is estimated to occupy the largest market share in the global drilling waste management services market. The recent slump in crude oil prices has had no effect on the disposal regulations of the country.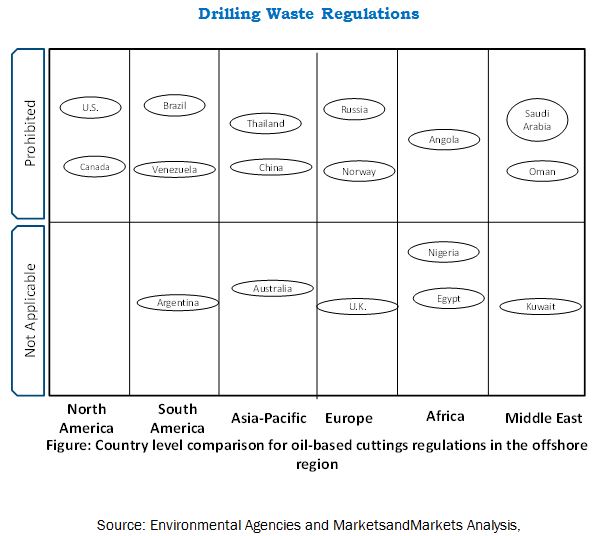 The report also provides a detailed description of various technologies used in different countries, and lists the key players for the technology. Major players in each region have also been profiled. Additionally, companies such as Schlumberger Ltd. (U.S.), Halliburton (U.S.), Baker Hughes (U.S.), Weatherford International (U.S.), National Oilwell Varco (U.S.), SAR AS (Norway), Egyptian Mud Engineering and Chemicals Company (EMEC) (Egypt), and Step Oil Tools (The Netherlands) have been analyzed. The vendor selection matrix included in the report mentions the equipment provider, the service provider, and players providing both, equipment and services. In addition to the key players, important organizations regulating the various disposal & discharge regulations in countries have been profiled.
To speak to our analyst for a discussion on the above findings, click Speak to Analyst