Weather Data Service Market
Weather Data Service Market by Solution (Product and Services), Deployment (On-Premise and Cloud), Enterprise Size (Large and Small & Medium Sized Enterprise), Industry, Data Type and Region - Global Forecast to 2027
Report Code: UC 5938
Nov, 2023, by marketsandmarkets.com
The weather data services market includes service providers providing easy access to weather forecast data, historical observation data, and historical summary data. Weather data is generated by combining and analyzing the variable components of the atmosphere, such as temperature, wind speed, rain or snow, humidity, and pressure.
Weather data is collected by Doppler radar, radiosondes, weather satellites, wind vanes, anemometers, transmissometers, and hygrometers. Weather data is used across industries to predict weather conditions. Weather data service providers provide weather data APIs (Application Programming Interfaces) and weather mapping platforms. The growth of the weather data services market can be attributed to the rising need for accurate weather forecasts across industries and the optimization of risk management with weather forecasts.
The weather data services market is expected to grow from USD XX million in 2022 to USD XX million by 2027, at a CAGR of XX%. Global warming is triggered by increased weather and climatic changes. Weather data service adoption is predicted to increase throughout the forecast period to monitor these weather changes.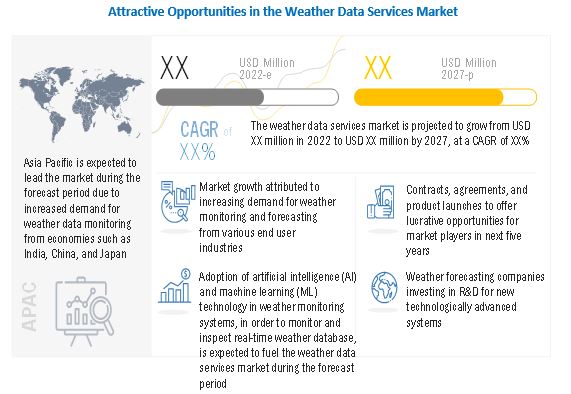 To know about the assumptions considered for the study, download the pdf brochure
Weather Data Services Market Drivers and Opportunities:
The demand for weather data services is also increasing, with an increasing need for analyzing climate change. Weather data has wide implications for climate change analytics and weather forecasting services. Integrating artificial intelligence, 5G, and big data into weather data has created an opportunity for the weather data services market. Many government and non-government organizations use weather data to analyze the volatility of their potential markets. Integrating weather data with predictive analysis has implications for weather forecasting, weather observation, climate change analytics, and climate modeling. Weather data is used in surface, upper air, radar, and satellite observations. Weather observation uses weather data to analyze climatology to forecast the weather and issue weather alerts globally. Hence, weather data services offer an initial data input to get the projected value to predict future weather conditions.
Many businesses regularly use weather forecasting services to study consumer behavior, logistics, and weather patterns. Various economic sectors, including energy, retail, transportation, and insurance, depending on weather forecasting services to enhance safety and operational efficiency. For example, retailers analyze seasonal climate patterns as weather conditions affect merchandising and operations. Demand for real-time weather prediction solutions and a growing focus on safety among end-use industries drive the growth of the weather data services market.
The constellation of CubeSats and smallsats offers opportunities for the weather data services market. According to a report published by Euroconsult in 2019, more than 8,500 satellites are expected to be launched globally by commercial companies between 2019 and 2028, half of which will support broadband constellations for a total market value of USD 42 billion. Around 580 small satellites are estimated to be launched globally from 2018 to 2022. In 2018, 322 small satellites were launched globally by commercial companies through 44 launches. Spire is one of several companies developing smallsat systems to collect data through GPS radio occultation, where satellites receive signals from Global Positioning System satellites that pass through the Earthís atmosphere. Those signals can serve as probes of the atmosphere, providing data about conditions that can be incorporated into weather models to improve the accuracy of forecasts. With the increasing availability of cost-effective data and imagery derived from small satellites, new opportunities are emerging to create customized applications for the needs of public organizations, companies, and consumers.

Weather Data Services Market Ecosystem
Prominent companies and startups that provide weather data and services, distributors/suppliers/retailers, and end customers are the key stakeholders in the weather data services market ecosystem. Investors, funders, academic researchers, distributors, service providers, and industries serve as the major influencers in the market.
Key Market Players
Major players in the weather data services market include Open Weather Map (UK), The Weather Company (US), AccuWeather, Inc. (US), DTN (US), Understory (US), Meteomatics(Switzerland), Weather Underground (US), Meteoblue (Switzerland) and Weather Source (US).
Recent Development
AccuWeather released the new AccuWeather Local Hurricane Tracker in July 2020, which offers real-time updates on wind speeds and rainfall levels and weather reports to the weather prediction department.
Report Objectives
Identify and analyze major drivers, constraints, challenges, and opportunities driving the weather data services market's growth.
Analyze the market effect of macro and micro indicators
To forecast market segment sizes for five regions, including North America, Europe, Asia Pacific, the Middle East, and the Rest of the World, as well as significant nations within each of these areas.
To conduct a strategic analysis of micro markets regarding particular technical trends, prospects, and their contribution to the total market.
To profile key market participants strategically and thoroughly study their market ranking and essential skills
To give a complete market competitive landscape, as well as an examination of the company and corporate strategies such as contracts, collaborations, partnerships, expansions, and new product developments.
Identifying comprehensive financial positions, key products, unique selling points, and key developments of industry leaders
Get online access to the report on the World's First Market Intelligence Cloud

Easy to Download Historical Data & Forecast Numbers
Company Analysis Dashboard for high growth potential opportunities
Research Analyst Access for customization & queries
Competitor Analysis with Interactive dashboard
Latest News, Updates & Trend analysis

Request Sample

Click on image to enlarge

Scope of the Report
| | |
| --- | --- |
| Report Metric | Details |
| Market size available for years | 2019-2027 |
| Base year considered | 2021 |
| Forecast period | 2022-2027 |
| Forecast units | Value (USD Million/ Billion) |
| Segments Covered | By Solution, Industry, Deployment, Enterprise Size, Data Type, and Region |
| Geographies Covered | North America, Asia Pacific, Europe, and the Rest of the World |
| Companies Covered | Open Weather Map (UK), The Weather Company (US), AccuWeather, Inc. (US), DTN (US), Understory (US), Meteomatics(Switzerland), Weather Underground (US), Meteoblue (Switzerland), Weather Source (US)and others |
This research report categorizes the Weather Data Services Market based on Solution, Industry, Deployment, Enterprise Size, Data Type, and Region
Weather Data Services Market, By Solution
Weather Data Services Market, By Industry
Aviation
Transport & Logistics
Energy & Utilities
Insurance
Agriculture & Forestry
Marine
Oil & Gas
Construction & Mining
Retail
Others
Weather Data Services Market, By Deployment
Weather Data Services Market, By Enterprise Size
Large Enterprises
Small & Medium Sized Enterprise
Weather Data Services Market, By Data Type
Real-Time Data
Forecast Data
Historical Data
Weather Data Services Market, By Region
North America
Europe
Asia Pacific
Rest of the World
TABLE OF CONTENTS
1 INTRODUCTION
1.1 OBJECTIVES OF THE STUDY
1.2 MARKET DEFINITION
1.3 MARKET SCOPE
1.3.1 REGIONAL SCOPE
1.3.2 YEARS CONSIDERED FOR THE STUDY
1.4 CURRENCY
1.5 MARKET STAKEHOLDERS
1.6 SUMMARY OF CHANGES
2 RESEARCH METHODOLOGY
2.1 RESEARCH DATA
2.1.1 SECONDARY DATA
2.1.2 PRIMARY DATA
2.1.2.1 Key data from primary sources
2.1.2.2 Breakdown of primaries
2.2 MARKET SIZE ESTIMATION
2.2.1 BOTTOM-UP APPROACH
2.2.2 TOP-DOWN APPROACH
2.3 DATA TRIANGULATION
2.4 RESEARCH ASSUMPTIONS
2.5 LIMITATIONS
3 EXECUTIVE SUMMARY
4 PREMIUM INSIGHTS
5 MARKET OVERVIEW
5.1 INTRODUCTION
5.2 MARKET DYNAMICS
5.2.1 DRIVERS
5.2.2 RESTRAINTS
5.2.3 OPPORTUNITIES
5.2.4 CHALLENGES
5.3 VALUE CHAIN ANALYSIS
5.4 TRENDS/DISRUPTION IMPACTING CUSTOMERS BUSINESS
5.5 PRICING ANALYSIS
5.6 USECASE ANALYSIS
5.7 TRADE ANALYSIS
5.8 WEATHER DATA SERVICES MARKET ECOSYSTEM
5.9 TARIFF AND REGULATORY LANDSCAPE
5.10 RANGES & SCENARIOS
5.11 PORTERíS FIVE FORCES ANALYSIS
5.12 TECHNOLOGICAL ANALYSIS
5.13 KEY CONFERENCES & EVENTS IN 2022-2023 ANALYSIS
5.14 KEY STAKEHOLDERS & BUYING CRITERIA
6 INDUSTRY TRENDS
6.1 INTRODUCTION
6.2 TECHNOLOGY TRENDS
6.3 PATENT ANALYSIS
6.4 IMPACT OF MEGATRENDS
7 WEATHER DATA SERVICES MARKET, BY SOLUTION
7.1 INTRODUCTION
7.2 PRODUCT
7.3 SERVICES
8 WEATHER DATA SERVICES MARKET, BY INDUSTRY
8.1 INTRODUCTION
8.2 AVIATION
8.3 TRANSPORT & LOGISTICS
8.4 ENERGY & UTILITIES
8.5 INSURANCE
8.6 AGRICULTURE & FORESTRY
8.7 MARINE
8.8 OIL & GAS
8.9 CONSTRUCTION & MINING
8.10 RETAIL
8.11 OTHERS
9 WEATHER DATA SERVICES MARKET, BY DEPLOYMENT
9.1 INTRODUCTION
9.2 ON-PREMISE
9.3 CLOUD
10 WEATHER DATA SERVICES MARKET, BY ENTERPRISE SIZE
10.1 INTRODUCTION
10.2 LARGE ENTERPRISES
10.3 SMALL & MEDIUM SIZED ENTERPRISE
11 WEATHER DATA SERVICES MARKET, BY DATA TYPE
11.1 INTRODUCTION
11.2 REAL-TIME DATA
11.3 FORECAST DATA
11.4 HISTORICAL DATA
12 REGIONAL ANALYSIS
12.1 INTRODUCTION
12.2 REGIONAL CONTRACT MAPPING FOR THE WEATHER DATA SERVICESMARKET
12.3 NORTH AMERICA
12.3.1 US
12.3.2 CANADA
12.4 EUROPE
12.4.1 UK
12.4.2 FRANCE
12.4.3 GERMANY
12.4.4 ITALY
12.4.5 RUSSIA
12.4.6 REST OF EUROPE
12.5 ASIA PACIFIC
12.5.1 CHINA
12.5.2 JAPAN
12.5.3 INDIA
12.5.4 SOUTH KOREA
12.5.5 AUSTRALIA
12.5.6 REST OF APAC
12.6 REST OF THE WORLD
12.6.1 MIDDLE EAST
12.6.2 LATIN AMERICA
12.6.3 AFRICA
13 COMPETITIVE LANDSCAPE
13.1 INTRODUCTION
13.2 REVENUE ANALYSIS
13.3 MARKET RANKING ANALYSIS
13.4 COMPANY ANALYSIS
13.5 COMPANY EVALUATION QUADRANT
13.5.1 STAR
13.5.2 EMERGING LEADERS
13.5.3 PERVASIVE
13.5.4 PARTICIPANT
13.5.5 COMPETITIVE BENCHMARKING
13.6 START-UP/SME EVELUATION QUADRANT
13.6.1 PROGRESSIVE COMPANIES
13.6.2 RESPONSIVE COMPANIES
13.6.3 STARTING BLOCKS
13.6.4 DYNAMIC COMPANIES
13.7 COMPETITIVE SCENARIO
13.7.1 CONTRACTS
13.7.2 NEW PRODUCT LAUNCHES
13.7.3 AGREEMENTS, ACQUISITIONS, COLLABORATIONS, PARTNERSHIPS, AND JOINT VENTURES
13.7.4 OTHERS
14 COMPANY PROFILES
14.1 INTRODUCTION
14.2 KEY PLAYERS
14.2.1 ACCUWEATHER, INC
14.2.2 DTN, LLC
14.2.3 EARTH NETWORKS, INC.
14.2.4 OPENWEATHER LTD
14.2.5 WEATHER UNDERGROUND
14.2.6 WEATHERSTACK
14.2.7 THE WEATHER COMPANY
14.2.8 METEOBLUE AG
14.2.9 METEOMATICS AG
14.2.10 THE TOMORROW COMPANIES INC.
14.3 OTHER MAJOR PLAYERS
15 APPENDIX
15.1 DISCUSSION GUIDE
15.2 KNOWLEDGE STORE: MARKETSANDMARKETSí SUBSCRIPTION PORTAL
15.3 INTRODUCING RT: REAL-TIME MARKET INTELLIGENCE
15.4 AVAILABLE CUSTOMIZATION
15.5 RELATED REPORTS
15.6 AUTHOR DETAILS

Request for detailed methodology, assumptions & how numbers were triangulated.