[383 Pages Report] The global Ammunition Market size to grow at a CAGR of 3.7% from 2021 to 2026. Factors such as the changing nature of warfare, the militarization of police forces, the increasing incidence of drug trafficking, and terrorist activities, and the modernization of armed forces are driving factors assisting the growth of the Ammunition Market.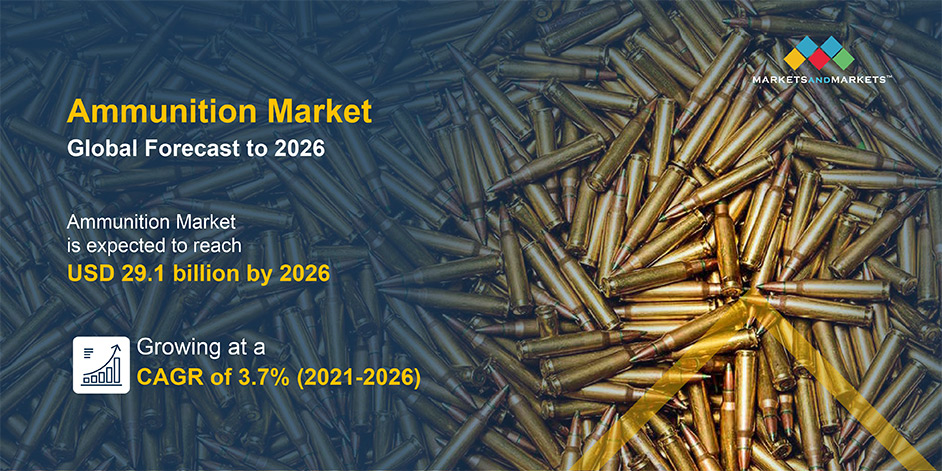 To know about the assumptions considered for the study, Request for Free Sample Report
COVID-19 Impact on the Ammunition Market
The COVID-19 pandemic has caused a large-scale impact on economies across the world. The global manufacturing of ammunition, components, and assembly lines have been impacted. Although the manufacturing of ammunition for military applications is of prime importance, disruptions in the supply chain have set back their manufacturing for the time being. Resuming the manufacturing and demand for ammunition depends on the level of COVID-19 exposure a country is facing, the level at which manufacturing operations are running, and import-export regulations, among other factors. Although companies may still be taking in orders, delivery schedules might not be fixed.
Various countries have decided to cut overall defense budgets. According to industry experts, defense departments are focusing more on sectors that are of high importance to national security, while budgets for research and non-critical sectors are likely to be temporarily cut. However, countries like the US, China, and other countries in Europe have increased their planned defense spending during this time, contrary to Latin America and Africa.
According to an industry expert, the demand for ammunition is not expected to be affected to a great extent since ammunition is a key component of the frontline infantry. However, according to the International Monetary Fund, global GDP is expected to drop by approximately 3.0% in 2020. This would adversely impact the revenue generated from taxes. When taxes drop, governments are placed under tremendous pressure; the effect of which will be seen in the subsequent years. Since all initial budgets by countries were announced, voted, and passed in 2020 before the pandemic, none of the current budgets consider the economic impact of COVID-19. It is estimated that budget cuts and the real impact would reflect only once draft budgets for 2021 are released.
Ammunition Market Dynamics
Driver: Modernization programs undertaken by military forces
Rising incidences of armed intranational and international conflicts have driven several countries to enhance their military strengths through the procurement of advanced ammunition and equipment. Modernization is currently being undertaken across most emerging economies of the world, including Russia, China, Turkey, India, and Saudi Arabia. As a result of this, defense expenditure for ammunition procurement and R&D activities has increased significantly across the globe over the past few years. These countries are spending significantly on military modernization programs to enhance and upgrade their surveillance capabilities and improve their firepower assets in terms of range, precision, mobility, and lethality, with range and precision being the main criteria for ammunition procurements. These modernization activities are one of the most important drivers for small-caliber ammunition and firearms demand. Increasing training expenditure by major economies, as well as emerging economies, is also growing small ammunition consumption.
The sociopolitical need for countries such as China, India, and South Korea to be battle-ready has resulted in the large-scale procurement of advanced ammunition, including small-caliber ammunition, along with other advanced warfare equipment. For instance, China Ordnance Industries developed a new rifle known as QBZ-95, which is reportedly highly reliable and accurate and has low recoil. This rifle is the new service weapon of the Chinese military. Also, as of 2018, the Defence Acquisition Council of India cleared the procurement of Negev 7.62x51mm LMG for use by the Indian Army, Navy, and Air Force. This LMG will replace the 5.56x45mm INSAS LMG and is expected to increase the lethality and range of soldiers.
Other notable military modernization programs have been observed in Russia, Brazil, and several countries of the European Union. The rising need for large infantry forces, which is also an important component of military modernization programs, is another major factor driving the demand for ammunition globally.
Restraint: Varying regulations affecting the procurement of ammunition
Economic, legal, and political frameworks differ from country to country, resulting in varying regulations regarding arms, ammunition, and other warfare equipment as well. This is one of the major factors affecting the key players in the Ammunition Market, such as General Dynamics (US), Rheinmetall AG (Germany), and BAE Systems (UK). These players are expected to fully comply with the laws and regulations of their home countries as well as those of foreign governments since compliance failures affect sales, revenues, and profit margins and may even invite administrative and criminal action. Regulations often impact the contracting and procurement processes of a number of countries.
The following are key firearms-related conflicting regulations prevalent in the US:
Stringent controls on the manufacture, transfer, and possession of certain small-caliber ammunition, such as .50 caliber, to ensure public safety
Serialization of ammunition to assist law enforcement agencies in solving gun-related crimes
Regulations that differ from country to country include import-export controls, technology transfers, and anti-corruption laws. Non-compliance with these regulations could have a severe impact on the operations of market players, thereby lowering market revenue globally. The differences in the regulations of different countries are driven by numerous economic, legal, or political factors, thereby restraining the growth of the Ammunition Market. For instance, gun laws in the US and India are different, where India has stricter regulations and gun control laws as compared to the US.
Opportunity: Reduction in weight of ammunition
One of the major challenges for the ammunition industry is the development of lightweight ammunition that does not compromise on combat performance and precision. Modernization programs adopted by several nations to empower their militaries and law enforcement agencies have resulted in a significant increase in the total weight of ammunition. The combined weight of equipment prevents personnel from being agile and effective. Hence, law enforcement and defense agencies are now focusing on acquiring lightweight ammunition.
In Navy League's Sea, Air, Space Exposition (April 2017), the Executive Director of US Marine Corps Systems Command stated that "The Marines are focusing on lightening the load infantry squads carry into battle." The Marines have tested polymer-cased .50 caliber ammunition, and on a .50-caliber ammunition pallet, approximately 1,000 pounds can be saved. The US Army has had a strong interest in reducing the weight of ammunition for a decade. LSAT's cased-telescoped 5.56mm ammunition relies on a polymer case rather than a brass one to hold the propellant and the projectile, like a conventional shotgun shell. It weighs about 37% less than a standard belted 5.56mm. In accordance with this, the US Marine Corps awarded a USD 10 million contract for new lightweight polymer .50 caliber ammunition to MAC LLC, a Mississippi-based company.
In July 2018, Textron Systems received a contract from the US Army to develop a prototype for the Next Generation Squad Automatic Rifle (NGSAR) program. Under this contract, the company will develop Cased-Telescoped (CT) Weapons & Ammunition to possibly replace existing Squad Automatic Weapons being used by US armed forces. Textron Systems has also developed CT weapons and ammunition systems (October 2017) that offer high maneuverability, high performance, and a 40% reduction in weight. It has designed ammunition in which the projectile is seated within a cylindrical case, which led to a 37% reduction in weight compared to brass cartridges. Such developments present opportunities for market players.
Challenge: The proliferation of illicit ammunition manufacturers
Information on global ammunition flow is difficult to obtain. According to the UN Office of Disarmament Affairs, "More than 80% of ammunition trade seems to remain outside of reliable export data". Conflict Armament Research (CAR) classifies the causes of weapons diversion into six categories:
Battlefield capture (30%)
Poorly managed national stockpiles (12%)
State-sponsored diversion where a State-supported the diversion of weapons to unauthorized end-users (22%)
Loss from State custody for unknown reasons (27%)
State collapse where States lose or withdraw their control over stockpiles (5%)
Unknown causes (4%).
Expert groups monitoring United Nations arms embargoes noted years ago that the lack of basic accountability systems was a factor in the diversion of ammunition.
Thus, the proliferation of illicitly manufactured ammunition is a major issue that threatens the security of various countries across the world. It involves the manufacturing or assembly of ammunition, explosives, and other related materials from components that are either illicitly trafficked or do not have markings from government authorities. Such illicitly manufactured ammunition is often transferred and smuggled across international borders. It not only becomes a source of terrorist activities but can also substitute branded ammunition for a number of other applications, affecting the demand for branded ammunition negatively.
Lack of effective stockpile management and security at peacekeeping missions is also a significant cause of this. Weak inventory surveillance and reporting mechanisms lead to the smuggling of ammunition across borders, thus posing challenges for the market.
Increasing spending on the modernization of armed forces is driving the growth of the defense applications
The defense segment of the Ammunition Market has been classified into military and homeland security. The growth of the defense segment of the Ammunition Market can be attributed to the increased spending of countries on military modernization programs, as well as the rise in terrorist activities and civil disturbances in several parts of the world.
Based on caliber, the small caliber segment of the Ammunition Market is projected to witness the highest CAGR during the forecast period
Based on caliber, the Ammunition Market has been segmented into small, medium, large, and others. The small caliber segment is projected to grow at the highest CAGR during the forecast period. The growth of this segment can be attributed to increased use of small caliber ammunition by military and homeland security personnel, owing to less lethality of this ammunition. Moreover, open online marketplaces for small arms and ammunition and increased procurement of small caliber ammunition by the defense and homeland security sectors to curb rising instances of armed conflicts are also contributing to the growth of this segment.
Bullets segment of the Ammunition Market is projected to witness the highest CAGR owing to increasing focus on upgrading of land and air force inventory by armed forces
Based on products, the Ammunition Market has been segmented into bullets, aerial bombs, grenades, artillery shells, and mortars. The bullets segment is projected to grow at the highest CAGR. In recent years, an increasing focus has been observed to upgrade land as well as air force inventory across the globe due to multiple reasons such as geopolitical tensions and air force applications. For instance, the US has ongoing F-35 fighter aircraft programs. Whereas the Indian air force is looking for multi-role aircraft to strengthen their armed forces, and hence new aircraft procurements will lead to an increased demand for related ammunition in the coming years. Hanwha Corporation (South Korea) and General Dynamics Corporation (US) manufacture aerial bombs for applications.
The North American market is projected to contribute the largest share from 2021 to 2026
The Ammunition Market in the North American region has been studied for the US and Canada. Major factors that are expected to drive the growth of the market in the region include rising instances of terrorism, which have led to increased use of ammunition by armed forces and a growing number of drug cartels in Central America
North American countries are awarding a number of contracts to major players of the Ammunition Market for the delivery of ammunition, thus driving the growth of the Ammunition Market in the region. For instance, In July 2020, Northrop Grumman Corporation secured a contract from the US Army to deliver the next-generation airburst cartridge for the 30mm XM813 Bushmaster Chain Gun. The Bushmaster Chain Gun will be installed on the Stryker Infantry Carrier Vehicle (ICV). Also, the company has secured a contract worth USD 93 million from the US Army for the manufacture of multipurpose munition technology for destroying targets such as lightly armored infantry fighting vehicles. The munitions are expected to be compatible with the M4A1 rifle.
Industry experts have stated that the COVID-19 pandemic has not affected the demand for ammunition in the defense sector for the US. US Department of Defense (DoD) has asked the manufacturers to continue with product activities related to ammunition. However, some change has been observed in demand for ammunition in civil & commercial applications, especially in sporting and hunting activities. The demand for ammunition for self-defense applications has increased to a greater extent. According to the New York Times published in April 2020, "About 2 Million Guns Were Sold in the US as Virus Fears Spread," which showcases the increased ammunition demand for self-defense applications.
To know about the assumptions considered for the study, download the pdf brochure
Key Market Players
The Ammunition Market is dominated by a few globally established players such as Northrop Grumman Corporation (US), CBC Global Ammunition (Brazil), BAE Systems (UK), and General Dynamics Corporation (US) among others.
Get online access to the report on the World's First Market Intelligence Cloud

Easy to Download Historical Data & Forecast Numbers
Company Analysis Dashboard for high growth potential opportunities
Research Analyst Access for customization & queries
Competitor Analysis with Interactive dashboard
Latest News, Updates & Trend analysis

Request Sample

Click on image to enlarge

Scope of the Report
| | |
| --- | --- |
| Report Metric | Details |
| Market size available for years | 2017–2026 |
| Base year considered | 2020 |
| Forecast period | 2021-2026 |
| Forecast units | Value (USD Million) |
| Segments covered | By Application, By Caliber, By Product, By Component, By Guidance Mechanism, By Lethality |
| Geographies covered | North America, Europe, Asia Pacific, Middle East, Africa, and Latin America |
| Companies covered | Northrop Grumman Corporation (US), General Dynamics Corporation (US), CBC Global Ammunition (Brazil), Olin Corporation (US), Ruag Ammotec (Switzerland), BAE Systems (UK), Thales Group (France), Rheinmetal AG (Germany), Nexter KNDS group (France), Elbit Systems (Israel), Nammo AS (Norway), and ST Engineering (Singapore) among others. (28 Companies) |
The study categorizes the ammunition market based on application, caliber, product, component, guidance mechanism, lethality, and region
By Application
Defense

Military
Homeland Security

Civil & Commercial

Sporting
Hunting
Self-defense
Others
By Caliber
Small

9mm
5.56mm
7.62mm
12.7mm
.338 Lapua Magnum
.338 Norma Magnum
14.5mm
Others (Small Caliber)

Medium
Large

60mm
81mm
120m
155mm
Others (Large Caliber)

Others
By Product
Bullets
Aerial Bombs
Grenades
Artillery Shells
Mortars
By Component
Fuzes & Primers
Propellants
Bases
Projectiles and Warheads
Others
By Guidance Mechanism
By Lethality
By Region
North America

Asia Pacific
Europe
Middle East
Latin America
Africa
Recent Developments
In July 2021, Lockheed Martin Missile and Fire Control, a division of Lockheed Martin Corporation, was awarded a USD 160 million modification (P00032) contract (W31P4Q-19-C-0101) to produce High Mobility Artillery Rocket Systems M142 launchers and support requirements.
In July 2020, the Nexter KNDS Group received a contract from the French Army for the supply of 70,000 modular artillery loads for use on the CAESAR system. The CAESAR system is a 155mm artillery system being used by the French Army. All the modules under this assignment will be manufactured at the Eurenco Bergerac site and delivered between 2021 and 2022 to the French Army.
In July 2020, Northrop Grumman Corporation secured a contract from the US Army to deliver the next-generation airburst cartridge for the 30mm XM813 Bushmaster Chain Gun. The Bushmaster Chain Gun will be installed on the Stryker Infantry Carrier Vehicle (ICV).
In March 2020, BAE Systems received a contract by the US Army to supply advanced BONUS munitions. BONUS is a 155-millimeter munition designed for destroying armored targets and will be employed by the Army's fleet of M109 self-propelled howitzers and M777 ultra-lightweight towed howitzers. These deliveries are expected to start in 2021.
Frequently Asked Questions (FAQ):
Which are the major companies in the ammunition market? What are their major strategies to strengthen their market presence?
Some of the key players in the ammunition market are Northrop Grumman (US), General Dynamics Corporation (US), Olin Corporation (US), BAE Systems (UK), Nammo AS (Norway), RUAG (RUAG Ammotec) (Switzerland), Nexter (France), Vista Outdoor Inc. (US), and Rheinmetall AG (Germany), among others. Contracts was the key strategies adopted by these companies to strengthen their market presence.
What are the drivers and opportunities for the ammunition market?
Geopolitical tensions, territorial conflicts, and political unrest in various countries of the Middle East and Asia Pacific are the key drivers of the ammunition market. Some of the key opportunities in the ammunition market are continuous R&D requirements for the development of advanced and lightweight ammunition.
Which region is expected to grow at the highest rate in the next five years?
Asia Pacific region is expected to grow at the highest growth rate in the coming years. The growth of the market in this region can be attributed to the rising number of terrorist activities in the Asia Pacific region and the increasing spending of emerging economies of the region on defense operations. Countries such as India and China have increased their defense budgets and are procuring advanced ammunition for their armed forces.
Which caliber of ammunition is expected to witness significant growth in the coming years?
The small caliber ammunition segment is expected to witness the highest demand in the coming years. The demand is attributed to the demand for small arms ammunition from armed forces and law enforcement agencies of various countries. This demand is also fueled by the increasing use of small-caliber ammunition for commercial applications.
Which are the key technology trends prevailing in the ammunition market?
Some of the key trends include lightweight ammunition, optically initiated ammunitions, laser-initiated ammunitions, green ammunition, caseless ammunition, self-guided smart bullets, biodegradable plant growing bullet, pre-fragmented ammunitions, and cased telescoped ammunition, among others. .
To speak to our analyst for a discussion on the above findings, click Speak to Analyst