The automatic lubrication system market was valued at USD 743.3 million in 2017 and is projected to reach USD 958.5 million by 2023, at a CAGR of 4.5% during the forecast period. The base year considered for the study is 2017, and the forecast period is between 2018 and 2023.
Growing awareness regarding the advantages of using automatic lubrication systems is contributing to the growth of the market. Manufacturing companies around the world are slowly moving from manual lubrication practices to more efficient automatic lubrication operations. This shift from manual to automatic lubrication is acting as a growth driver for the market. Asia Pacific constitutes some of the largest and fastest-growing economies such as China, Japan, and India in the world. Huge domestic demand for products and services and significant business growth opportunities have led to the establishment of the manufacturing units of various industries, such as cement, steel, and energy, in the region. This offers an attractive opportunity for the market growth in APAC.
The objective of the report is to provide a detailed analysis of the market based on lubrication type, system type, industry, and region. The report provides detailed information regarding the major factors influencing the growth of the market. The report also gives a detailed overview of the automatic lubrication system value chain and analyzes market trends.
The research methodology used to estimate and forecast the begins with capturing data on current and expected adoption of automatic lubrication systems using secondary sources such as the Union of the European Lubricants Industry (UEIL), Society of Tribologists and Lubrication Engineers (STLE), National Lubricating Grease Institute (NLGI), press releases, investor relation presentations, and annual reports. Vendor offerings have also been considered to determine the market segmentation. The bottom-up procedure has been employed to arrive at the overall size of the automatic lubrication system market by considering the installation of automatic lubrication systems in various industries. After arriving at the overall market size, the overall market has been split into several segments and subsegments, which have been verified through primary research by conducting extensive interviews with industry experts such as CEOs, VPs, directors, and executives. The market breakdown and data triangulation procedures have been employed to complete the overall market engineering process and arrive at the exact statistics for all segments and subsegments. The breakdown of the profiles of primaries is depicted in the figure below: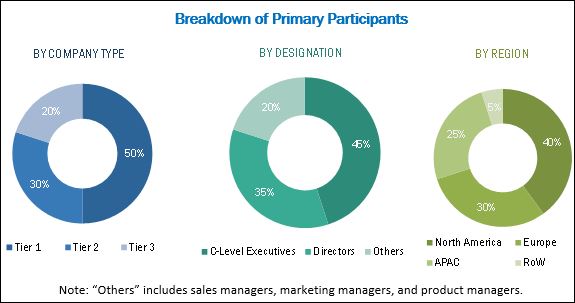 To know about the assumptions considered for the study, download the pdf brochure
The automatic lubrication system ecosystem comprises automatic lubrication system manufacturers, component providers, and distributors. Players involved in the manufacture of automatic lubrication systems include SKF (Sweden), Graco (US), BAIER + KOEPPEL (Germany), Timken (US), Bijur Delimon (US), Samoa (Spain), Klueber Lubrication (Germany), Perma-tec (Germany), Woerner (Germany), Dropsa (Italy), Cenlub Systems (India), ATS Electro-Lube (Canada), I.L.C. S.r.L. (Italy), Oil-Rite (US), and Simatec (Switzerland).
Target Audience for This Report:
Associations, forums, and alliances related to automatic lubrication systems
Automatic lubrication system manufacturers and suppliers
Automatic lubrication system component suppliers
Government bodies, venture capitalists, and private equity firms
Lubricant manufacturing companies
Research organizations and consulting companies
"This study answers several questions for stakeholders, primarily which market segments to focus on in the next 2–6 years for prioritizing efforts and investments."
Scope of the Report:
This research report categorizes the global market by lubrication type, system type, industry, and region.
Automatic Lubrication System Market, by Lubrication Type
Grease-based Lubrication System
Oil-based Lubrication System
Automatic Lubrication System Market, by System Type
Single-Line Lubrication System
Dual-Line Lubrication System
Multi-Line Lubrication System
Series Progressive Lubrication System
Circulating Oil Lubrication System
Oil and Air Lubrication System
Automatic Lubrication System Market, by Industry
Steel
Manufacturing
Cement
Paper & Printing
Transportation
Construction
Agriculture
Mining
Power
Automatic Lubrication System Market, by Region
North America
Europe
APAC
RoW
Available Customizations:
With the given market data, MarketsandMarkets offers customizations according to companies' specific needs. The following customization options are available for the report:
Company Information:
Detailed analysis and profiling of additional market players (up to 5)
Get more insight on other verticals of Semiconductor and Electronics Market Research Reports & Consulting
The automatic lubrication system market is expected to grow from USD 769.4 million in 2018 to USD 958.5 million by 2023, at a CAGR of 4.5% between 2018 and 2023. Key factors driving the growth of the market include reduction in machine downtime associated with manual lubrication, effective lubrication with automatic lubrication systems, increasing focus on worker safety, and rising labor costs.
Grease-based lubrication system held a larger share of the market in 2017. Grease-based lubrication systems are mostly preferred in those applications where a machine requires a cold start. In oil-lubricated machines, oil is drained from the surface of machine components, making it prone to increased friction during a cold start. However, grease remains on the surface of machine components and provides necessary lubrication during the start. Grease-based lubricants are ideal for heavy-duty applications in industries such as manufacturing, agriculture, transportation, mining, construction, and power. The rugged nature of grease-based lubricants also makes them ideal for harsh working conditions, making them the preferred choice for most machines and equipment.
The market for multi-line lubrication system is expected to grow at the highest CAGR during the forecast period. Multi-line lubrication systems are designed for heavy-duty and continuous operations. In multi-line lubrication systems, the lubricant is delivered from the pumping unit to lubrication points without the help of any external metering device. Multi-line lubrication systems are suitable for a variety of lubricants with broad viscosity range. These systems have the ability to lubricate multiple points at the same time, can perform lubrication without the help of metering device, and have simple design.
The steel industry held the largest share of the automatic lubrication system market in 2017. Rapid industrialization and infrastructure modernization in emerging economies such as China, India, Brazil, Indonesia, and Thailand have resulted in increased demand for steel. Steel manufacturing companies constantly face the challenge of producing steel with high precision, quality, and reliability. Increasing demand for high-quality steel has prompted steel companies to use advanced automated machinery and equipment in their plants. Companies are using automatic lubrication systems in steel plants to properly lubricate plant machinery so that it can withstand the harsh operating environment.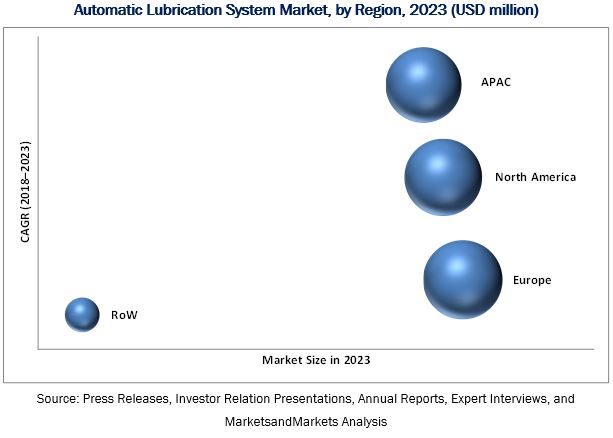 Europe held the largest share of the market in 2017. Leading industries such as automotive, mining, steel, electronics manufacturing, and agriculture have been flourishing in the European region for the past few decades. Need for more efficient output has encouraged the European industrial ecosystem to embrace automation and digitization. Increasing necessity to adopt efficient machinery and equipment, and maintenance practices has made Europe a huge market for automatic lubrication systems. Furthermore, factors such as highly automated manufacturing industries, stringent environmental regulations related to the transportation industry, and increasing need to reduce maintenance costs are driving the growth of the market in Europe.
SKF (Sweden), Graco (US), BAIER + KOEPPEL (Germany), Timken (US), and Bijur Delimon (US) are the top electric automatic lubrication system manufacturing companies. These players focus on product launches and developments, expansions, acquisitions, and contracts to enhance their product and service offerings, and expand their business globally.
To speak to our analyst for a discussion on the above findings, click Speak to Analyst