[280 Pages Report] The global automotive fuel cell market is projected to grow from 25 thousand units in 2022 to 724 thousand units by 2030, registering a CAGR of 52.4%. Fuel cell operated vehicles such as buses, LCVs, passenger cars, and trucks, were mapped as part of this research. Factors such as increased demand for zero-emission vehicles and strong government support have caused leading original equipment manufacturers (OEMs) to invest in R&D for automotive fuel cells. The rising petroleum prices globally will also cater to increased demand for fuel cell propelled vehicles in almost every sector. With advances in fuel cell technology, the efficiency of these fuel cell vehicles are likely to grow. A prompt green hydrogen infrastructure set up in many countries will make fuel cell electric vehicle (FCEVs) users to refill their vehicles easily and travel long distances.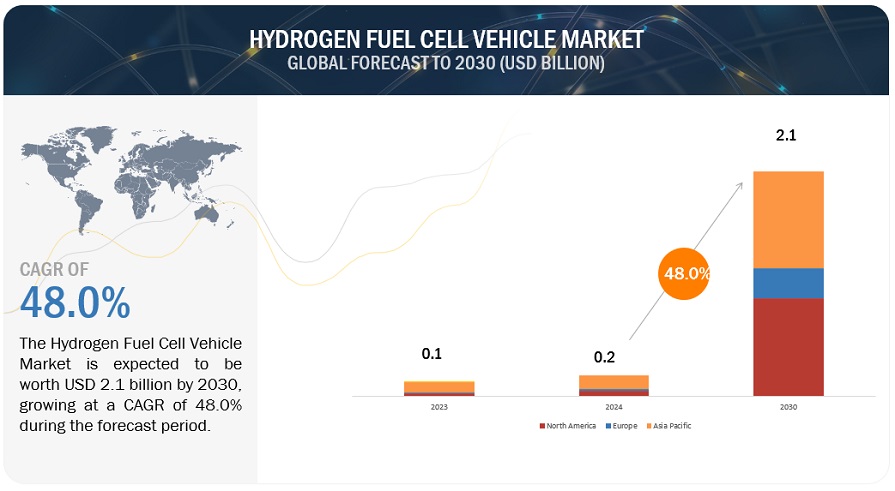 To know about the assumptions considered for the study, Request for Free Sample Report
Market Dynamics:
Driver: Better fuel efficiency and increased driving range
FCEVs offer better fuel economy than internal combustion engine (ICE) vehicles. The fuel economy of an FCEV is around 63 miles per gallon gasoline equivalent (MPGge), while that of an ICE vehicle is 29 MPGge on highways. Hybridization can improve the fuel economy of an FCEV by up to 3.2%. On urban roads, the fuel economy of an FCEV is around 55 MPGge as compared to 20 MPGge for ICE vehicles.
There is a significant difference in the driving range of FCEVs and battery-powered electric vehicle (BEVs) on either full tank or full charge. FCEVs can travel almost 300 miles without refueling. The average range of a BEV is around 110 miles with a fully charged battery. Honda Clarity has the highest EPA driving rating for any zero-emission vehicle in the US. It has a driving range of up to 366 miles. Hence, better fuel efficiency and increased driving range will boost the demand for FCEVs, which will, in turn, drive the automotive fuel cell market.
Hydrogen has a specific energy of 40,000 Wh/kg, whereas conventional Li-Ion batteries have a much lower specific energy of about 250 Wh/kg. A conventional BEV takes much more time to charge as compared to an FCEV, which takes around 5 minutes to get fully refueled. The overall calculated efficiency of an FCEV is around 60%, which is higher than that in an ICE vehicle. It also has much higher range compared to most EVs in the market.
Restraint: High flammability
Fuel cells use hydrogen and oxygen to produce electricity through a chemical reaction. Hydrogen is a highly flammable gas, and oxygen helps other substances burn at lower temperatures. Auto-ignition temperature of the fuel is the lowest and is hard to detect during the day. If not handled properly, the fuel can catch fire—hydrogen flames are invisible and can explode. In FCEVs, fuel cells are installed inside the vehicle, and hydrogen gas is stored under pressure. If a spark of electricity meets the hydrogen, it could catch fire. However, in fuel cells, electricity is produced without combustion, which decreases the chances of a vehicle catching fire, although there are several electronic and electrical components in a vehicle, which can generate heat or electric sparks. The risk of fire is also high at hydrogen fuel stations. Hence, the highly flammable nature of hydrogen gas is a major restraint for the growth of the automotive fuel cell market.
Opportunity: Fuel-cell vans to be an emerging opportunity for OEMs
Due to the increasing prices of conventional nonrenewable fuels like petrol, diesel, and gas, the overall cost of operations of ICE vans has been rising. Fuel-cell vans can transport passengers and carry goods without polluting the environment. By the end of 2021, Stellantis's subsidiaries launched three hydrogen-fueled van models. For developing these vans, Stellantis worked closely with Faurecia and Symbio to develop two main systems- hydrogen storage and fuel-cell stacks. Stellantis launched three models – Citroën Jumpy, Peugeot Expert, and Opel Vivaro. These vans provide a range of up to 250 miles and feature a mains-rechargeable battery as an additional power source. Similarly, In July 2021, Hyundai Motor unveiled the world's first hydrogen-powered vans and express buses. Furthermore, Hyundai Motor will treble its fuel-cell electric vehicle (FCEV) lineup in the next two years, accelerating FCEV popularity as a global hydrogen vehicle industry leader. Further, In September 2022, Bosch announced that it has equipped two vans with hydrogen fuel-cell technology in partnership with ABT eLine GmbH. The partner company worked closely with Bosch Engineering GmbH to develop these fuel-cell vans. Renault has also started the production of its hydrogen powered van, HYVIA Hydrogen Renault Master Van which it developed in collaboration with fuel-cell specialist Plug Power. This van provides a range of up to 300 miles.
Challenge: High vehicle costs
The major challenge for the automotive fuel cell market is the high cost of fuel cells. A fuel cell is made using a membrane, bipolar plates, stacks, gas diffusion layers, and a catalyst. Hydrogen atoms are oxidized into protons and electrons in a fuel cell. A catalyst is used for the chemical process. Generally, platinum is used as a catalyst in PEM fuel cells that are mainly used for automotive applications. Platinum is one of the costliest metals. The catalyst contributes to about 46% of the total fuel cell cost, making fuel cells costlier than the batteries used in BEVs. Moreover, the cost of batteries is continuously dropping due to increased R&D in battery technology. The cost of the fuel itself is high, which makes FCEVs costlier. However, the maintenance cost of fuel cells is lower than batteries. The price of the 2022 Toyota Mirai is almost USD 50,595 in the US, whereas the 2022 Tesla Model 3 costs USD 46,990. The huge price difference between battery electric and fuel cell vehicles is a major challenge for the growth of FCEV sales. Hence, the cost of fuel cells needs to be reduced to boost the automotive fuel cell market. However, there has been a significant decrease in the cost of fuel cells in the past few years. Also, fuel cell manufacturers and government bodies are taking initiatives and carrying out R&D to decrease the cost of fuel cells further. For instance, according to the Ministry of Trade, Industry, and Energy, the South Korean government and businesses will invest around USD 2.33 billion over the next five years in accelerating the development of the country's hydrogen fuel-cell vehicle ecosystem. The investment will be made as a public-private partnership.
Passenger cars market is to grow at the fastest pace during the forecast period
The passenger car segment is projected to be the largest in the automotive fuel cell market. The high adoption rate and demand for personal mobility are expected to drive the fuel-cell passenger car market. Plans by governments to convert ICE taxi fleets into zero-emission ones are expected to provide significant growth opportunities in the coming years. The trucks and buses segments are projected to be fast-growing segments. High efficiency, more extended driving range, and the need to decrease greenhouse gas emissions are expected to boost the growth of the fuel cell truck and bus market. Other off-road vehicles are also expected to benefit from the development of FC technology. Fuel cell LCVs are projected to be the fastest-growing segment during the forecast period due to their increasing demand for long-range commercial usage.
The passenger car segment accounts for the largest share of the automotive fuel cell market by vehicle type. The rising demand for personal mobility and increased concerns for low-emission vehicles are driving the sale of passenger cars. Several FCEV models are available in the market, such as the Toyota Mirai, Honda Clarity, Mercedes-Benz GLC FCEV, Nissan X-Trail FCEV, and Riversimple RASA. Various companies are planning to launch new models in the coming years, realizing the significant potential in the fuel-cell passenger car market. For instance, BMW plans to introduce the fuel-cell technology developed with Toyota in the BMW X6 and X7 models in the coming years. At the International Automobile Exhibition (IAA) 2019, BMW presented the i Hydrogen Next, a fuel-cell study based on its X5 model. In September 2019, the company announced that a fleet of these vehicles, which was launched in 2022. To expand their presence, OEMs are launching their models in various countries and making them available for commercial sale. In 2018, Hyundai Nexo became the first fuel-cell car registered in Spain. Additionally, in September 2021, Hyundai announced plans to launch a series of hydrogen-powered vehicles and technologies. Furthermore, in June 2021, Land Rover started developing on a Hydrogen fuel cell Defender, which gives it zero tailpipe emissions as well as great off-road ability. The company has also planned Zeus, an advanced engineering program, which will allow the engineers to optimize a hydrogen powertrain for delivering the expected levels of performance. For developing the Defender-based fuel cell electric vehicle, Jaguar Land Rover has collaborated with various firms such as Delta Motorsport, AVL, Marelli Automotive Systems, and the UK Battery Industrialisation Centre. Jaguar Land Rover aims to achieve zero tailpipe emissions by 2036.
Fuel cell stack segment to lead market during the forecast period
The fuel stack accounts for the largest share of the total cost of the fuel cell system. Platinum is used as a catalyst in a fuel stack to boost the electrochemical reaction and increase the efficiency of the fuel cell. Hence, the fuel stack segment is projected to lead the revenue from the automotive fuel cell market. However, in the coming time, platinum will gradually be used less as alternatives have been made for reducing the price of fuel cell stacks. Fuel processors and fuel stacks are also among the fast-growing component segments. The fuel cell stack is an essential component of the fuel cell system and has two flow field plates and MEA. It generates electricity in the form of direct current (DC). Hence, a DC/AC converter is used to convert the electricity to alternating current (AC) for AC applications in FCEVs. A fuel cell used for automotive applications generates less than 1.16 V of electricity. Individual fuel cells are stacked to generate more power and electricity. This assembly is called a fuel cell stack, which is the most expensive component of the fuel cell system due to the presence of platinum. The size of the stack defines the power output of the fuel cell. The number of fuel cell stacks can be increased to generate more power and electricity. A stack is provided with end plates and connections for use in FC modules. As the stack size increases, the cost per unit power generated decreases. Hence, fuel cells are efficient for long-range transportation. Also, because of R&D and investments by fuel cell manufacturers, OEMs, and governments, the cost of fuel stacks is expected to reduce. The cost of technological and operational improvements and regulatory requirements in fuel cell technology in Europe is high. Moreover, the product follows economy of scale—the production volume increases, per unit cost of the product decreases. Companies like Ballard (Canada) and PowerCell AB have been working on fuel cell stacks. For instance, in September 2020, Ballard Power Systems launched the high-power density fuel cell stack for vehicle propulsion, the FCgen HPS. It is a PEM fuel cell stack for medium and heavy-duty vehicles. In July 2022, PowerCell (Sweden) announced that they have partnered with ZeroAvia (US). Under which PowerCell will deliver 5000 units of 100-kW fuel cell stacks starting in 2024. Through these fuel cell stacks ZeroAvia (US) intends to produce a 600-kilowatt, low-temperature, hydrogen-electric powertrain, that can be leveraged to power a 19-seat commercial aircraft.
Asia Oceania to be the largest market by value during the forecast period
Asia Oceania is the largest market for green technologies in the world. The governments in this region are setting renewable energy targets backed by favourable policies such as the Kyoto Protocol. The largest markets for fuel cells in Asia Oceania are Japan, China, and South Korea, followed by India and Australia. This has been a dominant region of fuel cell adoption since 2009 due to the commercial deployment of Japanese fuel cell Micro Cogeneration and Heat Production (micro-CHP) products. Asia Oceania accounted for the largest number of fuel cell cars sold in 2020 and 2021—the split is primarily between Hyundai in South Korea and Toyota in Japan.
Japan, the first nation to commercialize fuel cells, is supporting a project on residential and automotive applications. The Ministry of Economy, Trade, and Industry (METI) has organized the project and commercialized stationary micro-CHP units. Moreover, Japan has set a target of establishing 900 hydrogen refuelling stations by 2028 and 800,000 fuel cell cars by 2030. In South Korea, the Ministry of Knowledge Economy is also making similar efforts to promote fuel cells in the country. According to the Korea Automobile Manufacturers Association, in 2021, Japan sold over 2,400 fuel cell vehicles, majority of them being government-owned. The country also used them in the 2020 Olympics (rescheduled to 2021 due to COVID-19) to showcase the potential of fuel cells and hydrogen. Fuel cell vehicles will be used as official vehicles for the games.
India is also expected to start exclusive programs to promote fuel cells. As of now, India's presence is seen in the form of installations of backup power fuel cell systems for telecom towers. In December 2020, Indian Oil Corporation announced plans to buy 15 fuel cell buses for Delhi NCR. The company will produce hydrogen fuel in Faridabad. In February 2020, the Ministry of New and Renewable Energy (MNRE) partnered with NTPC and proposed the launch of a fuel cell bus project. The fuel cell bus developed by Tata Motors and ISRO in 2019 will be used for this purpose. Similarly, In 2022, KPIT launched the country's first self-developed fuel cell bus.
Australia is expected to provide huge opportunities for the growth of the automotive fuel cell market in the region in the long term. Currently, the country is a leader in the adoption of fuel cell vehicle technology. Hyundai and Toyota have launched their fuel cell car models in the country. Trucking is one of the key industries in Australia, and high efficiency and long driving range of fuel cells would have a huge advantage over battery-electric trucks in the country. The country has recognized the importance and benefits of fuel cell vehicles and started developments in the field. In January 2019, Australia announced a commitment of USD 784 million to boost its hydrogen industry. In August 2020, Australian Renewable Energy Agency (ARENA) and Commonwealth Scientific and Industrial Research Organization (CSIRO) worked together to encourage and showcase the advantages of using hydrogen for domestic and transportation use.
JX Nippon, Doosan Corporation, Toshiba, and Panasonic are the key players in Asia Oceania—all headquartered in Japan. By 2030, it is projected that Asia Oceania will be the largest market due to the high acceptance of fuel cell vehicles, developing hydrogen infrastructure, and commercialization of fuel cells in Japan, South Korea, China, India, and Australia.
To know about the assumptions considered for the study, download the pdf brochure
Key Market Players
The automotive fuel cell market is dominated by established players such as Ballard Power Systems (Canada), Toyota Motor Corporation (Japan), Hyundai Group (South Korea), Hyster Yale (US), and Plug Power (US) among others. These players have worked on providing offerings for the automotive fuel cell ecosystem. They have initiated partnerships to develop their fuel cell technology and offer best-in-class products to their customers.
Get online access to the report on the World's First Market Intelligence Cloud

Easy to Download Historical Data & Forecast Numbers
Company Analysis Dashboard for high growth potential opportunities
Research Analyst Access for customization & queries
Competitor Analysis with Interactive dashboard
Latest News, Updates & Trend analysis

Request Sample

Click on image to enlarge

Scope of the Report
Report Metrics

Details

Market Size Available for Years
2018–2030
Base Year Considered
2021
Forecast Period
2022–2030
Forecast Units
Volume (USD Thousand)
Segments Covered
Vehicle Type, Component, Specialized Vehicle Type, Operating Miles, Power Output, Hydrogen Fuel Points, Fuel Cell Type, Fuel Type
Geographies Covered
North America, Europe, and Asia Oceania
Companies Covered
Ballard Power Systems (Canada), Toyota Motor Corporation (Japan), Hyundai Group (South Korea), Hyster Yale (US), and Plug Power (US), among others.
A total of 41 major company profiles were covered and provided.
This research report categorizes the automotive fuel cell market based on vehicle type, component, specialized vehicle type, operating miles, power output, hydrogen fuel points and fuel cell type, and region.
Based on Vehicle Type:
Buses
LCVs
Passenger Cars
Trucks
Based on Component:
Air Compressors
Fuel Processors
Fuel Stacks
Humidifiers
Power Conditioners
Based on Operating Miles:
0-250 Miles
251-500 Miles
Above 500 Miles
Based on Power Output:
<150 kW
150-250 kW
>250 kW
Based on Specialized Vehicle Type:
Material handling vehicles
Refrigerated trucks
Based on Hydrogen Fuel Points:
Asia Oceania
Europe
North America
Based on Fuel Cell Type:
Based on Fuel Type:
Hydrogen
Methanol
Ethanol
Based on Region:
Asia Oceania

Australia
China
Japan
India
South Korea

North America (NA)
Europe

Belgium
Denmark
France
Germany
Italy
Netherlands
Norway
Spain
Sweden
Switzerland
UK
Recent Developments
At the IAA transportation 2022, Ballard showcased its FCmove-HD+ fuel cell module. This module will be mainly used in mid-sized commercial vehicles. It has been made to improve the ease of vehicle integration as this module is 40% more compact, over 30% lighter, and with half the parts of previous generations.
In June 2022, Toyota announced that the launch of hydrogen fuel-cell trucks in collaboration with Isuzu and Hino Motors. These trucks can travel large distances over long hours to complete numerous delivery activities in a single day.
In June 2022, Toyota and its subsidiary, Woven Planet Holdings, Inc., created a functional prototype of their portable hydrogen cartridge. This cartridge design will make it easier to transport and distribute hydrogen energy for a variety of daily living applications both inside and outside the home.
In June 2022, Hyundai Motor revealed that its enhanced hydrogen-powered Nexo SUV would be available in 2024. The corporation has concluded that mass manufacturing and sales of its new Nexo will begin in the second half of 2024.
In May 2022, Cummins revealed their 15-liter hydrogen engine at ACT Expo. This engine is based on Cummins' new fuel-agnostic architecture, where the engines for each fuel type have mostly comparable parts below the head gasket and unique parts for each fuel type above the head gasket. This version couples with clean, zero-carbon hydrogen fuel, a major enabler of Cummins' plan to go further quicker to assist customers in reducing greenhouse gas (GHG) emissions, and full production is anticipated to begin in 2027.
In September 2022, Advent Technologies Holdings announced a 3-year agreement with the German State of Brandenburg. Under this agreement, Advent will supply methanol-powered fuel cell systems to the German State of Brandenburg. These fuel cell systems will be installed in select critical communication sites in the region.
In September 2022, Advent Technologies Holdings announced the signing of a Memorandum of Understanding (MoU) with Hydrogen Systems, Inc, under which Advent will offer integrated hydrogen solutions and value-added support to industrial and renewable energy markets in the Middle East.
Frequently Asked Questions (FAQ):
What is the current size of the automotive fuel cell market?
The current size of the automotive fuel cell market is estimated at 25 thousand units in 2022.
Who are the winners in the automotive fuel cell market?
The automotive fuel cell market is dominated by Ballard Power Systems (Canada), Toyota Motor Corporation (Japan), Hyundai Group (South Korea), Hyster Yale (US), and Plug Power (US), among others. They have worked on providing offerings for the automotive fuel cell ecosystem. They have initiated partnerships to develop their fuel cell technology and offer best-in-class products to their customers.
Which region will have the fastest-growing market for automotive fuel cell market?
North America will be the fastest-growing region in the automotive fuel cell market due to the huge volume of investments in the region and the high demand for zero-emission commercial and passenger transport vehicles.
What are the key technologies affecting the automotive fuel cell market?
The key technologies affecting the automotive fuel cell market are the internet of things (IoT), Non-precious metal catalyst (NPMC), compact fuel cell module, connected mobility, and new battery technologies. .
To speak to our analyst for a discussion on the above findings, click Speak to Analyst