Cancer Immunotherapy Market
Cancer Immunotherapy Market by Type (Monoclonal Antibodies, Cancer Vaccines, Check Point Inhibitors & Immunomodulators), Application (Lung, Breast, Colorectal, Melanoma, Prostate, Head & Neck), End User (Hospital and Clinics)
Report Code: BT 4576
Sep, 2016, by marketsandmarkets.com
The global cancer immunotherapy market is expected projected to grow at a CAGR of 14.0%.
Years considered in this report:
2015 – Base Year
2016 – Estimated Year
2021 – Projected Year
This growth can be attributed to factors such as increasing adoption of target therapy over traditional therapy, emergence of biosimilars, increasing demand for mAbs, high prevalence of cancer.
Cancer immunotherapy drugs are designed to alter or boost the body's natural immune response to fight cancer this market is research-driven with a high degree of dependence on the discovery of molecules that can generate an immune response against various indications.
The cancer immunotherapy market has been segmented, on the basis of product into monoclonal antibodies, immunomodulators, vaccines, and check point inhibitors. The check point inhibitors segment is estimated to witness the highest CAGR during 2016-2021. The high growth can be attributed to the benefits offered by this therapeutic drug.
By application, the global cancer immunotherapy market is broadly segmented into lung cancer, breast cancer, colorectal cancer, prostate cancer, multiple myeloma, melanoma, head & neck cancer, and other types of cancer. In 2017, the lung cancer was estimated to account for largest share of global cancer immunotherapy market. Due to the increasing number of patients suffering from lung diseases, the lung cancer segment was expected to hold the largest share in the next five years as well.
Geographically, the North American market accounted for the largest share of the global cancer immunotherapy market in 2016. The large share can be attributed to factors such as rising number of patients suffering from cancer, increasing adoption rate of immunotherapy, and development of bioinformatics tools are enhancing the drug development process.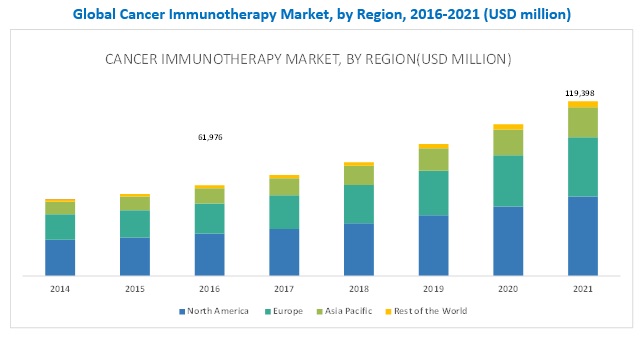 Increase in adoption of immunotherapy over other treatment options is driving the growth of this market
The treatment options for cancer, such as chemotherapies and radiation therapy, although have more side effects, are more widely used as compared to immunotherapies. The former are all based on destroying cancer cells by irradiation, chemotherapy, or surgery. While they can effectively kill or remove cancer cells, the use of these treatments is often limited because they tend to destroy healthy cells in large numbers as well. As immunotherapies involve the mechanism of enhancing the body's own immunity using man-made proteins such as monoclonal antibodies, they are accepted worldwide over other treatment options.
Critical questions the report answers:
Where will all these developments take the industry in the mid to long term?
What are the upcoming applications for cancer immunotherapy?
While immunotherapy has shown significant promise in the area of cancer treatment, its high cost has served to limit overall patient access. This poses a significant financial burden on low- and middle-income cancer patients. This is restricting the cancer immunotherapy market from growing at its full potential.
The major players in the cancer immunotherapy market are Amgen (U.S.), AstraZeneca (U.K.), F. Hoffman La-Roche (Switzerland), Bayer AG (Germany), Bristol-Myers Squibb (U.S.), Eli Lilly and Company (U.S.), Janssen Global Services, LLC (Belgium), Merck (U.S.), Novartis (Switzerland), and Pfizer (U.S.).
Target Audience for this Report:
Drug Manufacturers and Suppliers
Academic Research Institutes
Hospitals and Clinics
Research and Development (R&D) Companies
Business Research and Consulting Service Providers
Medical Research Laboratories
Academic Medical Centers and Universities
Value Addition for the Buyer:
This report aims to provide insights into the global cancer immunotherapy market. It provides valuable information on type, application, end user. Details on regional markets for these segments have also been presented in this report. In addition, leading players in the market are profiled to understand the strategies undertaken by them to be competitive in this market.
Get online access to the report on the World's First Market Intelligence Cloud

Easy to Download Historical Data & Forecast Numbers
Company Analysis Dashboard for high growth potential opportunities
Research Analyst Access for customization & queries
Competitor Analysis with Interactive dashboard
Latest News, Updates & Trend analysis

Request Sample

Click on image to enlarge

Scope of the Report :
This report categorizes the cancer immunotherapy market into the following segments:
Cancer Immunotherapy Market, by Type
Monoclonal Antibodies
Cancer Vaccines
Checkpoint Inhibitors
Immunomodulators
Cancer Immunotherapy Market, by Application
Lung Cancer
Breast Cancer
Head and Neck Cancer
Prostate Cancer
Colorectal Cancer
Melanoma
Others
Cancer Immunotherapy Market, by End User
Hospitals
Clinics & Others
Cancer Immunotherapy Market, by Region
North America
Europe

Germany
France
Italy
U.K.
Spain
RoE

APAC
Rest of the World (RoW)

South America, Central America, and the Caribbean
Oceania
Africa
Customization Options:
Company Information: Detailed company profiles of five or more market players
Opportunities Assessment: A detailed report underlining the various growth opportunities presented in the market
To speak to our analyst for a discussion on the above findings, click Speak to Analyst
Table of Contents
1 Introduction (Page No. - 13)
1.1 Objectives of the Study
1.2 Market Definition
1.3 Markets Covered
1.3.1 Periodization
1.4 Currency
1.5 Stakeholders
2 Research Methodology (Page No. - 16)
2.1 Research Data
2.1.1 Key Data From Secondary Sources
2.1.2 Key Data From Primary Sources
2.2 Market Size Estimation
2.3 Market Breakdown and Data Triangulation
2.4 Market Share Estimation
2.5 Assumptions for the Study
3 Executive Summary (Page No. - 24)
3.1 Introduction
3.2 Current Scenario
3.3 Future Outlook
3.3.1 Future of Cancer Immunotherapeutics
4 Premium Insights (Page No. - 29)
4.1 Lucrative Opportunities in the Cancer Immunotherapy Market
5 Market Overview (Page No. - 32)
5.1 Introduction
5.2 Drivers
5.2.1 Rise in Incidence of Cancer
5.2.2 Increase in Adoption of Immunotherapy Over Other Treatment Options
5.2.3 Development of Bioinformatic Tools Enhancing Drug Development Process
5.3 Restraints
5.3.1 High Cost of Treatment
5.4 Opportunities
5.4.1 Increase in Clinical Trials Against Several Types of Cancers in Immunotherapy
5.4.2 High Growth Prospects in Developing Countries
5.5 Challenges
5.5.1 Availability of Limited Funds to Initiate Clinical Trials
5.5.2 Complexity of Cancer Limiting the Immune Response
5.6 Overview of Global Cancer Immunotherapy Funding
5.7 Conventional Cancer Therapy Versus Cancer Immunotherapy
6 Industry Trends (Page No. - 39)
6.1 Global Trends in the Cancer Immunotherapy Market
6.1.1 Fda Approvals for Opdivo (Niolumab) and Keytruda (Pembrolizumab) in the U.S. Present Attractive Opportunities
6.1.2 Combination Immunotherapy A Potential Way to Treat Melanoma
6.1.3 U.S. Cancer Immunotherapy Research Community Builds Hope to Combat Cancer By 2020
6.1.4 U.K. Scientists Project A Change in the Means of Treatment for Cancer With Quality Therapies
6.1.5 World is Moving Toward Personalized Immunotherapy
6.1.6 A Combination of Modern Immunotherapy and Traditional Chinese Medicines Continues to Increase the Survival Rate of Patients in China
6.2 Pricing Variations in the Global Cancer Immunotherapy Market
6.3 Small Players Collaborating to Make Long-Term Impact in the Cancer Immunotherapy Market
6.4 Attractions for the Pharmaceutical Industry
6.5 Heat Map for Variations in Cancer Immunotherapy for Different Types of Cancers
6.5.1 Breast Cancer
6.5.2 Lung Cancer
6.5.3 Multiple Myeloma
6.5.4 Lymphoma
7 Cancer Immunotherapy Market, By Product Type (Page No. - 49)
7.1 Introduction
7.2 Monoclonal Antibodies
7.2.1 Naked Monoclonal Antibodies
7.2.2 Conjugated Monoclonal Antibodies
7.2.3 Bispecific Monoclonal Antibodies
7.3 Vaccines
7.3.1 Prophylactic Vaccines
7.3.2 Therapeutic Vaccines
7.4 Checkpoint Inhibitors
7.4.1 Cytotoxic T-Lymphocyte-Associated Protein-4 (CTLA-4)
7.4.2 Programmed Death 1 (PD-1) & Programmed Death Ligand 1 (PD-L1)
7.5 Cell Therapies
7.5.1 Chimeric Antigen Receptor (CAR) T Cell Therapy
7.5.2 Dendritic Cells
7.6 Immunomodulators
7.6.1 Granulocyte-Macrophage Colony-Stimulating Factor (Gm-Csf & G-Csf)
7.6.2 Interferons (IFN)
7.6.3 Interleukins (IL)
7.6.4 Oncolytic Virus
7.6.4.1 Immunotherapy
7.6.4.2 Immunity as an Obstacle
7.6.4.3 Immunity as an Ally
7.6.4.4 Approved Products & Clinical Trails
8 Cancer Immunotherapy Market, By Application (Page No. - 68)
8.1 Introduction
8.2 Lung Cancer
8.3 Breast Cancer
8.4 Multiple Myeloma
8.5 Colorectal Cancer
8.6 Head & Neck Cancer
8.7 Prostate Cancer
8.8 Melanoma
8.9 Other Cancer Types
9 Cancer Immunotherapy Market, By End User (Page No. - 80)
9.1 Introduction
9.2 Hospitals
9.3 Clinics & Others
10 Cancer Immunotherapy Market, By Region (Page No. - 85)
10.1 Introduction
10.2 North America
10.3 Europe
10.4 Asia-Pacific
10.5 Rest of the World (RoW)
11 Competitive Landscape (Page No. - 97)
11.1 Overview
11.2 Market Share Analysis
11.3 Competitive Situation and Trends
11.3.1 Approvals
11.3.2 Agreements, Partnerships & Collaborations
11.3.3 Acquisitions
11.3.4 Expansions
11.3.5 Other Developments
12 Company Profile (Page No. - 106)
(Business Overview, Products & Services, Key Insights,
Recent Developments, SWOT Analysis, Ratio Analysis, MnM View)*
12.1 Amgen Inc.
12.2 Astrazeneca
12.3 Bayer AG
12.4 Bristol-Myers Squibb
12.5 ELI Lilly and Company
12.6 Janssen Global Services, LLC (Johnson and Johnson)
12.7 Merck
12.8 Novartis
12.9 Pfizer
12.10 F. Hoffmann-La Roche Ltd
*Details on Business Overview, Products & Services, Key Insights,
Recent Developments, SWOT Analysis, MnM View Might Not Be Captured in Case of Unlisted Companies.
13 Appendix (Page No. - 132)
13.1 Insights From Industry Experts
13.2 Discussion Guide
13.3 Knowledge Store: Marketsandmarkets' Subscription Portal
13.4 Introducing RT: Real-Time Market Intelligence
13.5 Available Customizations
13.6 Related Reports

List of Tables (42 Tables)
Table 1 Overview of Funding Patterns for Different Types of Cancer By Nih, U.S., 2012–2017 (USD Million)
Table 2 Overview of Key Funding in Cancer Immunotherapy : Market, 2016
Table 3 Cancer Immunotherapy : Market Size, By Product Type, 2014–2021 (USD Million)
Table 4 Cancer Monoclonal Antibodies Market Size, By Subtype, 2014–2021 (USD Million)
Table 5 Cancer Monoclonal Antibodies Market Size, By Region, 2014–2021 (USD Million)
Table 6 Naked Monoclonal Antibodies Market Size, By Region,2014–2021 (USD Million)
Table 7 Conjugated Monoclonal Antibodies Market Size, By Region, 2014–2021 (USD Million)
Table 8 Bispecific Monoclonal Antibodies Market Size, By Region, 2014–2021 (USD Million)
Table 9 Vaccines Market Size, By Subtype, 2016–2021 (USD Million)
Table 10 Vaccines Market Size, By Region, 2014–2021 (USD Million)
Table 11 Prophylactic Vaccines Market Size, By Region, 2014–2021 (USD Million)
Table 12 Therapeutic Vaccines Market Size, By Region, 2014–2021 (USD Million)
Table 13 Checkpoint Inhibitors Market Size, By Subtype, 2014–2021 (USD Million)
Table 14 Checkpoint Inhibitors Market Size, By Region, 2014–2021 (USD Million)
Table 15 Cytotoxic T-Lymphocyte-Associated Protein-4 Market Size, By Region, 2014–2021 (USD Million)
Table 16 PD-1 & PD-L1 Market Size, By Region, 2014–2021 (USD Million)
Table 17 Immunomodulators Market Size, By Subtype, 2014–2021 (USD Million)
Table 18 Immunomodulators Market Size, By Region, 2014–2021 (USD Million)
Table 19 Granulocyte-Macrophage Colony-Stimulating Factor (Gm-Csf) Market Size, By Region, 2014–2021 (USD Million)
Table 20 Interferons Market Size, By Region, 2014–2021 (USD Million)
Table 21 Interleukins Market Size, By Region, 2014–2021 (USD Million)
Table 22 Cancer Immunotherapy : Market Size, By Application,2014–2021 (USD Million)
Table 23 Lung Cancer Market Size, By Region, 2014–2021 (USD Million)
Table 24 Breast Cancer Market Size, By Region, 2014–2021 (USD Million)
Table 25 Multiple Myeloma Market Size, By Region, 2014–2021 (USD Million)
Table 26 Colorectal Cancer Market Size, By Region, 2014–2021 (USD Million)
Table 27 Head & Neck Cancer Market Size, By Region, 2014–2021 (USD Million)
Table 28 Prostate Cancer Market Size, By Region, 2014–2021 (USD Million)
Table 29 Melanoma Market Size, By Region, 2014–2021 (USD Million)
Table 30 Other Types of Cancer Market Size, By Region, 2014–2021 (USD Million)
Table 31 Cancer Immunotherapy : Market Size, By End User, 2014–2021 (USD Million)
Table 32 Hospitals Market Size, By Region, 2014–2021 (USD Million)
Table 33 Clinics & Others Market Size, By Region, 2014–2021 (USD Million)
Table 34 Cancer Immunotherapy : Market Size, By Region, 2014–2021 (USD Million)
Table 35 North America: Cancer Immunotherapy : Market Size, By Product Type, 2016–2021(USD Million)
Table 36 Europe: Cancer Immunotherapy : Market Size, By Product Type, 2014–2021 (USD Million)
Table 37 Asia-Pacific: Cancer Immunotherapy : Market Size, By Product Type, 2014–2021 (USD Million)
Table 38 RoW: Cancer Immunotherapy : Market Size, By Product Type, 2014–2021 (USD Million)
Table 39 Approvals, 2013–2016
Table 40 Agreements, Partnerships & Collaborations, 2013–2016
Table 41 Acquisitions, 2013–2016
Table 42 Expansions, 2013–2016

List of Figures (68 Figures)
Figure 1 Classification of Cancer Immunotherapy
Figure 2 Research Design
Figure 3 Market Size Estimation Methodology: Bottom-Up Approach
Figure 4 Market Size Estimation Methodology: Top-Down Approach
Figure 5 Breakdown of Primary Interviews: By Company, Designation, and Region
Figure 6 Data Triangulation Methodology
Figure 7 The Monoclonal Antibody Segment is Expected to Lead the Global Cancer Immunotherapy Market During the Forecast Period
Figure 8 The Lung Cancer Segment Led the Global Cancer Immunotherapy Market in 2015
Figure 9 Hospitals are Major End Users of the Global Cancer Immunotherapy Market
Figure 10 North America Led the Global Cancer Immunotherapy Market in 2015
Figure 11 Global Cancer Immunotherapy Market to Witness High Growth During the Forecast Period
Figure 12 Lung Cancer Application Dominated the Global Cancer Immunotherapy Market, 2016
Figure 13 RoW to Witness the Fastest Growth During the Forecast Period
Figure 14 Lung Cancer to Witness the Fastest Growth During the Forecast Period in the Cancer Immunotherapy Market
Figure 15 Drivers, Restraints, Opportunities, and Challenges
Figure 16 Projected Increase in Cancer Cases, Excluding Non-Melanoma Skin Cancer, 2012 vs 2020
Figure 17 Pricing Trend of Imbruvica Across the Major Pharmaceutical Market in 2016
Figure 18 Heat Map Showing Variations in Immunotherapy Drugs Used for Breast Cancer
Figure 19 Annual Cost of Breast Cancer Immunotherapy, 2016
Figure 20 Heat Map Showing Variations in Immunotherapy Drugs Used for Lung Cancer
Figure 21 Annual Cost of Lung Cancer Immunotherapy, 2016
Figure 22 Heat Map Showing Variations in Immunotherapy Drugs Used for Multiple Myeloma
Figure 23 Annual Cost of Multiple Myeloma Immunotherapy, 2016
Figure 24 Heat Map Showing Variations in Immunotherapy Drugs Used for Lymphoma
Figure 25 Annual Cost of Lymphoma Immunotherapy, 2016
Figure 26 Cancer Immunotherapy Market, By Product Type
Figure 27 Monoclonal Antibodies Segment is Estimated to Dominate the Cancer Immunotherapy Market in 2016
Figure 28 Naked Monoclonal Antibodies Estimated to Account for the Largest Share in 2016
Figure 29 North America is Estimated to Account for the Largest Share of the Cancer Monoclonal Antibodies Market in 2016
Figure 30 Vaccines Market, By Subtype, 2016–2021 (USD Million)
Figure 31 North America is Projected to Be the Fastest-Growing in the Vaccines Market
Figure 32 Programmed Death 1(PD-1) is Projected to Be the Faster-Growing Segment of the Checkpoint Inhibitors Market
Figure 33 RoW is Projected to Be the Fastest-Growing Regional Segment of the Checkpoint Inhibitors Market
Figure 34 GM-CSF & G-CSF Sub-Segment is Projected to Dominate the Immunomodulators Segment Through 2021
Figure 35 North America is Projected to Account for the Largest Share in the Immunomodulators Market Through 2021
Figure 36 Cancer Immunotherapy Market, By Application
Figure 37 Lung Cancer Segment is Estimated to Lead the Cancer Immunotherapy Market in 2016
Figure 38 North America Estimated to Account for the Largest Share of the Lung Cancer Immunotherapy : Market in 2016
Figure 39 North America is Estimated to Account for the Largest Share of the Cancer Immunotherapy : Market for Breast Cancer in 2016
Figure 40 North America Estimated to Account for the Largest Share of the Cancer Immunotherapy : Market for Multiple Myeloma in 2016
Figure 41 North America is Estimated to Account for the Largest Share of the Cancer Immunotherapy : Market for Colorectal Cancer in 2016
Figure 42 North America is Estimated to Account for the Largest Share of the Immunotherapy Market for Head & Neck Cancer in 2016
Figure 43 North America is Estimated to Dominate the Immunotherapy Market for Prostate Cancer in 2016
Figure 44 North America is Projected to Be the Fastest-Growing Region in the Cancer Immunotherapy Market for Melanoma During the Forecast Period
Figure 45 Asia-Pacific is Projected to Be the Fastest-Growing Region in the Immunotherapy Market for Other Cancer Types, 2016-2021
Figure 46 Cancer Immunotherapy Market, By End User, 2016 vs 2021 (USD Million)
Figure 47 Hospitals Market Size, By Region, 2016 vs 2021 (USD Million)
Figure 48 Clinics & Others Market Size, By Region, 2016 vs 2021 (USD Million)
Figure 49 Geographic Snapshot: Asia-Pacific is Projected to Be the Fastest-Growing Region From 2016 to 2021
Figure 50 RoW Region is Projected to Grow at the Highest Rate From 2016 to 2021
Figure 51 North America: Cancer Immunotherapy Market Snapshot, 2016
Figure 52 The Checkpoint Inhibitors Segment is Projected to Be the Fastest-Growing Through 2021
Figure 53 Monoclonal Antibodies Segment is Projected to Dominate the Cancer Immunotherapy Market in Europe Through 2021
Figure 54 Asia-Pacific: Cancer Immunotherapy Market Snapshot, 2016
Figure 55 Checkpoint Inhibitors Segment is Projected to Lead the Cancer Immunotherapy Market in the RoW Region Through 2021
Figure 56 Companies Adopted Approvals as Their Key Growth Strategy Over the Last Three Years
Figure 57 Global Cancer Immunotherapy Market Share, By Key Player, 2015
Figure 58 Approvals: the Key Growth Strategy Adopted By Market Players From 2013 to 2015
Figure 59 Amgen Inc.: Company Snapshot
Figure 60 Astrazeneca: Company Snapshot
Figure 61 Bayer AG: Company Snapshot
Figure 62 Bristol-Myers Squibb: Company Snapshot
Figure 63 ELI Lilly and Company: Company Snapshot
Figure 64 Janssen Global Services, LLC: Company Snapshot
Figure 65 Merck: Company Snapshot
Figure 66 Novartis: Company Snapshot
Figure 67 Pfizer: Company Snapshot
Figure 68 F. Hoffmann-La Roche Ltd: Company Snapshot
Research Methodology
Top-down and bottom-up approaches were used to estimate and validate the size of the global cancer immunotherapy market and to estimate the size of various other dependent submarkets. The overall market size was used in the top-down approach to estimate the sizes of other individual markets (mentioned in the market segmentation by type, application, end user, and region) through percentage splits from secondary and primary research. The bottom-up approach was also implemented (wherever applicable) for data extracted from secondary research to validate the market segment revenues obtained. Various secondary sources referred to for this research study include publications from government sources such as the white papers; articles from recognized authors; gold standard and silver standard websites, directories, and databases; corporate filings such as annual reports, SEC filings, investor presentations, and financial statements; research journals; press releases; and trade, business, and professional associations have been used to identify and collect information useful for this extensive commercial study of the cancer immunotherapy market. Primary sources such as experts from related industries and suppliers have been interviewed to obtain and verify critical information as well as to assess prospects of the cancer immunotherapy market. The breakdown of profiles of primaries is shown in the figure below:
To know about the assumptions considered for the study, download the pdf brochure
The objectives of this study are as follows:
To define, describe, segment, and forecast the cancer immunotherapy market on the basis of type, application, end user, and region
To provide detailed information regarding the major factors influencing the growth of the market (drivers, restrains, opportunities, and challenges)
To strategically analyze micromarkets with respect to individual growth trends, prospects, and contributions to the overall market
To analyze the opportunities in the market for stakeholders and provide details of a competitive landscape for market leaders
To forecast revenue of the market segments with respect to four main regional segments, namely, North America, Europe, Asia Pacific, and the Rest of the World (RoW)
To profile key players and comprehensively analyze their market shares and core competencies in terms of market development and growth strategies
To track and analyze competitive developments such as agreements, partnerships, acquisitions, in the cancer immunotherapy market