The cargo inspection market was valued at USD 2.30 billion in 2017 and is expected to reach USD 2.85 billion by 2023, at a CAGR of 3.66% during the forecast period. The base year considered for the study is 2017, and the forecast period is between 2018 and 2023. The objective of the report is to provide a detailed analysis of the market based on industry and region. The study also covers qualitative information of various modes of trade. The report provides detailed information regarding the major factors influencing the growth of the cargo inspection market. The report also gives a detailed overview of the value chain in the ecosystem of the cargo inspection and analyzes the market trends based on the competitive leadership analysis.
The research methodology used to estimate and forecast the cargo inspection market begins with capturing data pertaining to the revenues of companies and collecting various export and import data through secondary sources, such as the International Trade Center (ITC), US Department of Commerce's International Trade Administration, World Trade Organization (WTO), International Federation of Inspection Agencies (UK), The British Association of Cargo Surveyors, and newsletters, whitepapers of leading players. The bottom-up procedure has been employed to arrive at the overall size of the global cargo inspection market from the revenues of key players. After arriving at the overall market size, the total market has been split into several segments and subsegments, which have been verified through primary research by conducting extensive interviews with key experts, such as CEOs, VPs, directors, surveyors, and executives. Cargo inspection market breakdown and data triangulation procedures have been employed to complete the overall market engineering process and arrive at the exact statistics for all the segments and subsegments. The breakdown of the profiles of primaries is depicted in the below figure:
To know about the assumptions considered for the study, download the pdf brochure
The cargo inspection value chain comprises the following phases: establishing the standards by regulatory bodies; providing inspection services according to the standards; and end user industry. The regulatory bodies develop and publish the industrial standards that are followed by the service provider in the respective industry. The rules and regulation set up by these organizations and governments will be followed by the inspection service providers. Key players in this cargo inspection market are SGS Group (Switzerland), Bureau Veritas SA (France), Intertek Group plc (UK), ALS Limited (Australia), and Cotecna Inspection SA (Switzerland).
Other companies covered in this report are Peterson & Conmtrol Union (Netherlands), SWISS APPROVAL International (Swisszerland), AIM Control Group (Vietnam), Cargo Inspection Group (UK), Alex Stewart International (UK), CWM Survey & Inspection BV (Netherlands), Alfred H Knight Group Ltd. (UK), CWM Survey & Inspection BV (Netherlands), Certispec Group (UK), Camin Cargo Control (US), Qtech Control Limited (UK), Cargo Inspectors and Superitendence Co. Pvt. Ltd. (India), E.L. Johnson's Sons & Mowat Ltd. (UK), W K Webster & Co. Ltd. (UK), AIM Control Group (Vietnam), and Brooks Bell (UK).
Recent Developments
---
| | | | |
| --- | --- | --- | --- |
| Year | Company 1 | Company 2 | Description |
| 2018 | Intertek | Proasem | Intertek announced to acquire Colombia based Proasem, a laboratory testing and inspection company. This acquisition will help the Intertek to strengthen its business in South America. |
| 2018 | Intertek | Aldo Abela Surveys (AAS) | Intertek Group acquired Aldo Abela Surveys (AAS) Limited. AAS is a leading provider of quantity and quality cargo inspection services. AAS is a trusted partner to many oil traders and operators which will directly help the Intertek to strengthen its footprints in oil & gas industry. |
---
Target Audience for the Report:
Cargo Inspection Service Providers
Importers and Exporters of Minerals
Agro-Commodity and Trading Companies
Companies Involved in Production of Oil & Gas
Analysts and Strategic Business Planners
Governments, Financial Institutions, and Investment Communities
Research Organizations
This study answers several questions for stakeholders, primarily which market segments they need to focus on in the next 2–5 years to prioritize their efforts and investments.
Get online access to the report on the World's First Market Intelligence Cloud

Easy to Download Historical Data & Forecast Numbers
Company Analysis Dashboard for high growth potential opportunities
Research Analyst Access for customization & queries
Competitor Analysis with Interactive dashboard
Latest News, Updates & Trend analysis

Request Sample

Click on image to enlarge

Scope of the Report:
This report categorizes the global cargo inspection market on the basis of industry and geography.
Cargo inspection Market, by Industry
Oil , Gas, & Petrochemicals
Metals & Mining
Agriculture
Cargo Inspection Market, by Region
North America
Europe
APAC
RoW

South America
Middle East & Africa
Available Customizations
With the given market data, MarketsandMarkets offers customizations according to the company's specific needs. The following customization options are available for the report:
Company Information:
Detailed analysis and profiles of additional market players (up to 5)
The cargo inspection market is expected to grow from an estimated USD 2.38 billion in 2018 to USD 2.85 billion by 2023, at a CAGR of 3.66% between 2018 and 2023. Factors driving the growth of this cargo inspection market include the increasing demand for quality-assured commodity and increasing trade of various commodities. Trade houses across regions strive to enhance the quality and standards of goods that are imported and exported to overseas markets, especially in developed countries where stringent regulations are imposed on imported goods.
Cargo inspection is one of the inspection services offered by the companies to test the quality and quantity of traded commodities and condition of cargos through which these commodities get traded. Inspection of cargos includes cleanliness inspections of cargos, loading & discharge supervision, tank calibration, and damage survey. These inspection services may differ industry-wise. These inspections are carried out under the specialized cargo surveyors and consultants. Many times, these inspection services are carried out according to international standards such as SDA, Codex, ICMSF, and ISO 2859.
Cargo inspection services in the agriculture industry are carried out by highly specialized cargo surveyors and inspectors, which are certified by Grain and Feed Trade Association (GAFTA) and Federation of Oils, Seeds and Fats Associations (FOSFA). Inspection services include the grain test for moisture, density, percentage of damaged grains, and infestation. Fresh fruits and vegetables gets inspected on their size, pressure test, acidity, and packaging. It also includes microbiological analysis. Stringent regulations and standards to ensure the quality and safety of the products and increasing awareness among consumers regarding the quality of agricultural products and food are expected to drive the agriculture industry during the forecast period.
The cargo inspection market is likely to witness a significant growth across various countries, particularly in emerging economies of Asia. This growth is mainly being spurred by the strict regulatory and economic factors. China is one of the largest exporters of the agro-commodity among other Asian countries. Singapore is the trading hub, and most traders are handling their trade business from Singapore. Thus, key cargo inspection companies such as SGS Group (Switzerland), Bureau Veritas SA (France), Intertek Group plc (UK), ALS Limited (Australia), and Cotecna Inspection SA (Switzerland) have their offices in Singapore. India is one of the growing markets for agro-commodities. Furthermore, factors such as the growing importance of safety and security among consumers/end users and increasing agro-commodity trade are some of the major growth drivers for cargo inspection market.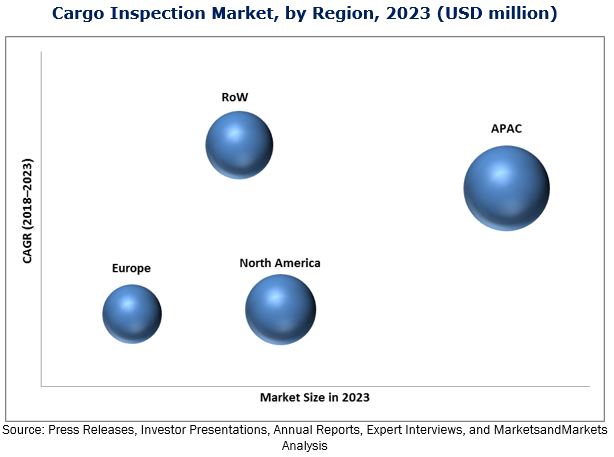 Different standards and regulations across geographies lead to conflicts regarding the acceptance of local and international standards by importers and exporters of respective industries, thereby hindering the growth of the cargo inspection market. Furthermore, there is a risk related to the standardization and quality of testing and inspection services provided by various surveyor companies. This restraint currently has a high impact, which is expected to decrease in the long term as common laws of standardization come into effect.
Key players in this cargo inspection market are SGS Group (Switzerland), Bureau Veritas SA (France), Intertek Group plc (UK), ALS Limited (Australia), and Cotecna Inspection SA (Switzerland).
Drivers
Harmonization of standards
To ensure accuracy and effectiveness in conformity assessment, harmonization of standards is critical. Usually, international harmonization of standards implies the adoption of an international standard that is recognized by reputed standards organizations. Complying with multiple standards can be expensive and can even decelerate shipment. Moreover, certain standards are common for specific industries and devices and may often overlap. The objective of harmonization is to find out similar attributes, identify critical rules and regulations that have to be followed, and formulate a common standard for cargo transportation.
Increasing demand for quality assurance commodity
The importance of quality-assured products is increasing day by day. Small and medium-sized industries are focusing on high-quality products. Nowadays, customers and buyers are aware of the importance of safe and high-quality products. Moreover, international standards for quality of goods are becoming stricter. Considering the trade of Agro Commodities, exporter needs to focus on quality control and quality assurance. Thus, exporters need to inspect materials, check loading and discharging of commodities in cargos, and analyze the condition of the cargos to get quality assured certificate. Many countries have laws regarding trade and its process.
Opportunities
Free Trade Agreements (FTAs)
Free trade is proving to be one of the best ways to provide an opportunities for foreign investments in countries. It reduces or eliminates barriers such as taxes and regulatory laws related to trade. FTAs help in increasing the economic growth by reducing governments' spending in local industry and attracting foreign direct investments (FDIs). FDIs help develop expertise in local markets by working with domestic companies to develop local resources. Moreover, these domestic companies receive access to the latest technologies from their multinational partners. Thus, reduction in trade barriers and more stable and transparent investment environment will boost free trade among countries. World Trade Organization (WTO) is also promoting to FTA. Thus, a growing number of FTAs will increase trade among countries, which will accelerate the growth of the cargo inspection market.
To speak to our analyst for a discussion on the above findings, click Speak to Analyst