Cyber Security - M&A Partnerships
Cyber Security - M&A Partnerships Ė 2014 - 2015
Report Code: TC 4206
Apr, 2016, by marketsandmarkets.com
[25 Pages Report] MarketsandMarkets expects the global cyber security market size to grow from USD 106.32 billion in 2015 to USD 170.21 billion by 2020, at a Compound Annual Growth Rate (CAGR) of 9.8%.
In cyber security market, mergers and acquisitions are signed with the focus on strategic growth or capability enhancement. Cyber threats are increasing rapidly with adversaries becoming expert in breaking the barriers established via traditional security measures. This factor is boosting up the demand for advanced cyber security solutions capable of providing protection from not only single network-layer attacks but also data-layered threats and thereby protecting multiple applications. These advanced next-generation cyber security solutions are supporting the need for a security forum protecting public and private infrastructure which is estimated to save trillions of dollars affected by cybercrimes globally in the coming years.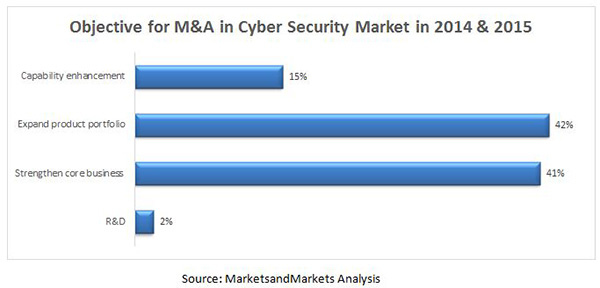 To know about the assumptions considered for the study, download the pdf brochure
The players aggressively active in this domain are Cisco Systems, Check Point Software Technologies, Thales Group, Kordia Group, AVG Technologies, Trend Micro, and Palo Alto Networks. These players along with the others present in the market are expected to develop more advanced and user-friendly solutions to combat the negative mission of professional adversaries and thus create notable market traction in the forecast period.
The purpose is to determine trends that help the client to plot future changes in global cyber security market. For the same we have leveraged our understanding considering client needs and prospects that can help to create or identify practical and actionable business development strategies.
The cyber security merger and acquisition offers analysis over comprehensive database coverage of various mergers signed in private and public businesses, in government, in multiple industry sectors, in companies and in between large, small private equity firms. The report provides a thorough analysis of more than 100 mergers and acquisition, which have taken place in cyber security for two years, 2014 and 2015.
To understand and analyze cause of merger, we have developed three disciplines: expand product portfolio, strengthen core business, and capability enhancement. Each of these fields is developed to support business leaders to understand drivers and growth area in cyber security market.
Mergers and acquisitions by cyber security providers are analyzed based on the impact of M&A on the cyber security market and the value of the deal. M&Aís tracked in cybersecurity market globally are divided into five major regions Asia Pacific (APAC), Europe, the Middle-East (MEA), and North America.
Cyber security software is instrumental in providing authentication to the information exchange between multiple communication systems. Cyber security vendors are focused on increasing their capabilities and creating solutions for advanced cyber threats.
As hackers become more advanced, organizations are increasing their focus on cybersecurity to protect sensitive information. In current market scenario cybersecurity is one of the major issue companies are focusing. Rapid evolution of technologies is resulting in organizations, regardless of size or industry, vulnerable to cyberattacks, in which just one breach could cause significant financial, reputational or regulatory consequences. To avoid such scenarios and to come up with effective solutions in less time, cyber security solution providers develop their cyber threat intelligence by mergers or partnership.
Implantation of cyber security products, solutions, and services involve all major verticals of industry to protect organization and userís professional and personal data from network threats, endpoint exploitation, and security breach. MarketsandMarkets expects the global cyber security market size to grow from USD 106.32 billion in 2015 to USD 170.21 billion by 2020, at a Compound Annual Growth Rate (CAGR) of 9.8%.
Worldwide investors are well aware of the damage cybercrime events can cause to their business brand and market value. So, to secure their investments, shareholders are not leaving any stone unturned to assure that company is being proactive on securing businessís critical digital assets. To address this, companies in cyber security market are merging their threat intelligence to deliver robust products. Therefore, merger and acquisition or partnership are the two activity expected to gain further momentum in the near future. Substantial investments are done by companies to improve the breadth and depth of their security solution offerings.
Through mergers or partnership, companies share their resources with each other to develop solution, robust enough to provide secure space to the client.
To speak to our analyst for a discussion on the above findings, click Speak to Analyst
Customer Interested in this report can also view
Cybersecurity Market by Solution (IAM, Encryption, UTM, Antivirus/Antimalware, Firewall, IDS/IPS, Disaster Recovery, and DDOS Mitigation), Service, Security Type, Deployment Mode, Organization Size, Industry Vertical, and Region - Global Forecast to 2023
Table of content
1 Introduction
2 Executive Summary
3 Cyber security Overview
4 Merger and Acquisition
4.1 Top 10 merger and acquisitions
4.2 Situation Overview
4.2.1 Top Merger and Acquisition trend
4.2.1.1 Merger and Acquisition Analysis 2014 & 2015
4.3 Top Partnership and Joint venture
4.4 Regional trend
5 Future prospect of Merger and Acquisition
6 Research Methodology
7 Appendix
Request for detailed methodology, assumptions & how numbers were triangulated.