The purpose of the Deal Tracker is to determine the trends that help clients to plot future activities in various deal types for the global cyber security market. For the same, we have leveraged our understanding considering client needs and prospects that can help to create or identify practical and actionable business development strategies.
The cyber security deal tracker offers comprehensive database coverage of various deals signed in government, Banking, Financial Services, and Insurance (BFSI), technology, and consumer industries. The report provides a thorough analysis of more than 200 deals, which have taken place in the cyber security market for two years, 2014 and 2015.
We have developed four disciplines of deal type: application management, system integration engagement, software deploy and support, Application Development and Maintenance (ADM), and upgrade. Each of these fields is designed to support business leaders to understand trend, drivers, and growth area in the cyber security market.
This report also gives an actionable insight into various technologies, broadly classified into endpoint security, network security, and cloud security. This will help the vendors to identify the in-demand technology in the cyber security market and thus provide assistance in planning their future strategic growth and investment.
Deals were also studied from the perspective of regions to show the most active region globally in the cyber security market, with reason.
More than 70 cyber security vendors made 200+ deals in 2014 and 2015. Of those, 85 of the majority deals were signed by the top vendors. IBM signed 25%, Symantec 21%, McAfee 16%, Dell 13%, Hewlett-Packard 9%, BMC Software 8%, and CA Technologies 7% of the 85 majority deals.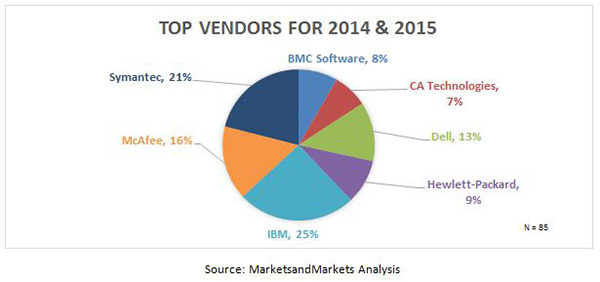 To get overview of the report, download the pdf brochure
To support information exchange between multiple communication systems under secure cyberspace, security software aims to provide network and endpoint protection to systems, storage, and virtual machineries. Endpoint security solutions provide high-end protection to multiple applications not only against single-layer attacks but also against various other online threats. The cyber threat landscape is very complex and involves a significant number of cyber security deals, which provide a comprehensive knowledge base on the threat management landscape. The deals in the cyber security market also help in identifying and procuring contract information of cyber security vendors and their distinct competencies in cyber security.
Deals done by cyber security vendors are analyzed by industry, technology, region, deal type, and vendor. The deals are tracked by the deal tracker for various industries in technological markets globally. Hence, the deal tracker provides an updated view on deals to its clients.
Adoption of Bring Your Own Device (BYOD) trend is growing at a very high rate due to which the demand for endpoint security, cloud-based endpoint security, and cyber security solutions has also grown exponentially. Since the increase in the adoption of BYOD by organizations, use of portable devices has also increased. The increase in portable devices has created a growth opportunity for Small and Medium Businesses (SMBs) to provide services related to advanced persistent threats.
Most of the deals made in the years 2014 and 2015 were by the government and defense sector. Rise in the demand of flexibility and distributed & secure system has led to the increase in application management and deployment type of deals in the years 2014 and 2015. Increase in this type of deals has led to the growth of endpoint device control solutions at the highest rate during the same period.
New security concepts such as providing zero-day detection software for protection against zero-day vulnerabilities and cyber security with an add-on insurance cover have also emerged during this period. However, the latter, according to experts, has high market risk for vendors.
Some of the key observations of the deal analysis for the years 2014 and 2015 are given below:
Security software is instrumental in providing authentication to the information exchange.
The adoption of Bring Your Own Device (BYOD) trend in SMBs is growing.
New promising concepts were introduced in the cyber security market by major players.
To speak to our analyst for a discussion on the above findings, click Speak to Analyst
Customer Interested in this report can also view
Cybersecurity Market by Solution (IAM, Encryption, UTM, Antivirus/Antimalware, Firewall, IDS/IPS, Disaster Recovery, and DDOS Mitigation), Service, Security Type, Deployment Mode, Organization Size, Industry Vertical, and Region - Global Forecast to 2023
Endpoint Security Market by Solution (Anti-Virus, Antispyware/Antimalware, Firewall, Endpoint Device Control, Intrusion Prevention, Endpoint Application Control), Service, Deployment Type, Organization Size, Vertical, and Region - Global Forecast to 2020