[116 Pages Report] Embedded Subscriber Identity Module (eSIM), also referred to as Embedded Universal Integrated Circuit Card (eUICC), is a reprogrammable chip that comes in either soldered or removable form. It is a small chip used to authenticate the user's identity with his or her carrier. eSIM is smart in terms of its functionality as it supports multiple accounts, allows switching to various mobile network operators (MNOs), and manages accounts just by updating the software settings from the user's mobile phone.
The overall eSIM market was valued at USD 253.8 Million in 2017 and is estimated to reach USD 978.3 Million by 2023, at a CAGR of 31.0% between 2018 and 2023. In terms of volume, the overall eSIM market registered a shipment of 287.7 million units in 2016 and is likely to witness a shipment of 1,168.8 million units by 2023, at a CAGR of 32.4% between 2018 and 2023. The growth is attributed to the emphasis on remote SIM provisioning for mobile to mobile (M2M), favorable government regulations boosting M2M communication, and high adoption of IoT technology.
Machine-to-Machine (M2M) application to witness the highest CAGR in the eSIM market during the forecast period
Based on application, the overall eSIM market has been segmented into connected cars, laptops, M2M, smartphones, tablets, wearables, and others. The M2M application is expected to hold the largest size of the market during the forecast period due to the several advantages offered by the implementation of eSIM in M2M devices including simpler device setup without the need to insert or replace a SIM card, improved reliability and security, sleek design, and no requirement of a connector. Furthermore, eSIM enables effective management and seamless connectivity of M2M devices that are remotely located and often hermetically sealed.
Consumer electronics vertical to dominate eSIM market during the forecast period
The eSIM market based on vertical has been segmented into automotive, energy and utilities, manufacturing, retail, consumer electronics, and transportation & logistics. The consumer electronics vertical remains one of the significant forces shaping disruption, innovation, and growth across various technology industries. eSIM is anticipated to be a game-changer in consumer electronics applications. Enhanced connectivity, high reliability, and improved safety are some of the features fueling the adoption of eSIMs in consumer electronic applications.
APAC to hold the largest share of the eSIM market during the forecast period
The eSIM market in APAC is expected to witness the highest CAGR between 2018 and 2023. The smartphone adoption rate is rising steadily in this region, and it is evident that in terms of smartphone adoption, 3 out of the top 5 countries worldwide are APAC countries that include Australia, Singapore, and South Korea. In 2016, India surpassed the US to become the second-largest smartphone market after China. Mobile internet penetration in APAC has doubled in the last 5 years. Consequently, mobile network operators have started investing heavily to offer internet services at a competitive price, which is expected to drive the demand for eSIM solutions in the APAC market.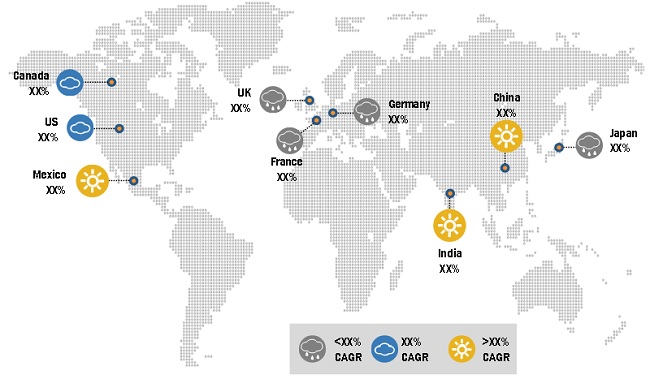 Market Dynamics
Driver: Emphasis on remote SIM provisioning for M2M
Remote provisioning is the ability to download an operator profile to an in-market SIM and change or delete the subscriber identity module (SIM) profiles without the need for having physical access to the SIM card. The eSIM card is a critical enabler for machine-to-machine (M2M) connections, which includes seamless and straightforward mobile connections for all types of connected devices. The ubiquitous connectivity of devices across geographic regions is a prerequisite for M2M. Embedded SIM removes the inconvenience of changing service providers, which leads to operational efficiency, and it operates in a controlled and secure environment. The latest embedded SIM cards offer guaranteed profile interoperability and a primary platform for the players to work on common grounds.
Restraint: Intensifying security threats
With technological advancements, penetration of IoT devices, and proliferation of M2M services, it becomes increasingly important to ensure secure and reliable communication among connected systems. Therefore, the task of preserving the security of these systems has become complex. Embedded SIM cards allow remote provisioning of SIM profiles by enabling automatic interoperability between connectivity platforms and multiple SIM operator profiles. However, the operational flexibility achieved by an embedded SIM would be a futile effort if security is compromised. The eSIM collects and stores the credentials of mobile network operators (MNOs) in the inbuilt software of the device, which is prone to various security hacks. Also, it operates through multiple MNOs and physical platforms, thereby exposing it to the risks of the virtual environment.
Opportunity: Growing demand for smart solutions
Smart solutions, such as electric vehicles, smart cities, and smart meters, are increasingly adopted across the world due to the flexibility and connectivity offered by the IoT infrastructure and accelerated push for smart cities and infrastructure growth in emerging economies. The evolution and expansion of networks, reduced cost of hardware components such as sensors and actuators, and the emergence of new business models are some of the key factors that will lead to the introduction of services such as deployment of smart grids, automatic security systems, connected cars, among many others, thereby rising investments in developing innovative smart solutions. Thus, the growing demand for smart solutions for several applications in verticals such as energy & power, automotive, healthcare, and agriculture is likely to create growth avenues for the players in the eSIM market.
Challenge: Lack of standardization
The ESIM value chain is highly complex and involves multiple stakeholders. Due to this, stakeholders are required to coordinate and cooperate for setting standards concerning economies of scale, interoperability, and IoT technologies, including machine-to-machine communications and ubiquitous sensor networks for the effective implementation of embedded SIMs across myriad applications. To overcome this challenge of lack of standardization and to facilitate the industry-wide adoption of eSIM, international organizations, including the European Telecommunications Standards Institute (ETSI) and the GSM Association (GSMA), are focused on creating standards on technical and operational aspects.
Get online access to the report on the World's First Market Intelligence Cloud

Easy to Download Historical Data & Forecast Numbers
Company Analysis Dashboard for high growth potential opportunities
Research Analyst Access for customization & queries
Competitor Analysis with Interactive dashboard
Latest News, Updates & Trend analysis

Request Sample

Click on image to enlarge

Scope of the Report:
| | |
| --- | --- |
| Report Metric | Details |
| Market size available for years | 2015–2023 |
| Base year considered | 2017 |
| Forecast period | 2018–2023 |
| Forecast units | USD Million (Value), Million Units (Volume) |
| Segments covered | Application, Vertical, and Region |
| Geographies covered | North America, Europe, APAC and RoW |
| Companies covered | Deutsche Telekom AG (Germany), Gemalto NV (Netherlands), Giesecke & Devrient GmbH (Germany), Infineon Technologies AG (Germany), NTT DOCOMO, INC. (Japan), NXP Semiconductors N.V. (Netherlands), Sierra Wireless, Inc. (Canada), Singapore Telecommunications Limited (Singapore), STMicroelectronics (Switzerland), and Telefónica, S.A. (Spain) |
This research report categorizes the global eSIM market by application, vertical, and geography.
By Application
Connected Cars
Laptops
M2M
Smartphones
Tablets
Wearables
Others (Drones, Smart Meters, Smart Grids)
By Vertical
Automotive
Consumer Electronics
Energy & Utilities
Manufacturing
Retail
Transportation & Logistics
By Geography
North America (US, Canada, Mexico)
Europe (UK, Germany, France, RoE)
Asia Pacific (China, Japan, India, Rest of APAC)
Rest of the World (Middle East, Africa, South America)
Key Market Players:
Deutsche Telekom AG (Germany), Gemalto NV (Netherlands), Giesecke & Devrient GmbH (Germany), Infineon Technologies AG (Germany), NTT DOCOMO, INC (Japan),
Recent Developments:
In January 2018, Deutsche Telekom expanded its Internet of Things ecosystem at the IBM Watson IoT Center in Munich, Germany
In January 2018, Sierra Wireless launched AirPrime HL78 modules, industry's smallest, lowest power, multi-mode Low Power Wide Area (LPWA) cellular modules, meant for rapidly growing markets for asset tracking and connected industrial equipment, along with applications in the smart city, healthcare, agriculture, and wearables markets
In December 2017, Gemalto entered into a partnership agreement with Microsoft to make Microsoft's Surface Pro with LTE Advanced to become the first fully integrated embedded SIM PC in the Windows ecosystem
In December 2017, STMicroelectronics acquired Atollic (Sweden), a leading expert in software development tools. This acquisition is likely to support further development of STM32 and to make it a fully integrated software solution
In December 2017, Infineon Technologies AG and ESCRYPT GmbH (Germany), a leading system provider for embedded security solutions worldwide, closely worked together in the field of automobile cybersecurity to offer a solution that encrypts on-board communication and makes it more secure while considering future security requirements
Key questions addressed in this report:
What are the global trends in demand for the market?
What are the upcoming technologies/product areas that will have a significant impact on the market in the future?
What will be the revenue pockets for the market players in the next 6 years?
What are the prime strategies followed by key players in the market?
To speak to our analyst for a discussion on the above findings, click Speak to Analyst