[128 Pages Report] The firefighting foam market was valued at USD 701.7 million in 2017 and is projected to reach USD 867.7 million by 2023, at a CAGR of 6.3% between 2018 and 2023. In this report, 2017 has been considered the base year and the forecast period has been considered from 2018 to 2023.
The firefighting foam market has been classified on the basis of type and end-use industry. Among types, the market is classified into AFFF, AR-AFFF, PF, synthetic detergent foam. As AFFF is widely used for oil & gas industry the demand of AFFF was the largest in 2017. By end-use industry, the market is classified into oil & gas, aviation, marine, mining and others. Oil & gas is the largest consumer of firefighting foam due to the high risk of fire accidents in this industry and the efficiency of firefighting foam to combat these fires.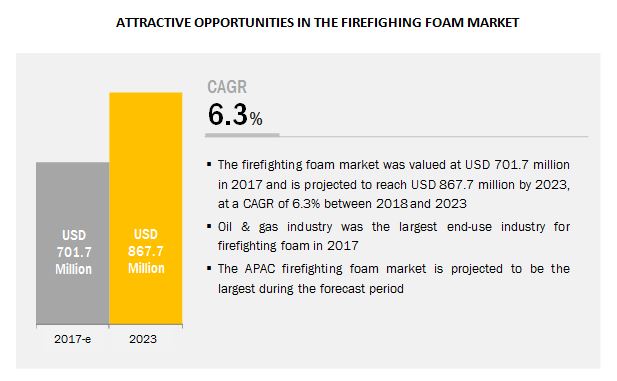 The firefighting foam market is projected to grow at a CAGR of 3.6% from 2018 to 2023
The firefighting foam market is estimated at USD 701.7 million in 2018 and is projected to reach USD 867.7 million by 2023, at a CAGR of 3.6% from 2018 to 2023. The key drivers that are expected to have substantial impact on the growth of market globally include increasing shift toward environmentally-safe products and increased fire-related accidents leading to casualties and loss of property. Absence of a standardized regulatory body globally for approval of firefighting foam is the major restrain that might hinder the growth of firefighting foam.
Among types, AFFF firefighting foam is expected to register the fastest growth in the forecast period from 2018 to 2023
AFFF foam is projected to be the fastest-growing type of the firefighting foam market. The demand of AFFF is driven by its use in the oil & gas industry for the increasing upstream and downstream activities such as exploration, production, processing, storage, transportation, refining and distribution.
Oil & gas industry was the largest end-use industry for firefighting foam in 2017
The oil & gas industry has the largest consumption of firefighting foam as this foam is widely used for Class B fires and is the best fire protection solution for fires caused due to flammable liquids. In oil & gas industry, the risk of oil-based fires is high and hence this is expected to drive the demand for foam.
The APAC firefighting foam market is projected to be the largest during the forecast period
APAC was the largest market of firefighting foam in 2017. Countries in APAC included China, Japan, India, South Korea, Indonesia and others. The demand of firefighting foam in APAC is driven by their extensive use in the oil & gas industry which is currently expected to grow in the forecast period due to extensive demand for oil &gas in the region.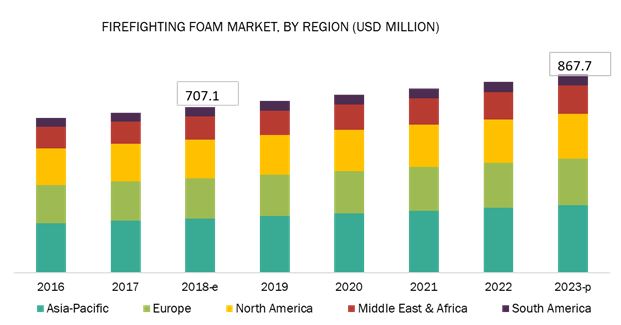 Market Dynamics
Drivers
Increasing shift toward environmentally-safe products
Various types of firefighting foams contain fluorochemical which has proved to be harmful to the environment and to the human race. Among the commonly used foams, fluorochemical is present in FP, FFFP, AFFF and AR-AFFF. Manufacturers usually use fluorochemical in foam due to various advantages such as it provides increasing extinguishment speed, provides a thin film to suppress vapors and to add oleo phobic properties to the foam. But recently, various regulatory authorities such as USEPA have banned the use of fluorosurfactants that are C8 in the fluorocarbon chain length. These types of fluorosurfactants are PBT i.e. Persistence, bioaccumilative and toxic in the environment. Chemical persistence deals with the chemical composition breakdown in the environment. Bioaccumilative chemicals are the harmful products that build up in living organisms and toxic chemicals are poisonous and may cause serious harm or death. On the other hand, C6, versions are considered to be persistent.
In 2006, USEPA asked eight major perfluorinated chemical manufacturers to voluntarily participate in the PFOA Stewardship Program. In 2010, the first stage involved 95% reduction in the use of greater than C6 fluorochemical in the fluorocarbon chain length. Final stage involved to eliminate the use of greater than C6 fluorochemical from emissions and products by 2015.
Hence, the shift to C6 from C8 by various manufacturers has resulted in a new range of firefighting foams which are considered environmentally safe and subsequently help in the growth of the firefighting foam market.
Increased fire-related expenditure, rise in deaths and loss of property
With increasing industrialization, many fire-related accidents have led to a significant number of casualties and huge economic losses. In the US alone, fire departments responded to an estimated 1,345,500 fires in 2015. These fires resulted in 3,280 civilian fatalities, 15,700 civilian injuries, and an estimated USD 14.3 billion in direct property losses. There was a civilian fire death every 2 hours and 40 minutes and a civilian fire injury every 33.5 minutes in 2015. Home fires caused 2,560 or 78% of civilian fire deaths in the US. Hence, there is an increasing need for improved fire security systems in various facilities to avoid such losses.
Various enterprises across the globe have increased their expenditure on fire protection for safeguarding infrastructure and reducing human losses. Enterprises rely on equipment such as sensors and detectors, fire sprinklers, fire extinguishers, and other devices to implement the fire protection system within their premises. This increase in fire-related spending by a number of enterprises and small–medium enterprises across the globe is driving the demand for fire protection systems. For instance, the companies from the oil, gas, and mining sector are increasing their spending on fire suppression by employing firefighting foams to prevent and contain the critical fire accidents happening in onshore and offshore oil, gas, and mining facilities because of the hydrocarbons that are released from pipelines and process plants. These chemicals should be surpassed quickly to prevent the financial and human losses.
The rise in investment by the globally operating firms in the fire protection of their facilities has increased the installation of fire protection systems which utilize automatic suppression systems. For instance, the NFPA is extending the use of its standards well beyond the US, to be applicable globally. It helps educate facility managers, business leaders, and fire professionals on the NFPA standards and other best practices in diverse locations such as the European Union, the Middle East, China, and South America.
Restraints
Absence of a standardized regulatory body for approval of firefighting foam globally
According to the current scenario, various regulations are acceptable for the approval of firefighting foams in different countries. Hence, there are no standardized regulations that need to be followed by manufacturers. Most of the manufacturers are producing firefighting foam following specific regulations of a particular country to pass the test for their product in that respective country.
Until 2001, when the European Standard EN-1568 unified the criteria for approving and evaluating the foam concentrates, each country used its own standards, making it difficult to compare the quality of foam concentrates manufactured in different countries. Since 2001, the reference standard in Europe for testing and qualification of foam is the standard EN-1568, consisting of four parts, namely, EN-1568-1, EN-1568-2, EN-1568-3, and EN-1568-4. Apart from this, the other standards followed globally include UL162, ECHA, ICAO Levels A, B & C, IMO, CAP 437, LASTFIRE, MIL-F-24385, NFPA 11 and others.
In certain Australian countries, the Government has introduced a ban on the use of fluorinated firefighting foams due to concerns about the harmful impact of the chemicals on the environment. The ban covers all types of fluorinated firefighting foams, both C8 types and C6 types.
Hence, as various countries follow different regulatory standards; this acts as a restraint for the growth of the firefighting foams on the global level as major manufacturers are unable to expand their reach to different countries if their products do not pass the test of the country. Different manufacturers would not prefer to expand to newer countries due to differing tests their product will have to pass. Hence, this factor is expected to restrain the growth of firefighting foam market, globally.
Opportunities
Upcoming technologies to combat the issue related to firefighting foams
Various manufacturers have taken up R&D activities for the development and innovation of newer firefighting foams due to stringent regulations. Various regulations such as EPA, and European Chemicals Agency (ECHA) focused on reducing longer chain, like C8 or greater, perfluorinated chemicals and PFOA emissions, since existing data shows that shorter chain compounds have a lower potential for toxicity and bioaccumulation. This led to the development of C6 fluorocarbon chain length. These newly developed fluorocarbon chains are considered safer for the environment as they do not produce PFOA and PFOS on degrading.
Earlier the two major processes employed for the production of perfluorinated surfactants were electrochemical fluorination (ECF) and telomerization. Electrochemical fluorination is the addition of fluorine to a hydrocarbon using hydrofluoric acid (HF). The ECF process produces branched fluorocarbon chains that can be even and odd numbered. Telomerization is the process of polymerizing perfluoroethylene and produces only straight chain and even numbered perfluorinated carbon molecules. ECF perfluorinated surfactants degrade into PFOS. PFOS is considered to be PBT and are designated as a Persistent Organic Pollutant (POP) at the 2001 Stockholm Convention.
Since 2002, most of the perfluorinated surfactants contained in firefighting foams have been produced using the telomerization process. Over the years, these perfluorinated surfactants have contained perfluorinated carbon chains ranging from C4 to C24 in length. The US Environmental Protection Agency (EPA) has revealed findings that suggested some of the higher homologues can break down in the environment to produce PFOA or other PFCAs. Consequently, the U.S. EPA's 2010/2015 PFOA Stewardship Program focused on reducing these longer chain (i.e., C8 or greater) perfluorinated chemicals and PFOA emissions. Other countries and member state unions such as European Chemicals Agency (ECHA) are issuing guidance and considering regulations similar to the US EPA's 2010/15 PFOA Stewardship Program in an effort to limit PFOA and PFCAs. Most of these initiatives do not ban or restrict the use of C6 Telomer-based foams, and generally do not restrict the near-term use of existing inventories of any telemor-based firefighting foam concentrates (i.e., C8 or greater). This innovation of C6 based fluorocarbons chains in firefighting foam has led to various opportunities for the use of firefighting foams in Class B fires effectively.
Another technology that is in the developmental stage includes CAF (compressed air foam). In this technology, the foam solution is mixed under controlled conditions with nitrogen or compressed air to create the finished foam. The rates of application approved for use are 50% less than for a normally aspirated foam system. Though there are limitations related to the use of CAF, yet this technology could significantly reduce the potential environmental impact without impacting the firefighting capabilities of the system or the firefighting foam used.
Development of fluorine free foams
The first fluorine containing firefighting foam was developed in the 1960s. It contained fluorinated surfactants that aided the foam rapidly flow over flaming liquids, cooling and extinguishing fires effectively. Over the years, it was found that the presence of perfluorinated compounds such as PFOS and PFOA are extremely persistent in the environment, and toxicological studies linked the chemicals to serious negative effects on human health. Their use in the EU was restricted since 2006 and the Stockholm Convention listed PFOS and its related substances as persistent organic pollutants that are expected to be phased out. A further restriction on the manufacture, use and marketing of PFOA and its related substances, under REACH, was also adopted in 2017 by the European Commission. Hence this promoted the development of fluorine free foams which are considered less harmful to the environment.
Hence various manufacturers offering fluorine based foams are now switching over to provide more options with the environmentally safe fluorine free foams. A challenge for fluorine free foams could be the high-risk areas such as the chemical and petrochemical industry as these industries require foams with the highest possible performance.
Challenges
Existing lawsuits and litigations against major manufacturers in US
In US, New York State has filed a lawsuit against six major firefighting foam manufacturers claiming these foams contain chemicals that are hazardous to human health. The lawsuit, filed in June 2018, in state Supreme Court in Albany, claims that the six companies knew or should have known the harmful effects of aqueous film-forming foam containing the chemicals perfluorooctane sulfonic acid/perfluorooctane sulfonate (PFOS) or perfluorooctanoic acid/perfluorooctanoate (PFOA). These chemicals were detected at locations across New York, including Stewart Air National Guard Base in Newburgh and Francis S. Gabreski Air National Guard Base in Westhampton Beach. The state Department of Environmental Conservation and the Department of Health have spent more than USD 38 million to investigate and clean up contamination resulting due to the use of the foam. The companies facing this lawsuit include 3M Company, Tyco Fire Products LP, Chemguard, Inc., Buckeye Fire Equipment Company, National Foam, Inc., and Kidde-Fenwal, Inc. The lawsuit contends that the products contaminated the environment, seeping into drinking water and potentially harming people who could experience serious illnesses including cancer, liver damage and immune system defects. It also claims that the products "were not reasonably safe when used as intended" and that the manufacturers did not provide adequate warning of the potentially deleterious effects of their use. Hence these lawsuits act as a challenge to the market and have added pressure on manufacturers to switch to enviornmnetally safer options or invent newer substitutes for firefighting foams.
Stringent regulations for the production of firefighting foam
The firefighting foam industry is facing challenges from regulatory authorities due to the harmful impacts of the foam on the environment. Ongoing lawsuits have added to the stringent regulations for this product. Currently firefighting foam is used for containing Class B fires majorly. For this purpose, foam containing fluorosurfactants which are perfluorinated or polyfluorinated are used. In today's world, it is well established that fluorochemicals have a negative impact on the environment and human health due to persistence of their degradation products in the environment and variable degrees of bioaccumulation potential and toxicity dependent on chemical structure. Various countries have set stringent regulations to curb the negative effects caused by these fluorochemicals on the environment. These countries include US, Canada, UK, Sweden, Norway, Germany and Australia. Some countries banned or restricted the use of foams containing fluorochemicals particularly foams containing PFOS or their salts and precursors, which are recognized as a POP under the Stockholm Convention.Thus negotiating the stringent government regulations against the use or content limits of UV stabilizers in industrial and commercial applications is a challenge for UV Stabilizer manufacturers.
Get online access to the report on the World's First Market Intelligence Cloud

Easy to Download Historical Data & Forecast Numbers
Company Analysis Dashboard for high growth potential opportunities
Research Analyst Access for customization & queries
Competitor Analysis with Interactive dashboard
Latest News, Updates & Trend analysis

Request Sample

Click on image to enlarge

Scope of the Report
| | |
| --- | --- |
| Report Metric | Details |
| Years considered for the study | 2016-2023 |
| Base year considered | 2017 |
| Forecast period | 2018-2023 |
| Units considered | Value (USD Million) |
| Segments covered | Type, End-use Industry and Region |
| Regions covered | APAC, North America, Europe, South America and MEA |
| Companies profiled | Songwon Industrial Co., Ltd. (South Korea), Solvay SA (Belgium), ALTANA AG (Germany), BASF SE (Germany), Clariant AG (Switzerland), Addivant (U.S.). |
This report categorizes the firefighting foam market on the basis of type, end-use industry, and region.
Firefighting foam Market, by Type:
Aqueous film forming foam (AFFF)
Alcohol Resistant Aqueous Film Forming Foam (AR-AFFF)
Protein foam (PF)
Synthetic detergent foam (Medium and High expansion)
Others
Firefighting foam Market, by End-use Industry:
Oil & Gas
Aviation
Marine
Mining
Petroleum & petrochemical
Ship & shipyard
Warehouse
Airport
Others
Firefighting foam Market, by End-use Region:
APAC
North America
Europe
South America
Middle East & Africa
Key Market Players
The firefighting foam market is led by major players, such as
Johnson Controls International Plc. (US)
,
The Solberg Company (US)
,
Dr. Sthamer (Germany)
, National Foam (US),
Angus Fire (UK)
, Kerr Fire (UK), EAU&FEU (France), DIC Corporation (Japan), and SFFECO Global (US). These key players have adopted various organic and inorganic strategies to maintain their shares in the firefighting foam market.
Recent Developments
In January 2015 Dafo Fomtec AB developed formulations from C8 to C6, and only produce firefighting foam that are completely C6. This helped the company adhere to the environmental policy.
In May 2017, Dafo Fomtec AB partnered with Delta Fire (UK) as an authorized distributor for its products in UK. Through this partnership, the company could expand its reach to UK customers.
In September 2016, Johnson Controls merged with Tyco (Ireland) to create Johnson Controls International plc. The new company is uniquely positioned as a leader in products, technologies and integrated solutions for the buildings and energy sectors.
To speak to our analyst for a discussion on the above findings, click Speak to Analyst