The Function as a Service (FaaS) market is expected to grow from USD 1.88 Billion in 2016 to USD 7.72 Billion by 2021, at a Compound Annual Growth Rate (CAGR) of 32.7% during the forecast period. The major drivers of this Function as a Service market include agility & scalability, maturity of hosted services, and shift from DevOps to serverless computing.
The report provides detailed insights into the Function as a Service market, which is segmented by user type, service type, application, deployment model, organization size, industry vertical, and region.
Among the user types, the developer-center FaaS segment is anticipated to hold the largest market share whereas operator-centric FaaS segment is anticipated to grow at the highest CAGR. FaaS provides the ability to easily deploy, manage, and run an application which is why this segment is growing rapidly.
The automation and integration service type is anticipated to hold the largest market share whereas the microservice monitoring and management service is anticipated to grow at the highest CAGR during the forecast period. Organizations continuously require these service types to help them in managing multiple platforms and optimizing the micro services which is expected to further drive the overall Function as a Service market.
Among the applications, the web and mobile applications is expected to hold the largest market share whereas the research and academic applications is expected to grow at the highest CAGR. FaaS is easier to deploy and is being used by various applications to optimize their performance further driving the growth of this Function as a Service market.
The public cloud deployment model is estimated to hold the largest market size in the Function as a Service market. However, the hybrid cloud deployment model is anticipated to grow at the highest CAGR. The main reason for high adoption of public cloud is its ease of access and faster deployment. Moreover, rising demand of scalability, reliability, and flexibility is anticipated to contribute to the overall growth of this segment.
The large enterprises segment is anticipated to hold the largest market share whereas the SMEs are moving towards the adoption of FaaS and growing rapidly at the highest CAGR during the forecast period. FaaS architecture is more economical and easier to scale further contributing to the adoption of these services among the SMEs.
The BFSI vertical is expected to hold the largest market and the consumer goods and retail vertical has the highest growing CAGR during the forecast period. The Function as a Service market caters to various industry verticals and these services help these industries in the reduction of Capital Expenditure (CAPEX) and Operational Expenditure (OPEX) furthering the growth of these services across the verticals.
North America is expected to have the largest market share in 2016, whereas the APAC region is expected to grow at the highest CAGR from 2016 to 2021 in the Function as a Service market. High penetration rate into various industry verticals, increasing demand for business flexibility and agility, and a large number of FaaS providers located in the U.S are some of the major driving factors contributing to the growth of this market. APAC is expected to be growing at a higher rate in the near future owing to large investments being made in the cloud service providers in this region to make better customer experiences and streamline the business operations.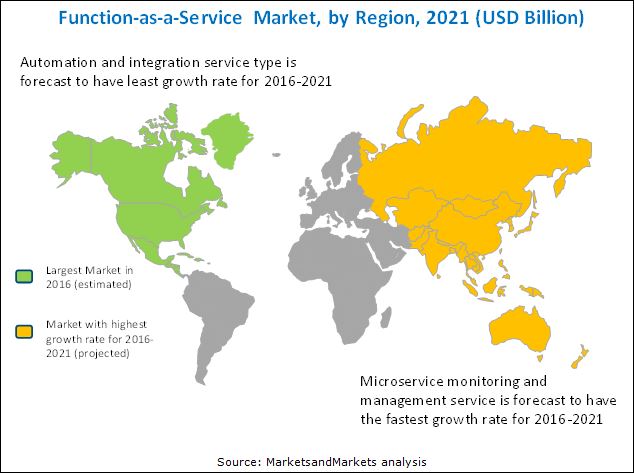 The need for easy deployment and management & availability of strong pre-existing cloud infrastructure are the driving factors in the market. However, issues with portability on various cloud environments are anticipated to hinder the growth of the market. The key vendors in the Function as a Service market are IBM (U.S.), Google Inc. (U.S.), Microsoft Corporation (U.S.), Amazon Web Services(U.S.), SAP SE (Germany), Dynatrace LLC (U.S.), Infosys Ltd. (India), Rogue Wave Software Inc. (U.S.), TIBCO Software Inc. (U.S.), and Fiorano Software and Affiliates (U.S.).. These players have adopted various strategies, such as new product developments, acquisitions, and partnerships, to serve the FaaS market. Continuous technology innovation is an area of focus for these players in order to maintain its competitive position in the market and promote customer satisfaction.
The growth of Function as a Service market is depending on the factors, such as easy to deploy, manage, and run, maturity of hosted services, and shift from DevOps to server less computing are expected to drive the market growth.
Benefits such as cost effectiveness, scalability, improved productivity and performance, faster time-to-market, better control of critical applications, and a decrease in business downtime and losses are contributing to the adoption of FaaS across multiple industries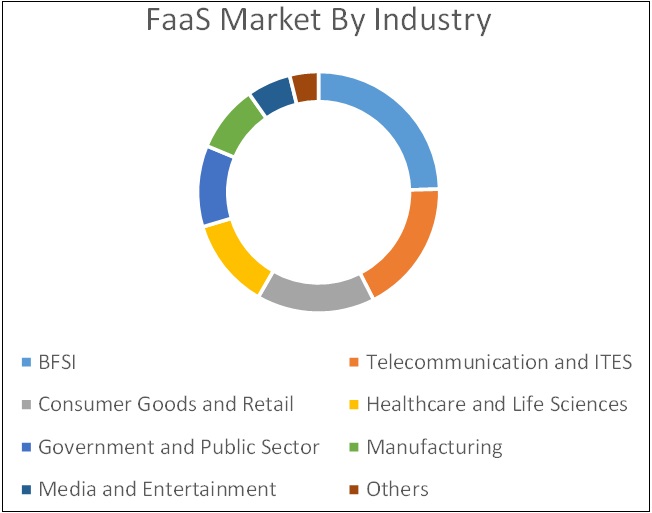 Banking, Financial Services, and Insurance
The BFSI segment collectively includes organizations that are into banking services such as core banking, corporate, retail, investment, private, and cards; financial services such as payment gateways, stock broking, and mutual funds; and insurance services covering both life and general insurance policies. The BFSI sector is constantly evolving and is characterized by intense competition, worldwide expansion, consolidation, varied regulatory norms, and constantly changing consumer demands. FaaS can support real-time applications and provide a scalable and secure platform for providing real-time information as required by the BFSI sector; hence, this sector offers substantial opportunities for the growth of the FaaS market. Financial institutions are increasingly using FaaS for automation of routing operations and facilitating cost reduction. Moreover, FaaS services can enable total view of customers and financial products and further drive customer retention and acquisition. FaaS services enable the efficient integration of multiple delivery channels for banks which has further helped drive growth of these services in the BFSI vertical.
Telecommunications and ITES
Growing number of users and increasing adoption of various technologies related to media and digital content are driving the demand for efficient and secure FaaS systems across this vertical. Moreover, IT and telecom companies face the challenge of evolving customer requirements. Moreover, the ever-changing needs arising out of change of plans, devices, and payment models make things more complicated for operators. This vertical is constantly facing the need of tailoring applications to deliver a hyper-personalized experience which has resulted in the requirement to learn about customer preferences in real time. FaaS services help in improving customer engagement and drive customer loyalty by offering personalized experience with reduced costs.
Consumer Goods and Retail
The consumer goods and retail sector is one of the fastest-growing industry verticals owing to rising consumer purchasing power. With the advent of online retailers, retailers are adopting more innovative technologies such as cloud computing, big data analytics, digital stores, and social networks. The vendors in a particular industry need a comprehensive cloud environment to offer their respective product and service portfolio to the customers. The consumer goods and retail industry is facing the challenge of managing instability and change in demand for various products due to high competition. FaaS helps in providing seamless integration of the multiple shopping channels and presenting a unique shopping experience to the connected consumer. To achieve agility, retailers evolve their IT systems towards a flexible, event-driven IT infrastructure that enables different applications to share and analyze information in real time to determine the next best interaction with their customers.
Healthcare and Life Sciences
The healthcare and life sciences sector is governed by the need for tools that are able to rapidly create and implement business process integrations and healthcare data transformations. The healthcare and life sciences facilities are complex organizations which consist of doctors, patients, staff, administrators, and public. They require efficient data management techniques for different activities such as patient management, hospital resources management, doctor-patient relationship management, medical supplies management, and maintaining data for patients' health records. The industry has shifted into a model that helps to collectively support and coordinate the workflows and medical information. Cloud helps the healthcare industry in storing large data, facilitates sharing of information among physicians & hospitals, and increases the data analysis & tracking features. This helps in the treatments, performance of physicians or students, costs, and studies. The healthcare and life sciences industry vertical is now focused on value creation rather than volume. Government and private healthcare organizations are facing pressure to improve their systems and enhance population health while reducing costs. Moreover, organizations may face the need to share healthcare data further contributing to the requirement for an efficient platform. FaaS service types enable organizations to integrate their systems with other healthcare networks to share information and work together in an orchestrated manner to accommodate growth and improve agility and further help healthcare providers in optimizing and increasing the effectiveness of their services delivered to customers.
Government and Public Sector
The government segment covers all the government organizations and agencies. This sector has to deal with various issues such as tax collection, public interest, safety, and education. As consumers experience enhanced customer service from private sector businesses, their expectations from the government agency or department that they have to deal with increases as well. There has been a surge in the government agencies moving to cloud so that they can securely deliver better services to citizens. The cloud facilitates these agencies to make fast and cost-effective capacity decisions, scaling up and down depending upon data traffic, seasonality, and business requisites. FaaS services enable government and public agencies to extend tailored services to handle mixed consumer demands. FaaS services are increasingly being used by government departments to provide government alerts, manage air services, manage accommodations at national parks, and many other such applications.
Manufacturing
Manufacturers are looking to integrate disparate locations, ensure data integration, enhance business process efficiency, and increase end-user workforce productivity. The main thrust of cloud computing is to provide reliability, scalability, and on-demand provisioning of resources. FaaS architecture enables enterprises to manage workloads and utilize the IT resources across all cloud deployment models. FaaS enables different types of CSBs, such as internal and external brokerage, to offer the best solutions.
Media and Entertainment
The media and entertainment industry is facing challenge to manage & support complex workflows and new data formats with uncertain revenue and monetization. In order to manage enormous volume of digital media and data generated across various applications, FaaS offers an attractive solution. It enables media and entertainment companies to manage their processes and workflows in an efficient, scalable, flexible, and reliable manner. The SMEs and large enterprises operating in this vertical are rapidly getting inclined towards deploying cloud-based services to store and manage their business-critical data. Entertainment companies are using FaaS service types to orchestrate their content storage, production, processing, and distribution. By using FaaS, media and entertainment companies are developing new and better ways to enhance their digital supply chain while reducing operating expenses. The constant pressure to decrease IT expenditure and invest resources in generating creative and high-quality content is driving media companies globally to adopt cloud solutions.
Others
Other industry verticals include transportation & logistics, energy & utilities, and travel & hospitality. Effective customer services and fast customer conversion is the key to better business for this sector. Transportation and distribution industry deals with massive technological developments and innovations. This sector faces a number of challenges such as industry-specific regulations, security mandates, shipping delays, product errors, design faults, and obsolete technology concerns. Cloud services provided by TSPs help in inventory tracking and logistics & communication management, which eventually help in providing better business and customer services. The media and entertainment industry delivers premium services to their customers and partners; hence, service providers have to manage their relationships with them. Travel and hospitality organizations are in need of powerful, flexible, and attainable solutions to gain business agility.
Key questions
Which are the substitute products and how big is the threat from them?
Which are the top use cases where FaaS can be implemented for revenue generation through new advancements such as artificial intelligence, IoT, and cloud computing?
What are the potential opportunities in the adjacent markets, such as containers and DevOpss?
What should be your go-to-market strategy to expand the reach into developing countries across APAC, MEA, and Latin America?
To speak to our analyst for a discussion on the above findings, click Speak to Analyst
#####
Table of Contents
1 Introduction (Page No. - 14)
1.1 Objectives of the Study
1.2 Market Definition
1.3 Study Scope
1.3.1 Markets Covered
1.3.2 Years Considered in the Report
1.4 Currency
1.5 Limitations
1.6 Stakeholders
2 Research Methodology (Page No. - 18)
2.1 Research Data
2.1.1 Secondary Data
2.1.1.1 Key Data From Secondary Sources
2.1.2 Primary Data
2.1.2.1 Key Data From Primary Sources
2.1.2.2 Key Industry Insights
2.1.2.3 Breakdown of Primaries
2.2 Market Size Estimation
2.3 Market Breakdown and Data Triangulation
2.4 Vendor Dive Matrix Methodology
2.5 Research Assumptions
3 Executive Summary (Page No. - 28)
4 Premium Insights (Page No. - 31)
4.1 Attractive Market Opportunities in the Function as a Service Market
4.2 Market Share of Top Three Services and Regions, 2016
4.3 Lifecycle Analysis, By Region
4.4 Market Investment Scenario
4.5 Function as a Service Market: By Deployment Model, 2016–2021
5 Market Overview (Page No. - 35)
5.1 Introduction
5.2 Demand Analysis
5.3 Market Evolution
5.4 Market Segmentation
5.4.1 By User Type
5.4.2 By Service Type
5.4.3 By Application
5.4.4 By Deployment Model
5.4.5 By Organization Size
5.4.6 By Industry Vertical
5.4.7 By Region
5.5 Market Dynamics
5.5.1 Drivers
5.5.1.1 Easy to Deploy, Manage, and Run
5.5.1.2 Maturity of Hosted Services
5.5.1.3 Shift From DevOps to Serverless Computing
5.5.2 Restraints
5.5.2.1 Application Portability on Various Cloud Environments
5.5.3 Opportunities
5.5.3.1 Microservice-Based Deployment
5.5.4 Challenges
5.5.4.1 Issues With Third-Party Services
5.5.4.2 Architectural Complexity
5.5.4.3 Operational Complexity
6 Industry Trends (Page No. - 44)
6.1 Introduction
6.2 Value Chain Analysis
6.3 Ecosystem
6.4 Strategic Benchmarking
7 Function as a Service Market Analysis, By User Type (Page No. - 48)
7.1 Introduction
7.2 Operator-Centric Function as a Service
7.3 Developer-Centric Function as a Service
8 Function as a Service Market Analysis, By Service Type (Page No. - 52)
8.1 Introduction
8.2 Automation and Integration Services
8.3 Microservice Monitoring and Management Services
8.4 API Management Services
8.5 Support and Maintenance Services
8.6 Training and Consulting Services
8.7 Others
9 Function as a Service Market Analysis, By Application (Page No. - 60)
9.1 Introduction
9.2 Web-Based and Mobile Application
9.3 Research and Academic Application
9.4 Others
10 Function as a Service Market Analysis, By Deployment Model (Page No. - 65)
10.1 Introduction
10.2 Public Cloud
10.3 Private Cloud
10.4 Hybrid Cloud
11 Function as a Service Market Analysis, By Organization Size (Page No. - 69)
11.1 Introduction
11.2 Small and Medium Enterprises
11.3 Large Enterprises
12 Function as a Service Market Analysis, By Industry Vertical (Page No. - 73)
12.1 Introduction
12.2 Banking, Financial Services, and Insurance (BFSI)
12.3 Telecommunication and ITES
12.4 Consumer Goods and Retail
12.5 Healthcare and Life Sciences
12.6 Government and Public Sector
12.7 Manufacturing
12.8 Media and Entertainment
12.9 Others
13 Geographic Analysis (Page No. - 81)
13.1 Introduction
13.2 North America
13.3 Europe
13.4 Asia-Pacific
13.5 Middle East and Africa
13.6 Latin America
14 Competitive Landscape (Page No. - 99)
14.1 Overview
14.2 Function as a Service Market: MnM Dive - Vendor Comparison
14.3 Growth Strategies (2015–2017)
14.4 Competitive Situations and Trends
14.4.1 Partnerships, Agreements, and Collaborations
14.4.2 New Product Launches
14.4.3 Expansions
14.4.4 Mergers and Acquisitions
15 Company Profiles (Page No. - 108)
(Business Overview, Products & Services, Key Insights, Recent Developments, SWOT Analysis, MnM View)*
15.1 Introduction
15.2 International Business Machines Corporation
15.3 Google Inc.
15.4 Microsoft Corporation
15.5 Amazon Web Services Inc.
15.6 SAP SE
15.7 Dynatrace LLC
15.8 Infosys Limited
15.9 Rogue Wave Software, Inc.
15.10 Tibco Software Inc.
15.11 Fiorano Software and Affiliates
*Details on Business Overview, Products & Services, Key Insights, Recent Developments, SWOT Analysis, MnM View Might Not Be Captured in Case of Unlisted Companies.
15.12 Key Innovators
15.12.1 Manjrasoft Pty Ltd
15.12.2 Flowgear
15.12.3 Sixsq Sΰrl
16 Appendix (Page No. - 132)
16.1 Key Industry Insights
16.2 Discussion Guide
16.3 Knowledge Store: Marketsandmarkets' Subscription Portal
16.4 Introducing RT: Real-Time Market Intelligence
16.5 Available Customizations
16.6 Related Reports
16.7 Author Details

List of Tables (67 Tables)
Table 1 Function as a Service Market Size and Growth Rate, 2014–2021 (USD Billion, Y-O-Y %)
Table 2 Market Size, By User Type, 2014-2021 (USD Million)
Table 3 Operator-Centric: Market Size, By Region, 2014–2021 (USD Million)
Table 4 Developer-Centric: Market Size, By Region, 2014–2021 (USD Million)
Table 5 Market Size By Service Type, 2014–2021 (USD Million)
Table 6 Automation and Integration Services: Market Size, By Region, 2014–2021 (USD Million)
Table 7 Microservice Monitoring and Management Services: Market Size, By Region, 2014–2021 (USD Million)
Table 8 API Management Services: Market Size, By Region, 2014–2021 (USD Million)
Table 9 Support and Maintenance Services : Market Size, By Region, 2014–2021 (USD Million)
Table 10 Overview of Training and Consulting Services in the Function as a Service Market
Table 11 Training and Consulting Services : Market Size, By Region, 2014–2021 (USD Million)
Table 12 Others: Market Size, By Region, 2014–2021 (USD Million)
Table 13 Function as a Service Market Size, By Application, 2014–2021 (USD Million)
Table 14 Web-Based and Mobile Application: Market Size, By Region, 2014–2021 (USD Million)
Table 15 Research and Academic Application: Market Size, By Region, 2014–2021 (USD Million)
Table 16 Others: Market Size, By Region, 2014–2021 (USD Million)
Table 17 Market Size By Deployment Model, 2014–2021 (USD Million)
Table 18 Public Cloud: Market Size, By Region, 2014–2021 (USD Million)
Table 19 Private Cloud: Market Size, By Region, 2014–2021 (USD Million)
Table 20 Hybrid Cloud: Market Size, By Region, 2014–2021 (USD Million)
Table 21 Function as a Service Market Size, By Organization Size, 2014–2021 (USD Million)
Table 22 Small and Medium Enterprises: Market Size, By Region, 2014–2021 (USD Million)
Table 23 Large Enterprises: Market Size, By Region, 2014–2021 (USD Million)
Table 24 Market Size By Industry Vertical, 2014–2021 (USD Million)
Table 25 Banking, Financial Services, and Insurance: Market Size, By Region, 2014–2021 (USD Million)
Table 26 Telecommunication and ITES : Market Size, By Region, 2014–2021 (USD Million)
Table 27 Consumer Goods and Retail: Market Size, By Region, 2014–2021 (USD Million)
Table 28 Healthcare and Life Sciences: Market Size, By Region, 2014–2021 (USD Million)
Table 29 Government and Public Sector: Market Size, By Region, 2014–2021 (USD Million)
Table 30 Manufacturing: Market Size, By Region, 2014–2021 (USD Million)
Table 31 Media and Entertainment: Market Size, By Region, 2014–2021 (USD Million)
Table 32 Others: Market Size, By Region, 2014–2021 (USD Million)
Table 33 Function as a Service Market Size, By Region, 2014–2021 (USD Million)
Table 34 North America: Market Size, By User Type, 2014–2021 (USD Million)
Table 35 North America: Market Size, By Service Type, 2014–2021 (USD Million)
Table 36 North America: Market Size, By Application, 2014–2021 (USD Million)
Table 37 North America: Market Size, By Deployment Model, 2014–2021 (USD Million)
Table 38 North America: Market Size, By Organization Size, 2014–2021 (USD Million)
Table 39 North America: Market Size, By Industry Vertical, 2014–2021 (USD Million)
Table 40 Europe: Market Size By User Type, 2014–2021 (USD Million)
Table 41 Europe: Market Size, By Service Type, 2014–2021 (USD Million)
Table 42 Europe: Market Size, By Application, 2014–2021 (USD Million)
Table 43 Europe: Market Size, By Deployment Model, 2014–2021 (USD Million)
Table 44 Europe: Market Size, By Organization Size, 2014–2021 (USD Million)
Table 45 Europe: Market Size, By Industry Vertical, 2014–2021 (USD Million)
Table 46 Asia-Pacific: Function as a Service Market Size, By User Type, 2014–2021 (USD Million)
Table 47 Asia-Pacific: Market Size, By Service Type, 2014–2021 (USD Million)
Table 48 Asia-Pacific: Market Size, By Application, 2014–2021 (USD Million)
Table 49 Asia-Pacific: Market Size, By Deployment Model, 2014–2021 (USD Million)
Table 50 Asia-Pacific: Market Size, By Organization Size, 2014–2021 (USD Million)
Table 51 Asia-Pacific: Market Size, By Industry Vertical, 2014–2021 (USD Million)
Table 52 Middle East and Africa: Market Size By User Type, 2014–2021 (USD Million)
Table 53 Middle East and Africa: Market Size, By Service Type, 2014–2021 (USD Million)
Table 54 Middle East and Africa: Market Size, By Application, 2014–2021 (USD Million)
Table 55 Middle East and Africa: Market Size, By Deployment Model, 2014–2021 (USD Million)
Table 56 Middle East and Africa: Market Size, By Organization Size, 2014–2021 (USD Million)
Table 57 Middle East and Africa: Market Size, By Industry Vertical, 2014–2021 (USD Million)
Table 58 Latin America: Function as a Service Market Size, By User Type, 2014–2021 (USD Million)
Table 59 Latin America: Market Size, By Service Type, 2014–2021 (USD Million)
Table 60 Latin America: Market Size, By Application, 2014–2021 (USD Million)
Table 61 Latin America: Market Size, By Deployment Model, 2014–2021 (USD Million)
Table 62 Latin America: Market Size, By Organization Size, 2014–2021 (USD Million)
Table 63 Latin America: Market Size By Industry Vertical, 2014–2021 (USD Million)
Table 64 Partnerships, Agreements, and Collaborations, 2015–2017
Table 65 New Product Launches, 2015–2016
Table 66 Expansions, 2016
Table 67 Mergers and Acquisitions, 2015–2016

List of Figures (55 Figures)
Figure 1 Function as a Service Market: Research Design
Figure 2 Breakdown of Primary Interviews: By Company, Designation, and Region
Figure 3 Market Size Estimation Methodology: Bottom-Up Approach
Figure 4 Market Size Estimation Methodology: Top-Down Approach
Figure 5 Data Triangulation
Figure 6 Vendor Dive Matrix: Criteria Weightage
Figure 7 Faas market: Assumptions
Figure 8 Function as a Service Market By User Type (2016 vs 2021)
Figure 9 Market By Organization Size (2016 vs 2021)
Figure 10 Market By Industry Vertical (2016 vs 2021)
Figure 11 North America is Expected to Hold the Largest Market Share in 2016
Figure 12 Easy Deployment of Function as a Service is A Major Factor Boosting the Growth of the Market
Figure 13 Automation & Integration and North America to Have the Largest Market Shares in 2016
Figure 14 Regional Lifecycle Analysis: Asia-Pacific is Expected to Grow Exponentially During the Forecast Period (2016 – 2021)
Figure 15 Market Investment Scenario: Asia-Pacific Would Emerge as the Best Market for Investments in the Next Five Years
Figure 16 Public Deployment Model is Expected to Have the Largest Market Size in 2016
Figure 17 Function as a Service Market: Evolution
Figure 18 Market Segmentation: By User Type
Figure 19 Market Segmentation: By Service Type
Figure 20 Market Segmentation: By Application
Figure 21 Market Segmentation: By Deployment Model
Figure 22 Market Segmentation: By Organization Size
Figure 23 Market Segmentation: By Industry Vertical
Figure 24 Market Segmentation: By Region
Figure 25 Market Drivers, Restraints, Opportunities, and Challenges
Figure 26 Market Value Chain Analysis
Figure 27 Function as a Service Ecosystem
Figure 28 Function as a Service Market: Strategic Benchmarking
Figure 29 Operator-Centric Function as a Service is Expected to Have the Highest Growth Rate During the Forecast Period
Figure 30 Automation and Integration Services Segment is Expected to Have the Largest Market Size in 2016
Figure 31 Web-Based and Mobile Application is Expected to Hold the Largest Market Size in 2016
Figure 32 Public Cloud Deployment Model is Expected to Hold the Largest Market Size During the Forecast Period
Figure 33 Large Enterprises Segment is Expected to Hold the Largest Market Size in 2016
Figure 34 Banking, Financial Services, and Insurance Vertical Expected to Hold the Largest Market Size in the Function as a Service Market in 2016
Figure 35 North America is Expected to Have the Largest Market Size in 2016
Figure 36 North America Market Snapshot
Figure 37 Asia-Pacific Market Snapshot
Figure 38 Product Offerings Comparison
Figure 39 Business Strategies Comparison
Figure 40 Companies Adopted New Product Launches as the Key Growth Strategy From 2015 to 2017
Figure 41 Product Portfolio Comparison of the Top Five Companies
Figure 42 Function as a Service Market Evaluation Framework
Figure 43 Battle for Market Share: New Product Launches is the Key Strategy Adopted By the Market Players in the Function as a Service Market During 2015–2017
Figure 44 Geographic Revenue Mix of Top Market Players
Figure 45 International Business Machines Corporation: Company Snapshot
Figure 46 International Business Machines Corporation: SWOT Analysis
Figure 47 Google Inc.: Company Snapshot
Figure 48 Google Inc.: SWOT Analysis
Figure 49 Microsoft Corporation: Company Snapshot
Figure 50 Microsoft Corporation: SWOT Analysis
Figure 51 Amazon Web Services Inc.: Company Snapshot
Figure 52 Amazon Web Services Inc.: SWOT Analysis
Figure 53 SAP SE: Company Snapshot
Figure 54 SAP SE: SWOT Analysis
Figure 55 Infosys Limited: Company Snapshot