The Function-as-a-Service (FaaS) market size is estimated to grow from USD 1.88 billion in 2016 to USD 7.72 billion by 2021, at an estimated Compound Annual Growth Rate (CAGR) of 32.7%.
Request for Customization to get the global Function-as-a-Service market forecasts to 2025
Market Dynamics
Drivers
Easy to deploy, manage, and run
Maturity of hosted services
Shift from DevOps to serverless computing
Restraints
Application portability on various cloud environments
Opportunities
Microservice-based deployment
Challenges
Issues with third-party services
Architectural complexity
Operational complexity
Growing shift from DevOps to server less computing drives the global FaaS market
System Operator (SysOps) is an administrator of a multi-user computer system that deals with the traditional way of managing server infrastructure. It includes everything from provisioning, configuration, patching, updating, securing, and monitoring the servers. Development Operations (DevOps) brought a change to SysOps by linking the gap between developers and operations team. Continuous integration, deployment, testing, and monitoring changed the way the application is developed without breaking the system. The rise of microservices and serverless computing is fundamentally changing DevOps by blurring the lines between development and operations. This platform is automated and abstracted to the extent that it does not need an operations team to manage it.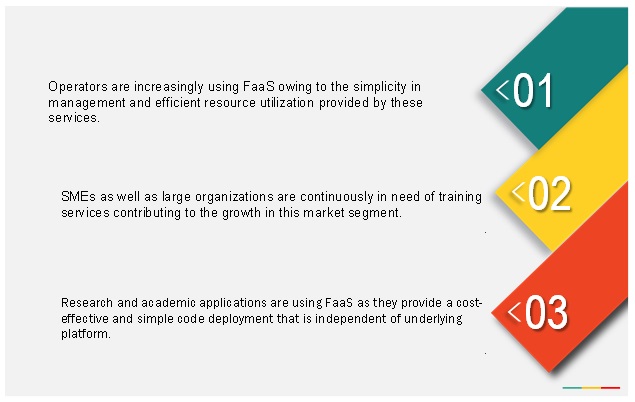 Objectives of the Study:
The FaaS report aims at estimating the market size and future growth potential of the market across different segments such as user type, service type, application, deployment model, organization size, industry vertical, and region. The primary objectives of the report is to provide a detailed analysis of the major factors influencing the growth of this market (drivers, restraints, opportunities, industry-specific challenges, and burning issues) and analyze the opportunities in the market for stakeholders and details of a competitive landscape for market leaders.
The research methodology used to estimate and forecast the FaaS market begins with capturing data on key vendor revenues through secondary literature such as annual reports, company websites, public databases, and MarketsandMarkets data repository. The vendor's offerings are also taken into consideration to determine the market segmentation. The bottom-up procedure was employed to arrive at the overall market size of the global FaaS market from the revenue of the key players in the market. After arriving at the overall market size, the total market was split into several segments and subsegments, which were then verified through primary research by conducting extensive interviews with key people, such as CEOs, VPs, directors, and executives. The data triangulation and market breakdown procedures were employed to complete the overall market engineering process and arrive at the exact statistics for all segments. The breakdown of profiles of primary participants is depicted in the below figure:

To know about the assumptions considered for the study, download the pdf brochure
The FaaS market comprises number of intermediaries involved in the ecosystem of this market space. It starts with service providers such as IBM (U.S.), Google Inc. (U.S.), Microsoft Corporation (U.S.), Amazon Web Services (U.S.), SAP SE (Germany), Dynatrace LLC (U.S.), Infosys Ltd. (India), Rogue Wave Software Inc. (U.S.), TIBCO Software Inc. (U.S.), and Fiorano Software and Affiliates (U.S.).
Major Market Developments
In January 2017, Teradata entered into a partnership with Microsoft to provide Teradata Database on Microsoft Azure. The combined solution pairs Teradata's warehousing and analytics with Azure's deployment ability. This partnership was aimed to offer cloud option for Teradata users, allowing them to prioritize business value rather than having to focus on installing and maintaining the physical infrastructure
In November 2016, Google announced the acquisition of Apigee Corp., which offers software for predictive analytics and management of application programming interfaces. The acquisition was aimed to increase Google's focus on corporate clients and enterprise service offerings
In November 2016, AWS introduced AWS Serverless Application Model to its AWS Lambda platform. The new feature speaks directly to Lambda that enables developers to easily create and manage their code
Target Audience
Cloud brokers
Application development platform providers
Managed Service Providers (MSPs)
Cloud Service Providers (CSPs)
System integrators
Consultancy firms/advisory firms

"The research study answers several questions for the stakeholders, primarily which market segments to focus in during the next two to five years for prioritizing the efforts and investments".
Get online access to the report on the World's First Market Intelligence Cloud

Easy to Download Historical Data & Forecast Numbers
Company Analysis Dashboard for high growth potential opportunities
Research Analyst Access for customization & queries
Competitor Analysis with Interactive dashboard
Latest News, Updates & Trend analysis

Request Sample

Click on image to enlarge

Scope of the Report
The research report categorizes the FaaS market to forecast the revenues and analyze the trends in each of the following sub-markets:
By User Type
Developer-Centric FaaS
Operator-Centric FaaS
By Service Type
Automation and Integration Service
Microservice Monitoring and Management Service
API Management Service
Support and Maintenance
Training and Consulting
Others (Metering and Billing)
By Application
Web-based and Mobile Application
Research and Academic Application
Others (Stream Processing and Media Processing)
By Deployment Model
Public Cloud
Private Cloud
Hybrid Cloud
By Organization Size
Small and Medium Enterprise (SME)
Large enterprise
By Industry Vertical
BFSI
Telecommunication and ITES
Consumer Goods and Retail
Healthcare and Life Sciences
Government and Public Sector
Manufacturing
Media and Entertainment
Others
By Region
North America
Europe
Middle East and Africa (MEA)
Asia-Pacific (APAC)
Latin America
Critical questions which the report answers
What are new industry which the FaaS companies are exploring?
Which are the key players in the market and how intense is the competition?
Available Customizations
With the given market data, MarketsandMarkets offers customizations as per the company's specific needs. The following customization options are available for the report:
Vendor Comparison Analysis
Vendor comparison analysis provides information about major players that offer FaaS solutions and outlines the findings and analysis on how well each FaaS market vendor performs within our criteria.
Geographic Analysis
Further breakdown of the European FaaS market
Further breakdown of the APAC FaaS market
Further breakdown of the MEA FaaS market
Further breakdown of the Latin American FaaS market
Company Information
Detailed analysis and profiling of additional market players
The Function as a Service (FaaS) market is expected to grow from USD 1.88 Billion in 2016 to USD 7.72 Billion by 2021, at a Compound Annual Growth Rate (CAGR) of 32.7% during the forecast period. The major drivers of this Function as a Service market include agility & scalability, maturity of hosted services, and shift from DevOps to serverless computing.
The report provides detailed insights into the Function as a Service market, which is segmented by user type, service type, application, deployment model, organization size, industry vertical, and region.
Among the user types, the developer-center FaaS segment is anticipated to hold the largest market share whereas operator-centric FaaS segment is anticipated to grow at the highest CAGR. FaaS provides the ability to easily deploy, manage, and run an application which is why this segment is growing rapidly.
The automation and integration service type is anticipated to hold the largest market share whereas the microservice monitoring and management service is anticipated to grow at the highest CAGR during the forecast period. Organizations continuously require these service types to help them in managing multiple platforms and optimizing the micro services which is expected to further drive the overall Function as a Service market.
Among the applications, the web and mobile applications is expected to hold the largest market share whereas the research and academic applications is expected to grow at the highest CAGR. FaaS is easier to deploy and is being used by various applications to optimize their performance further driving the growth of this Function as a Service market.
The public cloud deployment model is estimated to hold the largest market size in the Function as a Service market. However, the hybrid cloud deployment model is anticipated to grow at the highest CAGR. The main reason for high adoption of public cloud is its ease of access and faster deployment. Moreover, rising demand of scalability, reliability, and flexibility is anticipated to contribute to the overall growth of this segment.
The large enterprises segment is anticipated to hold the largest market share whereas the SMEs are moving towards the adoption of FaaS and growing rapidly at the highest CAGR during the forecast period. FaaS architecture is more economical and easier to scale further contributing to the adoption of these services among the SMEs.
The BFSI vertical is expected to hold the largest market and the consumer goods and retail vertical has the highest growing CAGR during the forecast period. The Function as a Service market caters to various industry verticals and these services help these industries in the reduction of Capital Expenditure (CAPEX) and Operational Expenditure (OPEX) furthering the growth of these services across the verticals.
North America is expected to have the largest market share in 2016, whereas the APAC region is expected to grow at the highest CAGR from 2016 to 2021 in the Function as a Service market. High penetration rate into various industry verticals, increasing demand for business flexibility and agility, and a large number of FaaS providers located in the U.S are some of the major driving factors contributing to the growth of this market. APAC is expected to be growing at a higher rate in the near future owing to large investments being made in the cloud service providers in this region to make better customer experiences and streamline the business operations.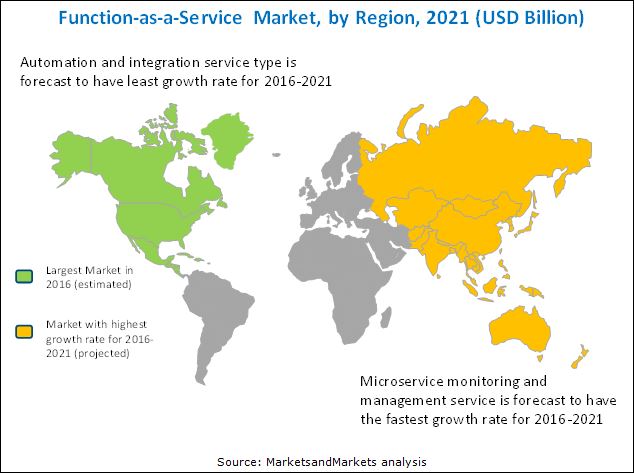 The need for easy deployment and management & availability of strong pre-existing cloud infrastructure are the driving factors in the market. However, issues with portability on various cloud environments are anticipated to hinder the growth of the market. The key vendors in the Function as a Service market are IBM (U.S.), Google Inc. (U.S.), Microsoft Corporation (U.S.), Amazon Web Services(U.S.), SAP SE (Germany), Dynatrace LLC (U.S.), Infosys Ltd. (India), Rogue Wave Software Inc. (U.S.), TIBCO Software Inc. (U.S.), and Fiorano Software and Affiliates (U.S.).. These players have adopted various strategies, such as new product developments, acquisitions, and partnerships, to serve the FaaS market. Continuous technology innovation is an area of focus for these players in order to maintain its competitive position in the market and promote customer satisfaction.
The growth of Function as a Service market is depending on the factors, such as easy to deploy, manage, and run, maturity of hosted services, and shift from DevOps to server less computing are expected to drive the market growth.
Benefits such as cost effectiveness, scalability, improved productivity and performance, faster time-to-market, better control of critical applications, and a decrease in business downtime and losses are contributing to the adoption of FaaS across multiple industries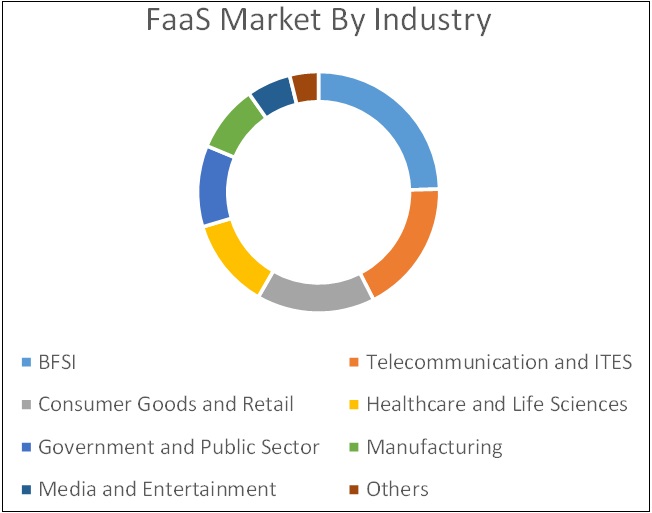 Banking, Financial Services, and Insurance
The BFSI segment collectively includes organizations that are into banking services such as core banking, corporate, retail, investment, private, and cards; financial services such as payment gateways, stock broking, and mutual funds; and insurance services covering both life and general insurance policies. The BFSI sector is constantly evolving and is characterized by intense competition, worldwide expansion, consolidation, varied regulatory norms, and constantly changing consumer demands. FaaS can support real-time applications and provide a scalable and secure platform for providing real-time information as required by the BFSI sector; hence, this sector offers substantial opportunities for the growth of the FaaS market. Financial institutions are increasingly using FaaS for automation of routing operations and facilitating cost reduction. Moreover, FaaS services can enable total view of customers and financial products and further drive customer retention and acquisition. FaaS services enable the efficient integration of multiple delivery channels for banks which has further helped drive growth of these services in the BFSI vertical.
Telecommunications and ITES
Growing number of users and increasing adoption of various technologies related to media and digital content are driving the demand for efficient and secure FaaS systems across this vertical. Moreover, IT and telecom companies face the challenge of evolving customer requirements. Moreover, the ever-changing needs arising out of change of plans, devices, and payment models make things more complicated for operators. This vertical is constantly facing the need of tailoring applications to deliver a hyper-personalized experience which has resulted in the requirement to learn about customer preferences in real time. FaaS services help in improving customer engagement and drive customer loyalty by offering personalized experience with reduced costs.
Consumer Goods and Retail
The consumer goods and retail sector is one of the fastest-growing industry verticals owing to rising consumer purchasing power. With the advent of online retailers, retailers are adopting more innovative technologies such as cloud computing, big data analytics, digital stores, and social networks. The vendors in a particular industry need a comprehensive cloud environment to offer their respective product and service portfolio to the customers. The consumer goods and retail industry is facing the challenge of managing instability and change in demand for various products due to high competition. FaaS helps in providing seamless integration of the multiple shopping channels and presenting a unique shopping experience to the connected consumer. To achieve agility, retailers evolve their IT systems towards a flexible, event-driven IT infrastructure that enables different applications to share and analyze information in real time to determine the next best interaction with their customers.
Healthcare and Life Sciences
The healthcare and life sciences sector is governed by the need for tools that are able to rapidly create and implement business process integrations and healthcare data transformations. The healthcare and life sciences facilities are complex organizations which consist of doctors, patients, staff, administrators, and public. They require efficient data management techniques for different activities such as patient management, hospital resources management, doctor-patient relationship management, medical supplies management, and maintaining data for patients' health records. The industry has shifted into a model that helps to collectively support and coordinate the workflows and medical information. Cloud helps the healthcare industry in storing large data, facilitates sharing of information among physicians & hospitals, and increases the data analysis & tracking features. This helps in the treatments, performance of physicians or students, costs, and studies. The healthcare and life sciences industry vertical is now focused on value creation rather than volume. Government and private healthcare organizations are facing pressure to improve their systems and enhance population health while reducing costs. Moreover, organizations may face the need to share healthcare data further contributing to the requirement for an efficient platform. FaaS service types enable organizations to integrate their systems with other healthcare networks to share information and work together in an orchestrated manner to accommodate growth and improve agility and further help healthcare providers in optimizing and increasing the effectiveness of their services delivered to customers.
Government and Public Sector
The government segment covers all the government organizations and agencies. This sector has to deal with various issues such as tax collection, public interest, safety, and education. As consumers experience enhanced customer service from private sector businesses, their expectations from the government agency or department that they have to deal with increases as well. There has been a surge in the government agencies moving to cloud so that they can securely deliver better services to citizens. The cloud facilitates these agencies to make fast and cost-effective capacity decisions, scaling up and down depending upon data traffic, seasonality, and business requisites. FaaS services enable government and public agencies to extend tailored services to handle mixed consumer demands. FaaS services are increasingly being used by government departments to provide government alerts, manage air services, manage accommodations at national parks, and many other such applications.
Manufacturing
Manufacturers are looking to integrate disparate locations, ensure data integration, enhance business process efficiency, and increase end-user workforce productivity. The main thrust of cloud computing is to provide reliability, scalability, and on-demand provisioning of resources. FaaS architecture enables enterprises to manage workloads and utilize the IT resources across all cloud deployment models. FaaS enables different types of CSBs, such as internal and external brokerage, to offer the best solutions.
Media and Entertainment
The media and entertainment industry is facing challenge to manage & support complex workflows and new data formats with uncertain revenue and monetization. In order to manage enormous volume of digital media and data generated across various applications, FaaS offers an attractive solution. It enables media and entertainment companies to manage their processes and workflows in an efficient, scalable, flexible, and reliable manner. The SMEs and large enterprises operating in this vertical are rapidly getting inclined towards deploying cloud-based services to store and manage their business-critical data. Entertainment companies are using FaaS service types to orchestrate their content storage, production, processing, and distribution. By using FaaS, media and entertainment companies are developing new and better ways to enhance their digital supply chain while reducing operating expenses. The constant pressure to decrease IT expenditure and invest resources in generating creative and high-quality content is driving media companies globally to adopt cloud solutions.
Others
Other industry verticals include transportation & logistics, energy & utilities, and travel & hospitality. Effective customer services and fast customer conversion is the key to better business for this sector. Transportation and distribution industry deals with massive technological developments and innovations. This sector faces a number of challenges such as industry-specific regulations, security mandates, shipping delays, product errors, design faults, and obsolete technology concerns. Cloud services provided by TSPs help in inventory tracking and logistics & communication management, which eventually help in providing better business and customer services. The media and entertainment industry delivers premium services to their customers and partners; hence, service providers have to manage their relationships with them. Travel and hospitality organizations are in need of powerful, flexible, and attainable solutions to gain business agility.
Key questions
Which are the substitute products and how big is the threat from them?
Which are the top use cases where FaaS can be implemented for revenue generation through new advancements such as artificial intelligence, IoT, and cloud computing?
What are the potential opportunities in the adjacent markets, such as containers and DevOpss?
What should be your go-to-market strategy to expand the reach into developing countries across APAC, MEA, and Latin America?
To speak to our analyst for a discussion on the above findings, click Speak to Analyst