[141 pages report] The glyphosate market is projected to grow at a CAGR of 6.32% from 2016 to 2022, to reach USD 9.91 billion by 2022.
The years considered for the study are as follows:
Base year – 2015
Estimated year – 2016
Projected year – 2022
Forecast period – 2016 to 2022
The objectives of the report are as follows:
To define, segment, and project the global market size of glyphosate on the basis of crop type, form, application, and region
To project the size of the market and its submarkets, in terms of value and volume, with respect to five regions, namely, North America, Europe, Asia Pacific, South America, and Rest of the World (RoW)
To provide detailed information regarding the crucial factors influencing the growth of the market (drivers, restraints, opportunities, and industry-specific challenges)
To analyze the opportunities in the market for stakeholders and provide a competitive landscape of market leaders
Analyzing the demand-side factors based on the impact of macro and microeconomic factors on the market and shifts in demand patterns across different subsegments and regions.
Research Methodology:
Major regions were identified, along with countries contributing the maximum share.
Secondary research was conducted to obtain the value of the global glyphosate market for regions such as North America, Europe, Asia Pacific, South America, and RoW.
Key players have been identified through secondary sources such as the Bloomberg Businessweek, Factiva and companies' annual reports while their market share in the respective regions has been determined through both, primary and secondary research. The research methodology includes the study of annual and financial reports of top market players as well as interviews with industry experts (such as CEOs, VPs, directors, and marketing executives) for key insights (both quantitative and qualitative) for the global glyphosate market.
To know about the assumptions considered for the study, download the pdf brochure
Key participants in the supply chain of the glyphosate market are the product manufacturers, end use industries, and raw material suppliers. The key players that are profiled in the report include Monsanto (U.S.), Syngenta AG (Switzerland), Bayer AG (Germany), E.I. Du Pont De Nemours & Company (U.S.), The Dow chemical company (U.S.), Nufarm limited (Australia), Nantong Jiangshan Agrochemical & Chemical, Inc. (China), Adama Agricultural Solutions Ltd (Israel), UPL Limited (India), and Zhejiang Xinan Chemical Industrial Group Co., Ltd (China).
Target Audience
Regulatory and research organizations
Raw material suppliers and distributors
Glyphosate traders, distributors, and dealers
Biotechnology-based organizations
Glyphosate manufacturers
Research and consulting firms
Manufacturers of chlorine, bromine, formic acid, and other feedstock chemicals
Get online access to the report on the World's First Market Intelligence Cloud

Easy to Download Historical Data & Forecast Numbers
Company Analysis Dashboard for high growth potential opportunities
Research Analyst Access for customization & queries
Competitor Analysis with Interactive dashboard
Latest News, Updates & Trend analysis

Request Sample

Click on image to enlarge

Scope of the Report
This research report categorizes the market based on crop type, form, application, and region.
On the basis of crop type, the market for glyphosate has been segmented into:
Genetically modified crops
Conventional crops
On the basis of form, the market for glyphosate has been segmented into:
On the basis of application, the market for glyphosate has been segmented into:
Agricultural
Grains & cereals
Oilseeds & pulses
Fruits & vegetables
Others includes sugarcane, plantation crops, and pastures
Non-agricultural
On the basis of region, the market for glyphosate has been segmented into:
North America
Europe
Asia Pacific
South America
RoW (Africa and the Middle East)
Available Customizations
With the given market data, MarketsandMarkets offers customizations according to the company's specific needs.
The following customization options are available for the report:
Product Analysis
Product matrix, which gives a detailed comparison of the product portfolio of each company
Application Analysis
Further breakdown of non-agricultural applications into lawn & garden, turf & ornamental grass, and aquatic application
Regional Analysis
Further breakdown of the Rest of Europe market into Russia and Italy
Further breakdown of the Rest of Asia Pacific market into Australia, New Zealand, and Vietnam
Further breakdown of the RoW market into Paraguay, Uruguay, Chile, and Cuba
Company Information
Detailed analysis and profiling of additional market players (up to five)
Rapid commercialization of genetically engineered crops to increase the demand for glyphosate
Glyphosate is a broad spectrum systemic organophosphorus herbicide which is widely used for killing weeds and grasses. It is the most widely used non-selective herbicide which can be used for pre- and post-harvest weed control. The demand for glyphosate largely depends upon the production of genetically modified crops across countries, as these crops are glyphosate-resistant.
The global glyphosate market is projected to reach USD 9.91 billion by 2022, at a CAGR of 6.32% from 2016 to 2022. The key drivers for the market's growth are the commercialization of GE-HT (Genetically Engineered Herbicide-Tolerant) crops and increasing agricultural and non-agricultural applications of glyphosate.
Ban on the production of genetically modified crops in some regions acts as the major restraints for the market.
There are various controversies related to the use of genetically engineered crops, as the DNA of the crops is altered artificially. As stated by Dr. Mae-Wan Ho on Disabled-World.Com, "Genetic modification is inherently dangerous, because it greatly expands the scope for horizontal gene transfer and recombination, precisely the processes that create new viruses and bacteria that cause disease epidemics, and trigger cancer in cells." These unsettled arguments can obstruct the production of GE-HT crops.
As the cultivation of GM crops is restricted by various countries, especially in Europe, this will have a direct effect on the use of glyphosate as a herbicide in this region as conventional crops may get affected by glyphosate, and any trace of glyphosate in food is not tolerated. The EFSA (European Food Safety Authority) has declared glyphosate unsafe to use, IARC (International Agency for Research on Cancer) has declared glyphosate "a probable human carcinogenic" by collecting data through its independent research.
The repetitive use of glyphosate on weeds results in a resisting mechanism toward glyphosate. There are currently 24 known weed species that are glyphosate-resistant; these include Palmer amaranth, Conyza bonariensis, Conyza Canadensis, Ryegrass, and Johnson grass.
To fight weed resistance and increase the effectiveness of glyphosate, high investments in research and innovation are required, which leads to an increase in the product's cost. Active ingredients offering similar functionalities are facing competition due to cost efficiency and technological advancements. This emergence of glyphosate-resistant weeds has created a major challenge in glyphosate market.
Market Dynamics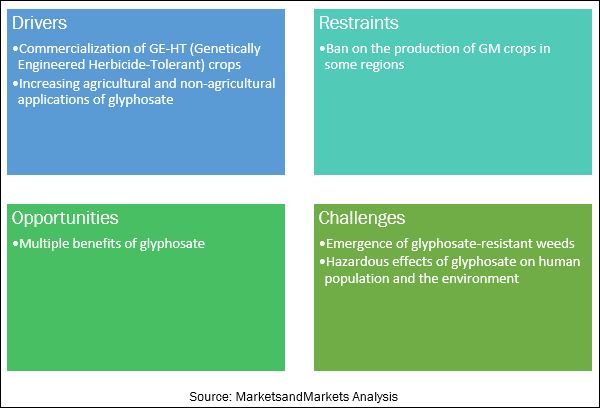 Leading glyphosate manufacturers are developing innovative solutions for existing and new applications to drive the industry forward
Agriculture: Growing demand for efficient herbicides
Glyphosate is a post emergence, non-selective herbicide which kills and controls a variety of species of weeds and pests. Genetically engineered herbicide-tolerant crops now account for about 56% of global glyphosate use. One of the major reasons behind the rise in the usage of glyphosate includes steady expansion in the number of crops registered for use on glyphosate product labels.
The agricultural use of glyphosate is further classified into the following crops:
Grains & cereals:
Glyphosate has been used as an herbicide on grains and cereal crops such as wheat, rice, corn, barley, sorghum, oats, rye, triticale, buckwheat, fonio, quinoa, and other millets. Glyphosate can be used as a pre-harvest herbicide.
Oilseeds & pulses:
Across the world, farmers are using glyphosate as an herbicide on glyphosate-resistant (GR) crops, especially for soybeans.
The demand for soybeans has also been increasing as it is a rich source of protein to vegetarians. As the production of soybean increases, herbicide consumption is projected to increase. In recent years, rapid adoption of transgenic varieties, such as Roundup Ready or LibertyLink, has allowed for additional herbicide options for weed control in soybean. This is paving the way for increased herbicide consumption.
Fruits & vegetables:
Fruit production has been increasing continuously in recent years due to their growing demand. At the same time, the relevance of fruit-producing regions has changed in the Asia Pacific region with a diverse supply of fruits coming from this region.
The fruits & vegetables production system is getting more intense, with increased pressure on yield. Glyphosate usage is hence soaring in this segment. Also, the market for fruits & vegetables in the Asia Pacific region is projected to grow at the highest CAGR of 6.79% during the forecast period. The growing usage of glyphosate for deciduous fruits in Asia is projected to fuel its demand.
Glyphosate market, By Application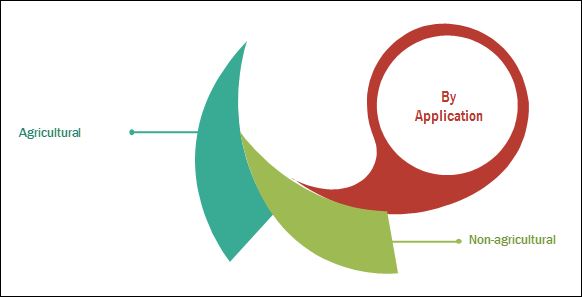 Non-agricultural: Aquatic weeds can be controlled using glyphosate
Non-agricultural applications of glyphosate include lawns & gardens, stadiums, railway tracks, and turfs & ornamentals. In the US, in 2007, glyphosate was the second-most widely used herbicide in the home & garden sector.
Glyphosate is used to control weeds, along roadsides, highways, railroads, forests, aqua systems, gardens, and lawns. For instance, coniferous forest management in Canada has extensively used herbicides, including glyphosate, for unwanted foliar and vegetative control. The agro-forestry and lumbering industries also use glyphosate. Aquatic weeds are also controlled using herbicides.
Key Questions
The demand for glyphosate has been witnessing a steady growth; how are new technologies such as adjuvants that are coming in the market enhancing the effectiveness of glyphosate?
What will be the prominent revenue-generating pockets for the market in the next five years?
Most of the suppliers have opted mergers and acquisitions as the key strategies which could be observed from the recent developments. Where would it take the industry on a mid to long term basis?
As the weed resistance increasing towards glyphosate, can there be any innovation to improve its efficacy?
The glyphosate market is projected to grow at a CAGR of 6.32% from 2016 to 2022, to reach a projected value of USD 9.91 Billion by 2022. The market has become more diversified in recent years. Glyphosate, being a non-selective herbicide, is used for various varieties of weeds. Factors such as rapidly growing industrialization and urbanization, globally, has led to a decline in the total land available for cultivation and has increased the pressure on farmers to increase the yield of crops in the land available. This fueled the market growth of the glyphosate.
On the basis of crop type, the market was led by the genetically modified crops segment, followed by the conventional crops segment, in 2015. The GM crops segment leads the market owing to increasing production of genetically engineered crops such as soybean, cotton, and corn. Asian countries are expected to become major regional markets owing to changing farming practices, which are expected to contribute to the growth of the global market in the near future.
The global market, on the basis of form, is segmented into dry and liquid. The liquid from segment accounted for the largest market share in 2015. It offers cost efficiency, longer shelf life, and easy foliar application to the end users.
The glyphosate market, on the basis of application, is segmented into agricultural and r non-agricultural applications. The grains & cereals subsegment accounted for the largest market share in 2015, in agricultural application. The production of transgenic, glyphosate-tolerant crops, such as roundup ready crops, has led to the increased consumption of glyphosate. The glyphosate products offered controls grass growth and act as broadleaf weeds killer in glyphosate tolerant corn, soybeans, cotton, alfalfa, canola, and sugar beets, plus reduced tillage and fallow systems. Non-agricultural applications of glyphosate include lawns & gardens, stadiums, railway tracks, and turfs & ornamentals.
South America accounted for the largest market share for glyphosate market in 2015, owing to the increase in demand for glyphosate in countries such as Brazil and Argentina. However, Asia Pacific is projected to be the fastest-growing market during the forecast period, due to the high adoption of the upgraded crop protection technologies. Due to awareness related to the efficient use of glyphosate, Indian farmers are also adopting glyphosate as a crop protection tool.
The major restraining factor for the market is ban on the production of GM crops in some countries in Europe. Restriction on GM crops by various countries will have a direct effect on the use of glyphosate. Another challenge faced by glyphosate industry is the emergence of the glyphosate resistant weeds such as Palmer amaranth and Conyza bonariensis. Monsanto (U.S.), one of the prominent players in the market, focuses on developing new modified glyphosate products and technologies, in order to prevent growth of glyphosate resistant weeds and cater to the large customer base. Its core competencies are diverse product portfolios that include Roundup Ready PLUS and Roundup Custom (spray). Syngenta Ag is also one of the major players that offers various systemic herbicide products for weed control. In June 2016, Monsanto, Sumitomo Chemical (Japan), and Valent USA (U.S.) entered into a collaboration for providing crop protection solutions. In terms of new product development strategy, Monsanto has developed herbicide tolerance cotton product Bollgard II XtendFlex. It ultimately increases the yield for cotton growers. This product is pending for regulatory approval.
To speak to our analyst for a discussion on the above findings, click Speak to Analyst