Updated as on date -
[120 Pages Report] The intelligent pigging market size was valued at USD 544.7 Million in 2017 and is expected to reach USD 717.9 Million by 2023, at a CAGR of 4.69% during the forecast period.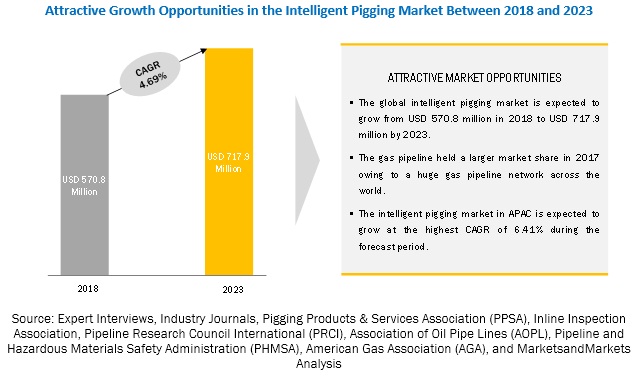 By technology, Intelligent Pigging Market to hold the largest market share during the forecast period
MFL technology is likely to continue to hold the largest share of the intelligent pigging market in the next few years. The magnetic flux leakage (MFL)-based intelligent pigging is used to inspect and measure the metal loss in terms of corrosion or gouges. MFL technology is more preferred technology as MFL pigs can be run in both liquid and gas pipelines, and it does not require any liquid couplant, unlike ultrasonic technology-based intelligent pigs. The MFL technology-based intelligent pigs can measure metal loss or corrosion even for thin-walled pipelines, whereas ultrasonic technology-based intelligent pigs fail to achieve accurate measurements for thin-walled pipelines.
By pipeline type, gas pipelines expected to command the Intelligent Pigging Market during the forecast period
Huge shale gas development across North America and offshore deep-water exploration and production activities were the hallmarks of the oil & gas industry in the past few decades owing to technological advancements. This leads to the development of a huge network of pipelines to transport, gather, and distribute petroleum products. Moreover, the distribution of gas as an energy source for both industrial and domestic purposes further increases the length of the pipelines globally.
The intelligent pigging market for gas pipelines is expected to grow at a higher CAGR owing to the development of pipeline infrastructure in China, India, Africa, and Europe. According to the data released by Global Gas Flaring Reduction Partnership (GGFR)), a World Bank-led organization comprising oil companies, governments, and international institutions working to reduce gas flaring, the global gas flaring in 2016 was 149.4 bcm, an increase of 2% from the previous year. The initiative in gas flaring reduction, especially in Africa, would lead to the increasing deployment of new gas pipelines, which, in turn, offers opportunities to intelligent pigging companies.
By application, metal loss/corrosion detection application to lead the Intelligent Pigging Market during the forecast period
Metal loss anomalies are defined by an area of pipe wall with a quantifiable decrease in its thickness. Corrosion can be caused by the chemical reaction due to the content or material that is being carried through the pipeline, and environmental factors are also responsible for corrosion. Huge failures and industrial disasters are the consequences of corrosion failures due to which timely inspection of pipelines for corrosion detection has become a more common practice. Thus, the increased risk of damage due to corrosion and metal loss results in higher demand for intelligent pigging for the said application; therefore, the metal loss/corrosion detection application is expected to continue to hold the largest market share in the coming years.
By geography, APAC to witness highest CAGR in the Intelligent Pigging Market during the forecast period
North America to hold the largest share of the intelligent pigging market owing to the presence of the world's largest pipeline infrastructure in the US in 2018. The North American intelligent pigging market is driven by stringent regulations pertaining to the operations and integrity of pipelines.
Europe is another important intelligent pigging market and a gas-driven economy. In 2010, the European Union (EU) was able to meet 35.3% requirement of its total gas consumption from the local gas production. It has declined to 27.6% in 2016. Therefore, the EU will have to construct new pipelines to sustain its energy demand as pipelines are the more economical mode of transporting liquids and petroleum products than other alternative options such as LNG. As a result, Germany and Russia have united to build a natural gas pipeline known as Nord Stream 2, which is expected to double the existing gas supply from Russia to Germany. However, a 1,200 kilometer-long-pipeline project is a debatable issue among many stakeholders.
At the end of 2015, the total length of crude, refined oil, and natural gas pipelines in China was 112,000 km. By 2020, the total length of the natural gas pipeline network in the country is expected to reach 169,000 km and to 240,000 km by 2025.
Even India has planned to lay many intercity gas pipelines for seamless supply of fuel at a cheaper rate, which would result in building new pipelines and improve pipeline infrastructure, thereby propelling the growth of the intelligent pigging market in APAC.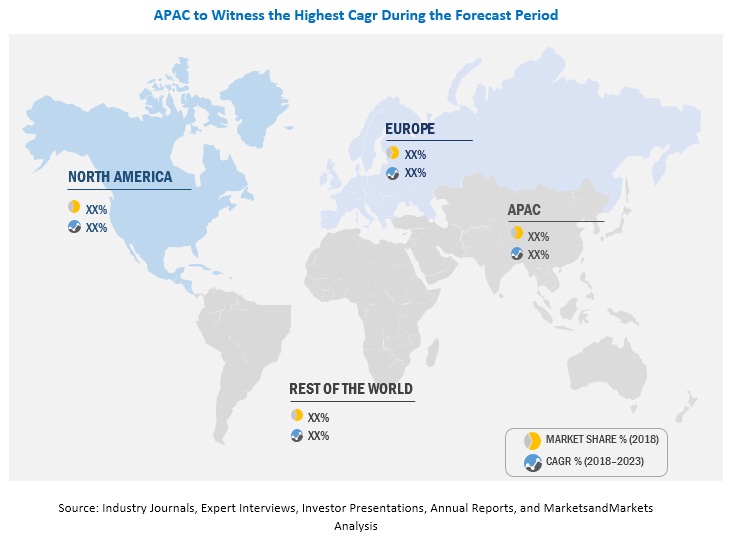 Market Dynamics
Driver: Increased government mandates and regulations for pipeline inspections
Pipeline inspection is a crucial process in asset integrity management. Pipeline operators need to check the signs of metal loss, internal and external corrosion, and other irregularities to ensure safety and mitigate risks effectively. Immense safety measures are required to carry or transmit large volumes of flammable or explosive materials, such as natural gas or oil, through pipelines as even a small leak in these pipelines may result in serious consequences. Inline inspection of gas or liquid pipelines can be done with the help of intelligent pigging. It helps to determine anomalies and target areas that are required to undergo further examination, repair, or replacement. Hence, governments worldwide have made the inline inspection of pipelines mandatory. They are also insisting on conducting scheduled maintenance and inspection activities to ensure the long-term and safe operation of the pipeline, which is one of the key factors driving the market growth.
The federal program of the US for pipeline safety is primarily conducted by the Pipeline and Hazardous Materials Safety Administration (PHMSA) agency of the United States Department of Transportation, which monitors inspection and enforcement activities. The agency is established to protect people and the environment by advancing the safe transportation of energy and other essential hazardous materials used in our daily lives. PHMSA has made it mandatory to deploy leak detection systems, inspect the construction of new pipelines, investigate pipeline failures, and inspect pipeline facilities for compliance with the operation, maintenance, integrity, and emergency response safety regulations. PHMSA also insists on inspections of pipelines in areas affected by extreme weather and natural disasters.
Restraint: Unpiggable pipelines render intelligent pigging cumbersome
Pigging is the most preferred method for inline inspection and cleaning of the pipeline. However, pigging does not ensure the total elimination of the risks associated with the pipeline transmission. Although most pigging operations are carried out smoothly, it is a process with high risk; if a pig is stalled or stuck in the pipeline, due to debris or wax, it blocks or jams the pipeline, which may have considerable operational, safety, environmental, and commercial consequences.
Pipelines that cannot be inspected using intelligent pigs are known as unpiggable. These pipelines are those that have acute bends, many "T" and "Y" junctions, and variable diameters that make pigging infeasible. It has been observed that the use of orifice plates and pipe joints changes the diameter of the pipe, making pigging impractical. A stuck pig in an unpiggable pipeline can result in high losses for the operator as it causes halting of the operation inside the pipeline.
Opportunity: Significant use of small-diameter intelligent pigs
Generally, pigs are used for cleaning and pipeline maintenance services. Intelligent pigs are used in the inline pipeline inspection technique. Earlier, the cross-sectional area of pigs was quite large in size, and their use was limited to pipelines having a large diameter. Nowadays, pipelines having a smaller diameter and cross-sectional area are commonly used, and the inspection of such pipelines is crucial. Companies are coming up with multi-diameter intelligent pigs for variable cross-sectional pipes and also with smaller cross-sectional intelligent pigs. The inspection of pipelines with smaller diameter pigs is expected to be the rising trend. As in-line inspection, especially for the metal loss detection application, has become a universally accepted and important part of pipeline integrity, the demand for smaller diameter intelligent pigs for more difficult applications is likely to increase.
Challenge: More time consumption in data analysis than that in data acquisition
Intelligent pigs are deployed in pipelines to inspect its inline integrity by collecting the data through ultrasonic technology, magnetic flux leakage method, or by caliper pigs. Intelligent pigs have sensors that sense anomalies such as corrosion, leak, and metal loss and has data acquisition system on board; hence, data can be collected instantly and does not require much efforts, but the analysis of data after miles of inspection of pipelines is a cumbersome job. The inspection can be done for a few miles in a few days, but it may take more than 90 days to analyze this data in detail. Meanwhile, if any anomaly appears inside the pipeline, it is left unnoticed, and another inspection cycle may start quite later. Some companies have made software modules that reduce the time to analyze large volumes of collected data. However, intelligent pigging market players still find data analysis tasks more time-consuming than that of data acquisition.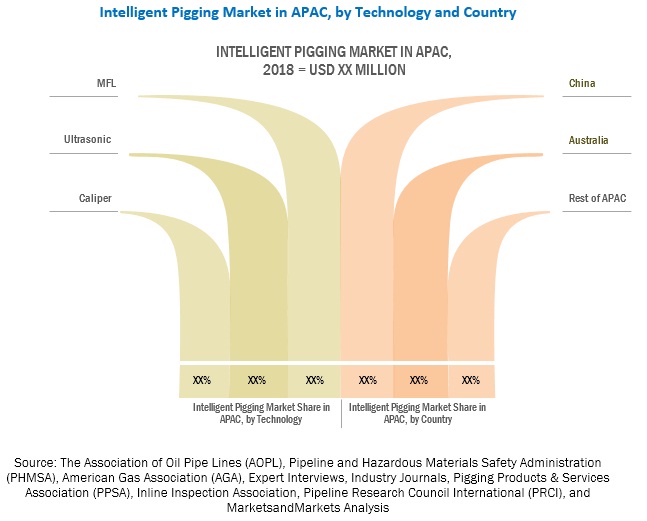 Get online access to the report on the World's First Market Intelligence Cloud

Easy to Download Historical Data & Forecast Numbers
Company Analysis Dashboard for high growth potential opportunities
Research Analyst Access for customization & queries
Competitor Analysis with Interactive dashboard
Latest News, Updates & Trend analysis

Request Sample

Click on image to enlarge

Scope of the Report
Report Metric

Details

Market size available for years

2015–2023

Base year considered

2017

Forecast period

2018–2023

Forecast units

Million (USD)

Segments covered

Industry, Sensing Parameter, Device, Type, and Region

Geographies covered

North America, Europe, APAC, RoW (South America, Middle East, and Africa)

Companies covered

T.D. Williamson (TDW) (US), Baker Hughes (US), ROSEN Group (Germany), NDT Global (Ireland), Enduro Pipeline Services (US), Intertek (UK), Applus (Spain), LIN SCAN (UAE), Dacon Inspection Services (Thailand), Onstream Pipeline Inspection (Canada)
This research report categorizes the intelligent pigging market on the basis of technology, application, pipeline type, and geography.
Intelligent Pigging Market, by Technology:
Magnetic Flux Leakage
Ultrasonic
Caliper
Intelligent Pigging Market, by Application:
Metal Loss/Corrosion Detection
Geometry Measurement & Bend Detection
Crack & Leak Detection
Intelligent Pigging Market, by Pipeline Type:
Intelligent Pigging Market, by Region:
North America
Europe
Asia Pacific (APAC)
Rest of the World (RoW)
Key Market Players:
T.D. Williamson (TDW) (US), Baker Hughes (US), ROSEN Group (Germany), NDT Global (Ireland), Enduro Pipeline Services (US), Intertek (UK), Applus (Spain), LIN SCAN (UAE), Dacon Inspection Services (Thailand), Onstream Pipeline Inspection (Canada)
T.D. Williamson has a huge experience in all aspects of pipeline management and inspected 800,000 KM pipeline so far. The company is into the pipeline equipment business and providing offshore and onshore services for a long time and offers both conventional and automated pigging solutions. The company also delivers customized solutions according to the operator's need in the automated pigging market. The company also offers pig tracking systems and transmitters, pig washer equipment, and pipeline consulting services. Worldwide presence and extensive product portfolio of the company give TDW a competitive edge over other players in the automated pigging market. Considering the company's expertise and financial strength, TWD is expected to stay ahead of the curve. For instance, expert engineers at TWD can not only provide guidance and recommendation on the best suitable pigging solution to operators but also analyze and interpret post-inspection data of pipelines using the latest technologies, such as AI and high-performance computing, which help them to offer results way earlier than the conventional methods.
Key Questions Answered
Where will all these developments take the industry in the long term?
What are the upcoming trends for the Intelligent Pigging market?
Which segment provides the most opportunity for growth?
Who are the leading vendors operating in this market?
What are the opportunities for new market entrants?
To speak to our analyst for a discussion on the above findings, click Speak to Analyst