[97 Pages Report] Ionic Liquids Market size is estimated to reach USD 39.6 Million by 2021 at a CAGR of 9.2% between 2016 and 2021. The report segments the market based on application (solvents & catalysts, process & operating fluids, plastics, batteries & electrochemistry, and bio-refineries), and region (Asia-Pacific, North America, Europe, and RoW). The base year considered for the study is 2015, while the forecast period is between 2016 and 2021.
Top-down and bottom-up approaches have been used to estimate and validate the size of the global market and estimate the sizes of various other dependent submarkets in the overall ionic liquids market. The research study involved extensive use of secondary sources, directories, and databases such as Hoovers, Bloomberg, Chemical Weekly, Factiva, and other government and private websites to identify and collect information useful for the technical, market-oriented, and commercial study of the global ionic liquids market.
To know about the assumptions considered for the study, download the pdf brochure
The value chain of ionic liquids ranges from sourcing of precursors (cations and anions) to delivery for end-use applications such as solvents & catalysts, process & operating fluids, plastics, electrochemistry & batteries, and bio-refineries. The ionic liquids industry is dominated by a few established players. Most of the key suppliers market their products mostly through local and regional distribution channels. Production units in North America and Europe supply ionic liquids globally. Various research institutions are focusing on the development of ionic liquids and their commercialization.
BASF SE (Germany), Evonik Industries AG (Germany), Merck KGaA (Germany), Ionic Liquids Technologies (IoLiTec) GmbH (Germany), The Chemours Company (U.S.), Proionic (Austria), Solvionic SA (France), CoorsTek Specialty Chemicals (U.S.), Jinkai Chemical Co., Ltd. (China), Reinste Nanoventure (India), Tatva Chintan Pharma Chem Pvt. Ltd. (India), and Strem Chemicals Inc. (U.S.) are the key manufacturers and suppliers of ionic liquids.
Ionic liquids are mostly used for laboratory/research applications, with a few companies commercially using them.
Key Target Audience:
Ionic liquid manufacturers
Technology providers
Manufacturers in end-use applications such as solvents & catalysts, process & operating fluids, plastics, batteries & electrochemistry, and bio-refineries
Industry and government associations
Get online access to the report on the World's First Market Intelligence Cloud
Easy to Download Historical Data & Forecast Numbers
Company Analysis Dashboard for high growth potential opportunities
Research Analyst Access for customization & queries
Competitor Analysis with Interactive dashboard
Latest News, Updates & Trend analysis
Request Sample
Click on image to enlarge
Scope of the Report
:
This research report categorizes the global ionic liquids market based on application and region.
On the basis of Application:
Solvents & catalysts
Process & operating fluids
Plastics
Batteries & electrochemistry
Bio-refineries
On the basis of Region:
North America
Europe

Germany
U.K.
Belgium
Rest of Europe

Asia-Pacific

China
India
Japan
Malaysia
Rest of Asia-Pacific

RoW

South America
Middle East & Africa
The market size of ionic liquids is estimated to reach USD 39.6 Million by 2021, registering a CAGR of 9.2% between 2016 and 2021. The market is driven by rising demand for ionic liquids owing to their unique properties along with development and commercialization of ionic liquid applications. The ionic liquids find potential applications in solvents & catalysts, process & operating fluids, plastics, batteries & electrochemistry, and bio-refineries.
The use of ionic liquids in pharmaceuticals as liquid API and in the cosmetic industry are some of the applications, which are in research stage and can be a potential driver for the ionic liquids market in the near future. In 2015, the solvents & catalysts application of ionic liquids accounted for the largest market share, in terms of value, followed by electrochemistry & batteries and bio-refineries. One of the potential applications of these liquids is in the pre-processing of feedstock for bio-refineries. The ability to dissolve cellulose is a major driver of ionic liquids in the bio-refineries application.
In the solvents & catalysts application segment, ionic liquids are widely used as solvents and solvents & catalysts. The use of these liquids improves productivity and yields of a chemical reaction. The ability of these liquids to act both as solvents and catalysts increases their use in a number of industrial reactions. These liquids have low vapor pressures, volatility, and VOC content. With the restrictions laid on the use of VOCs by REACH and EPA, the replacement of solvents by these liquids is expected to drive the market. North America accounted for the second-largest market share of ionic liquids in 2015.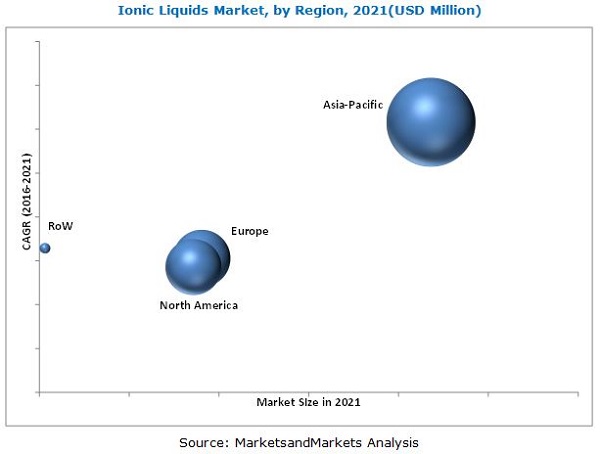 Asia-Pacific is the largest market for ionic liquids. China is the largest and fastest-growing market for ionic liquids. India, China, Japan, and Malaysia are important markets in Asia-Pacific; these countries have been adopting new processes using ionic liquids. Companies have been developing novel ionic liquids according to their application needs. China Ionic Liquids Laboratories and Petronas Ionic Liquids Centre are some of the institutes conducting research on ionic liquid applications. Asia-Pacific is also one of the major chemicals manufacturing regions. It has a large number of refineries, which provide a major potential for use of ionic liquids, as these liquids can be used both as a solvent and a catalyst in various industrial applications.
The factor restraining the growth of the ionic liquids market is its price. As these liquids are manufactured in a small scale, once the demand grows owing to commercialization of applications, the prices are expected to decrease making their use in various processes economic and feasible.
BASF is the largest player in the ionic liquids market. The company's diversification and R&D activities made it the first one to commercially use ionic liquids in its patented technology BASIL (bi-phasic acid scavenging using ionic liquids). The company is constantly developing new ionic liquids for different applications, and it markets its products through Sigma Aldrich.
To speak to our analyst for a discussion on the above findings, click Speak to Analyst