[179 Pages Report] The global refinery catalysts market size is expected to grow from USD 4.0 billion in 2020 and USD 4.7 billion by 2025, at a CAGR of 2.9% during the forecast period. The growth of this market can be attributed to the rising demand for petroleum derivatives. Also, demand for fuel with a high octane number is also anticipated to drive the growth of the refinery catalysts market.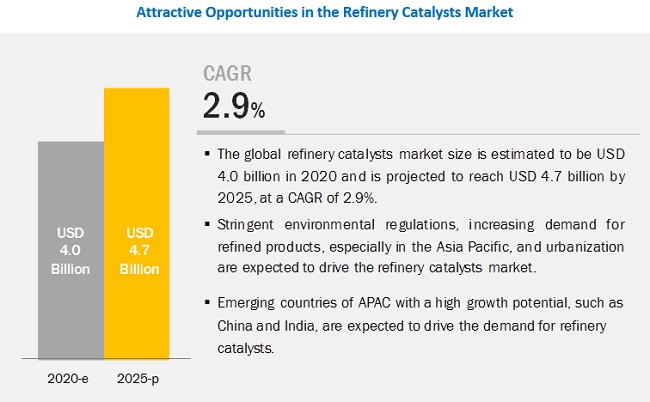 Hydrocracking catalysts to register the fastest growth during the forecast period.
The objective of hydrocracking catalysts is to convert heavy oil feedstock into high quality, lighter fuel products such as naphtha, gasoline, jet fuel or kerosene, and diesel, and hydrowax, which can be used as a petrochemical plant lube basestock or feedstock. Rising demand for petroleum derivatives and stringent regulations focusing on the use of ultra-low sulfur diesel (ULSD) are expected to drive the market for hydrocracking catalysts.
The growing number of Stringent regulations for vehicle emissions across the world is driving the overall refinery catalysts market.
Emissions that are released into the environment from automobiles and industrial processing units have been harming the environment significantly. According to the US Environmental Protection Agency (EPA), a typical vehicle emits about 4.6 metric tons of CO2 per year. The average gasoline vehicle on the road today has a fuel economy of about 22 miles per gallon and drives around 11,500 miles per year. Every gallon of gasoline burned creates about 8.9 kg of CO2. This led to the introduction of new environmental regulations to reduce air pollution by decreasing the sulfur content in gas and ultra-low sulfur content in diesel (ULSD). These regulations have necessitated the process of petroleum treatment, which is dependent on refinery catalysts.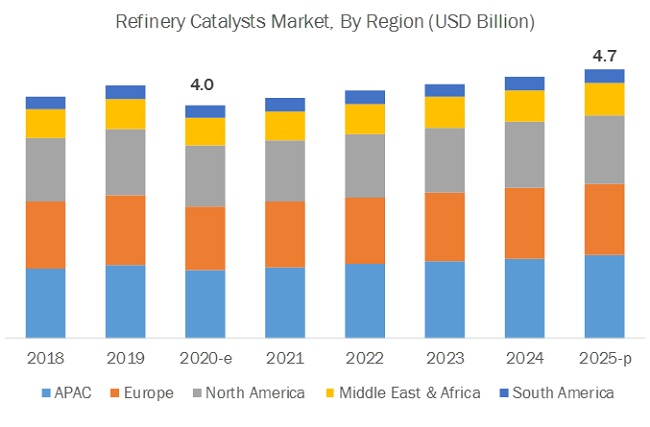 APAC is expected to account for the fastest-growing market during the forecast period.
Based on region, the refinery catalysts market has been segmented into APAC, Europe, North America, South America, and Middle East & Africa. APAC is the fastest-growing refinery catalysts market owing to increasing population, growing industrialization, strict government norms, and environmental regulations are the key factors attributed to the overall growth of the market in the region. The increasing developments in capacities of oil production in oil refineries of emerging countries of the region are providing substantial growth opportunities for the refinery catalysts market. These factors are expected to lead to increasing demand for refinery catalysts in the region during the forecast period.
Key Market Players
The refinery catalysts market comprises major players such Albemarle Corporation (US), W R Grace (US), BASF (Germany), Haldor Topsoe (Denmark), Honeywell UOP (US), Clariant (Switzerland), Axens (France), Johnson Matthey (UK), China Petroleum and Chemical Corporation (Sinopec) (China), and Shell Catalyst & Technologies (Netherlands), Arkema (France), Anten Chemicals (China), Chempack (China), Dorf-Ketal Chemicals Pvt. Ltd. (India), Exxon Mobil Corporation (US), Gazprom (Russia), JGC Catalyst and Chemicals (Japan),KNT Group (Russia), Kuwait Catalyst (Kuwait), N.E.Chemcat (Japan), Porocel (US), Qingdao Huicheng Environmental Technology (China), Taiyo Koko Co. Ltd. (Japan), Unicat Catalyst Technologies (US), and Yueyang Sciensun Chemicals (China). Albemarle Corporation is among the leading refinery catalysts manufacturers globally. The company is one of the three largest refinery catalysts producers. New product launch, and joint venture were the key strategies adopted by the company to penetrate the global refinery catalysts market.
Scope of the Report:
Report Metric

Details

Years Considered for the study

2018-2025

Base year

2019

Forecast period

2020-2025

Units considered

Volume (Kiloton)
Value (USD Billion, and Million)

Segments

Type, Ingredient, and Region

Regions

North America, APAC, Europe, South America, and Middle East & Africa

Companies

Albemarle Corporation (US), W R Grace (US), BASF (Germany), Haldor Topsoe (Denmark), Honeywell UOP (US), and others
Total 25 major players covered
This research report categorizes the refinery catalysts market based on type, ingredient, and region.
Based on type
FCC Catalysts
Hydrotreating Catalysts
Hydrocracking Catalysts
Catalytic Reforming Catalysts
Based on ingredient
Zeolites
Metals
Chemical Compounds
Based on the region
APAC
Europe
North America
South America
Middle East & Africa
Recent Developments
In 2020, BASF developed a new FCC catalysts, named Fortune, for gasoil feedstock. The product is based on BASF's Multiple Framework Topology (MFT) technology to deliver superior butylene over propylene selectivity while maintaining catalyst activity.
In 2019,Sinopec completed central unit of the AL-Zout refinery project in Kuwait. The refinery is expected to produce 3,150 tons of oil annually, thereby increasing the demand for the company's refinery catalyst.
In 2019, Honeywell UOP formed a joint venture with Kuwait Integrated Petroleum Industries Company (KIPIC; Kuwait) to supply refinery catalysts for refining and petrochemicals sections in its Al-Zour refinery. This joint venture will help in increasing the plant's output capacity of fuels and petrochemicals.
Key questions addressed by the report
What are the upcoming hot bets for the refinery catalysts market?
How are the market dynamics changing for different types of refinery catalysts?
How are the market dynamics changing for different ingredients of refinery catalysts?
Who are the major manufacturers of refinery catalysts?
How are the market dynamics changing for different regions of refinery catalysts?
To speak to our analyst for a discussion on the above findings, click Speak to Analyst