[92 Pages Report] The oncology nutrition market was valued at USD 1.34 Billion in 2017 and is expected to reach USD 2.21 Billion by 2023, at a CAGR of 8.7% during the forecast period. Factors such as the development of elemental formulas and product innovation in terms of non-GMO-based formulas present significant opportunities for the growth of oncology-based nutrition formulas.
Years considered for this report
2017 – Base Year
2018–2023 – Forecast Period
Objectives of the Study
To define, describe, segment, and forecast the oncology nutrition market for different types of cancer
To provide detailed information regarding the major factors influencing the growth of the market (drivers, restraints, and industry-specific opportunities)
To forecast the size of the oncology nutrition market, in four main regions —North America (along with countries), Europe (along with countries), Asia Pacific, and the Rest of the World
To identify and profile key players in the global oncology nutrition market and comprehensively analyze their core competencies and market shares
To track and analyze competitive developments such as mergers and acquisitions; new product launches; expansions; collaborations and agreements; and R&D activities of the leading players in the global oncology nutrition market
Research Methodology
This study estimates the market size for 2018 and projects its demand till 2023. Top-down and bottom-up approaches were used to validate the size of this market and estimate the size of other dependent submarkets. Various secondary sources such as directories, industry journals, databases (such as D&B Hoovers, Bloomberg Business, and Factiva), and annual reports of companies have been used to identify and collect information useful for the study of the oncology nutrition market. Primary sources such as experts from both supply and demand sides have been interviewed to obtain and validate information as well as to assess dynamics of this market. The breakdown of profiles of primaries is shown in the figure below: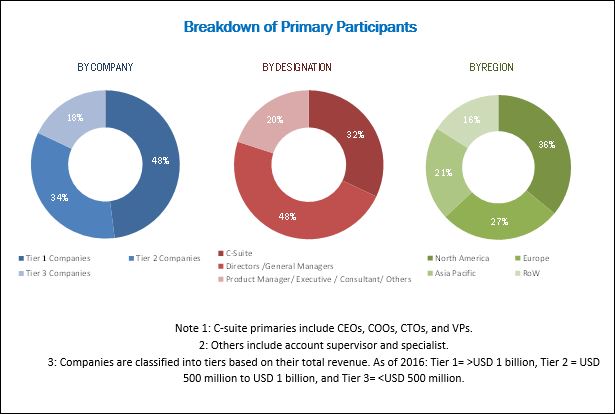 To know about the assumptions considered for the study, download the pdf brochure
The major players in the oncology nutrition market are Abbott Laboratories (US), Nestle S.A. (Switzerland), Danone (France), Fresenius Kabi AG (Germany), and B.Braun Melsungen AG (Germany). The other players in this market include Mead Johnson Nutrition Company (US), Hormel Foods (US), Meiji Holdings (Japan), Victus (US), and Global Health Products (US).
Target Audience:
Manufacturers and vendors of enteral feeding formulas
Research associations related to enteral nutrition and oncology
Hospitals, nursing homes, and LTC facilities
Various research and consulting firms
Distributors of enteral feeding formulas
Healthcare institutions
Research institutes
Venture capitalists and investors
"The study answers several questions for stakeholders, primarily which market segments to focus in the next five years for prioritizing efforts & investments and competitive landscape of the market."
Get online access to the report on the World's First Market Intelligence Cloud
Easy to Download Historical Data & Forecast Numbers
Company Analysis Dashboard for high growth potential opportunities
Research Analyst Access for customization & queries
Competitor Analysis with Interactive dashboard
Latest News, Updates & Trend analysis
Request Sample
Click on image to enlarge
Scope of the Report
:
The research report categorizes the oncology nutrition market into the following segments:
Global Oncology Nutrition Market, by Cancer Type
Head and Neck Cancers
Stomach and Gastrointestinal Cancers
Liver Cancer
Pancreatic Cancer
Esophageal Cancer
Lung Cancer
Breast Cancer
Blood Cancer
Other Cancers
Global Oncology Nutrition Market, by Geography
North America
Europe

Germany
France
UK
Italy
Spain
Rest of Europe (RoE)

Asia Pacific
Rest of the World (RoW)
Available Customizations
With the given market data, MarketsandMarkets offers customizations as per the company's specific needs. The following customization options are available for the report:
Geographic Analysis

Further breakdown of the Asia Pacific oncology nutrition market into Japan, China, India, and Rest of Asia Pacific
Further breakdown of the Rest of the World oncology nutrition market into Latin America and the Middle East & Africa

Company Information

Detailed analysis and profiling of additional market players (Up to 5)
The global oncology nutrition market is expected to reach USD 2.21 Billion by 2023 from USD 1.46 Billion in 2018, at a CAGR of 8.7%. Factors such as shifting focus from parenteral to enteral nutrition, increasing incidence of cancer, growing demand for nutritional feeding in the homecare sector, rising number of patients being treated for malnutrition, and increasing quality of clinical research on nutritional interventions are driving the market growth.
The report analyzes the oncology nutrition market by type of cancer and region. Based on cancer type, the head and neck cancers segment accounted for the largest share of the market in 2017. Patients with head and neck cancers suffer from severe problems associated with oral nutritional intake. Thus, the enteral route is used for nutrition support. With the increasing number of such cancers cases, the uptake of tube feeding formulas has increased. Also, conditions such as severe mucositis, xerostomia, dysgeusia, and nausea & vomiting limit nutritional intake, adding to the adoption of oncology nutritional feeding formulas.
Although, tube feeding is an effective and cost-efficient option for providing clinical nutrition, certain complications associated with the use of these devices can result in additional healthcare costs. Also, the limited reimbursement associated with its use pose significant restraint for greater adoption of these feeding formulas.
Geographically, the oncology nutrition market is segmented into North America, Europe, Asia Pacific, and the Rest of the World. In 2017, North America accounted for the largest share of this market. However, the Asia Pacific region is expected to witness the highest CAGR during the forecast period of 2018 to 2023. The growth of this segment can be attributed to the increased awareness and accessibility to advanced healthcare facilities, rising healthcare spending, large population base, and rapid improvements in the health insurance sector.
To speak to our analyst for a discussion on the above findings, click Speak to Analyst