Pharmaceutical Excipients Market
Pharmaceutical Excipients Market by Product (Organic (Oleochemicals, Carbohydrates) Inorganic (Calcium Carbonate), Functionality (Fillers, Binders, Lubricants, Diluents), Formulation (Oral, Parenteral), Application (Stablizers) & Region - Global Forecast to 2028
Report Code: PH 3047
Nov, 2023, by marketsandmarkets.com
The global pharmaceutical excipients market in terms of revenue was estimated to be worth $10.7 billion in 2023 and is poised to reach $14.9 billion by 2028, growing at a CAGR of 6.8% from 2023 to 2028. The new research study consists of an industry trend analysis of the market. The new research study consists of industry trends, pricing analysis, patent analysis, conference and webinar materials, key stakeholders, and buying behaviour in the market. This is mainly due to various factors such as growing emphasis on patient-centric formulations, increasing demand for generic drugs and pharmaceutical products, increased R&D Investments for the development of novel excipients and collaborations and partnerships with pharmaceutical companies for customized excipient solutions. However, the growing high investments and development costs along with the growing regulatory stringency are predicted to cause market growth barriers.
Attractive Opportunities in the Pharmaceutical Excipients Market.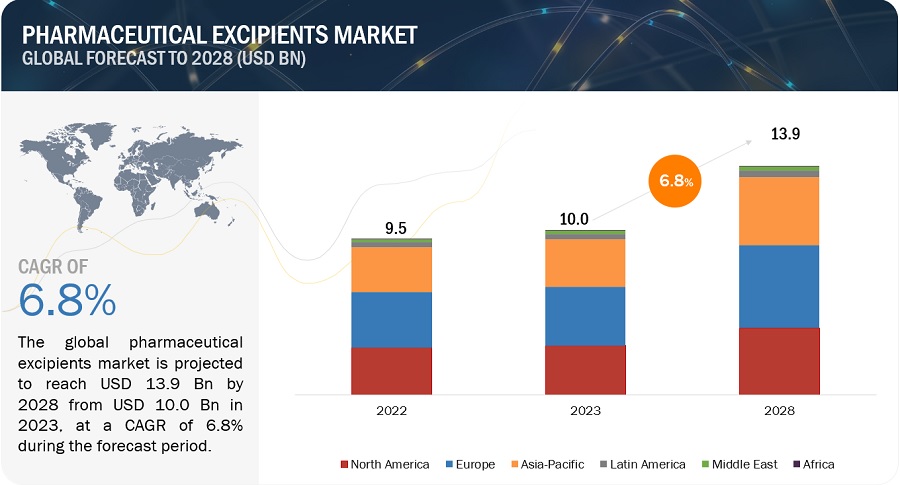 To know about the assumptions considered for the study, Request for Free Sample Report
Pharmaceutical Excipients Market Dynamics
Driver: Increasing demand for generic drugs and pharmaceutical products is propelling the demand for pharma excipients
The pharmaceutical excipients market is expected to benefit from the growing demand for generic drugs. Generic drugs are cheaper than branded drugs, and their entry into the market is expected to boost the volume of drugs sold. There is an increase in the number of generic drug approvals as due to patent cliff. Leading pharmaceutical companies with significant operations in the United States, such as Zydus Lifesciences, Torrent Pharma, Aurobindo Pharma, and Ajanta Pharma, are poised to reap substantial benefits from this development. Generic drug manufacturers are constantly looking for ways to reduce costs, and excipients can be a significant cost-saving measure. As a result, there is a growing demand for high-quality, affordable excipients which propels the pharmaceutical excipient market. This is considered a positive indicator of the growth of the pharmaceutical excipients market.
Restraint: High Development Costs associated with Novel excipients
The approval process for new excipients can be long, expensive and complex. It requires high capital investments and can further delay the time to market for new excipients, which can make it more difficult for pharmaceutical companies to justify the investment in developing new products. New excipients must be approved by regulatory agencies such as the FDA before they can be used in drug products. Additionally these excipients must be manufactured in large quantities to meet the needs of the pharmaceutical industry. This process can be lengthy and costly and thus is predicted to restrain the market.
Opportunity: Increasing growth of functional/Multifunctional Pharmaceutical Excipients
Co-processed multifunctional excipients are a class of pharmaceutical excipients that are created by combining two or more excipients together using a physical process, such as mixing, blending, or granulation. This process alters the physical properties of the individual excipients, resulting in a new excipient with enhanced functionality. These excipients offer several advantages over existing single function excipients such as reduced number of excipients in a formulation thus simplifying the manufacturing process, improved performance of the formulation due to superior flowability, compressibility, binding, and disintegrating properties compared to individual excipients and reduced variability in formulation properties by ensuring consistent batch-to-batch performance of pharmaceutical formulations therefore providing lucrative future market growth opportunities.
Challenge: Stringent Regulatory Requirements.
Stringent regulatory requirements are a significant challenge for the pharmaceutical excipients market. Regulatory bodies, such as the US Food and Drug Administration (FDA) and the European Medicines Agency (EMA), have implemented strict guidelines for the manufacturing, testing, and use of excipients. These regulations are designed to ensure the safety and efficacy of pharmaceutical products. However, stringent regulatory requirements can also increase the complexity of developing and bringing new excipients to market. This can make it challenging for excipient manufacturers to innovate and keep up with the evolving demands of the pharmaceutical industry. For example, the U.S. FDA's rigorous New Drug Application (NDA) process and the European Medicines Agency's (EMA) regulatory requirements can significantly delay the introduction of innovative excipients.
Pharmaceutical Excipients Market Ecosystem Analysis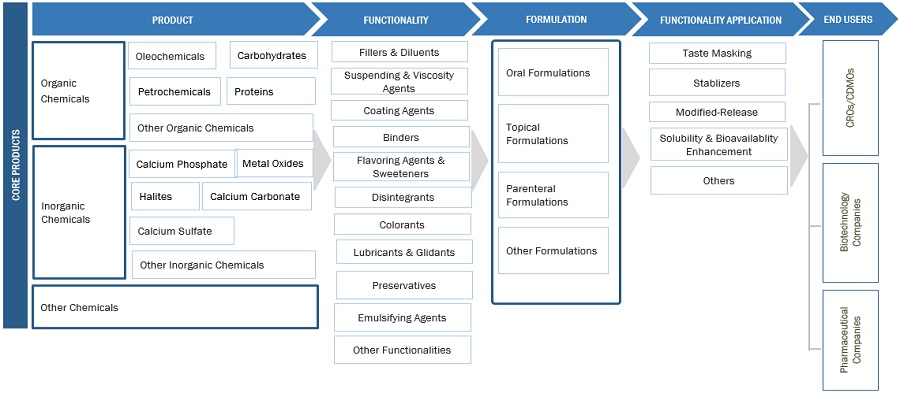 The Oral Formulations segment commanded share of the pharmaceutical excipients industry in 2022.
On the basis of formulation, the global pharmaceutical excipients market is segmented into oral formulations (Tablets, Capsules, Liquid formulations and others), topical formulations, parenteral formulations and other formulations. The oral formulations segment dominated the pharmaceutical excipients market during the forecast period. Their wide usage and efficacy against many ailments. are some of the factors driving the market growth.
Lubricants and Glidants is likely to grow at significant CAGR in the pharmaceutical excipients industry during the forecast period
On the basis of functionality, the global pharmaceutical excipients market is segmented into fillers & diluents, suspending & viscosity agents, coating agents, binders, flavoring agents & sweeteners, disintegrants, colorants, lubricants & glidants, preservatives, emulsifying agents, and other functionalities. The fillers & diluents segment dominated the market share in 2022 and the lubricants and glidants segment is further expected to project the market growth at faster pace both due to their use in oral solid dosage forms which are the most popular dosage forms.
Asia Pacific predicted to exhibit highest CAGR in the pharmaceutical excipients industry during the forecast period of 2023-2028.
There are six main regional segmentations for the pharmaceutical excipients market—North America, Europe, the Asia Pacific, Latin America, Middle East and Africa. In 2022, Europe dominated the market share due to the presence of numerous large production capacity pharmaceutical giants which drive the high excipient consumption rates. The growing emphasis on superior generics, pharmaceutical products, and biosimilars has also increased the demand for novel excipients, which is predicted to drive market growth.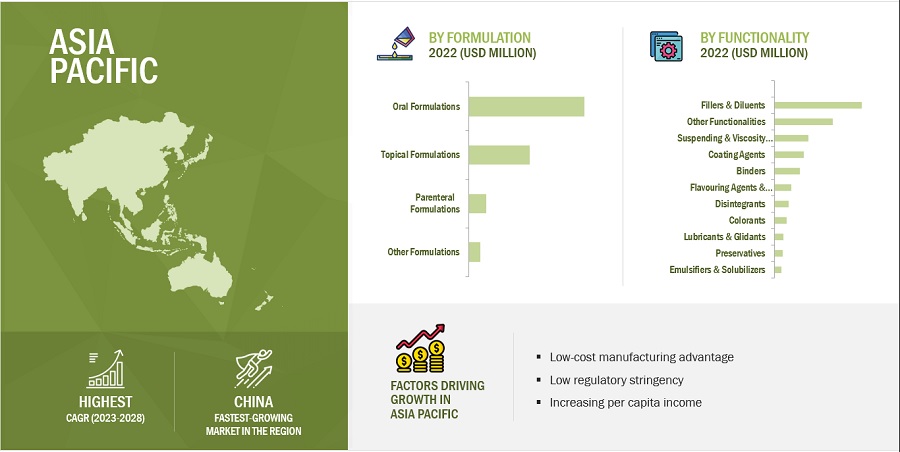 Source: Expert Interviews, Secondary Research, Whitepapers, Journals, Magazines, and MarketsandMarkets Analysis
To know about the assumptions considered for the study, download the pdf brochure
Key players in the Market include Ashland Inc. (US), Roquette Frères (France), Evonik Industries AG (Germany), International Flavors & Fragrances, Inc. (US), BASF SE (Germany), Kerry Group Plc (Ireland), Associated British Foods Plc (UK), Merck KGaA (Germany), Wacker Chemie AG (Germany) and ADM (US).
Scope of the Pharmaceutical Excipients Industry
| | |
| --- | --- |
| Report Metric | Details |
| Market Revenue in 2023 | $10.7 billion |
| Projected Revenue by 2028 | $14.9 billion |
| Revenue Rate | Poised to Grow at a CAGR of 6.8% |
| Market Driver | Increasing demand for generic drugs and pharmaceutical products is propelling the demand for pharma excipients |
| Market Opportunity | Increasing growth of functional/Multifunctional Pharmaceutical Excipients |
This report categorizes the pharmaceutical excipients market to forecast revenue and analyze trends in each of the following submarkets:
By Product
Organic Chemicals
Oleochemicals

Fatty Alcohols
Mineral Stearates
Glycerin
Other Oleochemicals

Carbohydrates

Sugars

Actual Sugars
Sugar Alcohols
Artificial Sweetners

Cellulose

Microcrystalline cellulose
Cellulose ethers
Carboxymethyl cellulose (CMC) and croscarmellose sodium
Cellulose esters

Starch

Modified Starch
Dried Starch
Converted Starch

Petrochemicals

Glycols
Povidones
Mineral Hydrocarbons
Acrylic Polymers
Other Petrochemical Excipients

Proteins
Other Organic Chemicals
Inorganic Chemicals
Calcium Phosphate
Metal Oxides
Halites
Calcium Carbonate
Calcium Sulphate
Other Inorganic Chemicals
Other Chemicals
By Functionality
Fillers & Diluents
Suspending & Viscosity Agents
Coating Agents
Binders
Flavoring Agents & Sweeteners
Disintegrants
Colorants
Lubricants & Glidants
Preservatives
Emulsifying Agents
Other Functionalities
By Formulation
Oral Formulations
Tablets
Capsules

Hard-gelatin Capsules
Soft-gelatin Capsules

Liquid Formulations
Other Oral Formulations
Topical Formulations
Parenteral Formulations
Other Formulations
By Functionality Application
Taste Masking
Stablizers
Modified-Release
Solubility & Bioavailablity Enhancement
Others
By Region
North America
Europe

Germany
France
UK
Italy
Spain
Rest of Europe

Asia Pacific

Japan
China
India
South Korea
Rest of Asia Pacific

Latin America

Brazil
Rest of Latin America

Middle East
Africa
Recent Developments of Pharmaceutical Excipients Industry
In June 2023, Ashland introduced Polyplasdone Plus, a co-processed multifunctional direct compression superdisintegrant comprising a glidant and lubricant.
In October 2023, Lubrizol Life Science Health was awarded the Finished Formulation Award for Apisolex Polymer solubilizing excipient at CPhI Barcelona.
In July 2022, DFE Pharma announced the broadening of its Dry Powder Inhalation (DPI) portfolio by launching Lactohale 400.
Frequently Asked Questions (FAQ):
What is the projected market revenue value of the global pharmaceutical excipients market?
The global pharmaceutical excipients market boasts a total revenue value of $14.9 billion by 2028.
What is the estimated growth rate (CAGR) of the global pharmaceutical excipients market?
The global pharmaceutical excipients market has an estimated compound annual growth rate (CAGR) of 6.8% and a revenue size in the region of $10.7 billion in 2023.
To speak to our analyst for a discussion on the above findings, click Speak to Analyst
TABLE OF CONTENTS
1 INTRODUCTION
1.1 OBJECTIVES OF THE STUDY
1.2 MARKET DEFINITION
1.2.1 INCLUSIONS & EXCLUSIONS
1.3 MARKET SCOPE
1.3.1 MARKETS COVERED
1.3.2 YEARS CONSIDERED FOR THE STUDY
1.4 CURRENCY
1.5 LIMITATIONS
1.6 STAKEHOLDERS
1.7 SUMMARY OF CHANGES
1.8 RECESSION IMPACT
2 RESEARCH METHODOLOGY
2.1 RESEARCH DATA
2.1.1 SECONDARY DATA
2.1.2 PRIMARY DATA
2.2 MARKET SIZE ESTIMATION
2.2.1 INSIGHTS FROM PRIMARY
2.2.2 SEGMENT ASSESMENT METHOLOGY
2.3 GROWTH FORECAST
2.4 MARKET BREAKDOWN & DATA TRIANGULATION
2.5 RESEARCH ASSUMPTIONS
2.6 RISK ANALYSIS
2.7 RECESSION IMPACT
3 EXECUTIVE SUMMARY
4 PREMIUM INSIGHTS
5 MARKET OVERVIEW
5.1 INTRODUCTION
5.2 MARKET DYNAMICS
5.2.1 DRIVERS
5.2.2 RESTRAINTS
5.2.3 OPPORTUNITIES
5.2.4 CHALLENGES
5.3 TRENDS/DISTRUPTIONS IMPACTING CUSTOMERS BUSINESS
5.4 PRICING ANALYSIS
5.4.1 AVERAGE SELLING PRICE TREND OF KEY PLAYERS, BY PRODUCT
5.4.2 AVERAGE SELLING PRICE TREND, BY REGION
5.5 SUPPLY/VALUE CHAIN ANALYSIS
5.6 ECOSYSTEM ANALYSIS
5.7 TECHNOLOGY ANALYSIS
5.8 PATENT ANALYSIS
5.9 KEY CONFERENCES & EVENTS 2023-2024
5.10 TRADE DATA
5.11 TARIFF AND REGULATORY LANDSCAPE
5.11.1 REGULATORY BODIES, GOVERNMENT AGENICES AND OTHER ORGANIZATIONS
5.12 PORTER'S FIVE FORCES' ANALYSIS
5.12.1 THREAT OF NEW ENTRANTS
5.12.2 THREAT OF SUBSTITUTE
5.12.3 BARGAINING POWER OF SUPPLIERS
5.12.4 BARGAINING POWER OF BUYERS
5.12.5 INTENSITY OF COMPETITION RIVALRY
5.13 KEY STAKEHOLDER AND BUYING CRITERIA
5.13.1 KEY STAKEHOLDERS IN THE BUYING PROCESS
5.13.2 BUYING CRITERIA
6 PHARMACEUTICAL EXCIPIENTS MARKET, BY PRODUCT
6.1 INTRODUCTION
6.2 ORGANIC CHEMICALS
6.2.1 OLEOCHEMICALS
6.2.1.1 FATTY ALCOHOLS
6.2.1.2 MINERAL STEARATES
6.2.1.3 GLYCERIN
6.2.1.4 OTHER OLEOCHEMICALS
6.2.2 CARBOHYDRATES
6.2.2.1 SUGARS
6.2.2.1.1. ACTUAL SUGARS
6.2.2.1.2. SUGAR ALCOHOLS
6.2.2.1.3. ARTIFICIAL SWEETENERS
6.2.2.2 CELLULOSE
6.2.2.2.1. MICROCRYSTALLINE CELLULOSE
6.2.2.2.2. CELLULOSE ETHERS
6.2.2.2.3. CMC & CROSCARMELLOSE SODIUM
6.2.2.2.4. CELLULOSE ESTERS
6.2.2.3 STARCH
6.2.2.3.1. MODIFIED STARCH
6.2.2.3.2. DRIED STARCH
6.2.2.3.3. CONVERTED STARCH
6.2.3 PETROCHEMICALS
6.2.3.1 GLYCOLS
6.2.3.2 POVIDONES
6.2.3.3 MINERAL HYDROCARBONS
6.2.3.4 ACRYLIC POLYMERS
6.2.3.5 OTHER PETROCHEMICAL EXCIPIENTS
6.2.4 PROTEINS
6.2.5 OTHER ORGANIC CHEMICALS
6.3 INORGANIC CHEMICALS
6.3.1 CALCIUM PHOSPHATE
6.3.2 METAL OXIDES
6.3.3 HALITES
6.3.4 CALCIUM CARBONATE
6.3.5 CALCIUM SULFATE
6.3.6 OTHER INORGANIC CHEMICALS
6.4 OTHER CHEMICALS
Note: Other oleochemicals include natural waxes, specialty esters, phospholipids, ethoxylates, vegetable oils, hard fats, and mono and triglycerides among others.
Note: Other petrochemicals include antioxidants, antimicrobials, dyes, and synthetic compounds such as disodium ethylenediamine tetra-acetate (EDTA), synthetic flavors, silicones, and other vinyl-based polymers. This segment also includes other synthetic materials, such as glycolic acid, hexylene glycol, and triethanolamine among others.
Note: Other organic chemicals segment covers ethyl alcohol, isopropyl alcohol, lactic acid, citric acid, and shellac among others
Note: The other inorganic chemicals segment includes clay, mineral alkalis, mineral acids, mineral buffering salts, and talc among others.
Note: Other Chemicals includes pharmaceutical-grade water and mucilage among others
Note: Tentative segmentation. This can be revised during the course of study.
7 PHARMACEUTICAL EXCIPIENTS, BY FUNCTIONALITY
7.1 INTRODUCTION
7.2 FILLERS & DILUENTS
7.3 SUSPENDING & VISCOSITY AGENTS
7.4 COATING AGENTS
7.5 BINDERS
7.6 FLAVORING AGENTS & SWEETENERS
7.7 DISINTEGRANTS
7.8 COLORANTS
7.9 LUBRICANTS & GLIDANTS
7.10 PRESERVATIVES
7.11 EMULSIFYING AGENTS
7.12 OTHER FUNCTIONALITIES
Note: Other functionalities include chelating agents, solvents, sorbents, plasticizers, humectants, adsorbents, buffers, wetting agents, anti-foaming agents, anti-adherents, emollients, and acidifying & alkalizing agents among others.
Note: Tentative segmentation. This can be revised during the course of study.
8 PHARMACEUTICAL EXCIPIENTS, BY FORMULATION (FORMS)
8.1 INTRODUCTION
8.2 ORAL FORMULATIONS
8.2.1 TABLETS
8.2.2 CAPSULES
8.2.2.1 HARD-GELATIN CAPSULES
8.2.2.2 SOFT-GELATIN CAPSULES
8.2.3 LIQUID FORMULATIONS
8.2.4 OTHER ORAL FORMULATIONS
8.3 TOPICAL FORMULATIONS
8.4 PARENTERAL FORMULATIONS
8.5 OTHER FORMULATIONS
Note: Other oral formulations mainly include sublingual modes of delivery and semi-solid & solid dosage forms among others
Note: Other formulations mainly include advanced drug formulations, such as those administered via inhalation, ocular, transdermal, liquid, semi-solid & solid dosage and amomg others
Note: Tentative segmentation. This can be revised during the course of study.
9 PHARMACEUTICAL EXCIPIENTS, BY FUNCTIONALITY APPLICATION
9.1 INTRODUCTION
9.2 TASTE MASKING
9.3 STABLIZERS
9.4 MODIFIED-RELEASE
9.5 SOLUBILITY & BIOAVAILABLITY ENHANCEMENT
9.6 OTHERS (IF ANY)
Note: Modified Release is inclusive of delayed-release, extended-release, and targeted-release among others
Note: Others segment includes manufacturing aids and among others.
Note: Tentative segmentation. This can be revised during the course of study.
10 PHARMACEUTICAL EXCIPIENTS, BY REGION
10.1 INTRODUCTION
10.2 NORTH AMERICA
10.2.1 US
10.2.2 CANADA
10.2.3 RECESSION IMPACT
10.3 EUROPE
10.3.1 GERMANY
10.3.2 FRANCE
10.3.3 UK
10.3.4 ITALY
10.3.5 SPAIN
10.3.6 REST OF EUROPE
10.3.7 RECESSION IMPACT
10.4 ASIA PACIFIC
10.4.1 JAPAN
10.4.2 CHINA
10.4.3 INDIA
10.4.4 SOUTH KOREA
10.4.5 REST OF ASIA PACIFIC
10.4.6 RECESSION IMPACT
10.5 LATIN AMERICA
10.5.1 BRAZIL
10.5.2 REST OF LATIN AMERICA
10.5.3 RECESSION IMPACT
10.6 MIDDLE EAST
10.6.1 RECESSION IMPACT
10.7 AFRICA
10.7.1 RECESSION IMPACT
11 COMPETITIVE LANDSCAPE
11.1 INTRODUCTION
11.2 KEY PLAYERS STRATEGIES/ RIGHT TO WIN
11.3 REVENUE ANALYSIS
11.4 MARKET SHARE ANALYSIS
11.5 COMPANY EVALUATION MATRIX
11.5.1 STARS
11.5.2 EMERGING LEADERS
11.5.3 PERVASIVE PLAYERS
11.5.4 PARTICIPANTS
11.5.5 COMPANY FOOTPRINT
11.6 START-UP/SME EVALUATION MATRIX
11.6.1 PROGRESSIVE COMPANIES
11.6.2 RESPONSIVE COMPANIES
11.6.3 DYNAMIC COMPANIES
11.6.4 STARTING BLOCKS
11.6.5 COMPETITIVE BENCHMARKING
11.7 COMPETITIVE SCENARIO AND TRENDS
12 COMPANY PROFILES
(Business Overview, Products Offered, Recent Developments, MnM View)*
12.1 KEY COMPANIES
12.1.1 INTERNATIONAL FLAVORS & FRAGRANCES INC.
12.1.2 ASHLAND INC.
12.1.3 EVONIK INDUSTRIES AG
12.1.4 BASF SE
12.1.5 KERRY GROUP PLC
12.1.6 ROQUETTE FRÈRES
12.1.7 MERCK KGAA
12.1.8 SPI PHARMA (ASSOCIATED BRITISH FOODS PLC)
12.1.9 ADM
12.1.10 WACKER CHEMIE AG
12.1.11 AIR LIQUIDE
12.1.12 DOW
12.1.13 LUBRIZOL CORPORATION ( BERKSHIRE HATHAWAY INC.)
12.1.14 COLORCON
12.1.15 DFE PHARMA
12.2 OTHER PLAYERS
12.2.1 INNOPHOS
12.2.2 JRS PHARMA (J. RETTENMAIER & SÖHNE GMBH + CO KG)
12.2.3 ACTYLIS
12.2.4 MEGGLE GMBH & CO. KG
12.2.5 COREL PHARMA CHEM.
12.2.6 BIOGRUND GMBH
12.2.7 NITIKA PHARMACEUTICAL SPECIALITIES PVT. LTD.
12.2.8 BENEO
12.2.9 FUJI CHEMICAL INDUSTRIES CO., LTD.
12.2.10 R.T. VANDERBILT HOLDING COMPANY, INC.
13 APPENDIX
13.1 DISCUSSION GUIDE
13.2 KNOWLEDGE STORE: MARKETSANDMARKETS' SUBSCRIPTION PORTAL
13.3 AVAILABLE CUSTOMIZATIONS
13.4 RELATED REPORTS
13.5 AUTHOR DETAILS
This study involved four major activities in estimating the current size of the pharmaceutical excipients market. Exhaustive secondary research was carried out to collect information on the market, its peer markets, and its parent market. These findings, assumptions, and sizing were then validated with industry experts across the value chain through primary research. Both top-down and bottom-up approaches were employed to estimate the complete market size. After that, market breakdown and data triangulation procedures were used to estimate the market size of segments and subsegments.
Secondary Research
Secondary research was used mainly to identify and collect information for the extensive technical, market-oriented, and commercial study of the pharmaceutical excipients market. The secondary sources used for this study include the European Federation of Pharmaceutical Industries and Associations (EFPIA), Pharmaceutical Research and Manufacturers of America (PhRMA), Parenteral Drug Association (PDA), International Pharmaceutical Excipients Council (IPEC), International Journal of Production Research (IJPR), Generics and Biosimilars Initiative (GaBI), PharmaTimes, World Journal of Pharmaceutical Sciences, International Federation of Pharmaceutical Manufacturers & Association (IFPMA), Annual Reports, SEC Filings, Investor Presentations, Expert Interviews, and MarketsandMarkets Analysis. These sources were also used to obtain key information about major players, market classification, and segmentation according to industry trends, regional/country-level markets, market developments, and technology perspectives. Secondary data was collected and analyzed to arrive at the overall size of the global pharmaceutical excipients market, which was validated through primary research.
Primary Research
In-depth interviews were conducted with various primary respondents, including key industry participants, subject-matter experts (SMEs), C-level executives of key market players, and industry consultants, among other experts, to obtain and verify the critical qualitative and quantitative information as well as assess future prospects of the market. Various primary sources from both the supply and demand sides of the market were interviewed to obtain qualitative and quantitative information. The following is a breakdown of the primary respondents:
Note: Tiers are defined based on a company's total revenue. As of 2022, Tier 1 = >USD 1 Bn, Tier 2 = USD 500 Mn to USD 1 Bn, and Tier 3 <USD 500 Mn.
To know about the assumptions considered for the study, download the pdf brochure
Market Size Estimation
The global size of the pharmaceutical excipients market was estimated through multiple approaches. A detailed market estimation approach was followed to estimate and validate the value of the market and other dependent submarkets. These methods were also used extensively to estimate the size of various subsegments in the market. The research methodology used to estimate the market size includes the following:
The major players in the industry and market have been identified through extensive primary and secondary research.
The revenues generated from the pharmaceutical excipients business of players operating in the market have been determined through secondary research and primary analysis.
All percentage shares, splits, and breakdowns have been determined using secondary sources and verified through primary sources.
Market Size Estimation Methodology-Bottom-up approach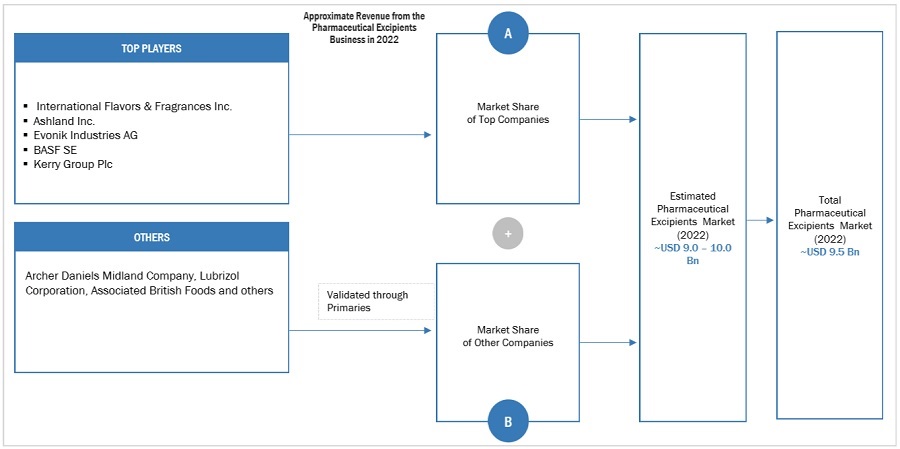 To know about the assumptions considered for the study, Request for Free Sample Report
Top-down Approach-

Data Triangulation
After estimating the overall market size from the market size estimation process, the total market was split into several segments and subsegments. To complete the overall market engineering process and arrive at the exact statistics for all segments and subsegments, data triangulation and market breakdown procedures were employed, wherever applicable. The data was triangulated by studying various factors and trends from both the demand and supply sides.
Market Definition
Pharmaceutical excipients are inactive substances added to medications alongside the active pharmaceutical ingredient (API). They serve various purposes, such as improving the drug's stability, bioavailability, delivery, and overall effectiveness. These components, including preservatives, binders, fillers, disintegrants, lubricants, and flavoring agents, contribute to the final drug product's quality and efficacy.
Key Stakeholders
Manufacturers, importers & exporters, traders, distributors, and suppliers of pharmaceutical excipients
Pharmaceutical and biopharmaceutical companies
Distributors and suppliers of pharmaceutical excipients
Contract manufacturing organizations (CMOs)
Suppliers and distributors of pharmaceutical products
Research and development (R&D) companies
Pharmaceutical/medical associations
Regulatory bodies & government agencies
Research institutes and government organizations
Venture capitalists and investors
Business research and consulting service providers
Market research and consulting firms
The main objectives of this study are as follows:
To define, describe, and forecast the pharmaceutical excipients market based on product, functionality, formulation, functionality applicatons and region.
To provide detailed information regarding the major factors influencing the market growth (such as drivers, restraints, opportunities, and challenges)
To analyze the micromarkets with respect to individual growth trends, prospects, and contributions to the overall antibody drug conjugate market.
To analyze the opportunities for stakeholders and provide details of the competitive landscape for market leaders.
To forecast the size of the market segments with respect to six regions, namely: North America, Europe, the Asia Pacific (APAC), Latin America (LATAM), the Middle East and Africa
To profile the key players and analyze their market shares and core competencies2
To track and analyze competitive developments, such as product launches, partnerships, agreements, collaborations, expansions, and strategic alliances
To benchmark players within the market using the proprietary "Competitive Leadership Mapping" framework, which analyzes market players on various parameters within the broad categories of business and product excellence strategy.
Available Customizations
With the given market data, MarketsandMarkets offers customizations as per the company's specific needs. The following customization options are available for this report:
Country-wise Information:
Analysis for additional countries (up to five)
Company Information:
Detailed analysis and profiling of additional market players (up to five)