Plant-based Food Market
Plant-based Food Market by Type (Plant-based Meat, Plant-based Fish, Dairy alternatives, Condiments, Dressings, and Mayo), Distribution Channel (Food retail, Food service, E-commerce), Nature (Organic and Conventional), Source (Soy, Wheat, Pea, Almond, Coconut, Others) and Key Regions - Forecasted to 2027
Report Code: UC 6057
Jul, 2023, by marketsandmarkets.com
According to MarketsandMarkets, the global Plant-based food market is estimated to be valued at USD 9.4 billion in 2022. It is projected to reach USD 16.3 billion by 2027, with a CAGR of 11.7%, in terms of value between 2022 and 2027. Plant-based food includes finished products consisting of ingredients derived from plants, that include vegetables, fruits, whole grains, nuts, seeds, and legumes.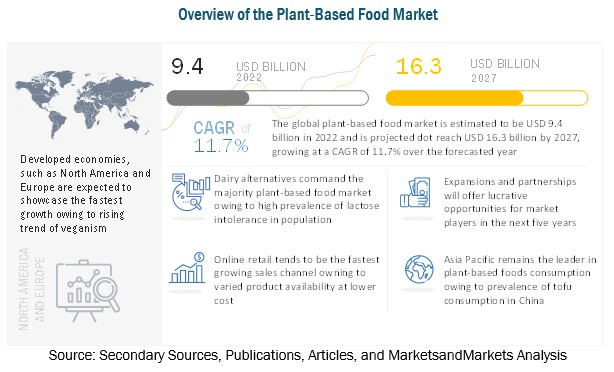 Plant-Based Food Market Dynamics
Drivers: Investments by food industry pioneers drive the innovation in market, and hence its growth
There are multiple drivers for the plant-based foods market. Some of them include food industry pioneers delving into the segment with new product launches and rising awareness in general about the health and environmental benefits of plant-based foods over animal-based ones.
Restraints: Higher unit price of plant-based foods limit the market potential
Plant-based food market is restrained by its higher prices when compared to animal-based products. High prices of the products are owing to premiums in place for various labels, such as 'vegan' and 'organic'. Further, the market also does not have the benefit of economies of scale, which the animal-based food market has, thereby inflating plant-based products prices. High product prices also owe themselves to low maturity of the market and the constant efforts on supply chain and product innovation going on.
Opportunities: Rising consumer interest for healthier food alternatives and diverse ingredients
Consumers are increasingly demanding healthier alternatives to animal-based products, such as milk and red meat. Further, blending proteins from different plant-based sources also helps meet the demand for a diverse source of ingredients, which is explored by manufacturers.
Challenges: Texture and mouthfeel of plant-based foods need to be at par with animal-based ones
Plant-based foods' adoption is hindered by its texture and flavour, which consumers want to match to that of animal-based foods. However, brands such as Beyond Meat and Impossible Foods have been challenging such perceptions and beliefs by launching products which try to mimic and hence give the mouthfeel of animal-based products.
New product launches in plant-based meat alternatives drive the growth for the segment
Withing meat alternatives, plant-based hot dogs, sausages and patties are expected to record the fastest CAGR over the forecasted period. This is owing to the trending popularity and prolific new product launches of plant-based sausages, along with their increasing availability as a vegan option in restaurants.
By channel, food retailing through modern channels such as supermarkets and e-commerce are expected to shine over the forecasted period.
Sales of plant-based meat alternatives is expected to be the highest in modern grocery retailers, such as supermarkets and hypermarkets. This is owing to strategies, such as prominently visible shelf space, and lucrative discounts along with bundling products to reduce unit price. However, e-commerce is expected to grow the fastest over the forecasted period owing to its wide variety of product assortments along with low prices.
Developed economies, such as the North American and European markets is expected to showcase the fastest growth over the forecasted period. This is supplemented by rising number of vegan restaurants owing to increased health consciousness amongst consumers. This is further owing to rising awareness regarding the potential negative aspects of animal-based proteins, such as those on the environment.
Key Market Players:
Key players in this market include Beyond Meat Inc. (US), Impossible Foods Inc. (US), Atlantic Natural Foods LLC (US), Garden Protein International LLC (Canada), Kellogg's Company (US), among others.
FAQs:
Which are the major Plant-based food segments considered in this study and which of them are projected to have promising growth rates in the future?
I am interested in the Asia Pacific market for plant-based meat and dairy alternatives. Is the customization available for the same? What all information would be included in the same?
What are some of the drivers fuelling the growth of the Plant-based food market?
I am interested in understanding the research methodology on how you arrived at the market size and segmental splits before making a purchase decision. Can you provide me with an explanation on the same?
What kind of information is provided in the competitive landscape section?
TABLE OF CONTENTS
1 INTRODUCTION
1.1 OBJECTIVES OF THE STUDY
1.2 MARKET DEFINITION
1.3 STUDY SCOPE
1.4 REGIONAL SEGMENTATION
1.5 PERIODIZATION CONSIDERED
1.6 CURRENCY CONSIDERED
1.7 VOLUME UNITS CONSIDERED
1.8 STAKEHOLDERS
2 RESEARCH METHODOLOGY
2.1 RESEARCH DATA
2.1.1 SECONDARY DATA
2.1.1.1 Key Data from Secondary Sources
2.1.2 PRIMARY DATA
2.1.2.1 Key Data from Primary Sources
2.1.2.2 Key Industry Insights
2.1.2.3 Breakdown of Primaries
2.2 MARKET SIZE ESTIMATION
2.2.1 MARKET SIZE ESTIMATION - METHOD 1
2.2.2 MARKET SIZE ESTIMATION - METHOD 2
2.3 DATA TRIANGULATION
2.4 ASSUMPTIONS FOR THE STUDY
2.5 LIMITATIONS OF THE STUDY
3 EXECUTIVE SUMMARY
4 PREMIUM INSIGHTS
5 MARKET OVERVIEW
5.1 INTRODUCTION
5.2 MARKET DYNAMICS
5.2.1 DRIVERS
5.2.2 RESTRAINTS
5.2.3 OPPORTUNITIES
5.2.4 CHALLENGES
6 INDUSTRY TRENDS
6.1 INTRODUCTION
6.2 VALUE CHAIN/SUPPLY CHAIN ANALYSIS
6.3 TECHNOLOGY ANALYSIS
6.4 PRICING ANALYSIS
6.5 ECOSYSTEM/ MARKET MAP
6.6 TRENDS/ DISRUPTION IMPACTING THE CUSTOMER'S BUSINESS
6.7 PATENT ANALYSIS
6.8 TRADE ANALYSIS
6.9 KEY CONFERENCES AND EVENTS IN 2022-2023
6.10 TARIFF AND REGULATORY LANDSCAPE
6.11 PORTER'S FIVE FORCES ANALYSIS
6.12 KEY STAKEHOLDERS & BUYING CRITERIA
6.13 CASE STUDY ANALYSIS
7 PLANT-BASED FOOD MARKET, BY TYPE
7.1 INTRODUCTION
7.2 PLANT-BASED MEAT
7.3 PLANT-BASED FISH
7.4 DAIRY ALTERNATIVES
7.5 CONDIMENTS
7.6 DRESSINGS
7.7 MAYO
8 PLANT-BASED FOOD MARKET, BY DISTRIBUTION CHANNEL
8.1 INTRODUCTION
8.2 FOOD RETAIL
8.3 FOOD SERVICE
8.4 E-COMMERCE
9 PLANT-BASED FOOD MARKET, BY NATURE
9.1 INTRODUCTION
9.2 ORGANIC
9.3 CONVENTIONAL
10 PLANT-BASED FOOD MARKET, BY SOURCE
10.1 INTRODUCTION
10.2 SOY
10.3 WHEAT
10.4 PEA
10.5 ALMOND
10.6 COCONUT
10.7 OTHER SOURCES
11 PLANT-BASED FOOD MARKET, BY REGION
11.1 INTRODUCTION
11.2 NORTH AMERICA
11.2.1 US
11.2.2 CANADA
11.2.3 MEXICO
11.3 EUROPE
11.3.1 GERMANY
11.3.2 FRANCE
11.3.3 UK
11.3.4 ITALY
11.3.5 SPAIN
11.3.6 REST OF EUROPE
11.4 ASIA PACIFIC
11.4.1 CHINA
11.4.2 INDIA
11.4.3 JAPAN
11.4.4 AUSTRALIA & NEW ZEALAND
11.4.5 REST OF ASIA PACIFIC
11.5 SOUTH AMERICA
11.5.1 BRAZIL
11.5.2 ARGENTINA
11.5.3 REST OF SOUTH AMERICA
11.6 REST OF THE WORLD
11.6.1 AFRICA
11.6.2 MIDDLE EAST
12 COMPETITIVE LANDSCAPE
12.1 OVERVIEW
12.2 MARKET SHARE ANALYSIS*
12.3 KEY PLAYERS STRATEGIES
12.4 COMPANY REVENUE ANALYSIS OF TOP 5 MARKET PLAYERS
12.5 COMPANY EVALUATION QUADRANT
12.5.1 STARS
12.5.2 EMERGING LEADERS
12.5.3 PERVASIVE PLAYERS
12.5.4 PARTICIPANTS
12.5.5 COMPETITIVE BENCHMARKING
12.6 PRODUCT FOOTPRINTS
12.7 STARTUP/SME EVALUATION QUADRANT
12.7.1 PROGRESSIVE COMPANIES
12.7.2 STARTING BLOCKS
12.7.3 RESPONSIVE COMPANIES
12.7.4 DYNAMIC COMPANIES
12.8 PRODUCT LAUNCHES, DEALS, AND OTHER DEVELOPMENTS
12.8.1 NEW PRODUCT LAUNCHES
12.8.2 DEALS
12.8.3 OTHER DEVELOPMENTS
12.8.4 PARTNERSHIPS, COLLABORATIONS, AND JOINT VENTURES
13 COMPANY PROFILES
13.1 IMPOSSIBLE FOODS INC.
13.2 BEYOND MEAT INC.
13.3 ATLANTIC NATURAL FOODS LLC
13.4 GARDEN PROTEIN INTERNATIONAL INC.
13.5 KELLOGG'S COMPANY
13.6 VBITE FOODS INC.
13.7 NESTLE S.A.
13.8 DANONE S.A.
13.9 AMY'S KITCHEN
Note: Currently, list of only 9 companies have been provided. However, this section covers 12-15 key company profiles which include business overview, recent financials, product offerings, key strategies, and swot analysis. recent financials can be provided-based on data/information availability in public domain. The list of companies mentioned above can be altered depending upon client's interest
14 APPENDIX
Note: The TOC prepared above is tentative and may subject to change, based on the research progress
Request for detailed methodology, assumptions & how numbers were triangulated.