[185 pages report] This report analyzes and projects the power system state estimator market by value. The global market has been broken down into regions, which cover all major geographic markets.
Power system state estimator help in the monitoring, supervising, and controlling of transmission and distribution networks. The growing and complex nature of transmission and distribution networks, the advent of smart grids, and government regulations favoring energy efficient systems are driving the market. However, a lack of well-defined industry standards for state estimation is expected to be a major challenge for growth in the power system state estimator market. It can be applied in transmission networks, with distribution networks utilizing them on a comparatively lower scale. Most of the companies in the power system state estimator market use agreements, collaborations, joint ventures, and partnerships as the primary strategic approach for growth.
Various secondary sources such as government databases, facts published by multinational agencies, encyclopedias, associations, and directories have been used to compile information while preparing this commercial study on power system state estimator. Primary data sources include experts from the industry, discussions, and surveyshave been instrumental in offering important pieces of information as well as confirming future trends.
We have profiled leading players of this industryalong with their recent developments and other strategic industry activities. Some of the key companies profiled include Open Systems International Inc. (U.S.), General Electric (U.S.), Nexant (U.S.), ETAP/Operation Technology Inc. (U.S.), CYME International (Canada), ABB Ltd. (Switzerland), Siemens AG (Germany), DIgSILENT GmbH (Germany), Neplan AG (Switzerland), Alstom (France), Energy Computer Systems Ltda (Colombia), Electrocon International, Inc (U.S.), and GDF SUEZ S.A. (France).
The global power system state estimator market has been segmented into five regions, namely North America, Europe, Asia-Pacific, the Middle East& Africa, and Latin America. The market has also been segmented on the basis of types, applications, and solution methods. North America is the largest regional market for power system state estimator in terms of value, while Latin America has the highest projected CAGR.
The report also touches on other important aspects of the power system state estimator market, such as aspects of the value-chain, drivers, restraints/challenges, opportunities, and the competitive landscape of the market.
The global power system state estimator market is estimated to reach $5.87 Billion by 2019 from $3 billion in 2014, with a projected CAGR (Compound Annual Growth Rate) of 14.35%, signifying a high demand for state estimator and increasing concern for energy savings.
Effective monitoring and control of the grid requires real-time analysis tools that can estimate the system state and also predict its response to changing load and weather conditions. Thus, power system analysis requires dynamic network topology and real-time measurements. State estimation is the process of assigning a value to an unknown system state variable, based on measurements from that system based on preset criteria.
The process involves imperfect measurements that are redundant and the process of estimating the system states is based on a statistical criterion that takes into account the true value of state variables to minimize or maximize the selected criterion.
In a power system, state variables are the voltage MAGNITUDES and Relative Phase Angles at the System Nodes. The inputs to an estimator are imperfect power system measurements of voltage magnitude and power, VAR, or ampere flow quantities. The estimator is designed to produce the "best estimate" of the system voltage and phase angles, recognizing that there are errors in the measured quantities and that they may be redundant measurements.
With more smart metering devices being deployed on the grid, power system analysis receives data with higher accuracy and resolution. However, wide deployment of metering devices is limited owing to their high price. When metering devices are installed at key locations on the grid, state estimation can serve as a useful technique to fill-in the missing points as well as smooth-out noisy measurements. The estimation result reflects the true state of the circuit parameters such as bus voltages, real, and reactive power flow on the branches.
Increasing the consumption and Utilities pushing towards minimizing the T&D losses and outages, drive the Power System State Estimator market.
The Energy Policy Act of 2005 in the U.S. offers a tax deduction of $1.80 per sq. foot for commercial buildings equipped with energy efficient installations. The Energy Conservation Act of 2001 in India aims at improving energy efficiency, by developing and recommending norms and standards for energy consumption.
The global rollout of smart grids also pushes the power system state estimator market. North America and Europe are leaders in the smart grid rollouts and Asia-Pacific, Latin America, and the Middle East are also planning smart grid policies across their regions.
To mitigate risks from the blackouts, Utilities have been adopting sophisticated monitoring of the network through the deployment of state estimators.
The biggest market for power system state estimator is North America and Europe. The fast growth rate of the Latin American market can be attributed to increasing investments on preventive steps taken up by countries to curb energy loss and theft, thereby increasing the demand for smart infrastructure.
Power System State Estimator Market Share, by Region, 2014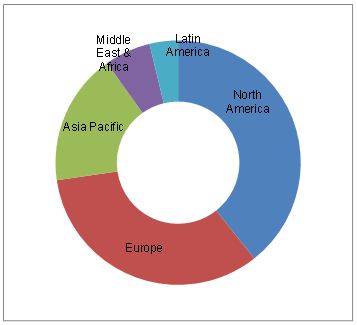 Source: MarketsandMarkets Analysis
Siemens AG (Germany), ABB (Switzerland) from the real time; and Open Systems International, Inc. (U.S.), DigSilent (Germany), Energy Computer Systems (Spain) from offline - are the major playersthat constitute amajor share of the global power system state estimator market.
Product/Service offering and Collaboration: Key Strategy
Most of these companies mainly rely on growth strategies such asjoint ventures & contracts, mergers & acquisitions, and investments & expansions in diversified geographic areas. The market for power system state estimator is technology driven and product/service offering plays a major part. To increase their market penetration and market share, companies opt for new product launches to offer differentiated products/service offerings.
The major software types of state estimators include Utility state estimation software and power control center software. It has also Transmission and Distribution as two applications.